Bodies of Missing Climbers Found on Nanga Parbat
The bodies of Daniele Nardi and Tom Ballard have been located after 14 days of searching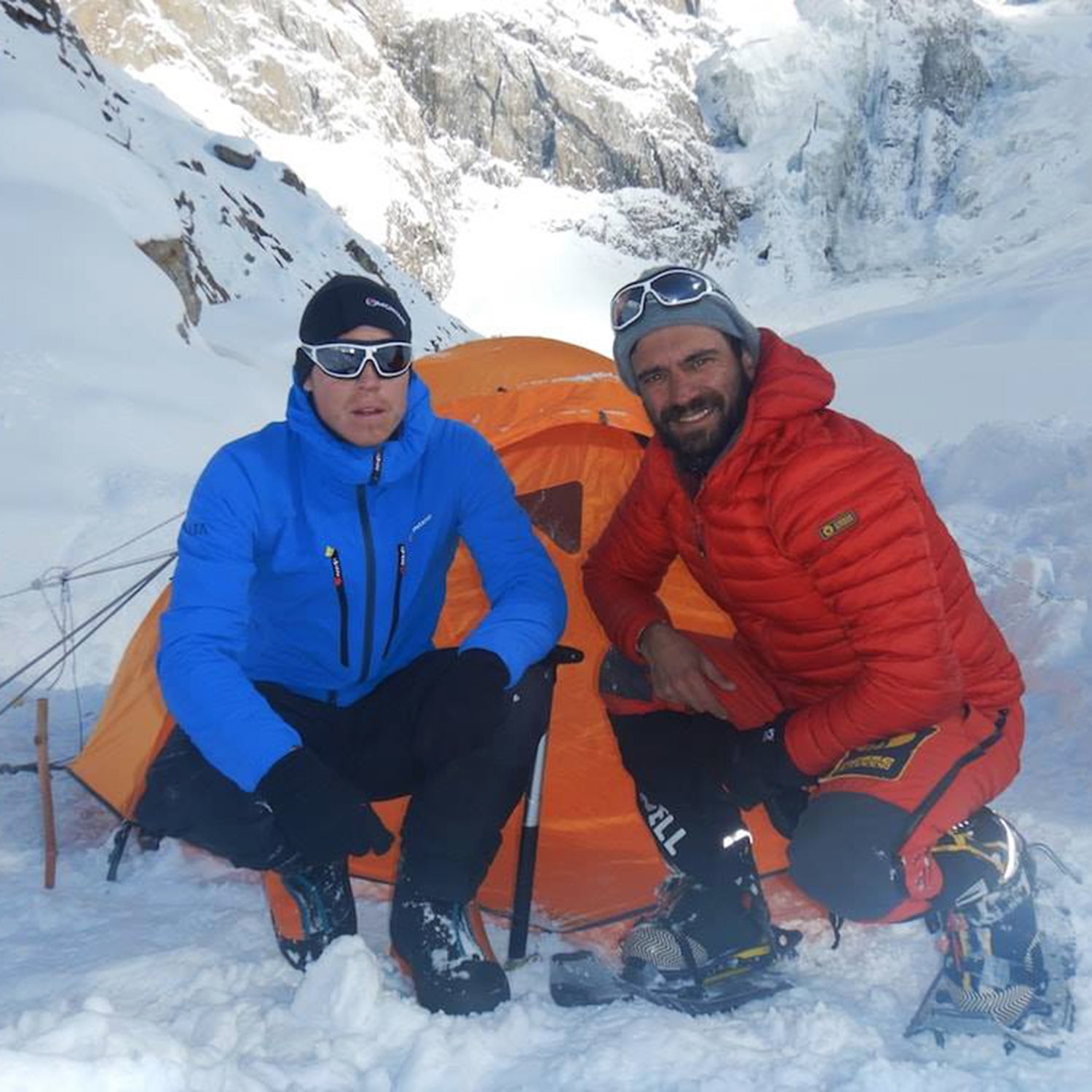 Courtesy Daniele Nardi/Facebook(Photo)
Heading out the door? Read this article on the new Outside+ app available now on iOS devices for members! Download the app.
Update: After 14 days of searching for missing Nanga Parbat climbers Daniele Nardi and Tom Ballard, their bodies were found. The cause of death is unknown. It may have been a fall, an avalanche, or a combination of the two.
The families authorized the release of a photo taken from near base camp a few days earlier by Spanish climber Alex Txikon. It showed their bodies positioned in a small gulley at approximately 19,356 feet on the Mummery spur. This was a bit higher than their Camp 3 location but below Camp 4. It is reported that there will be no effort to retrieve the bodies at this time.
Two climbers on Pakistan's 26,660-foot Nanga Parbat have been missing since February 24. British alpinist Tom Ballard, 30, and Italian Daniele Nardi, 42, were attempting a new route on the Mummery Rib, a steep and dangerous avalanche-prone area on the Himalayan peak. 
The two men arrived with their team at base camp in December, but made little progress up the mountain due to harsh weather and deep snow along the route. Two Pakistani climbers on their team left a few weeks ago, citing the difficult conditions and poor weather forecast.
Ballard and Nardi's last known position was near 20,670-feet, between Camp 3 and Camp 4, according to Nardi's wife, who received a satellite phone call from him on Friday, February 22. On Sunday, they checked in briefly with their base camp crew, but haven't been heard from since. Team members initially assumed that Ballard and Nardi were in a communication dead zone that prevented their radio from working. But as the days drag on, that's looking increasingly unlikely. Low clouds and snow have shrouded the view from base camp where their two cooks and a Pakistani military officer overseeing the climb have been using binoculars to search the area. Wednesday finally brought better conditions but there was still no sign of the men. 
To complicate the search, a dispute between India and Pakistan over the alleged bombing of suspected terrorist targets has escalated over the last two days, with Pakistan shooting down two Indian fighter jets. As a result, the air space around Nanga Parbat has been totally closed off, including to rescue helicopters. Through diplomatic efforts, an exception was made to allow an air search on Thursday. Pakistani mountaineer Ali Sadpara, who was on the team that made the first winter summit of Nanga Parbat two years ago, will lead the rescue.
This was Nardi's fourth attempt on the Mummery Rib, which runs up the western Diamir face. Ballard is one of the world's finest climbers and in 2015, he became the first person to solo all six of the Alps' major north faces in a single winter. He's the son of famed British alpinist Alison Hargreaves, who in 1995 was the first woman to summit Everest without supplemental oxygen. She died a few months later while attempting the world's second highest peak, K2.
Nanga Parbat has a reputation as one of the most deadly 8,000-meter mountains. Last winter, Polish climber Tomasz Mackiewicz died during a winter attempt at the summit and his partner, French alpinist Elisabeth Revol, was rescued in a dramatic effort by climbers who left their K2 attempt to help the pair. In 2013, ten foreign climbers and base camp staff were executed at base camp by Taliban extremists.
Lead Photo: Courtesy Daniele Nardi/Facebook
Trending on Outside Online