Even Tommy Caldwell Questioned the Nose Speed Record
Last week, Tommy Caldwell and Alex Honnold set the speed record on the Nose. But even they're not sure it was a great idea.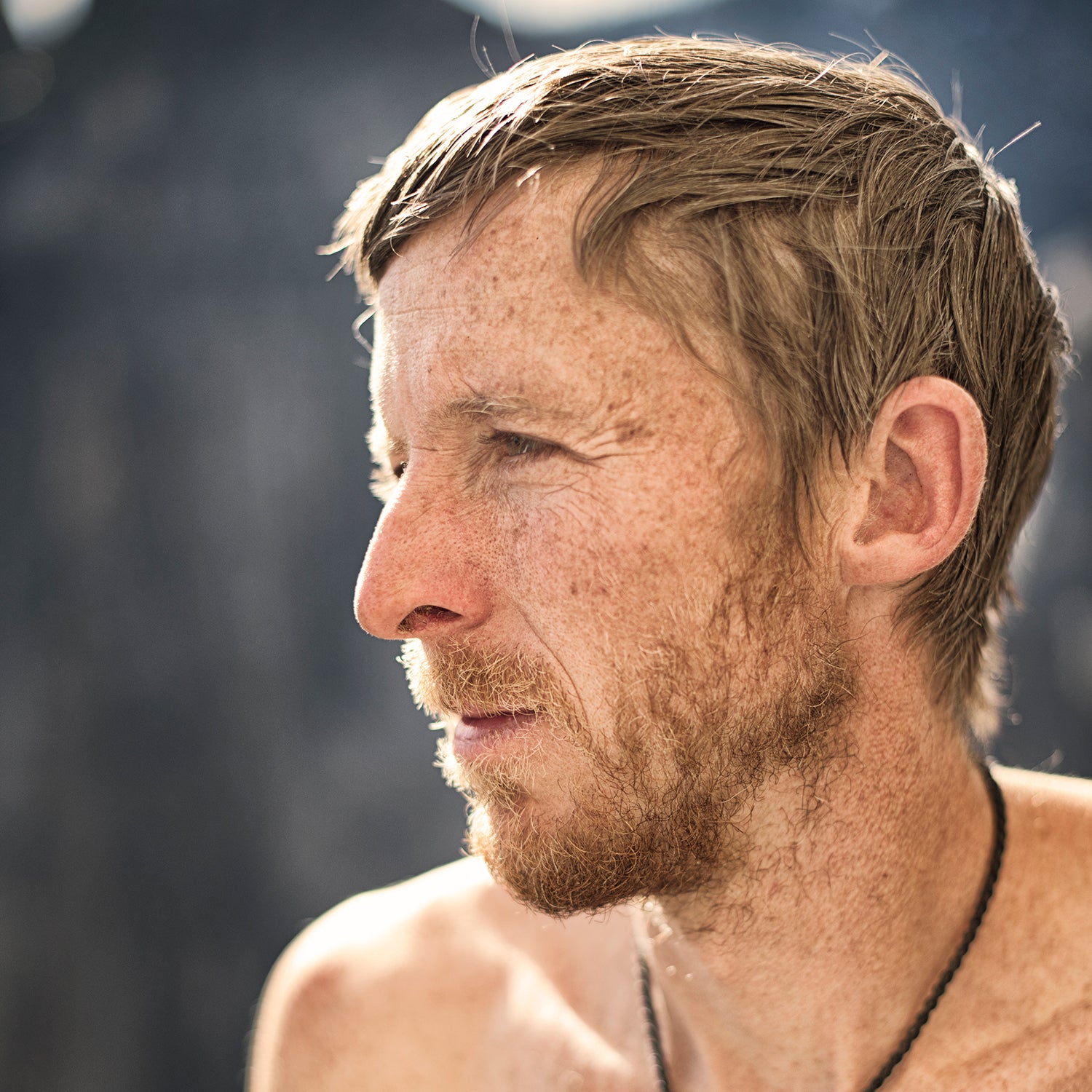 Corey Rich/Aurora Photos(Photo)
Heading out the door? Read this article on the new Outside+ app available now on iOS devices for members! Download the app.
Tommy Caldwell had a lot on his mind on June 4th. He and Alex Honnold were in Yosemite National Park, where they'd been gunning for the speed record on the Nose route of El Capitan, which, to me and to many, seems a dangerous endeavor. The line rises 3,000 vertical feet from the valley floor in an unbroken, elegant swoop. 
The host of techniques employed at hyper speed are complex and risky, and include long stretches of simulclimbing and short fixing. (In both cases, the climbers are roped together, moving continuously with protection, but without a proper belay.) A fair comparison might be redlining a sports car on a winding mountain road without a seatbelt: everything's fine unless you crash. In a pursuit where millimeters of precision matter, introducing a stopwatch generally means cutting corners and eschewing established practices.
But to embody the physical and psychological competency to race up the most iconic wall on the planet in a couple of hours must feel like flying.
Tommy and Alex started with some rehearsals in mid-May, perfecting their systems and proficiency with each ascent. Most modern parties take three to five days on the route; they were aiming for Brad Gobright and Jim Reynolds's record of 2:19:44, set last October. On May 28 they did a relatively casual lap in 2:25. On May 30 they shattered the record, going 2:10:15. The climbing world buzzed with the thought of the previously unthinkable: is a sub-two-hour ascent possible?
In the early morning of June 4, they went 2:01:50. A stuck rope had cost them a couple of minutes. They topped out and Tommy ran down to the valley floor to say goodbye to his wife, Becca, and their two young children, Fitz and Ingrid, who were flying home to Colorado. Tommy was staying for another week, but he was torn about trying again.
Only two days earlier, in a terrible reminder of the fine line we sometimes trace, Tim Klein and Jason Wells, both highly experienced climbers, were killed while speed climbing a different route on El Capitan. A few weeks prior, previous Nose record-holder Hans Florine fell during a planned one-day ascent of the Nose and broke his legs. Last autumn, a good friend of mine and Tommy's, elite climber Quinn Brett, was going for the women's speed record on the Nose when she fell more than 100 feet and hit a ledge. She is now paralyzed from the waist down.
While such a tragic spate is unprecedented in speed climbing on El Capitan, recency forces contemplation. From the outside, speed climbing seems unjustifiably dangerous. Maybe it is. Many in the climbing world think that the game has gone too far.
Yet no two ascents are identical, and few observers completely understand the risks. Who does? When confronted with what we don't understand, we instinctively resort to assuming that if it looks crazy, it is.
Thousands upon thousands of El Capitan ascents occur without incident, years often pass between serious accidents, and there have been only about 31 climber deaths on El Capitan, total.
While anybody who climbs El Capitan in a single day is elite, Tommy and Alex are the best pair to ever tie-in together in Yosemite's mecca. They've honed their approach on the Nose to balance the risk. Quinn fell from high on the Boot Flake, a spot everyone who speed climbs the route knows is dangerous, because many parties opt for a huge run out to save time for the follower. Tommy devised an ingenious solution that allows him to protect that section without slowing the team. On the hardest technical portions, which come when Alex is leading, they've synchronized their timing so that Tommy has him on a real belay.
They've made it safe. "Safe." For them. Which may not be safe for others. It probably isn't.
Skill alone fully insulates no one, but skill plays a role in the nebulous, unsolvable equations of risk. Climbing is filled with permutations. Climbing history is filled with great dead climbers.
---
So, Tommy had a lot on his mind after he and Alex climbed the route in 2:01:50. He took his family to the airport, and then called me to talk.
We joked and exchanged the usual pleasantries. Although I'm nowhere near his level in climbing, he's one of my closest friends. We became acquainted more than a decade ago, neighbors in adjacent cabins here in Estes Park, Colorado. Over time we wore a social path between our houses, and when his first marriage dissolved he cried on my shoulder, literally. My surly alpinist heart doubled in size when he found new love, and I greeted their firstborn 12 hours after he entered this world. Together, Tommy and I worked for two years on his memoir (I was his cowriter), endlessly discussing life, love, philosophy, and—always—risk.
"It's been pretty heavy lately," he said, and we dove in. "After all that's happened—Quinn, those guys last weekend—everyone's gripped."
"How sketchy does it seem to you? Does it feel like you guys are really pushing it?"
"That's the thing, it doesn't. We did a slow lap yesterday, just re-evaluating everything, working the bottom section to dial it in, and it felt really safe. Even when we topped out today, it didn't feel out of control at all. Got a rope stuck but that's it."
In the span of one week they had shaved nearly 24 minutes off their time and shattered the record. It took 79 years for the marathon world record to shrink 24 minutes. 
"Both Alex and I dedicate so much of our lives to El Cap, and this feels like it's bearing that fruit a little bit. It's so exciting and engaging, the combination of logistics and the physical puzzle."
"What does Becca think?"
"She's supportive, but honestly she's scared. I'm just so sick of people dying, and their families left grieving," he said, before creating distance, perhaps subconsciously, with a second-person pronoun. "Then you think of it happening to you…."  
In the pause that followed, I thought of my lost friends and the void that slowly fades but never dies.
"Otherwise, like if it wasn't for my family, in the moment it's no big deal."
He's told me before that he's never feared death, that to him it's an abstract notion.
I understand. The feeling of control in wild situations and spectacular environments draws you in, it changes you, and you begin to learn about yourself. I remember the years when I lived for alpine climbing, before serious injuries forced me to stop—the only reason I stopped. The paradox, of course, is that the farther you push the better you become at surviving, and so you push again, and again, and again. I had friends tell me that I was going to die climbing. They were probably right. It was worth it then, and I miss it now. But I don't have children.
Before he and Alex climbed the Fitz Traverse in 2014, a futuristic enchainment of seven alpine peaks in Patagonia, Tommy grappled with similar questions. In his book, he wrote: "Becca also knew that I wouldn't be me, the person she loves, the father of her child, without the core elements of who I am. What do you do if your one God-given gift, the thing you seem preordained to do, the thing without which you might become a hollow shell, is something that could kill you?"
On the Nose, stable weather and perfect granite means that the danger comes not from external hazards, but from within. "I truly feel like we've been analyzing every situation and making it safe," he told me on the phone, "whereas in mountain climbing you can be the most competent, and an avalanche could wipe you out anyway."
Still, how safe can it be to average fewer than four minutes per pitch on a wall as daunting as El Capitan? In high-end speed climbing, even as you improve with every round, the margin for error shrinks with each second saved. Which he knows.
Tommy began climbing with his father when he was three, and is as sober and rational a climber as I've known. A run-in with a table saw while remodeling his home has been Tommy's worst accident, costing him an index finger.
We kept talking, contemplating the unknowable, neither of us stating the obvious: that he has nothing to prove and that love and mastery exert a powerful pull.
"Man, I think of the wingsuit community," he said, "how at first people were like 'If you're super precise in packing your chute, and only fly in these conditions, only fly in this terrain, it's actually safe.' And now, everybody knows that it's just dangerous, no matter what. I wonder if speed climbing is the same. Am I fooling myself?"
I told him how much I trust his decisions, and that if he steps aside, he'd have my full respect. And if he went again, I knew that it would only be because he absolutely believes that they were making it safe. That he can tell Becca, Fitz, and Ingrid that he was making it safe.
"I don't know how I would feel," he said, about the allure of sub-two. "I don't know if I would just keep it quiet, I don't know if I would celebrate it. For now, I think I'll just let it be. It needs a little more space."
As the climbing world swirled with opinions, perhaps space in the shadow of speed mattered most. Nobody else could decide.
"True," Tommy said, "but it's easy for us to justify things in our own minds." 
 
---
I couldn't stop thinking about my friend's dilemma, and two days later I called to check-in. It was Wednesday morning, June 6. When Tommy answered I could hear the sound of the wind. He put me on speaker phone so that Alex could say hello. I asked how he's doing. "We're stoked, it was a lovely morning out." They were casually working their way down the East Ledges descent off El Cap. They had just climbed the Nose in 1:58:07. (Though Honnold later said he thinks the true human potential is 1:30 or even 1:15.)
For making history, they sounded remarkably calm. Tommy and I talked for another 20 minutes. "It felt great," Tommy said, his voice steady. "Really, we did everything the same as before in terms of safety, and it always felt OK."
For them. And if it felt OK, how do you stop there?
"It was a truly amazing experience, but I don't want to stress people out anymore. Speed climbing is in fashion now, and I want people to know that it should be dealt with properly."
No more?
"Totally done. I have no inclination to race the clock anymore. We did it in kind of the best venue, and I'm done. I still love those missions like running around with friends in the mountains, linking up lots of climbs in a day, but it's way different than racing up El Cap."
Good. I told him that I'll be ready to remind him, in case he forgets.
Corrections:
(09/30/2023) Due to an editing error, this article originally implied that Alex Honnold told the writer that he thought the Nose could be climbed in 1:30 or 1:15. In fact, he said that to another Outside writer in a separate conversation. Outside regrets the error.
Lead Photo: Corey Rich/Aurora Photos
Trending on Outside Online