Update: Lama Geshe back in Pangboche
Heading out the door? Read this article on the new Outside+ app available now on iOS devices for members! Download the app.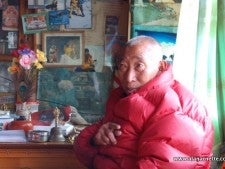 I am very pleased to pass on this note from Lama Geshe's son, Jigme, on the condition of his father, Lama Geshe.
As I have previously reported, Lama Geshe suffered a  stroke around September 20, 2010. He was flown to Kathmandu, paralyzed  and in poor condition.  He  had surgery and spent many months recovering in Kathmandu.
If you do not know Lama Geshe, he lives in the Nepalese village of Pangboche with his  wife and family. He is the highest ranking Buddhist Lama in the area.  Almost every climber to the Everest region visits him to receive a  blessing before their climb. For many climbers and trekkers, this is one  of the highlights and life long memory of their visit to Nepal.
This is the update from Jigme:
Hello Alan,

I am very joyous and delighted to share that my father is recovering very well and is in Pangboche these days. He left Kathmandu on Monday, February 28th  and so far he is doing very well. He is full of happiness to be able to do what he has done through out his life: Practice meditation and dharma on the foothills of mighty Everest and Amadabalam breathing fresh air scented with juniper.

I am also very excited for all the climbers who wish to visit him for blessing on the way to EBC.

I and my family would like to extend heartfelt appreciation to everyone for all the support, care, and prayers for my father during his difficult time.

Could you please post this on your blog.

Thank you and good luck with the expedition.

Thank you so much for your concern about my father and all the Alzheimer patients.
Jigme
I hope to visit hm on my way to Base Camp next month.
Climb On!
Alan
Arnette is a speaker, mountaineer and Alzheimer's Advocate. He is climbing the 7 Summits throughout 2001. He has summited Vinson and Aconcagua already and leaves for Everest in late March. All to raise $1 million for Alzheimer's research. You can read more on his site.
Trending on Outside Online