Walks on the Wild Side
Exploring the most enchantingly rugged places on earth is easy. Just follow our guide to the world's ten classic treks, put one foot in front of the other—and don't forget to take it slow.
Heading out the door? Read this article on the new Outside+ app available now on iOS devices for members! Download the app.
The exhilaration of the moment still resonates with me: After three days of airplanes, buses, Nairobi hotels, and jeeps juddering along dirt tracks, we arrived at the end of the road—a place called Chogoria, on the lower flanks of Mount Kenya. My fellow trekkers and I laced up our boots, shouldered our daypacks, and strolled off into the African wilderness. I breathed in great draughts of cool mountain air as my leg muscles unwound. The sun warmed my face through a sharp blue sky.

Waking dream: above the clouds on the Milford Track, New Zealand

Forgive the hyperbole, but to me, trekking is a very good approximation of heaven on earth. I love the sense of going somewhere, of a journey to a destination rather than a mere aimless wander. I love the remote landscapes and the local people going about their regular business. I love the walking, the mindless putting of one foot in front of the other. I love the utter distance from my normal life.
"Trek" is an old word. It comes from South Africa, an Afrikaans word that meant a journey by ox wagon. But commercial trekking is not even as old as the Beatles. What's considered to have been the world's first commercially guided trek commenced on February 25, 1965, when three Midwestern women—a pediatrician, a retired bacteriologist, and a school superintendent—set off on foot from Panchkhal, Nepal, bound for the Tengboche Monastery near Mount Everest. They walked for 35 days and 150 miles, accompanied by three Sherpa guides, nine porters, and Colonel Jimmy Roberts, a retired British Indian Army officer who had wrangled permission from the king of Nepal to walk through areas previously off-limits to foreigners. The women paid $450 each. Roberts's trekking operation eventually morphed into Mountain Travel Nepal, one of the first adventure-travel companies, and an industry was born. Today an estimated 150,000 trekkers a year stream through Nepal alone.


The comic-stripswamp trekker Pogo Possum once lamented that he was "confronted with insurmountable opportunities." He could well have been talking about the vast array of treks and outfitters available today. Some routes, such as New Zealand's Milford Track and Patagonia's Torres del Paine Circuit, are easy enough to navigate independently. On others, including Bhutan's famed High Lunana Trek and Inner Dolpo in Nepal, guides are mandatory. But they all lead deep into unfamiliar places and far from the habits of home. We've chosen ten classic treks—some famous, some soon to be—as starting points: Think of them as the tips of the icebergs, the peaks rising out of the clouds. (Eleven others can be found in Outside Books' new adventure-travel title Trekking, to be published this month by W.W. Norton and from which many of these routes are excerpted.) If you're having trouble deciding—Pakistan or Peru, Kilimanjaro or Kailas, Dhaulagiri or the Dolomites—put your list on the wall and throw a dart. You can't miss. —David Noland
Switzerland: The Haute Route
Watch your step on this spectacular journey through the Alps, or you just might fall off the edge.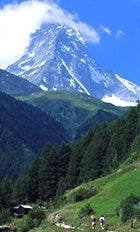 The hills are alive: walking near the Matterhorn on the 100-mile Haute Route
AT A GLANCE

Trek Length: 10­12 days, 100 miles
Maximum Altitude: 12,470 feet
Physical Challenge: 1 2 3 4 5
Price (Self-organized Trek): $500–$800*
Price (Group Trek): $2,195–$2,350
Prime Time: July–September
Staging Cities: Zermatt, Switzerland, or Chamonix, France
Recommended Outfitters: Bill Russell's Mountain Tours, Camp 5 Expeditions, and Distant Journeys (for contact info, see page 71)


THE FOG IS SO VISCOUS I DON'T see the edge. I'm feeling my way with my feet, one step at a time. Lowering a leg through plasmic swirls, it inexplicably keeps dropping and I suddenly realize I'm stepping into space. My body flings itself back from the brink as if struck by lightning. I land on my side in the snow, my heart rattling out of control.


On the flatter parts of our earth, say in Holland or Kansas, if you can't see where you're going it's no big deal. The worst that could happen is you fall into a canal or a ditch. Here, on the neck of an arête high in the Swiss Alps, so high this tapioca air is really not fog at all but cloud, one misstep and you'll be airborne.
I sit up, crawl forward on my hands and knees to the lip of the precipice, and lean out. An updraft folds around my face and I feel the abyss directly below me, yet I see nothing but white. Everything's swimming in milk. I retreat from the cliff, get to my feet, and find my way back to the tiny bivouac hut.


Sue, my wife, is sitting on a metal bunk, wrapped in wool blankets, licking Nutella off her pocketknife.


"Find the descent?"


"For BASE jumpers."


She grins, chocolate on her lips.


I open the map.


"We're lost?" she asks.


"We're in a hut," I counter. "How could we be lost?"


"Is the hut on the map?"


"No."


"So we don't know where we are, exactly."


"Exactly."


Sue opens the blankets and pulls me in. "Where are we generally?"


I point with my thumbnail to the far corner of the map. "Somewhere here, on the western edge of the Plateau du Couloir." Unfortunately, at this map's scale, my thumbnail is one kilometer across. Trying to find the descent route off a kilometer-long cliff smothered in fog is akin to searching blindfolded for the fire escape along the roof of a high-rise.


Staring out the doorway into an ethereal pearliness, we finish off the last of our water. Inside our wood-ribbed, tin-skinned plane wreck of a shelter, the scene darkens or brightens depending on the density of the clouds blowing past. The cables anchoring the hut to the ridge thrum in the wind.


I look around the grim bivouac hut. "Not really a bad place."


"You're kidding."


"No different than the huts we used in Mexico, or Africa."


"This is Switzerland." Sue touches her teeth with the tip of her tongue, and reconsiders. "Boy, have we been spoiled."


SUE AND I ARE HALFWAY through the most famous mountain trek in Europe: the Haute Route—the High Route—a hundred-mile hut-to-hut track through the heart of the Alps. The truth is, it's more like chalet-to-chalet. The bivouac shed we're holed up in is nothing more than an emergency shelter, and bears no resemblance to the seven standard huts of the classic Haute Route, each of which is a veritable three-story stone lodge positioned with Alpine feng shui on some high ridge that affords panoramic, jaw-dropping views. A steaming, multicourse French meal is served every evening to some 50 to 100 hikers, along with good wine and beer and worldly conversation so boisterous and astute it rivals anything in a late-night Left Bank café. On successive nights we've discussed the World Bank with Germans, ecology with Norwegians, the European Union with Dutchmen, the lingering impact of imperialism with two Scots, poetry with Czechs.


Hut-to-hut mountain travel is a classically European invention. For most Americans, mountain hiking is synonymous with wilderness travel, and wilderness with isolation. Except the Alps are not isolated. They are a peaks-and-glaciers playground smack in the middle of one of the most densely populated regions on the planet: Some 200 million people live within one day's drive of the Alps. Without huts, helter-skelter camping would have trashed these idyllic ranges long ago.


Huts change mountain travel in two fundamental ways. First, they completely overhaul the evening ambiance, replacing tent-and-stars serenity with cosmopolitan camaraderie. This is a controversial trade-off. (Bring earplugs, even sleeping pills, to drown out the round-the-clock clamor.) But huts also dramatically alter the hiking experience itself. Because there is a roof, a bunk, and dinner waiting for you at the end of every day, you can dispense with a tent, sleeping bag, stove, fuel, cookery, and all food besides snacks and lunch. Suddenly you're bounding blithely along with little more than a daypack through heavily glaciated, saw-toothed mountains that would otherwise require a leg-torturing, morale-crushing expedition pack. This is an indubitable joy.


At their best, mountain huts elegantly combine polarities. The barbaric remorselessness of high mountains with the civilized warmth of humanity. Hardship with luxury. Fear with security. Distance with closeness. Silence with conversation. Hunger with satiation.


Although there are several hut-to-hut traverses in the Alps, the true Haute Route, connecting Zermatt, Switzerland, with Chamonix, France—crossing some 20 glaciers with a total ascent and descent of more than 25,000 feet—is the most prestigious. First hiked in 1861 by members of the British Alpine Club, it became the premier mountaineer's trek of the 19th century. By 1903, smaller versions of the modern-day huts had already been established. The Haute Route was first skied in its entirety, including a crossing of the Plateau du Couloir, in 1911. By the late 1920s onward, however, as the skiing industry blossomed in Switzerland, the Haute Route became the most coveted ski traverse in Europe. Today the classic Haute Route is hiked in late summer or skied in the spring. But whether done on foot or by ski, it is still considered one of the world's most technical commercially guided treks. Indeed, Sue and I were practically eighty-sixed from the Alpin Center in Zermatt for intimating that we'd like to try the Haute Route on our own.


"Iss impossible!" hissed the man at the center's information counter. "You cannot do the Oat Root vitout a gueed. You vill never find your vay. I am telling you right now, you American tooreests: You vill die."


Right. I bought the maps, Sue bought the Nutella, and away we strode, passing up into the mountains directly beneath the nose of the Matterhorn. Four days later—four days of weaving up and down through unforgettably stunning mountainscapes—we find ourselves fogbound in our wind-raked tin shack. We have traversed nine glaciers, hopped hundreds of crevasses, crossed four passes (rappelling off one), climbed one peak, forded a half-dozen creeks, and contended with blinding fog every single day. In other words, unless you are proficient at navigating by map and compass, possess solid mountaineering skills (from crevasse rescue to self-arrest), and know how to read glaciers, moraines, icefalls, and clouds, the man at the Alpin Center is right.


"IT'S CLEARING." Sue is standing in the doorway of the bivouac hut. "Mark, come check it out."


I've been trying to memorize the map. Somewhere just to our left—to be absolutely avoided—is a drop-off of 5,000 feet.


I fold up the map and step outside. The clouds have lifted just enough for the ground to materialize. Sue is kneeling beside a boulder protruding from the snow. There's a wide yellow dash painted on the rock.


"Follow the yellow brick road. Follow, follow, follow…"


She's making a joke. We've discovered such slashes of paint intermittently. They are the most useless of trail markers. You only find one when you are standing right on top of it.


"It's getting late, Suz. Should we stay or should we go?" I already know her answer. A glowing hearth, wooden benches, kitchen smells, a hot meal—they all form an irresistible vision that draws us toward the next hut like kids to Christmas morning.


We reload our small packs and set out in the direction the dash indicates. The fog is still thick, so we stay close together. Keeping


our eyes on the ground, we find three more random rocks with yellow streaks before they disappear.


According to the compass, we've been moving due south. This makes me anxious. The Valsorey hut is due west.


"The trail must swing right," I insist.


We veer west and immediately begin to descend through a series of small ledges. Visibility is still no more than 20 feet. We carefully belay each other from one slick ledge down to the next. The farther we go the more uncomfortable I become. Something's not right. Even for the Haute Route, this is too technical.


Eventually we reach an exceedingly steep snowfield that drops into the mist. I descend first, facing in and front-pointing. When I reach the end of the rope, I set up a belay around a rock outcrop.


"Sue!"


"On belay?" Her voice is unnatural. I can hear the fear.


When she rejoins me, appearing out of obscurity, she says nothing.


"I think we should traverse north," I tell her.


She nods.


On the next pitch I kick steps simultaneously down and left. Before I reach the end of the rope I drop beneath the clouds—and instantly realize we have made a grave mistake. Below me is a thin rock band, then nothing but damp sky for thousands of feet. We are exactly where we didn't want to be: too far south, on the cliffs far above the Valsorey Glacier.


I stop at the ledge and set up another belay.


"On belay! Take! Your! Time!"


Sue starts to descend. I bring in the rope. She's moving too quickly.


"Slow down!"


I hear her scream, "Why?"


When Sue drops out of the clouds she immediately looks to her right, then to her left, then down between her feet. She stops dead. She stands still, both toes kicked into the snow, both hands on the adze of her ax, leans forward and presses her forehead against the snow.


I don't say a word. She begins to downclimb very methodically. Reaching me, she silently clips into my belay, looks over her shoulder at the chasm of air below, and says, "I'd say we're off route."


We both break out laughing.


"You know what went wrong? Those yellow dashes, they loop up to that bivy hut, not down to Valsorey. We went the exact wrong direction."


I point to a mellow couloir to the north of the face we're on.


"That's where we were supposed to descend."


"Then we'll just have to get over there," says Sue with can-do aplomb.


And so we do. When you have no choice, you do what you have to.


THE TRAVERSE IS steep and icy and slow, but successful. We slip into the main cirque of the Meitin Glacier, drop down to the moraine, find the trail, and burst into the Valsorey hut just at dusk.


It is like coming home after a great adventure. The warm, wool-moist heat of a blazing black woodstove envelops us. We sink into the safety and soft foreign voices as if into a hot tub. The caretaker is pulling a homemade peach pound cake from the oven. We order four thick slices. 
Chile: The Paine Circuit

Peak experience: taking in the surreal beauty of Torres del Paine
Trek Length: 6–10 days, 60 miles, plus two recommended side hikes totaling about 35 miles
Maximum Altitude: 4,000 feet
Physical Challenge: 1 2 3 4 5
Price (Self-organized Trek): $500–$600
Price (Group Trek): $1,500–$4,200
Prime Time: December–March
Staging Cities: Punta Arenas, Chile or Chamonix, France
Recommended Outfitters: Bill Russell's Mountain Tours, Camp 5 Expeditions, and Distant Journeys

The Rhapsody: Torres del Paine, the jagged massif jutting 6,000 feet out of the Patagonian pampas in southern Chile, is Himalayan-quality drama in a tiny package. The highest peaks lie clustered in an area only about ten miles square, making the 60-mile Paine circuit perhaps the finest trek on earth in terms of sheer visual impact. The Paine draws lots of day hikers who stick to the Ascensio Valley, Francés Valley, and the more accessible south end of Torres del Paine National Park. Thankfully, though, the company is not all human: You'll see pink flamingoes, ostrichlike flightless rheas, grazing guanacos, and more condors—clouds of them—than anywhere else in the world.
The Route: Trekkers fly to Punta Arenas and then drive to Puerto Natales and on to Torres del Paine National Park. The circuit trek typically starts near the main entrance to the park, proceeding north along the Río Paine to Lago Paine before heading west along the backside of the massif to Lago Dickson. From there you'll start climbing toward glacier-fed Laguna de los Perros and up over windy John Gardner Pass, the high point of the trek. You'll then descend steeply on a rugged, slippery trail toward huge Grey Glacier. The route turns south, paralleling the glacier and Lago Grey to Refugio Grey, a trekkers' hut with food and hot showers. From there the usual route continues along Lago Grey and down the Río Grey back to civilization.Accommodations throughout the trek are a mixture of designated campsites (BYO tent) and well-stocked refugios with bunks, hot showers, and meals.

Guides and Outfitters: Independent trekkers won't need a guide, but national park authorities do not permit solo trekking. If you're on your own, you'll have to pick up a hiking partner on the spot. Most trails are clearly marked, but a good up-to-date map is a must. For refugio reservations or information, call Andescape (011-56-61-412-592, www.chileaustral.com/andescape). A bunk will run about $17 per night, or $39 with three meals. A number of local outfitters in Puerto Natales offer treks in Paine. Try Concepto Indigo (011-56-61-410-678, www.conceptoindigo.com). And two American outfitters operate the full Paine Circuit trek: Mountain Travel­Sobek and Southwind Adventures (for contact information for these U.S. outfitters and those on the following pages, see "Trekking Yellow Pages," page 71).

Read Up: In Patagonia (Penguin USA, $14) is Bruce Chatwin's famed travelogue. Charles Darwin's Voyage of the Beagle (Penguin Classics, $12) is a must for history buffs. For logistical advice, try Lonely Planet's Trekking in the Patagonian Andes ($18). —D.N.
New Zealand: The Milford Track

Topping out on Mackinnon Pass, day three on the Milford Track, New Zealand
AT A GLANCE
Trek Length: 4 days, 33.5 miles
Maximum Altitude: 3,519 feet
Physical Challenge: 1 2 3 4 5
Price (Self-organized Trek): $200–$250
Price (Group Trek): $642–$685
Prime Time: November–April
Staging Cities: Queenstown, New Zealand

The Rhapsody: Perhaps the reason why New Zealanders have coined their own word for trekking—"tramping"—is that their islands boast several of the most astonishing walks on earth, including the Milford Track, a 33.5-mile traipse through the thick beech forests and mossy gorges of Fiordland National Park on the South Island's remote southwestern coast. Not surprising, this four-day hut-to-hut tramp is among the most popular and thus heavily regulated walks in the world. Secure a permit for your departure date—or sign on with the track's only outfitter—and you'll trek over 3,519-foot Mackinnon Pass (named for the Scotsman who built the trail in 1888) and past dozens of raging cascades, among them Sutherland Falls, with its triple-tiered, 1,904-foot drop. The track's end, in the shadow of Milford Sound's moody, 3,000- 5,000-foot-high glacial cliffs, is anything but anticlimactic.
The Route: From the lakeside town of Te Anau, a couple of hours south of Queenstown, you'll take a bus along the shore of Lake Te Anau to Te Anau Downs and then board a catamaran to the trailhead at Glade Wharf. Day one is an easy one-hour forest walk to the first hut. The next morning, you'll wind through a cascade-ringedcanyon and on toward the glacial waters of Lake Mintaro. From there, it's 13 long switchbacks up to Mackinnon Pass, where, if the weather is clear, you'll get huge views of Mount Eliot and the Jervois Glacier, before heading on to Milford Sound, where you'll catch a launch back to civilization.

Guides and Outfitters: Milford Track Guided Walk (011-64-3-441-1138; www.ultimatehikes.co.nz), the trek's only authorized outfitter, offers full tramping packages for $685 per person from December through March 13. Off-season rates (November and mid-March through April) are $642.

Read Up: Tramping in New Zealand, by Jim Dufresne (Lonely Planet, $14), has detailed route descriptions. Kiwi Tracks, by Andrew Stevenson (Lonely Planet, $10), is a wry travelogue of four months of New Zealand tramping.

"The Shell Guide to the Milford Track" (out of print), by Philip Temple is a pocket-size pamphlet by a veteran Kiwi tramper. —D.N.
Pakistan: Snow Lake

Steady on: Porters traverse a glacier near Snow Lake.
AT A GLANCE
Trek Length: 21–28 days (10­15 of which are spent walking), 120 miles
Maximum Altitude: 16,900 feet
Physical Challenge: 1 2 3 4 5
Price (Self-organized Trek): $1,300–$1,500
Price (Group Trek): $1,700–$4,800
Prime Time: July–August
Staging Cities: Islamabad, Pakistan

The Rhapsody: There's a place in remote northeastern Pakistan that is so overpowering in its visual drama that a number of qualified observers have been willing to declare unequivocally that this is The Most Beautiful Place in the World. The Place is improbably remote, a week's trek from the nearest human habitation, which is itself the last outpost in the hardscrabble frontier region of Baltistan. Perhaps the difficulty of trekking to The Place—only about 200 people a year manage to reach it—and the lack of oxygen at its extreme altitude have colored the aesthetic judgment of those who have been there. Or perhaps not.

It's called Lupke Lawo, or Snow Lake, and it's not a lake but a ten-mile-wide glacial basin at 15,000 feet, ringed by the jagged high peaks of the Karakoram Range. Punctuated by mountainous "islands" that jut from its surface, Snow Lake lies at the head of the Biafo and Hispar Glaciers, which spread down from Hispar Pass in opposite directions like a long, bony thumb and little finger, forming a 75-mile river of ice that is among the world's longest continuous glacier systems outside the polar regions. Nepal veterans may miss the terraced greenery, religious shrines, and friendly, tea-bearing locals, but for those seeking solitude and aesthetic grandeur, this wild walk is unsurpassed.

The Route: The journey to Snow Lake typically begins in Islamabad, the main jumping-off spot for mountaineers and trekkers bound for the Karakoram Range. After flying or driving (there's a 50-50 chance bad weather will cancel your flight) from Islamabad to Skardu, trekkers travel by jeep along the terrifyingly narrow and precipitous road through the Braldu Gorge (brace yourself for two- to three-point turns to negotiate the winding bends) to the medieval-looking village of Askole, where the trek begins; be prepared to walk the final hour to Askole, as a landslide recently wiped out part of the road. The trek proceeds toward K2, then turns northwest up the Biafo Glacier to Snow Lake, climbing a gradual 1,000 feet a day for about a week. From there, trekkers cross the pass at Hispar La and make the five- to six-day descent of Hispar Glacier to the Hunza Valley, the lush green oasis that was supposedly the inspiration for James Hilton's Shangri-La. Return is an overnight trip via jeep to Karimabad and Gilgit, then by plane or jeep to Islamabad.

The Snow Lake trek is an extremely challenging proposition. Crevasses on the Biafo and Hispar Glaciers have claimed lives, and blizzards, whiteouts, and tricky, crevasse-obscuring snow cover are possible throughout the year. Even with a guide, you'll need solid route-finding, compass-reading, and rope skills.

Guides and Outfitters: Because you'll be crossing crevasse-riddled glaciers en route to Snow Lake—a week's walk away from rescue—it's not advisable to trek there on your own, without a rope team. In Skardu, the last outpost where food and fuel can be obtained reliably, you may be able to find a freelance guide who can organize porters, supplies, and jeeps to and from the trailheads. Typically, you'll need four to five porters per trekker, at a total cost of about $100 per porter; with food and jeep travel, the cost of a bare-bones Snow Lake trek arranged in Skardu is about $1,300 per person, depending on group size. A better choice is one of several outfitters in Islamabad that offer Snow Lake trek packages at prices ranging from about $1,700 to $2,000 for a group of eight (try Nazir Sabir Expeditions at 011-92-51-2252553; www.nazirsabir.com).

A safer option still are the several U.S. outfitters (Concordia Expeditions, Geographic Expeditions, and KE Adventure Travel, among others) that offer full-service expeditions with all the amenities—hotels and meals in Islamabad and flights to and from Skardu (weather permitting) and Gilgit—at prices ranging from $1,750 to $4,800.

Read Up: Trekking in the Karakoram and Hindu Kush, by John Mock and Kimberley O'Neil ($17, Lonely Planet) is an essential guidebook for Snow Lake trekkers. Explorers of the Western Himalayas, by John Keay ($24 John Murray UK, ) remains a compelling history of exploration in the western Himalayas and the Karakoram. —D.N.
India: Zanskar Traverse

Green peace: lush valleys near the Lamayuru Monastery, Ladakh, India
AT A GLANCE

Trek Length: 17–23 days, 175 miles
Maximum Altitude: 16,695 feet
Physical Challenge: 1 2 3 4 5
Price (Self-organized Trek): $500–$1,000
Price (Group Trek): $1,000–$3,445
Prime Time:July–August
Staging Cities: New Delhi
Travel Alert: Be aware of recurring Hindu-Muslim border skirmishes, some 75 miles and several mountain passes to the north. But because Zanskar is primarily Buddhist, the Kashmir conflict has had little direct impact on trekkers.


The Rhapsody: For centuries Zanskar, a little-known pocket of the Indian Himalayas, has resisted definition—straddling governments and cultures like its own miniature kingdom. Though part of India's northern state of Jammu and Kashmir since 1949, Zanskar's inhabitants— overwhelmingly Buddhist—have more in common with their northern neighbors than with the throngs in New Delhi, some 400 miles south. But more than anything, it's Zanskar's dramatic geography that has earned it the nickname "Little Tibet": two isolated river valleys in the region of Ladakh ringed by jagged, 19,000-foot peaks and linked by an ancient network of trekking routes more remote than those in the Karakoram and far less traveled than those of Everest. Though much of the 175-mile Zanskar traverse keeps to the valleys, this is high, arid country. You'll spend three solid weeks above 11,000 feet and cross nine 12,500-foot-plus passes. There are few villages and even fewer paved roads, limited opportunities for resupplying food and fuel, and often indistinct trail markers. But the payoffs only get better: namely, 1,000-year-old Buddhist monasteries carved into limestone cliffs, teahouses run by Ladakhi apricot farmers, and fast-running glacial rivers (always cross in the early morning, before midday snowmelt swells them into impassable torrents).
The Route: After a day or two of acclimatization in the former hippie hangout (and current Indian honeymoon haven) of Manali, trekkers make the full day's bus ride to Darcha, a small village at the start of the south-north route. The first seven- to 11-day leg crosses Shingo La, a snowy 16,695-foot pass, and then follows the Tsarap River into Padam, once Zanskar's trading hub for turquoise, gold, and silver—passing Karsha Monastery, 1,000 years old and still the most active in the region, and Phuktal Monastery. The ten- to 12-day second stage continues over 16,880-foot Shingi La to Lamayuru Monastery. From there you'll drive to the Ladakhi capital of Leh and fly or drive back to Delhi.


Guides and Outfitters: Because the trails are unmarked and can be confusing at times, all but the most experienced route-finders will want to hire a guide. Horses and handlers can be retained as porters in Manali or Padam for $5 to $10 per horse per day. Local outfitters in Manali charge $1,000 to $1,500 for a full-service Zanskar trek; check in with the Himalayan Mountaineering Institute in Manali for recommendations. New Delhi outfitters also offer several treks in the Ladakh region; contact Indian Tribal Tours (011-91-11-3723353; www.indiamart.com/itt/) for more information and detailed itineraries. Geographic Expeditions and Himalayan High Treks are the only full-service U.S. outfitters that run the Zanskar trek described here, at a cost of $3,100­$3,445 per person.


Read Up:
Trekking in Ladakh, by Charlie Loram ($17, Trailblazer Publications) is the most detailed guide to trekking in the region. Andrew Harvey's A Journey in Ladakh ($15, Houghton Mifflin) is his memoir of spiritual adventures in northern India. Trekking in the Indian Himalaya ($18, Lonely Planet) includes a section on Zanskar routes. —D.N.
Tanzania: Kilamanjaro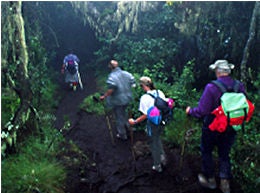 AT A GLANCE

Trek Length: 15–8 days, 25–35 miles
Maximum Altitude: 19,340 feet
Physical Challenge: 1 2 3 4 5
Price (Self-organized Trek): $500–$700
Price (Group Trek): $700–$5,500
Prime Time: January–February,
Staging Cities: Arusha, Tanzania, or Nairobi, Kenya


The Rhapsody: Trekkers watching the sunrise from the 19,340-foot summit of Kilimanjaro have been known to blubber on about this being the greatest moment of their lives. And why not? Every aspect of the five-day, 13,000-foot climb—perhaps the most popular high-altitude trek in the world—is an exercise in dramatic extremes: Starting in dense montane forest at 6,000 feet, you trek through leopard and rhino habitat; head upward through moorland, high-altitude desert, and vertiginous scree slopes; and then emerge onto the desolate lunar landscape of the snow-covered summit cone. Altitude is the 800-pound gorilla of any Kili ascent, and those who fall short of the top are typically turned back not by storm or ice or precipice, but by a simple failure of will: At some point, they decide that the volcanic massif is not worth the effort of taking one more step. It's no wonder, then, that such a stern test of mental and physical toughness is enough to make one want to shout—or wail—with joy.


The Route: Compared to the standard Marangu route used by the vast majority of Kili aspirants, the Machame route (starting near the village of the same name, at 6,000 feet on the mountain's southwest flank) is much less crowded, more scenic, and longer—five days up instead of four—which allows more time for acclimatization. The first few days of the trek feature moderate ascents averaging 2,000 to 3,000 feet per day through forests of cedar and heather and then up onto the rocky Shira Plateau at 12,500 feet. Barafu Hut, a grungy, graffiti-covered tin shelter at 15,000 feet, just below the mountain's steep summit cone, is where you'll make your final bid for the top: a gruelingly steep 16- to 18-hour push through soft sand and scree. A word on aesthetics: Because Kilimanjaro is an anomaly in the African landscape, a high-altitude culture never evolved, and there are no villages and virtually no inhabitants above 6,000 feet.


Guides and Outfitters: Kilimanjaro offers a number of trekking choices, none of them dirt cheap, thanks to high fees imposed by Kilimanjaro National Park ($350 to $450 per trek, depending on the route). Do-it-yourselfers are out of luck: The park requires that you climb with at least one guide and one porter. And note: New park rules designed to control the daily number of climbers on Kili also require that climbing permits for all routes be booked in advance. There are any number of full-service treks organized by outfitters in the towns of Arusha, Moshi, or Marangu (try the Marangu Hotel at 011-255-27-2756361; marangu@africaonline.co.ke), which typically charge $700 to $800 for the quickie five-day round-trip Marangu climb. The Machame and Shira Plateau routes cost upwards of $1,000 per person because of longer stays in the park and more complex logistics.


American outfitters are much more expensive— figure $4,500 to $5,500 for the Machame route—but these trips usually include a mini-safari, transportation from the airport, top-quality hotels and meals before and after the climb, a Western trip leader, and various logistical backups and safety measures. Among the many U.S. outfitters offering Kilimanjaro climbing packages are Alpine Ascents International, Geographic Expeditions, Thomson Safaris, and Wilderness Travel.


Read Up:
The Snows of Kilimanjaro and Other Stories ($10, Scribner) is Ernest Hemingway's classic. The Shadow of Kilimanjaro: On Foot Across East Africa ($14, Henry Holt and Company) is Rick Ridgeway's account of his trek from the summit of Kilimanjaro to the Indian Ocean. Cameron Burns's Kilimanjaro & Mount Kenya: A Climbing and Trekking Guide ($19, The Mountaineers Books) is a comprehensive guide to popular and little-known routes. —D.N.
Tibet: The Mount Kalias Circuit
My soul to keep: Tibetan prayer flags catch the breeze near Mount Kailas
AT A GLANCE
Trek Length: 15 days, 75 miles
Maximum Altitude: 18,368 feet
Physical Challenge: 1 2 3 4 5
Price (Group Trek): $2,500–$7,500 Self-organized trekking is forbidden by the Chinese authorities.
Prime Time: May–June, September–October
Staging Cities: Kathmandu, Nepal

The Rhapsody: The case can be made that the most revered mountain on the planet is Mount Kailas, an exquisitely chiseled 22,028-foot pyramid that juts out of the arid high plains of western Tibet and is the source of four of Asia's great rivers: the Brahmaputra, Indus, Karnali, and Sutlej. Kailas is held sacred by no fewer than four religions—Buddhism, Hinduism, Jainism (an Indian offshoot of Buddhism), and Bön (an ancient Tibetan practice that predates Buddhism by several centuries). Although the geographic remoteness of Kailas limits the number of annual pilgrims to about 5,000, it only enhances their ardor: Some Kailas pilgrims walk 300 miles round-trip, crossing the Himalayas twice, for the privilege of making the Kora, the ritual 33-mile circling of the mountain that is said to cleanse past sins and lead to enlightenment. For trekkers, Kailas carries the allure of the unknown. It is exceedingly remote, 900 miles west of the Tibetan capital of Lhasa via a wretched, rutted dirt road. The peak itself is uncannily symmetrical, visible in its lone splendor from miles away.
The Route: Trekkers fly from Kathmandu to Nepalgung and then to Simikot, in far-western Nepal. From Simikot it's a six-day walk through river valleys and mountains to the Tibetan border, from which you'll drive about 50 miles north to Lake Manasarowar and then on to Kailas for the three- to five-day circumambulation. According to Tibetan Buddhists, the walk must be made clockwise, with the mountain always off your right shoulder. In terms of logistical uncertainty and physical challenge, this a very rugged and unpredictable trek. Outside Lhasa, tourist facilities of any kind are primitive— if they exist at all. And altitude is everything: You'll spend three weeks above 12,000 feet and almost two at 15,000 feet or higher.

Guides and Outfitters: Several Kathmandu-based outfitters offer Kailas treks. Check the Visit Nepal Network (011-977-1-416-239; www.visitnepal.com) for a listing of outfitters. Getaway! Himalayan Eco Treks (011-977-1-424-921; www.visitnepal.com/getaway) offers a 15-day Kailas trek that bypasses Lhasa and completes the circuit in a brisk three days.

Several American outfitters (among them, Himalayan High Treks, KE Adventure Travel, Snow Lion Expeditions) offer turnkey trips out of Kathmandu, with extensive side trips and tours. A New Zealand outfitter worth noting is Footprints Tours (011-64-3-548-0145; www.greenkiwi.co.nz/footprints), run by John and Diane McKinnon, compatriots of Edmund Hillary and longtime Nepal residents.

Read Up: Sacred Mountain, by John Snelling ($30, Books Britain) is an excellent history of Kailas. In Trans-Himalaya ($75, Greenwood), Swedish explorer Sven Hedin describes his 1907 expedition to Tibet.Trekking in Tibet, by Gary McCue ($19, The Mountaineers Books), is the best guidebook to walking the region. —D.N.
Bhutan: The High Lunana Trek

Yakking it up: The only crowds you'll see in Bhutan
AT A GLANCE
Trek Length: 24 days, approximately 210 miles
Maximum Altitude: 16,847 feet
Physical Challenge: 1 2 3 4 5
Price (Group Trek): $5,600–$6,400 Self-organized trekking is forbidden by the Bhutanese authorities.
Prime Time: October
Staging Cities: Paro, Bhutan

The Rhapsody: First, some advice: When trekking in northwestern Bhutan with a yak, as is customary, strap your pack onto the beast, point it in the right direction, and let it walk at its own pace. Don't prod it to go faster. Don't try to pet its matted fur. Armed with the same horns as a rodeo bull, it's likely to disembowel you out of sheer cussedness. Fortunately, that's the only glimpse of ill will you'll encounter while trekking in Bhutan.
Unlike sprawling India, Bhutan is small and stable, the Switzerland of the Himalayas. And unlike its overpopulated neighbor Nepal, more than half of Bhutan remains forested. This is unspoiled Himalaya: glacial streams cutting through lush meadows of grass and rainbow-hued wildflowers; dense rhododendron forests behind clusters of whitewashed pagodalike houses and centuries-old monasteries; ruddy-cheeked yak herders at the start of paths winding into the jagged mountain peaks, where, if you're lucky, you might catch a glimpse of a snow leopard.

The Route: Since the Bhutan government tightly controls tourism, surprisingly few trekkers wind through the countryside—about 1,500 annually, compared to 150,000 in Nepal. Most groups start in the western gateway city of Paro, head north to a mountain town called Laya, and then circle back southeast, eventually returning to Paro or the capital Thimphu. To get really far gone, sign on with a trek that takes the right fork at Laya onto a dirt track into the high Lunana region. No more than 90 outsiders visit Lunana each year. For three weeks and 200 miles, the Lunana trail (known as the Wild Lunana—or the Death March, by unfit clients) roller-coasters over rocky, moonlike 16,000-foot passes. Four days later, the trail descends 3,750 feet to Woche, the first of three small, remote villages, where few of the children have ever left home. After a day of rest, trekkers zigzag back onto the lonely massif, rest at the next village, and then repeat. Rest, repeat. The peaks are well spaced and trekkers walk the spine of the range, treated to views of both the desolate Tibetan plateau and the tropical lowlands of the Indian subcontinent.

Guides and Outfitters: The Bhutanese government forbids foreigners to travel unescorted, and every outfitter is required by law to charge $210 per day minimum. (The money is split between the American outfitter, its Bhutanese partner company, Bhutan's Tourism Corporation, and the Bhutanese government.) For more information, contact the Bhutan Tourism Corporation at 011-975-2-322-854 or www.kingdomofbhutan.com. And Geographic Expeditions, High Asia Exploratory Mountain Travel Company, KE Adventure Travel, and Snow Lion Expeditions all offer top-shelf treks.

Read Up: Canadian Jamie Zeppa signed on to teach in Bhutan and two years later found herself in love with both the country and a local man. Readers of her memoir, Beyond the Sky and the Earth ($14, Riverhead Books), will be as enchanted. Lonely Planet's Bhutan ($20) is the most reliable guidebook. —Eric Hansen
Morocco: The Toubkal Circuit

Local flavor: charming the wildlife in the High Atlas, Morocco
AT A GLANCE Trek Length: 10 days, 75 miles
Maximum Altitude: 13,665 feet
Physical Challenge: 1 2 3 4 5
Price (Self-organized Trek): $350­$600
Price (Group Trek):$600­$3,000
Prime Time: May­September
Staging Cities: Marrakech, Morocco


The Rhapsody: Pliny the Elder, the great Roman scholar, once described the High Atlas Mountains of Morocco as "the most fabulous mountains in all of Africa." This was nearly 2,000 years before modern-day explorers would stumble upon Kilimanjaro and the Ruwenzori, but no matter: The Atlas were—and still are—the most fabulous mountains in northern Africa, a swath of rocky peaks arcing 1,200 miles from the Mediterranean southwest to the Atlantic that offer trekkers a beguiling combination of craggy alpine terrain and 3,000-year-old Berber culture. In addition to summiting 13,665-foot Jebel Toubkal, the highest peak in northern Africa, you'll pass through walnut groves and terraced barley fields and scramble across exposed scree fields—overnighting in flat-roofed Berber homes, well-maintained mountain huts, and tent sites.


The Route: You'll drive 25 miles from Marrakech to Ansi and then catch a ride with a taxi or truck down the rough dirt road to Imlil, a farm town along the Mizane River that has become the staging ground for most High Atlas treks. This spectacular ten-day loop yo-yos between 6,000-foot valleys and 10,000-foot passes, starting with a climb east out of the Mizane Valley and down to the Imanane River, and then up again to Oukaïmeden, a winter ski resort that is virtually abandoned in the summertime. You'll climb to Ifni Lake, one of only a few lakes in the High Atlas, and then prepare for your final challenge: an ascent of Jebel Toubkal; though snow-covered for much of the year, the peak is merely a long, grueling scree slog in summer.


Guides and Outfitters: In well-trodden areas like Jebel Toubkal, there's a good trekking infrastructure, and independent travelers shouldn't have too much difficulty finding transport from Marrakech or hiring guides and/or mules in Imlil. The town's Bureau des Guides et Accompagnateurs (011-212-44-48-5626) lists accredited guides; budget about $25 per guide per day, plus a tip of at least $5 per person per day at the end of the trek. A mule to haul your gear (along with its muleteer) can be had for $10 to $15 per day. A number of villages along the trail have basic trekker lodgings or mountain huts ($4 to $6 per night, no reservations), or you can sleep under the stars: Rain is rare during the summer trekking season.


Several U.S.-based outfitters—among them, KE Adventure Travel, Camp 5 Expeditions, and Wilderness Travel—operate full-service Atlas treks that include side trips to Marrakech and Fez.


Read Up: Lords of the Atlas, by Gavin Maxwell (Dutton, out of print) is a classic account of the rise and fall of a Berber clan in the 19th and early 20th centuries. Karl Smith's The Atlas Mountains: A Walker's Guide ($15, Cicerone Press) is an updated British guidebook that's long on detailed trail information but short on good maps. —D.N.
Nepal: Inner Dolpo

Dangerous footing: yak and porter on their way to 18,000 feet
AT A GLANCE
Trek Length: 14–31 days, 100–200 miles
Maximum Altitude: 18,000 feet
Physical Challenge: 1 2 3 4 5
Price (Group Trek): Price (Group Trek): $5,000–$7,000 Self-organized trekking is forbidden by the Nepalese authorities.
Prime Time: May–September
Staging Cities: Kathmandu, Nepal
The Rhapsody: Here's how the legend goes: After Mao's invasion of Tibet in 1950, rebellious Khampa tribesmen set up guerrilla bases in the high, arid Nepalese districts of Mustang and Dolpo and began kidnapping the Chinese headmen in Tibetan border villages, skinning them, and hanging their remains. The American CIA liked the sound of that and supplied the Khampas with weapons and trained them in Colorado. When the Chinese discovered this, they made Nepal's King Mahendra an offer he couldn't refuse: Seal off the border and close Mustang and Dolpo to all foreigners, or we'll march in and take the land away from you. For decades these northern districts were off-limits to all but a handful of scholars and naturalists, but as Cold War tensions eased they were finally opened to trekkers in 1992. Even so, the inner sanctum of the formerly forbidden land—the northern part of Dolpo, known as Inner Dolpo—has remained virtually untracked. In 1999, fewer than 100 trekkers ventured into Inner Dolpo, only about 25 of them Americans. One of the last enclaves of pure Tibetan Buddhist culture, its spiritual centerpiece is Shey, the Crystal Mountain, a peak embedded with crystal deposits that glimmer in the sun, and Shey Gompa, the monastery at its base.
The Route: With its steep ups-and-downs and unstable scree fields, Inner Dolpo is one of the toughest treks in Nepal. Most trekkers follow at least some part of the route of writer Peter Matthiessen and naturalist George Schaller, who explored the region in 1973 to study the rare Himalayan blue sheep and its main predator, the snow leopard. The pair started at Rohagaon (near Dolpo's only airstrip), walked north along the Suli Gad River to Ringmo and Phoksumdo Lake, and continued north over the 16,200-foot Sehu La to Shey Gompa. Unlike most other trekking regions of Nepal, you won't have the feeling of walking among massive, looming ice peaks; although the passes are as high as 18,000 feet, the highest mountain in Dolpo (Mount Kangiroba) is "only" about 23,000 feet. But the trek makes up for that in remoteness: Even your Sherpas will be astonished by the isolation.
Guides and Outfitters: Independent trekking is still not permitted in Dolpo. Trekkers must travel in groups with an approved trekking company, and each group must be accompanied by a Nepalese liaison officer. The route must be preapproved, and no deviations are permitted. And, as a final deterrent, the permit fee is $70 per day. That said, there are several Kathmandu outfitters experienced in the Inner Dolpo region, including Green Lotus Trekking (011-977-1-373729; www.green-lotus-trekking.com) and Tiger Mountain/Mountain Travel Nepal (011-977-1-411225; www.tigertops.com). Only two U.S. outfitters run trips into Inner Dolpo: Above the Clouds offers what may be the longest (and toughest) commercial trek in the world, a 37-day trip that includes both Inner Dolpo and the neighboring kingdom of Mustang. Snow Lion Expeditions runs a trip to Inner Dolpo timed to coincide with the annual full-moon festival at Shey Gompa in September.
Read Up: What Nepal trekker would be caught without a dog-eared copy of Matthiessen's The Snow Leopard ($14; Penguin USA). Another option: the film Caravan (Galatee Films, 1999), French director Eric Valli's lush documentary about the annual migration of Dolpo yak herders. —D.N.
Trekking Yellow Pages
For itineraries and pricing, contact the following trekking specialists
Above the Clouds, 800-233-4499
Alpine Ascents International, 206-378-1927, www.alpineascents.com
Bill Russell's Mountain Tours, 800-669-4453, www.russelltours.com
Camp 5 Expeditions, 800-914-3834, www.camp5.com
Concordia Expeditions, 719–539-6687, www.concordiaexpeditions.com
Distant Journeys, 888-845-5781, www.distantjourneys.com
Geographic Expeditions, 800-777-8183, www.geoex.com
High Asia Exploratory Mountain Travel Company, 800-809-0034, www.highasia.com
Himalayan High Treks, 800-455-8735, www.himalayanhightreks.com
KE Adventure Travel , 800-497-9675, www.keadventure.com
Mountain Travel–Sobek, 800-227-2384, www.mtsobek.com
Southwind Adventures, 800-377-9463, www.southwindadventures.com
Snow Lion Expeditions, 800-525-8735, www.snowlion.com
Thomson Safaris, 800-235-0289, www.thomsonsafaris.com
Wilderness Travel, 800-368-2794, www.wildernesstravel.com
Trending on Outside Online