Why Two Climbers Might Be Kicked Off Everest
The Sherpa community rallied around Matt Moniz and Willie Benegas after their illegal ski descent of Lhotse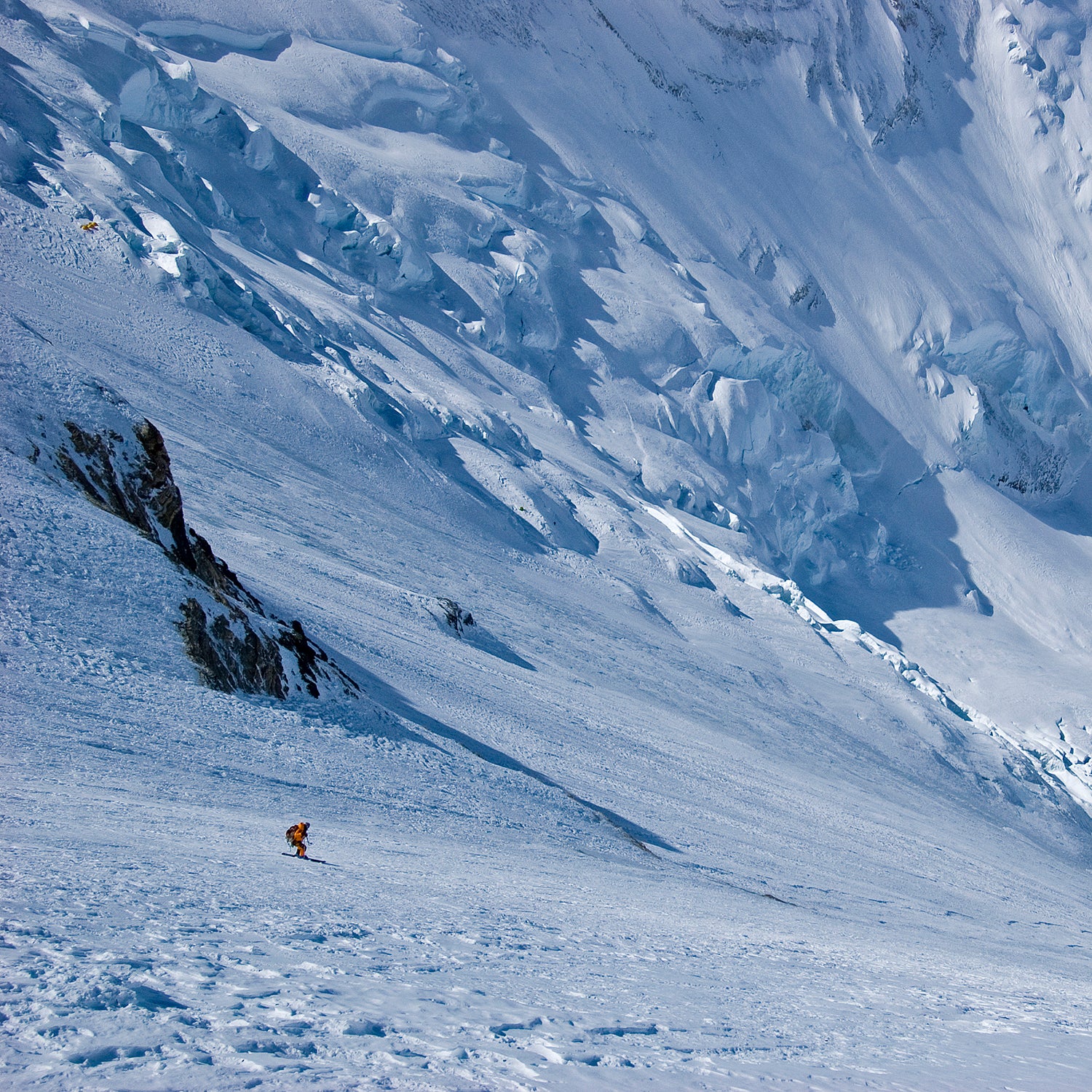 Jimmy Chin(Photo)
Heading out the door? Read this article on the new Outside+ app available now on iOS devices for members! Download the app.
Climbers Matt Moniz and Willie Benegas are currently under scrutiny and facing a 10-year ban from Everest after illegally skiing the Lhotse face. If Nepali officials do ban the climbers, it would effectively end the guiding career of the 49-year-old Benegas, who is one of the mountain's most famous guides.  
The pair planned to climb both Everest and Lhotse. During an acclimatization period, they skied 2,400 feet down the Lhotse Face, near their climbing route. Benegas, who is from Argentina, posted a video on his Facebook page. "Well after 10 years dreaming about it, it happen!" he wrote. "Managed to ski from Camp 3 Everest 7,200 meters to Camp 2 6,400m."
Someone reported them to officials, who checked to see if the climbers had secured the appropriate permits. Unwittingly, they had not.  
Moniz, 20, issued a statement: "Willie and I have permits for both Everest and Lhotse, unfortunately, we were completely unaware of the ski permit requirement, and of course, have made arrangements to pay for the permit and comply with the regulations. We certainly respect Nepal's mountaineering rules and regulations and believe we were in compliance."
The permitting process in the Nepal is, at best, baroque and convoluted.
The word "ski" does not appear in the Mountaineering Expedition Rules, 2059(2002) posted on the Government of Nepal, Ministry of Culture, Tourism and Civil Aviation, Department of Tourism official website. The clause requiring a ski permit is buried in a document titled "Tourism Industry Service Delivery Directives 2070," which details the paragliding and skydiving rules. It is only published in Nepali.
Christopher "JD" Pollak, co-founder of Myrmidon Expeditions has been introducing and promoting skiing to Nepalese youth and government officials for several years. I asked Pollack if the ski permit was well known and understood. "Absolutely not," he said. "I happened to stumble on the requirement accidentally. As far as I'm aware, if it exists in a written regulation, it's hidden deep in a filing cabinet somewhere with inches of dust covering it." However, extreme skier Mike Marolt, who has skied in Nepal and on 8,000 meter peaks since 2000 said he has always paid a skiing fee because he applied as a ski expedition, not a mountaineering expedition. He added that he has never seen the regulation in writing.
Skiing down the Lhotse Face isn't exactly an unprecedented feat, either. In 1970, Japanese speed skier Yuichiro Miura made the first descent. In 2006, Kit and Rob DesLauriers skied the face with Jimmy Chin; Chris Davenport did so in 2011, as well.
With 24 Himalayan expeditions and 11 Everest summits, Benegas is no stranger to Nepal. He is an IFMGA mountaineering/ski guide. "In my many years of working in Nepal, I have never been made aware a permit is required to ski on Mt. Everest," he said. Additionally, both climbers have deep ties to Nepal, raising over $100,000 for rebuilding efforts after the 2015 earthquake and personally delivering supplies to remote villages.
The Sherpa community at Everest Base Camp has rallied around Moniz, who is American, and Benegas. The Sherpa wrote to the Ministry saying, "We will support the government if it takes action against anything illegal on the mountains, but in the case of Willie's short ski descent, we all thought that giving punishment to Willie is not a fair decision of the government since Willie has been coming to Nepal over the past 20 years and supporting Nepal's economy by bringing many tourists. He has also created jobs for many Nepali climbers, guides, and porters." They went on to comment on the potential long term impact: "Banning the legendary climbers from Nepal would mean a huge loss to Nepal's economy as Willie's regular staff will lose their jobs and Nepal will also lose the tourists who would come here for climbing and trekking." Nearly 140 Sherpa have signed the document.
Skipping out on the permit to save money doesn't appear to have been a motive for Benegas and Moniz. They had already paid $12,800 in permit fees for Everest and Lhotse. The additional ski permit ($1,000) and trash deposit ($500) were minor expenses.
The additional permit also would have required them to pay for an additional Liaison Officer (LO), who is tasked by Nepal's Department of Tourism with accompanying foreigners on their expedition to ensure that all rules are followed. They already had one LO for their climbing permit. However, their climbing LO was not at Base Camp. This has been a common complaint over the last few years: expeditions are required to hire an LO—which costs $3,000 per team—but the LO rarely appears at Base Camp or even meets the team.
In addition to an LO, every expedition is required to use a local Nepali agency to secure permits and for other logistics. As reported in The Himalayan Times, High Altitude Dreams, the agency Benegas and Moniz used, denied knowing they were skiing. This is a little tough to believe, as Moniz had posted on Facebook that after he lost his skis while trekking to Base Camp, the agency assisted him in finding them.
For now, Benegas and Moniz are back at Everest Base Camp still planning on climbing the two peaks. The Himalayan Times reported that the Department of Tourism has recommended that the Ministry of Culture, Tourism, and Civil Aviation cancel their climbing permits for Everest and Lhotse. However, the climbers have not been officially informed that their permit has been revoked. The Department of Tourism also recommended fining High Altitude Dreams and issuing a warning to the Liaison Officer.
Moniz's father, Mike, told me that he's sad the misunderstanding occurred. "Matt is still hopeful to climb," he added, "but the skis will stay in his tent."
Lead Photo: Jimmy Chin
Trending on Outside Online