Will Rock Climbing Lose Its Soul to Gym Rats?
This generation's best climbers built their skills in climbing gyms. Now they're venturing onto big walls.
Heading out the door? Read this article on the new Outside+ app available now on iOS devices for members! Download the app.
Four years ago, Reinhold Messner tried to persuade his dinner guest, then 19-year-old competition climber Sasha DiGiulian, to tackle rock routes. He pulled a ballpoint pen from his pocket, flipped over the wine menu, and started drawing a peak in the Italian Dolomites he'd climbed when he was younger. The two had only just met—they were in Salt Lake City to present awards at that year's Outdoor Retailer, the gear-industry trade show—and Messner believed that someone as skilled as DiGiulian was wasting her talents clambering up plywood.
"Sasha is on the way to becoming one of the leading climbing girls for the new century," Messner says now, "so she should know this."
Though DiGiulian, now 23, had climbed on rock before, her focus was on dominating the international bouldering circuit, which takes place almost entirely indoors. She became world champion in 2011 and won three national titles between 2010 and 2012. 
Finally, in 2013, DiGiulian went to Italy and nailed the first ascent of 5.14b-rated Bellavista by a woman—her first major achievement outdoors on a big wall.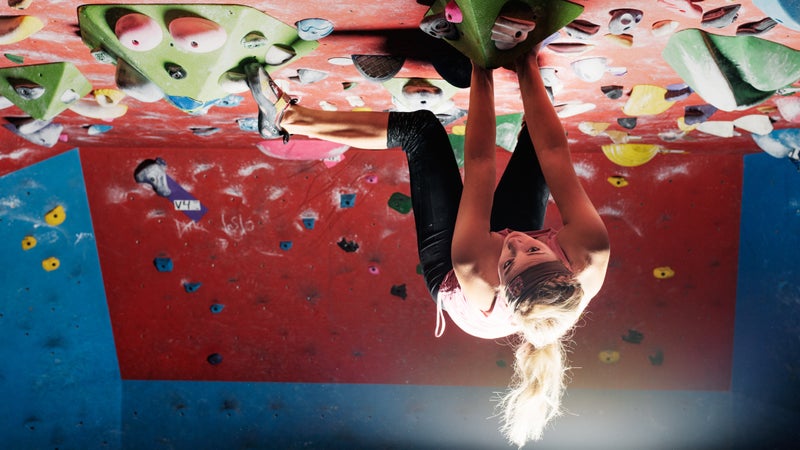 "I realized that what I really want to be doing in the sport isn't spending my time in the gym," DiGiulian says. "Outside, there's no limit to how you can succeed."
Since giving up on indoor competition in 2013, DiGiulian has set her sights on a number of new horizons. In January 2015, she wielded ice axes at the Ouray Ice Festival's mixed-climbing competition, after mastering the technique in just ten days. Last August, she endured a three-week slog up the notorious north face of the Eiger and became the first American to climb that mountain's 5.13a Magic Mushroom route.
That DiGiulian has found post-competition success outdoors will come as no surprise to longtime climbers—the foundational strength of competition translates well to real rock. Just ask Emily Harrington, of Lake Tahoe, California. Last year, the 29-year-old former national sport-climbing champion free-climbed Yosemite's El Capitan. Before that, she made rigorous though unsuccessful attempts to summit Myanmar's tallest mountain and to descend Makalu, the world's fifth-highest peak, on skis. "The challenge is getting out of that competition mindset and deciding that you want to be a climber for life," Harrington says.
"For the kids coming up, hitting 5.13 is the new baseline," says Peter Mortimer. "When I was growing up, 5.13 meant you were on the cover of magazines."
That transition—or transformation—from sponsored competitor to professional outdoor athlete reflects the broader evolution of rock climbing in the U.S. from a marginal activity to a full-fledged competitive sport. Climbing has exploded in popularity in the past decade: The number of indoor climbing gyms has steadily risen (up 68 percent since 2010), and participation in youth competitions has soared (up 144 percent). Climbing enjoys widespread exposure via social media, and it was even shortlisted for the 2020 Olympics in Tokyo.
"You can live in Florida or Kansas—places where there're no rocks—and become a world-class climber," says Lynn Hill, a Yosemite legend who made her mark in the 1970s and 1980s. "When people of my generation were coming up there was no celebration of the sport like there is today."
For decades, the sport was more religion than athletic endeavor; experience was hard won, gleaned in the crucible of granite. Today, you're more likely to find that kind of devotion channeled into human-created "problems" and color-coded rope routes at your local gym. The advantages of these fitness centers are clear: molded holds and fingerboards build grip strength quickly, and you can crank year-round, with only a few pieces of basic gear. The learning curve has fallen, and the new generation is poised to rapidly push the sport forward.
"The gym has become the new breeding ground for great climbers," says Peter Mortimer, founder of climbing film house Sender Films, mown for intense climbing documentaries like Alone on the Wall and Valley Uprising. "For the kids coming up nowadays, hitting 5.13 is the new baseline. When I was growing up, 5.13 meant you were on the covers of magazines."
Take 14-year-old Manhattanite Ashima Shiraishi. Depending on who you ask, she is either the strongest climber in the world or well on her way. Though she's done the vast majority of her climbing in gyms, last year she became the first female to send a 5.15a sport route, and earlier this month she became the youngest person and first female to complete a V15 bouldering problem. That she was able to complete such daunting climbs is entirely due to her training.
The gym isn't just for kids and newbies, it's also a critical means for aging climbers to stay sharp. "The old-school legends who crushed in their heyday are now gym rats," says Cedar Wright, a proud product of Yosemite dirtbaggery who now spends most of his climbing hours at a gym in Boulder.
"It's not a resource where you go to achieve, it's a church where you go to worship."
While training indoors will boost a climber's granite game, climbing outside typically makes a climber weaker on plastic. Outside, athletes don't have the ability to quickly perform multiple reps of the most difficult moves. "Going outdoors is almost a detriment if you want to be a high-end climber," says Tommy Caldwell, who free-climbed the Dawn Wall on El Capitan last year with Kevin Jorgeson—and perfected some of the moves they'd need to master in a climbing gym.
While sport climbing indoors is good preparation, it's no guarantee of immediate success outside. In the gym, Harrington was used to kicking ass on every route she touched. Then she tried ice climbing, trad climbing, and mountaineering. "It was demoralizing at first," she says. "But now I want to go out to the mountains and get crushed, because that's where I learn."
This year both women plan to continue pushing themselves. Both have discovered what many before them came to realize—that while gyms make you an athlete, rock is where real climbers are forged.
"Eventually that undeniable beauty of nature weasels its way into your soul and changes you," Wright says. "It's not a resource where you go to achieve, it's a church where you go to worship. I hope that isn't lost."
A condensed version of this article appeared in the April 2016 issue.
Trending on Outside Online