Yangshuo Climbing Festival: Day Two
Heading out the door? Read this article on the new Outside+ app available now on iOS devices for members! Download the app.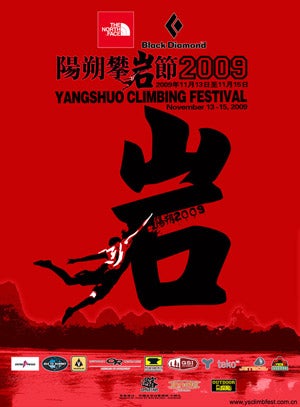 Fire and rain bracketed my second day at the 2009 Yangshuo Climbing Festival. The former began in the common room of my rustic hotel, a 4-kilometer bike ride from downtown. Someone had stored a pile of scrap two-by-fours too close to the wood stove. When I looked up from my coffee, a mini blaze was threatening to creep up the walls. Fortunately a cook doused the flames with water.
After breakfast, I went biking with Tom, a friendly climber from Australia. Tom and I were looking for a famous local crag called "White Mountain." But we couldn't figure out how to hold our trusty Yangshuo map.
Yangshuo, as it turns out, is a great place to get lost. A two-hour cycle-jaunt whizzed us past livestock, farmland, smiling kids, orchards (those "peaches," on reflection, taste more like apricots) and majestic karst pillars. The landscape here looks like a land version of Vietnam's karst-tastic Ha Long Bay.
Thanks to Tom's Mandarin phrasebook and a friendly local villager, we found White Mountain by mid afternoon. This is where festival organizers have funded construction of a permanent toilet for Yangshuo climbers. Ryan Gellert, managing director for Black Diamond Equipment Asia, says this and other projects are designed to ease land-use tensions between climbers and the Yangshuo community. Spokespeople from two grassroots organizations, the Yangshuo Access Initiative and the Yangshuo Climbing Association, tell me they are working with villagers to develop such ecotourism projects as guiding services, climbing lodges and climber-oriented food stalls.
White Mountain was crawling with climbers from Shenzhen, a large Chinese city near Guangzhou and Hong Kong. A few of them graciously allowed us to climb their top rope. The view from route's end showed karst, farmland and trees stretching out toward the horizon. And storm clouds.
We made it back to the Yangshuo Kungfu Training Centre before the rain hit. Kungfu HQ felt more lively than it had during Friday night's opening ceremony. There were perhaps a hundred more people in attendance, a Chinese band was covering Green Day and dozens of climbers were scaling the brand-new bouldering wall behind the stage. ("Crush it!" the crowd roared. "Yeah!") It was the qualifying round of the bouldering competition.
Before I describe the comp, a clarification: Last year's comp was for outdoor route-climbing, not bouldering, as implied by my first post. And Alex Honnold, the world-famous climber from Sacramento, is not participating in this year's indoor event. What gives? Honnold, who says he hasn't touched "plastic" in six months, told me he would've joined the comp, but that festival organizers asked him to set a "problem" for it instead. (Anyway, he added with a laugh, "I suck at bouldering.")
The comp qualifier was, er, a bit anti-climatic. That's because climbers were allowed to quit after completing the four set problems, meaning the quality of bouldering ebbed as the night wore on. But there was live music, and it was fun to watch about 100 men and women climb for a supportive international audience.
Oh, and free cans of Chinese beer were stacked on a folding table.
Trending on Outside Online