The Dangers of Kickstarter
Kickstarter has become the go-to funding source for serious expeditions and boondoggles alike. And that has some benefactors wanting their cash back.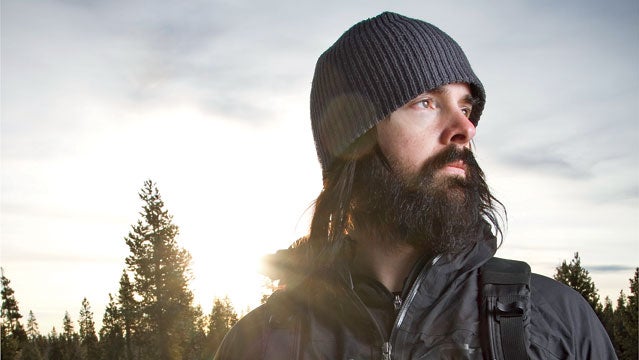 Heading out the door? Read this article on the new Outside+ app available now on iOS devices for members! Download the app.
Last May, Andrew Badenoch, a thirtysomething former Internet marketer in Oregon, set off on a 7,000-mile solo expedition from Bellingham, Washington, with a jumbo-tired fat bike and a pack raft. His goal was to travel to the Arctic Sea and back under his own power, all the while making a documentary about the trip. Backing him were 212 individuals who anted up a combined $10,437 via the crowdfunding site Kickstarter. PBS even loaned Badenoch camera equipment and agreed to run his footage as an online series.
,000
Amount raised via Kickstarter to search for a living dinosaur in the Congo.
75
Adventure films funded by Kickstarter since 2009.

By late summer, though, the expedition had fallen apart, and Badenoch, who had never before embarked on a human-powered expedition of this scale, had quietly returned to Oregon after bailing on the trip in Pink Mountain, British Columbia. He later blamed "14 weeks of delays" and told supporters the "weather window had closed." Throughout the summer, a handful of backers had asked him via Twitter for updates on his status and location. Except for a handful of tweets, these largely went unanswered. Badenoch now says that he could have been better at communicating his plans. But he also maintains that "it was never my intent to explain everything as I went. That's not part of the documentary." As for the money, Badenoch has yet to offer a breakdown of his expenses, because, he says, he plans to complete the trip this spring and produce his documentary. "I have no comment on accounting specifics while the project remains in progress," he wrote in an email last fall. "When adding layers of accounting, reporting day-to-day activities, and scrutinizing every word and detail during the creative process, the creative process is killed."

To some of his backers, this all sounds pretty thin. "He should have told people if things had not gone according to plan," says Hendrik Morkel, 31, a Finnish wilderness guide and author who donated $25 to Badenoch and has used Kickstarter to produce his own online series about ultralight gear. "Sometimes that's how expeditions go."

Explorers have been soliciting financial backing since Columbus first begged boats off of Queen Isabella. Companies like Eddie Bauer, the North Face, and Rolex have been the primary backers since the mid-20th century, but social media have provided an additional option: the public. With Kickstarter, which launched in 2009, adventurers can create a pitch with an embedded video, spread the word on Facebook, and watch the money roll (or, more often, trickle) in. The company has provided a funding platform for about 75 expeditions, though it's important to note that the backers didn't pay for those trips per se. When funders drop cash on an expedition, they're funding what Kickstarter calls the "creative work" that will result—usually a film or book—and the best ideas with the most enthusiasm behind them usually win. But crowdfunding isn't venture capitalism. Apart from rewards like getting your name in a documentary's credits or, say, receiving artifacts collected during an expedition, there is no return on investment. Pitchmen have little responsibility to their funders, which opens the door for overpromising—or worse.

"The majority of projects are not going to fail intentionally or set out to take your money," says Scott Steinberg, a technology consultant and author of The Crowdfunding Bible. "But fraud is obviously a concern. Typically, when you buy something, you know exactly what you're getting. But here you're buying into a dream."

Many of those dreams have been big successes. Last summer a team of biologists and filmmakers kayaked and biked from the Florida Everglades to the Okefenokee Swamp in Georgia and created an interactive map demonstrating how development threatens those ecosystems. Of course, others have been almost comically overambitious. Last spring, Stephen McCullah, 22, a biologist from Beaumont, Texas, raised nearly $29,000 to film a three-month expedition in the Congo in search of unknown animal species and a supposed living dinosaur. The expedition website has been down since August, and some of his backers have complained on McCullah's Kickstarter page that they haven't received the "genuine pygmy-made string and bone bracelet" McCullah promised. In an email, McCullah said that he'd traveled to the Congo but had been unable to obtain the necessary paperwork to leave Kinshasa, the capital, and his gear had been stolen. "After realizing that it was going to take much more money than we had previously anticipated to fulfill the streakier promises and to complete the expedition," he wrote, "we decided to come home and raise additional funds. I've given a full explanation to our backers."

On its site, Kickstarter warns that there are inherent risks to funding projects and that backers should use "Internet street smarts." The company itself is protected under its terms of agreement; after taking a five percent cut of all projects, Kickstarter leaves any squabbling to backers and creators. But funders do have recourse: Kickstarter's contract makes it clear that backers can seek a refund or even file suit if the creator flakes. At least one group has considered action, threatening to sue a Seattle startup called ZionEyes that promised to create glasses with an embedded camera for uploading video to Facebook. ZionEyes, which promised to deliver the glasses by last winter, says it's looking for additional funding.

Still, such cases are not the norm; more often than not, those who pitch dreams on Kickstarter are guilty only of thinking too big. As Kickstarter CEO Perry Chen said at a recent conference: "Delays occur. It's about setting expectations. And then, if there's trouble, being honest and transparent."

But will delays of a more dubious sort stem the tide of crowdfunded adventures? It seems unlikely, in part because big media companies are starting to catch on. PBS director of content development Matt Graham, who signed on with Badenoch for the Web series that never materialized, doesn't regret his decision. "He has a great personality," says Graham. "We're competing with other media looking for talent, so I felt like I was beating everyone to the punch."

Graham harbors no ill will over the outcome, and he continues to scout through Kickstarter. But he plans to vet candidates more closely. "In the future, we'd be more inclined to work with people who've done these kinds of expeditions before," he says.