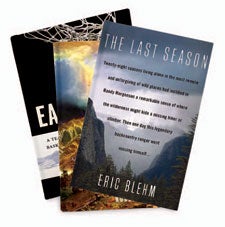 Heading out the door? Read this article on the new Outside+ app available now on iOS devices for members! Download the app.
The Last Season
book review

By Eric Blehm
(HarperCollins, $25)
ON THE MORNING of July 21, 1996, Randy Morgenson, a veteran backcountry ranger at Kings Canyon National Park, in California's High Sierra, pinned a note to his tent. RANGER ON PATROL FOR 3-4 DAYS, it read. He was never seen again. In The Last Season, Eric Blehm, former editor of TransWorld Snowboarding, takes readers behind the scenes of the exhausting hunt for Morgenson, during which the ranger's colleagues considered a number of scenarios. Was it an accident? Suicide? Foul play? Or did Morgenson, depressed by his pending divorce and an affair with a female ranger, simply walk out of the park—and his life? Blehm has written two books, both about action sports, but The Last Season has the feel of a big-league writer coming into full voice. And Morgenson proves to be a worthy subject. A passionate wilderness defender, he had logged 28 seasons at Kings Canyon and was a search-and-rescue sage. "Randy knew the country better than the map did," one ranger told Blehm. Which only deepened the mystery: If Morgenson didn't want to be found, his colleagues would never be able to track him down. Five years after official search operations ended, a trail of clues turned up in a remote area of the park. Yet Morgenson's disappearance, Blehm writes, "will always be open to speculation." As Jon Krakauer did with Into the Wild, Blehm turns a missing-man riddle into an insightful meditation on wilderness and the personal demons and angels that propel us into it alone.—Bruce Barcott
Eagle Blue
A Team, a Tribe, and a High School Basketball Season in Arctic Alaska
By Michael D'Orso
(Bloomsbury, $24)
THE ATHABASCAN GWICH'IN BOYS boys who play high school basketball for the Fort Yukon Eagles, in northeastern Alaska, have to wait for the mercury to rise above 40 below before they can commute, by small plane, to their games. They fight the school district for meager funds and battle oil companies to keep their land. Some of their fathers are drunk, underemployed, and bitter that their own basketball glory days are past. Yet as Virginia-based journalist Michael D'Orso finds in this chronicle of the Eagles' 2004–05 season, transcendence lies in a game well played. Tiny Fort Yukon, a town halfway between Fairbanks and the Arctic National Wildlife Refuge, is a place where wolves wander downtown and teen suicide is a regular occurrence. Remarkably, though, the Eagles qualify for the state championships. "They were short—five-foot-six and five-foot-seven," writes D'Orso, "but they ran like flushed rabbits and, with practice, they learned to shoot basketballs as well as they shot rifles." He makes a convincing case that hoops is the kids' best hope—that the sport, however consuming, keeps them busy and off the streets. As the principal puts it, "This school, even this village, would just about shrivel up and blow away if it weren't for basketball."—Florence Williams
The Explorer King
Adventure, Science, and the Great Diamond Hoax—Clarence King in the Old West
By Robert Wilson
(Scribner, $26)
BEFORE ELECTRON MICROSCOPES and a thousand other tools of modern science, you actually had to go out into the world to understand it. Which is precisely what 19th-century mountaineer and geologist Clarence King, the subject of American Scholar editor Robert Wilson's engaging new biography, did—in spades. Born in 1842 to an upper-class East Coast family, King headed west at 21 to join the California Geological Survey, a job that led him on daring first ascents of the country's highest peaks. "We were now in a dangerous position," he wrote of climbing California's 14,018-foot Mount Tyndall, in 1864. "To fall into the crevice on one side was to be wedged to death between rock and ice; to make a slip was to be shot down five hundred feet and then hurled over the precipice." He went on to lead the U.S. Exploration of the Fortieth Parallel, and in 1879 he was named the first director of the U.S. Geological Survey. King was a complicated figure: He secretly married a black nursemaid, and though they had five children, he never adequately supported his clandestine family. Still, Wilson reveals him as one of our greatest field scientists. "To be a good geologist requires the imagination of a novelist," Wilson quotes King as saying. The same can be said of a good biographer, which Wilson certainly is.—Mark Jenkins
Hooked
A fly rod is more than just a "fishing stick," says novelist David James Duncan in the opening scenes of the documentary Trout Grass ($30; www.troutgrass.com). It "extends a fly-fisher's being as surely as do the imagination, empathy, or prayer." This lush film from Arizona–based director Ed George chronicles the creation of a high-end split-cane fly rod—from the hills of China's Guangdong province, where locals harvest Tonkin bamboo by hand, to the Montana workshop of Glenn Brackett, who transforms 12-foot canes into works of art. With a poetic script by Duncan, author of the classic fly-fishing novel The River Why, and an on-the-river cameo by Montana novelist Thomas McGuane, Trout Grass captures the essence of the sport in a way that's soulful, not syrupy.
Damn Dirty Apes
Tom Cruise is up there, but for cautionary tales of human self-destruction, our favorite is still Planet of the Apes (Heston's, not Wahlberg's). Fox Home Entertainment has released all six original Apes films, plus the animated television series, in a 14-disc, 26-hour box set ($180; www.foxretail.com). And by "box" we mean a full-size rubber ape head as unlifelike as the originals.
Icono-Classic
Into the Wild, the bestselling book by Jon Krakauer that began as an article in our January 1993 issue, is headed for the big screen. Academy Award–winning actor Sean Penn will adapt the story and direct the film for Paramount; 21-year- old Emile Hirsch (Lords of Dogtown) will play Christopher McCandless, the idealistic loner who disappeared in the Alaska wilderness in 1992. No release date has been set.