Elephant Seals Are Full of Carbon Monoxide
"Smoker's blood" may aid deep diving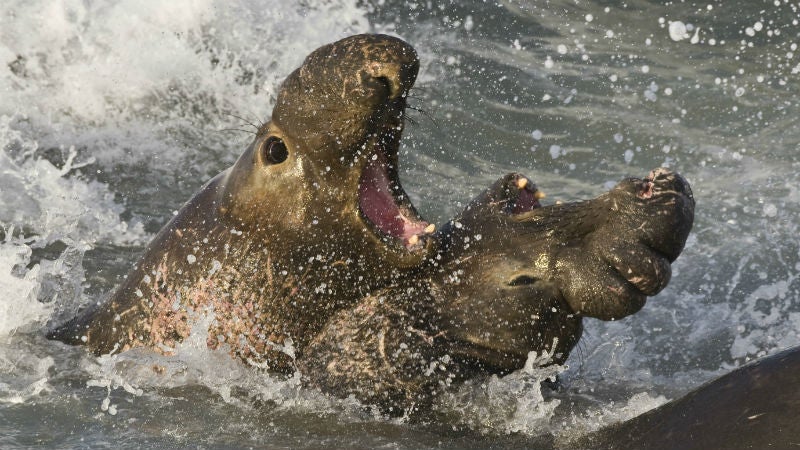 Heading out the door? Read this article on the new Outside+ app available now on iOS devices for members! Download the app.
Believe it or not, most animals' blood contains a small amount of carbon monoxide—the odorless, colorless, deadly-in-high-concentrations gas—which is released as a by-product of the breakdown of hemoglobin. In healthy humans, about 1 percent of hemoglobin is bound to carbon monoxide. But elephant seals? Their blood contains roughly the same amount of the gas as a person who smokes 40-plus cigarettes a day, new research says.
If our flippery friends aren't smoking cigarettes by the sea, how the heck do their gas levels get so high? Scientists aren't positive, but conjecture in the study published in the Journal of Experimental Biology this week leads some to believe that high amounts of carbon monoxide might protect the mammals from injury when they dive deep for their meals. 
"Elephant seals are known to have the highest blood volume of any mammal, so we knew there was the potential for producing a lot of carbon monoxide," the study's leader, Michael Tift, a comparative physiologist at the Scripps Institution of Oceanography at the University of California, San Diego told Live Science. "We can't say for sure that the carbon monoxide is therapeutic for elephant seals, but it definitely has the potential."
The next step is to study the gas levels in nondiving animals such as penguins and sea lions. Scientists hope to find out whether high carbon monoxide levels are found in all marine mammals.