Galleries We Like: Peter McBride's Colorado River
Heading out the door? Read this article on the new Outside+ app available now on iOS devices for members! Download the app.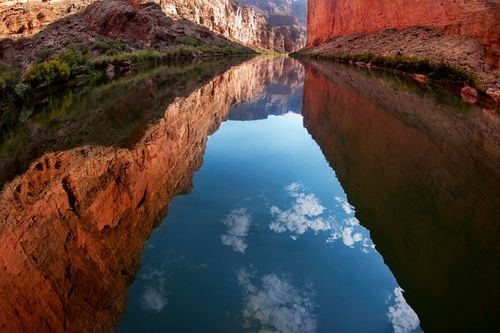 The Colorado River, Photo by Peter McBride
As a boy growing up on a cattle ranch in Colorado, Peter McBride sat on the perfect perch from which to view the effects of water. From his haybine seat 10 feet above the ground he'd look over the fields and wonder—after the excess water flowed over the land, snaked down small creeks, rushed into the Roaring Fork, and then spilled into the Colorado River, just how long did it take to get to the sea?
As a man, after traveling to six continents taking photographs for numerous publications—including this one—he took an even higher perch. He accepted a magazine assignment to photograph the Colorado River from the air. That project morphed into a three year labor of love—during which he flew over Canyonlands National Park with his father in the pilot's chair, hung out of a helicopter flying at 75 miles per hour while U.S. border patrol agents on board scanned for illegal immigrants, and hung on for dear life as a crop duster flew under telephone poles.
While collecting the photos and information that would become a book, a documentary, and a talk, he also rafted over rapids rushing at 50,000 cubic feet a second, dove into a silty section of the Little Colorado river to photograph one of the world's most elusive fish, and hiked the parched delta of the Colorado—where he got the answer to the question he'd wondered about as a boy.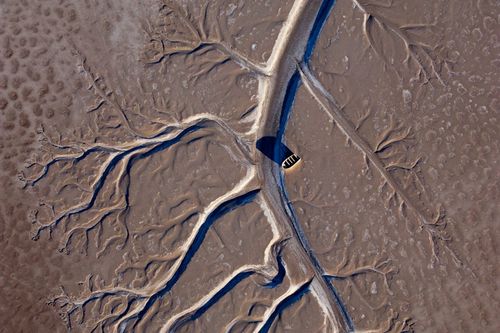 A boat left in the Upper Gulf of the California at low tide, Photo by Peter McBride
How did this project start?
So this project started about three years ago. I worked as a photographer for a variety of magazines on assignments in over 60 countries. I wanted to do something closer to home, and I have a personal interest in the river. I grew up on a cattle ranch in the Roaring Fork Valley of Colorado and we used Colorado River water—snowmelt that ends up in the basin—to irrigate our fields. I used to spend long hours in the morning irrigating and looking and studying water—seeing where it would flow. I knew it went to the Colorado River and I used to wonder how long it takes to get to the sea. I found my answer doing this project. Sadly, the answer is it never makes the sea today. [Since 1998, it has dried up after the U.S. Mexico border.]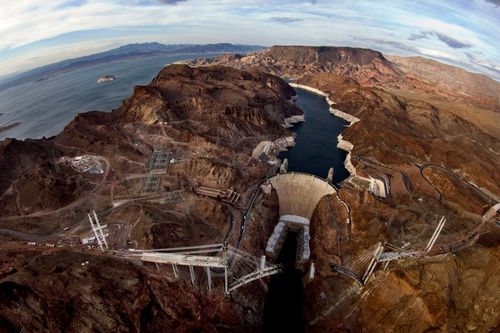 The Hoover Dam, Photo by Peter McBride
What are the main sources draining the river?
Everyone likes to point their finger at California or Las Vegas, and the reality is that we're all users of the water in the Colorado River. It supplies water to 30 million people in the West. Colorado is the second largest user, but you guys in New Mexico use a little bit. Las Vegas doesn't get very much, which was interesting to me. They've actually become one of the most progressive water users on the river. They actually pay people to remove their front lawns. There's not one big culprit.
But why does it not not reach the sea anymore? That's because of a simple error from when they made the law of the river, which is called the Colorado Compact. Considering the amount of controversy over water they made a pretty good agreement, but they made one giant error. They thought—and they didn't have the data to know then—that the river ran at a certain level, over 17 million acre feet. A million acre feet is a football field about a foot deep—enough to give two American families enough water for a year. So they thought it ran at x. We've since learned, from flow stream data and tree ring studies, that the river runs at much less—at about 14 million acre feet.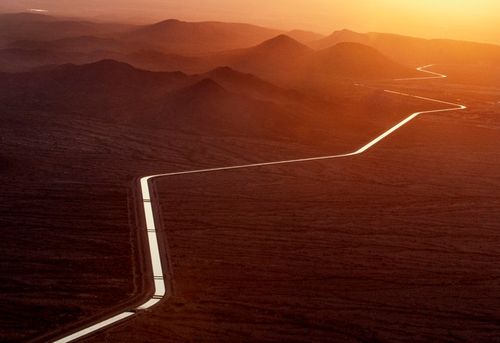 A canal taking water from Lake Havasu, Photo by Peter McBride
Is there really no simple solution to get the water all the way back to the sea?
One simple solution would be changing the entire Colorado Compact agreement to a percentage based law, not a fixed allocation. For example, each user, whether it's a state or a city, gets a percentage of water based on their share of the compact. During drought years, like now, they would get proportionately less. The upper basin does this to an extent, but the lower basin of the river doesn't do it at all. Another simple solution would be buying water rights and dedicating them to the river. It would be the equivalent of a land conservation easement. They've done it in my valley here, where they transfer water rights and dedicate them to the river, and there's quite a few groups working on that.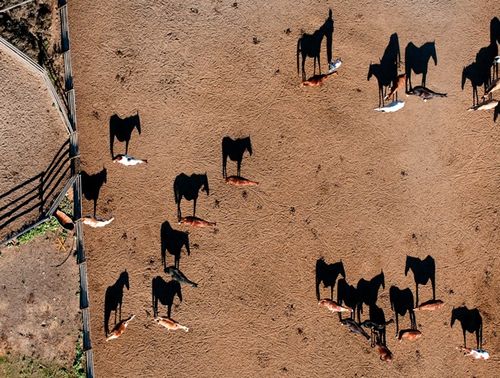 Horses depend on hay, the predominant crop of the river, Photo by Peter McBride
How much water would it take to restore the delta? That's a big question. People think it's 60,000 CFS, 120,000 CFS. Whatever the number is—it's left to be decided. The reason the number is hard to figure out—not only are we pulling from the river, but everyone's pulling from groundwater. So it may take more than we think, but there are some positive signs.
One thing about the river, just to give it a human side. In the early 1900s, if you wanted to go from Yuma, Arizona to San Francisco, you'd get on a steamship and go down the delta and then you'd get on a cargo ship and go up around Baja California. In just 100 years we've changed something that was a giant estuary that stretched miles—that steamships ran—into a wasteland that I've since walked.
You have perspectives of the river from the water, from the air, from farmers' fields. What was your toughest shot?
Some of the aerial shots were hard. There's a shot of the loop, which was the cover of the book, that I had to go back to twice with my father. The second time we had to take off before the airport even opened in Moab to get over Canyonlands during sunrise. Aerial photography as a whole can be hard. I shoot with the door off. It's loud. It's windy. You're moving at about 100 miles per hour, hanging your body out the window and trying to coordinate with the pilot, who was often times my father. We were a good team. I like to joke that I got to be the boss.
We also had a few scares. There's a picture of the Grand Canyon from the air where we had an engine hiccup. If you have an engine failure over the Grand Canyon it's pretty much adios.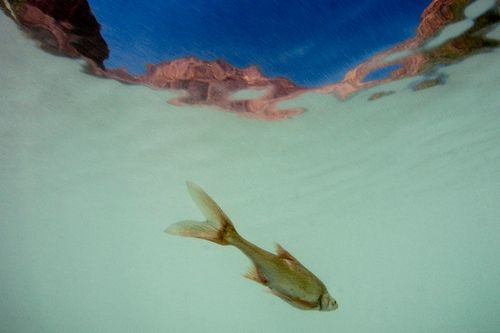 The endangered Humbpack Chub, Photo by Peter McBride
Then there's a picture of a humpback chub in the Little Colorado, which is a tributary of the Grand Canyon. There's about 6,000 humbpack chub in total, and the biggest population lives in the Little Colorado. They're one of four endangered species on the river. The Little Colorado has a lot of calcium in the water. It's really milky. So one, it's not very clear. Two, the humpback chub are endangered so there are not that many. And three, I'm trying to get an underwater picture of a fish that's hard to see. So that one took about a day.
Is there one specific ending you'd like to see come out of this book, this movie, the museum show?
I think my most objective goal to create a conversation. I'm not a water lawyer. I'm not a water engineer. I don't consider myself an expert. I'm just a curious person that followed a beautiful river. The goal for me would just be awareness—to get peple to stop and go, Wow, Really? I didn't know the river stopped. How did this happen? Let's fix this.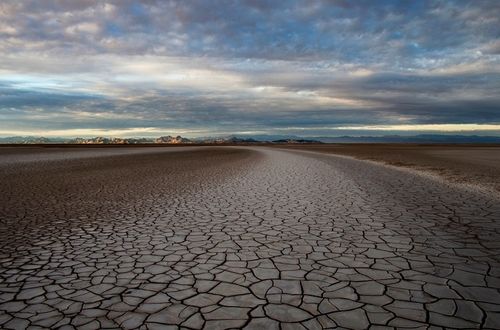 The Colorado River Delta is as dry as the surrounding Sonoran Desert, Photo by Peter McBride
ONLINE EXTRAS and SOURCES
View a gallery of Peter McBride's photos on outsideonline.com.
Find out details about Peter McBride's show at the Denver Museum of Nature and Science, which begins April 1, 2011.
Watch for McBride's documentary, Chasing Water, at Telluride Mountainfilm. You can watch a teaser here.
Visit Peter McBride and Jon Waterman's book, The Colorado River: Flowing Through Conflict.
Listen to the full interview as a podcast.
–Joe Spring
@joespring
Trending on Outside Online