Behind the Scenes at a Bundy Rally
Is the movement that sparked the 2016 takeover of the Malheur National Wildlife Refuge ready to age out?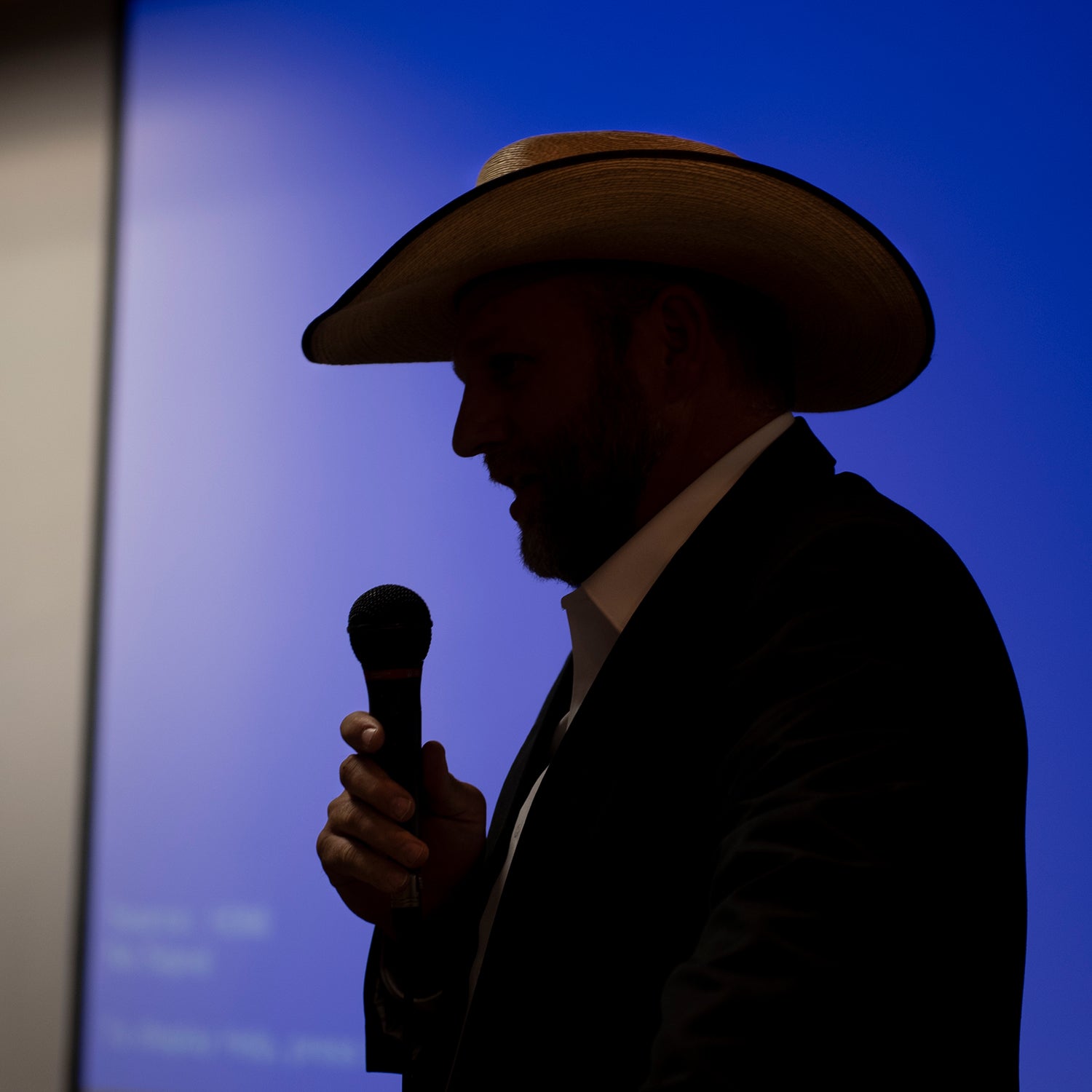 Elliott D. Woods 2018(Photo)
Heading out the door? Read this article on the new Outside+ app available now on iOS devices for members! Download the app.
If there was a defining trait among the several dozen people who gathered recently to hear Ammon Bundy speak at the New Code of the West conference in Whitefish, Montana, it was their age—on average, well into eligibility for Social Security benefits. I don't mention this to promote ageist ideas about who should be involved in political activism—the baby boomers comprise the largest voting bloc in America—but rather to suggest that the "Bundy movement," such as it exists, appears conspicuously long in the tooth.
The event was hosted by a Kalispell-based group called This West Is OUR West. The group's founder, Lauralee O'Neil, told me they spent $8,000 to rent the facility and provide a catered lunch. Perhaps it was the $150 price tag for the day's event that kept younger attendees at bay, or perhaps it was a classic Montana scheduling conflict: Saturday, October 13, was the second-to-last day of big-game archery season. Whatever the reason, if the Whitefish event left me convinced of one thing, it's that the Bundys and the fringe ideology they espouse has little purchase on young people—at least in this corner of the northern Rockies. And that ought to be encouraging to anyone who has worried in the nearly three years since the Bundys staged their takeover of the Malheur National Wildlife Refuge in Burns, Oregon, that a new and vigorous anti–public land rebellion was catching fire. The opposite seems more likely. The Bundys' antics—along with the efforts of the Trump administration and congressional Republicans to undermine environmental laws and regulations, shrink national monuments, and open millions of acres of public land and water to oil and gas development—have galvanized a movement around environmental and conservation advocacy that is nonpartisan and transgenerational.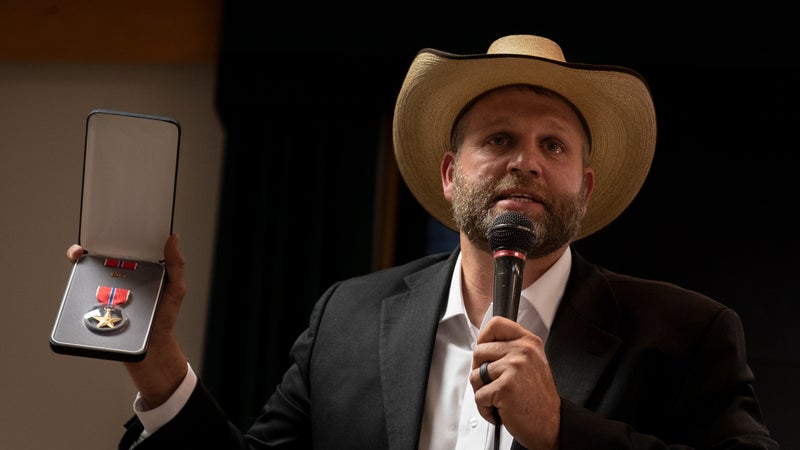 A crowd of 300 gathered at Whitefish Depot Park to protest the Bundy event, which was taking place at the Grouse Mountain Lodge, a mile and a half away. The competing rally was organized by the Montana Wilderness Association and Love Lives Here, a group affiliated with the Montana Human Rights Network and formed in response to white supremacist activity in the Flathead Valley. Judging by attendance, there's no question which movement—Bundyites or public land advocates—has the numbers. Beyond Whitefish, the rapid growth of groups like Missoula-based Backcountry Hunters and Anglers illustrates the rising pro–public land consciousness in the West and across the country. Membership has doubled every year for the past four years, topping 18,000 in 2018. The group now has chapters in 39 states and two Canadian provinces and on dozens of college campuses. One wonders what the Bundys' on-campus presence looks like.
I didn't meet any of the protesters who turned out to Depot Park, because I spent the entire day listening to jeremiads about the Bilderberg Group and the United Nations' machinations to implement one-world government. According to speakers at the Bundy event, shadowy international bureaucrats and billionaires are the font of such devious urban concepts as "sustainable development" and "smart growth." Alex Newman—a bearded young correspondent for the John Birch Society's New American magazine, whom the moderator hailed as "our next George Washington"—said these concepts are part of "a global war on farmers and ranchers and loggers." The audience gasped knowingly. Newman went on to pull the old James Inhofe trick, suggesting that because an icebreaker got stuck in the sea ice off Antarctica one time in 2013, global warming clearly isn't real. "I've interviewed dozens of these UN scientists," said Newman, without mentioning any of the defectors' names. "They told me [climate change] was a hoax, and no one would correct it, so they resigned." Phew, I thought: I guess we don't have to worry about the UN's updated projections—which give us a mere 12 years to take drastic action to avoid Biblical climate catastrophes. (Conservative estimates place the scientific consensus at a minimum of 80 percent supporting the idea of human-caused climate change, with some estimates as high as 97 percent.)
There were shimmers of underlying anti-Semitism and white nationalism in some of the presentations, like when Washington state legislator Matt Shea channeled his inner Richard Spencer, shouting, "Let's be American again! We are a Christian nation, and anyone who says we're not is a liar…I think we need to be unashamed about our heritage and our history. Amen!" Spencer—whose parents live in Whitefish and who have paid a high price for their son's racist neo-fascism, which they disavow—did not attend.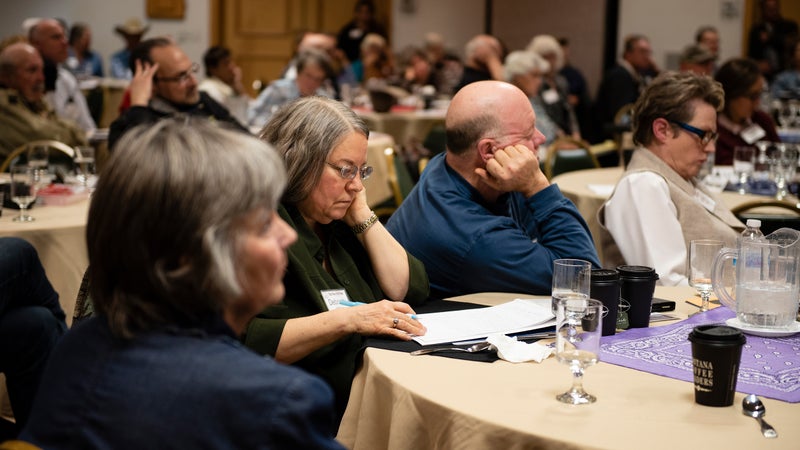 The UN's Agenda 21 platform was the main lightning rod for the assembled conspiracy theorists. Drawn up in 1992 at the UN Conference on Environment and Development in Rio de Janeiro, Brazil, Agenda 21 is a legally nonbinding policy document that does not force anyone at any level of government of the 178 signatories to do anything. The document lays out strategies for "combating poverty," "protecting and promoting human health conditions," "combating deforestation," "managing fragile ecosystems," "recognizing and strengthening the role of indigenous people," and that sort of thing. I don't know about you, but whenever I hear global bureaucrats talking about "managing fragile ecosystems," I think to myself: Charlie's in the wire.
"You'd have to be pretty dang stupid not to be able to connect some of these dots," said the moderator, Dan Happel, who hosts a podcast called Connecting the Dots. A retired commercial building contractor, Happel once served as finance chair of the Montana Republican Party and as a Madison County commissioner. An avuncular fellow with a warm smile, dressed in a blazer, khakis, and ostrich-skin slip-ons, Happel provided the highlight of my day when, in the midst of his presentation, he said, "You thought the Kavanaugh hearing sucked? These are quotes from the leading Democrats in the country." He then read from a slide with quotes from Chuck Schumer, Elizabeth Warren, and Cory Booker. Here's one:
"Time and time again, we find progressive laws getting struck down," Senate Minority Leader Chuck Schumer said in a Senate address. "And it's always—always—the ones the Constitution is against. These right-wing judges don't think for themselves, they just do whatever the Constitution says. And it's time for that to end."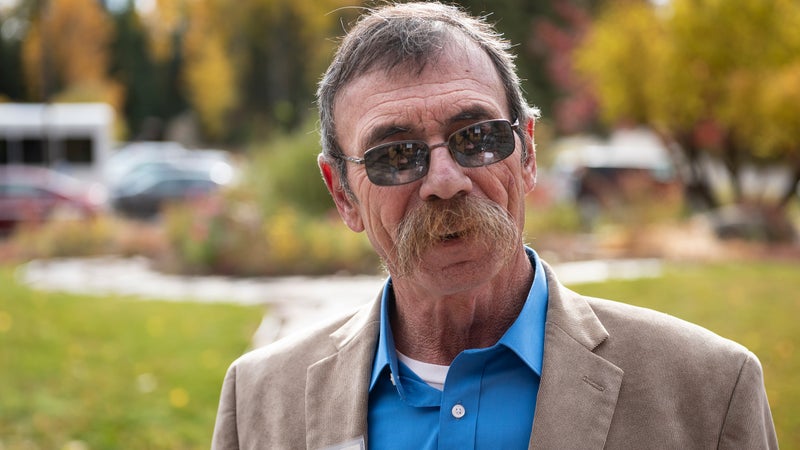 They perfectly fit Happel's narrative about Democrats' disregard for the Constitution. The problem was, the quotes were fake. They came from an article headlined "Senate Democrats Demand Supreme Court Nominee Not Be Unduly Influenced by U.S. Constitution" in the now-defunct Babylon Bee, a satirical online paper in the model of the Onion. Happel was not the only one to take these quotes out of their native habitat. Fox News contributor David Clarke—the erstwhile Milwaukee sheriff who caught hell for decking out his uniform with flair pins—recycled a meme with the same fake quotes.
The conference ground on for ten hours before Ammon Bundy finally took the mic to sing his paean about triumph over the murderous feds. This was the second Bundy event I've attended, and the script did not vary much: poorly substantiated interpretations of the Constitution mingled with tearful recitation of his family's long "stand," which most of us would just interpret as "breaking the law and getting away with it." (The Bundys still owe more than $1,000,000 in unpaid federal grazing fees. Although several of their accomplices are doing time, the Bundys were acquitted of all charges for a 2014 standoff and the Malheur occupation, due to mishandling of evidence.)
Bundy wore a straw cowboy hat and a suit coat. Toward the end of his remarks, he pulled out a garment bag with items for show-and-tell. The first was a ball cap with the Army Airborne logo that he claimed was given to him by a vet. Bundy ratcheted up the totemic power of the items until he was holding up a bronze star medal, claiming a wheelchair-bound man who'd lost his legs "serving in the military" had given it to him at Malheur. Bundy told the audience about how he'd said he didn't deserve it, because he'd never served, and the man "told me I was to never say again that I didn't deserve it." Next, Bundy pulled out a folded American flag, which he claimed was "presented to me by a man who said this flag was draped over his brother's casket because he died serving this country." Choking back tears, Bundy said, "This man gave me this flag, and he felt that this is what his brother died for…we were standing up for the very purpose his brother gave his life for."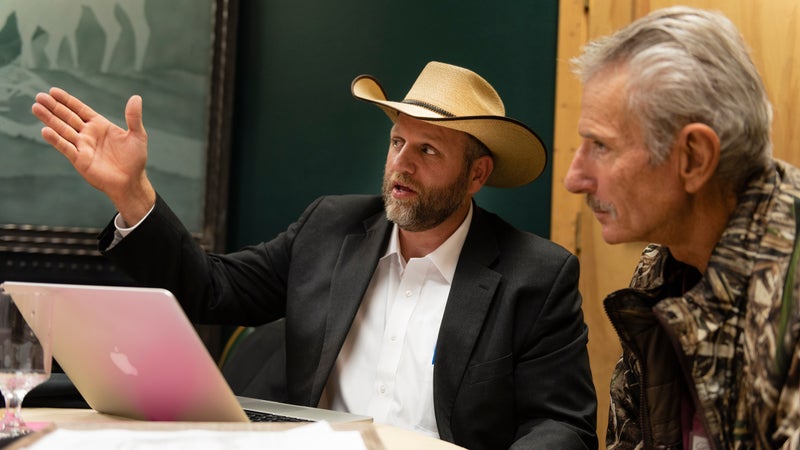 To me, it all seemed like cheap theater, but maybe Bundy believes his own myth. Many in the room seemed to. Then again, they also looked on with jaws agape as Happel warned about the UN's plans to "eliminate anywhere from 95 percent to 75 percent of our population." While their credulity was astonishing and depressing, I doubt that these would-be crusaders present any meaningful threat to the future of public land or the republic on which it stands. They barely filled a small conference room. The only presenter who actually addressed a Montana public land issue in-depth was Kerry White, a Republican state legislator from Bozeman. White gave a talk on megafires, advocating for more thinning projects in national forests to reduce the severity of fires and boost the timber economy. While White's interpretations of wildfire science would raise eyebrows in the company of scientists, the basic premise of thinning forests to minimize wildfires' destructive capacity has bipartisan support in the West.
In an unexpected bit of drama, Bundy took the mic during the question-and-answer period and harangued White for tacitly acknowledging the federal government's right to manage public land. Waving his weathered pocket Constitution, Bundy asked, "Do you see or do you not see that the control of our lands in federal hands is the problem?" White seemed taken aback. "I disagree with that," he said. In a tense back-and-forth, White—a conservative warhorse in the Montana legislature, born and raised on his family's ranch in the Gallatin Valley—refused to give in to Bundy. Exasperated, he said, "The people gave the government the power to do things for us. If they don't do it correctly, it is the power of the people to change that. Does that make sense?" Indeed, it was the most sensible thing anyone said all day.
Lead Photo: Elliott D. Woods 2018