The Environmental Threat of Trump's Wall
Parts of the southern border are ecological wonderlands. The wall threatens 23 endangered and at-risk species.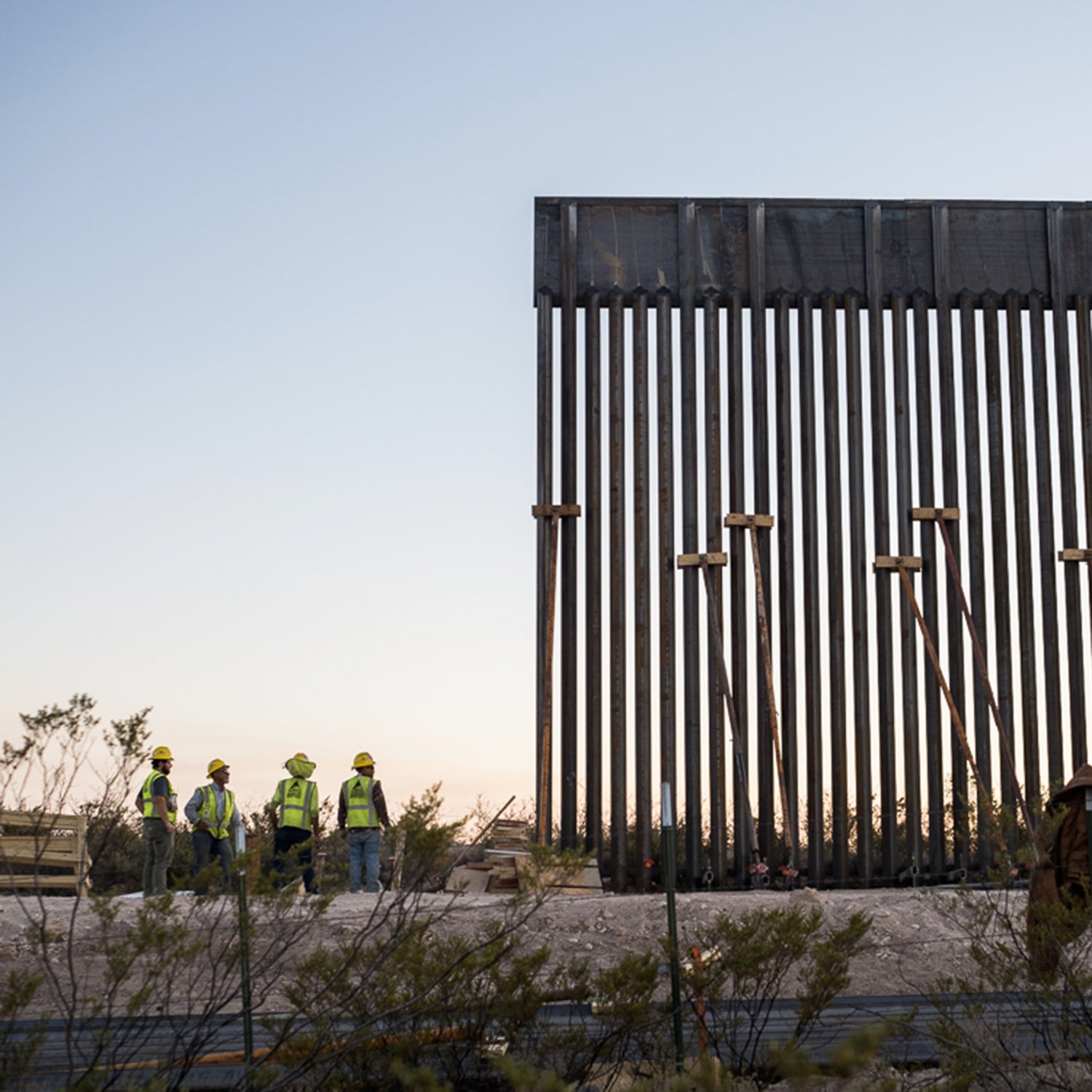 April Wong(Photo)
Heading out the door? Read this article on the new Outside+ app available now on iOS devices for members! Download the app.
On January 20, 2017, President Donald Trump's inauguration day, Laiken Jordahl went for a hike in Organ Pipe Cactus National Monument, an ecological jewel in the Sonoran Desert that straddles the U.S.-Mexico border. The monument is studded with towering saguaro cacti and a rare namesake plant that looks like it was pulled from the Dr. Seuss universe.
Jordahl, 24 at the time, worked for the National Park Service developing wilderness stewardship plans. Trump won the 2016 election in part by promising to extend an impenetrable border wall from California to Texas. As Jordahl hiked through the desert, he wondered if it was legal to build something like that on protected federal land. 
"Everyone assured me it could never happen," Jordahl said at a rally he organized on November 9, 2019. "This place is just too special. And here we are, two and a half years later, standing in front of the first new sections of Trump's wall." 
Last May, the Department of Defense awarded the first in what would become $1.3 billion in contracts to Southwest Valley Constructors for what it called a "Tucson Sector barrier wall replacement project." That money was part of the $6 billion sourced from the Pentagon to build the wall without congressional approval after Trump declared a national emergency on the southern border on February 15. His wall was coming to Arizona. Sixty-three miles were to be built in the U.S. Customs and Border Patrol's (USBP) Tucson Sector, which includes Organ Pipe.
When construction began in early October, Jordahl, who now works as the borderlands campaigner for the Center for Biological Diversity in Tucson, Arizona, documented it on his Twitter feed. Although the Department of Homeland Security claims it transplanted all healthy cacti in the way of the project, Jordahl posted videos of green 150-year-old saguaro lying on the ground that he said had been bulldozed. The videos went viral, especially in Tucson, a hive of border activism. The rally was Jordahl's first opportunity to bring others to Organ Pipe so they could see America's new wall, and its destruction, for themselves.
That's why I flew in. Like many people, I'd been watching Trump's border wall push from afar. Whenever I read or watched reports about it or his administration's wider immigration policies, like family separation and new hurdles for asylum seekers, I considered the human costs. To me, the wall seemed to be about more than border security. It was a monument denouncing America's increasing cultural diversity. Then again, I'd never been there. Once I watched Jordahl's videos, I knew it was time to see the Arizona borderlands for myself. I planned a two-week trip to try to determine what, if anything, was at stake.
---
More than 300 people showed up at Jordahl's demonstration, and they spanned the Tucson gamut. There were arty Burning Man types dressed like desert wildlife, a knot of retired activists who call themselves the Raging Grannies, and indigenous people from the Tohono O'odham Nation. All of us walked past heavy construction equipment and hundreds of pallets stacked with 30-foot-long bollards—hollow pillars that, when standing, form the bulk of the wall. We stepped over a dozen dying saguaros, their shallow roots exposed and left to decompose in the gravelly pink soil along the edge of a dirt border road expanded to facilitate construction. 
"It hurts me," said Philip Morales, a member of the Tohono O'odham Nation as he contemplated a felled saguaro. "We call them our grandmother and grandfather, because they have a spirit in them. And it gives to us. It gives us saguaro fruit, gives us sustenance." He approached the wall, sang a blessing, and prayed. Others joined him, but soon the collective sadness turned to outrage. A chant began. "Tear down this wall! Tear down this wall!"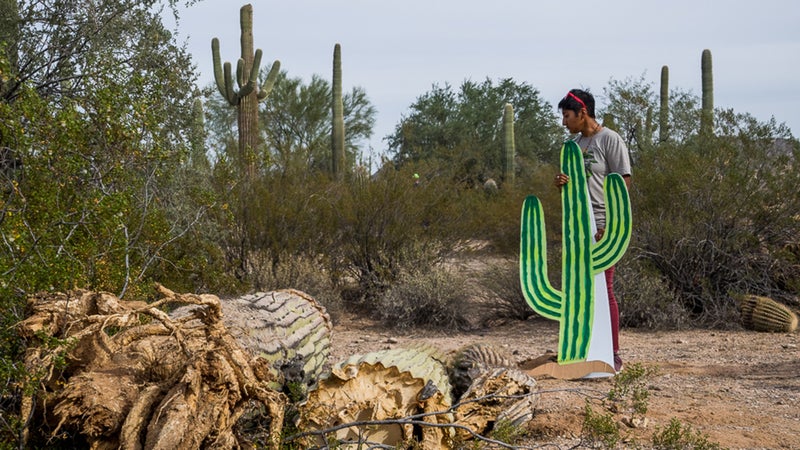 In the minds of the activists, it wasn't just cactus and local indigenous customs that had been trampled. It was the Endangered Species Act, the Clean Water Act, the National Environmental Policy Act, and 38 other federal laws that were waived to green-light a project whose merits are debatable at best. All because of an obscure provision of a bill that passed through Congress as a budget rider more than a decade earlier.
Typically, the presence of a single endangered species is enough to at least delay major construction projects, but in 2005, Congress gave President George W. Bush the ability to waive federal laws to build a section of border wall in California's Smuggler's Gulch, near San Diego. Except the president's expanded authority was not confined by geography or time. It was open-ended and buried in the Real ID Act, which assigned a national standard to state identification cards. Debate about that bill and these new presidential powers were limited in the House and Senate because the Real ID Act was passed as a budget rider on an appropriations bill funding the wars in Iraq and Afghanistan and much-needed relief for victims of the Boxing Day tsunami in Southeast Asia. Nobody likes voting against the troops or victims of natural disasters. It passed the Senate, 100 votes to zero.
Bush used his waiver authority to finish that wall in Smuggler's Gulch and erect similar walls and smaller barriers along the border after Congress directed him to do so via the 2006 Secure Fence Act. President Obama held the same waiver authority and never used it. President Trump has seized on it to act unilaterally and build the wall wherever he likes. 
According to the U.S. Army Corps of Engineers, to date, 132 miles of new border wall have been slated for construction in Arizona since Trump was elected, at a cost of roughly $14 million per mile. The 63 miles in the Border Patrol's Tucson Sector are already under construction. Environmentalists like Jordahl fear the wall will affect 23 endangered and at-risk species, including the Sonoran pronghorn antelope, Mexican wolves, and the elusive jaguar. 
"This is exactly how you cause extinction," Jordahl says. "You fragment habitat and populations into smaller and smaller sizes, their genetic diversity decreases, they become more vulnerable to disease and inbreeding, and they wink out."
That matters because if you expand the term "borderlands," as most ecologists do, to include 120 miles on either side of the line, you get a place where bald eagles roost near macaws, bobcat and ocelot might cross paths, and mountain lions, jaguars, and wolves compete for white-tailed deer. It's an overlay of subtropical and temperate habitats, a wonderland of regal saguaro cactus—where woodpeckers, screech owls, and Harris hawks nest—and rugged mesquite trees, whose seedpods are eaten by coyote and javelina and were once used by the Tohono O'odham to make flour. Its jagged mountains rise like sky islands from a sea of undulating grasslands irrigated by seasonal washes that flood during summer monsoons and oases like Organ Pipe's Quitobaquito Springs. The wall under construction at Organ Pipe is slated to extend past Quitobaquito, an important wildlife watering hole. 
"It's a sacred site and has been for generations," says David Garcia, a Tohono O'odham elder. Every year, young people from the tribe gather at Quitobaquito to run some 150 miles to Mexico's Gulf of California and back in a salt-collection ritual that doubles as one of the most intense endurance events in North America. When the new wall is complete, that generations-old salt-run course will have to be altered. 
The Tohono O'odham Nation spans the U.S.-Mexico border, with most of its land on the U.S. side, just east of Organ Pipe. The national monument once belonged to them. When Garcia grew up on the reservation, there wasn't a palpable Border Patrol presence, so it was easy to cross back and forth to Sonora, where his father was born. "There were nine gates that you could drive through. Now there's only one that you can walk through," Garcia says, "and there's a USBP base on the reservation. So, at any given time, an agent can say yay or nay to allow you to go into Mexico or come back onto the reservation into the United States." 
The 63 miles in the Border Patrol's Tucson Sector are already under construction. Environmentalists like Jordahl fear the wall will affect 23 endangered and at-risk species, including the Sonoran pronghorn antelope, Mexican wolves, and the elusive jaguar.
"The U.S.-Mexico border touches six national parks [Ed.: three are national historic parks]," says Erica Prather, a national outreach representative with Defenders of Wildlife in Tucson. She was at the protest, collecting signatures to pressure Senator Kyrsten Sinema (D-AZ) to oppose the wall project. "Organ Pipe is obviously a national park unit. This isn't just guesswork; there's science that's been done. This is a wildlife migration corridor. If this were the northern border in Glacier National Park, people would be having a shit fit." 
That may be true, but one look at the existing vehicle barriers on the border in Organ Pipe, and you can see why some consider them insufficient. They look like corral fencing made out of steel—six to ten feet tall, easy for both wildlife and people to slip through or hop over. Of course, those barriers aren't the main obstacle migrants face. The desert itself is a natural border wall. Harsh and unforgiving, thick with spiny plants and blessed with precious little water, temperatures can rise to 120 degrees in summer and plummet below freezing in winter. Desert wildlife is built to survive all that. Humans, not so much. Ever since the Clinton administration ramped up urban border enforcement, would-be migrants have attempted to navigate the southern Arizona wilderness, often with tragic results. Since the mid-1990s, the remains of more than 3,000 migrants have been found in the bush. For every body found, immigrant rights groups say there are five to ten that may never be located. 
---
Quitobaquito is not the only wildlife water source affected by the Tucson Sector's new border wall. On November 14, Jordahl drove us southeast from Tucson toward the San Bernardino National Wildlife Refuge (SBNWR), which is miles from any paved roads. While Organ Pipe is considered a high-traffic zone for migrants, thanks to its immediate proximity to Mexico's Highway 2, only three migrants have been detected crossing into SBNWR in the past three years, perhaps because this area is wild on both sides of the border. Nevertheless, 20 miles of wall are being built here, cutting off a critical riparian habitat known as Black Draw, a swampy spring-fed creek that forms the headwaters of Mexico's Yaqui River and attracts wildlife from both sides of the border. The wall will also extend directly in front of the 150-acre Slaughter Ranch, which has a lakelike reservoir fed by artesian wells. 
Fred Dunn manages Slaughter Ranch and says he's seen Mexican wolves, mountain lions, and bobcats more than once. He's even heard rumors of a jaguar passing back and forth over the border. (SBNWR officials have no record of wolf or jaguar sightings within the refuge's boundaries.) Dunn loves animals and is concerned about how much water the construction crews are using to mix concrete for so many miles of border fencing. 
Builders have drilled multiple wells, he says. Some of that water is sprayed on the road as dust control. Most is used to mix concrete. Dunn is anxious that his artesian wells and reservoir could run dry, so he recently paid $40,000 to build a new deep well of his own. Similar water issues exist in Organ Pipe, Jordahl says. He worries that Quitobaquito Springs might dry up if construction crews drain the local aquifer. Are his and Dunn's fears legitimate? That's impossible to answer, as no environmental impact studies or reports have been required at either site because of Trump's waiver authority. 
After visiting Dunn, Jordahl and I hiked Black Draw, where we spooked wild turkeys rummaging in the shade, and continued on foot for 3.5 miles to the newest section of the wall. Although the Tucson Sector contract was awarded to Southwest Valley Constructors, that name is an empty shell. It's a subsidiary of an Omaha-based firm called Kiewit, which has offices across North America and is a favored contractor of the U.S. Army Corps of Engineers. A source close to the project told me that Kiewit is in violation of its contract on environmental grounds. It did look like Black Draw had been filled in with construction debris near the road, but Kiewit officials never responded to multiple interview requests, and SBNWR officials wouldn't discuss it. Based on my short exchanges with some of the crew we saw working there, the wall project was just two weeks old, and they had completed about 200 yards so far. Most of the labor force we met were Latino. 
---
It was a strange thing to witness—a new swatch of wall in the middle of nowhere, connected to nothing, glinting in the setting sun. It looked like an oversized abstract art installation, which was fitting, because when you're standing in borderlands wilderness, mountain ranges painted against the eastern and western sky, the border itself looks like an abstraction: an arbitrary line bisecting the landscape. 
During my two weeks in southern Arizona, I visited six sections of the border. In addition to the new wall, there was an 18-foot variety, built in the Bush era; vehicle barriers like at Organ Pipe; and four-strand barbed-wire fencing at the southern end of the Arizona Trail in the Huachuca Mountains, a known jaguar and wolf runway. I quizzed U.S. and Mexican soldiers about the wildlife they saw as they conducted surveillance or patrolled for cartel-affiliated smugglers who run migrants and drugs across the border. I met veteran Border Patrol agents at their local bar. They flashed images on their iPhones of marijuana bundles worth more than $100,000 and the smugglers they'd arrested. I met recent deportees and Mexican, Honduran, and Venezuelan asylum seekers in Nogales, Mexico. I glimpsed surveillance towers, Border Patrol choppers, and wildlife. Lots of wildlife, including coyotes, jackrabbits, white-tailed deer, and too many birds and bats to count. Much of it within spitting distance of the border.
When I asked a Border Patrol press representative why the agency chose to begin construction at Organ Pipe and SBNWR, they mentioned "availability of real estate." The land was already in federal hands. However, Defenders of Wildlife and the Center for Biological Diversity believe that means it belongs to the people, not the president, and should be managed in the public's interest. Prather considers border wall construction in Organ Pipe and SBNWR to be public lands theft on par with the reduction of Bears Ears National Monument and the pending sale of oil leases in Alaska's Arctic National Wildlife Refuge. 
In an emailed statement, the Border Patrol wrote, "Deploying wall system in high-priority areas—particularly urban areas where illegal border crossers can quickly vanish into the surrounding community—allows USBP to decide where border crossings take place, not smugglers, and USBP can deploy personnel and technology in complement to border barrier."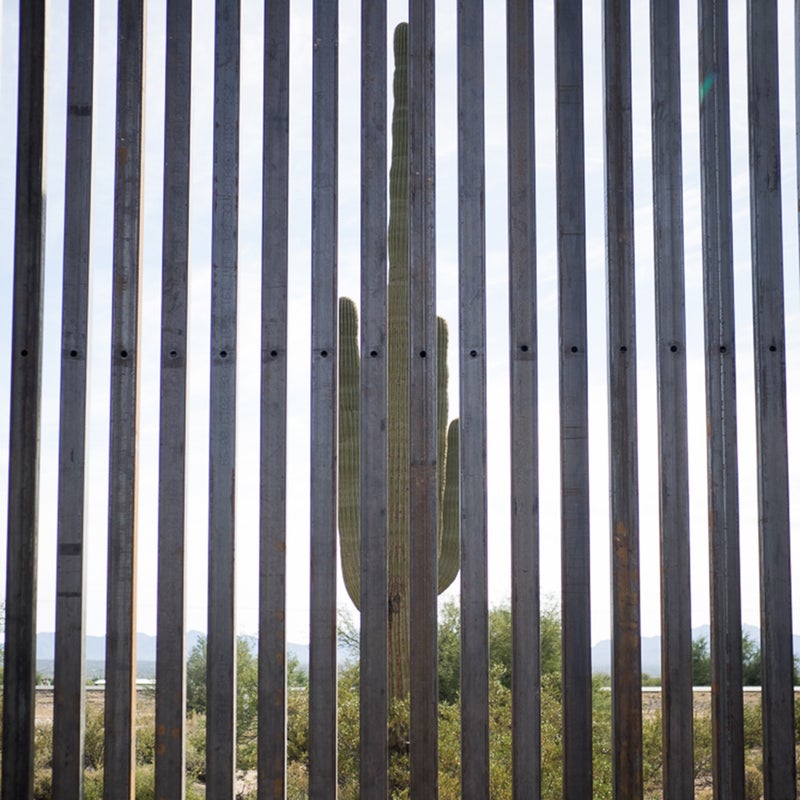 Set aside the fact that the newest wall is nowhere near urban areas, and the agency's statement remains troubling. It alludes to a funneling of human patrol and air resources, as well as migrants and smugglers, away from paved roads and flatlands and toward the mountains, which are crucial wildlife corridors for predators and prey. And for what? 
We know from the Border Patrol's own data that the only drugs flowing through the porous border areas in Arizona's wilderness, from Mexico into the United States, is marijuana, not opioids or cocaine. Hard drugs come through urbanized border checkpoints, because they are odorless. Even human migration has slowed way down. There are still illegal border crossings, but these days, according to migrant advocates and Border Patrol agents I met, most would-be migrants prefer to apply for asylum and hope for the best rather than risk their lives and attempt to evade Border Patrol. 
Defenders of Wildlife and the Center for Biological Diversity litigate to enforce environmental laws. The Center for Biological Diversity has challenged Trump's waiver authority in court and lost twice. A pending longshot appeal to the Supreme Court is the organization's last resort. It has also challenged Trump's emergency declaration that allowed him to fund the wall without congressional approval. The White House has asked a judge to dismiss the case. Arguments will be heard in a Washington, D.C., federal court on Monday. Both organizations also document wildlife (Center for Biological Diversity's Russ McSpadden has the best camera-trap footage in Southern Arizona) and advocate on its behalf. Defenders also works on rewilding projects. 
Craig Miller, senior Southwest representative at Defenders of Wildlife, has been involved with jaguar conservation and Mexican wolf reintroduction in Arizona since the 1990s, when there were just seven Mexican wolves left. Thanks in part to his work with local ranchers, today there are more than 130 wolves roaming Arizona and New Mexico and about 30 more across the border in Mexico. 
"The wall, if completed and if it remains, will prevent us from ever achieving one of the most robust and important rewilding initiatives on the continent," Miller says. "Not just for Mexican wolves, but for all that represents. We've made good progress over the decades at preserving the northernmost population of jaguars, which historically roamed throughout Arizona and New Mexico up to the Grand Canyon. Now we have a stronghold of wolves and abundant suitable habitat throughout the region, but if they can't get to Mexico from here, it's just a pipe dream. It would prevent the essential flow of genetics."
Diversity, in other words, is crucial, not just for endangered species, but for any healthy system. "Diverse systems are more interesting. They also happen to be more resilient, fertile, and productive," Miller says. "In this region, life flows north to south, through all of these sky-island mountain ranges and seas of grasslands. This border wall amputates it. It's a tourniquet. It prevents life flow across the landscape."
Lead Photo: April Wong