An Oregon School District Pulled Kids Out of a Camp with Nonbinary Counselors
Vitriolic messages appeared on Camp Tamarack's social media after the incident. Oregon's LGBTQ+ community has rallied behind the camp.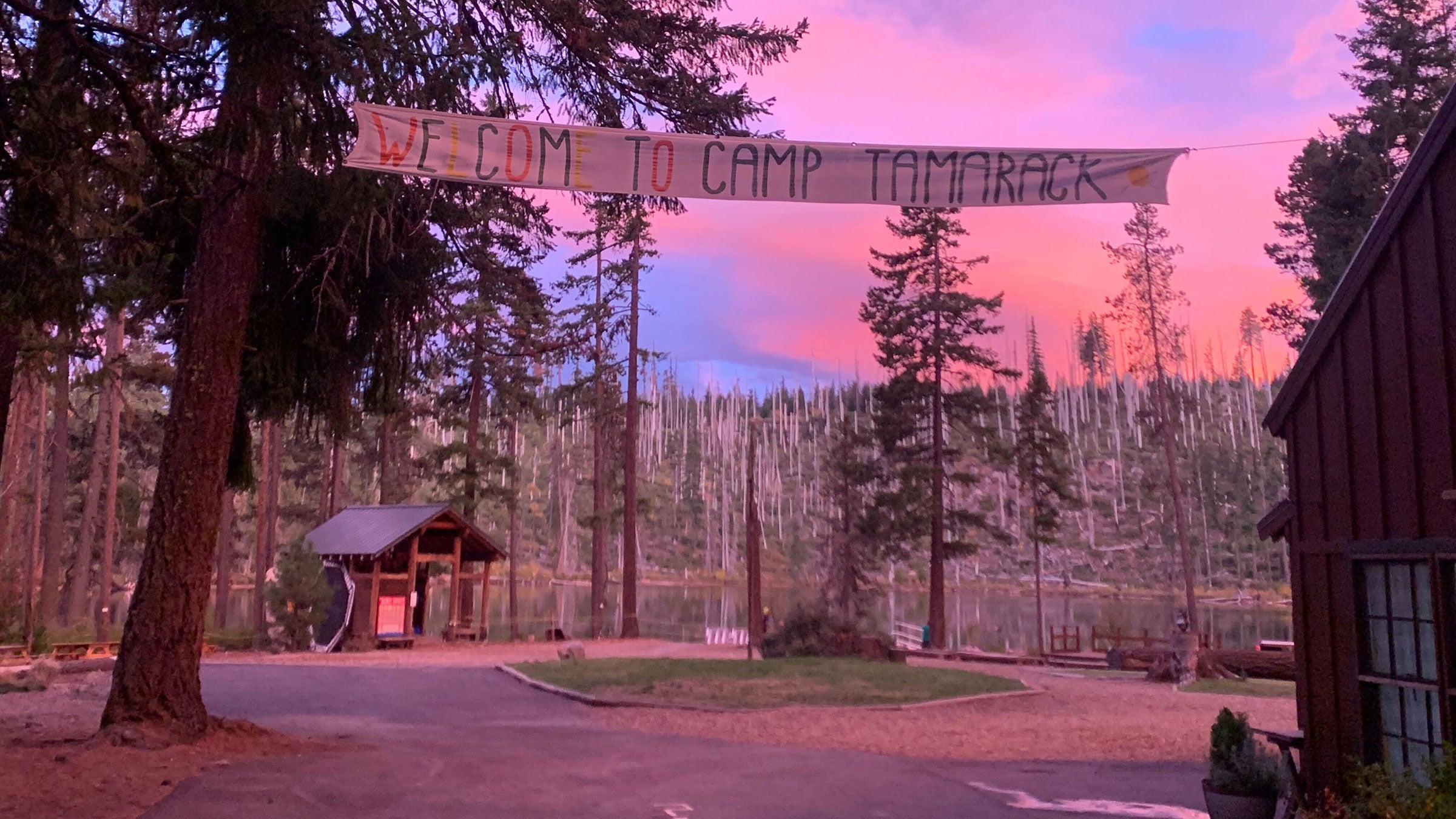 Charlie Anderson
Heading out the door? Read this article on the new Outside+ app available now on iOS devices for members! Download the app.
On October 17, a group of sixth graders arrived at Oregon's Camp Tamarack, located near the town of Sisters, for a three-day stay at outdoor school, a state-funded staple for students. But just a few hours after they showed up, the kids were ushered back onto their buses and taken home. The reason? Some of the camp counselors were nonbinary, and there was a misunderstanding among teachers and camp officials about sleeping arrangements. 
According to reports, some students went to their teachers after learning about the presence of nonbinary counselors. "Sleeping in cabins with and dressing in front of the counselors, was the source of discomfort," said Stefanie Garber, superintendent of central Oregon's Culver School District, in an October 18 letter to parents explaining why she called off the outdoor school experience.  
What was omitted from Garber's letter was a fact about the camp's rules: students have access to private changing rooms and do not need to change in front of counselors, nor do they shower at the outdoor camp. Camp Tamarack's executive director, Charlie Anderson, has since clarified that the camp, which is part of an outdoor school science program available to all Oregon 5th and 6th graders, also follows Oregon Department of Education's nondiscrimination policies, which requires camp counselors' genders to remain confidential. In 2020, Oregon became one of the first school systems in the U.S. to recognize nonbinary and gender-fluid students.
The students' concerns filtered from teachers to their principal, and then on to Garber, who was not present at the outing and could not reach camp staff. She decided to remove all students from Camp Tamarack. Camp staff learned what was happening only as students were leaving. Anderson (who declined to speak to Outside) wrote a letter to the Tamarack community which was later shared on social media. In the letter, Anderson said that some students cried and chanted, "Let us stay."
Garber says her decision to pull the kids from the camp was not due to anti-LGBTQ+ sentiment, but rather because she wanted to maintain the trust of parents. Some children, and presumably their parents, she said, seemed to lack information about sleeping arrangements. Since outdoor school is not mandatory, parents can always opt out if they don't like camp policies. 
"Some of these stories make it sound like we just fell off the turnip truck," Garber says. Garber acknowledged that the decision to remove the kids may have been interpreted as bigotry, but said that her decision was not discriminatory. 
"It was really this perfect storm of errors that couldn't be fixed," Garber says. Culver School District students have been promised a spring camp opportunity, though it won't be at Tamarack, since the facility is booked out for the year. After Culver pulled its students, another school decided to switch its Tamarack camps to day trips only. 
Still, the decision to pull the children sent ripples through Oregon. In a guest column in the Bend Bulletin, former counselor Kevin Crawford wrote, "[Superintendent] Garber failed as an educator when she pulled those students from camp. She failed to recognize her student's discomfort as an opportunity to do her job—to educate." 
Crawford spent seven seasons at Tamarack, and said that when he first heard about the students being sent home, he feared the experience could have been damaging for the counselors. "Suddenly, the students are being pulled out because of this adult discomfort over your identity, the very core of who you are," he says. "I know camp has [the counselors'] backs 100 percent, but regardless, having the superintendent of a school district take out a class of sixth graders because of you? You would take that so personally. You'd be like 'Oh, it was me, I'm the problem.'"
In a joint statement released in early November titled 'Coming Together,' Anderson and Garber wrote of their desire to "respect the values and identities" of those who participate in outdoor school.
"We view it as a missed opportunity for a meaningful discussion around issues of respect, inclusion, compassion, belonging, and, ultimately, mutual understanding," the statement said. 
The statement did little to tamp down a wave of online hatred directed at the school after the incident. Vitriolic comments toward trans and nonbinary people appeared on Camp Tamarack's Facebook, prompting camp officials to shut the page down. 
"I've seen a lot of ignorance and a lot of bigotry in response to what happened, " says Maddie Reitz, a former Camp Tamarack staff member. "It goes along with a wave of transphobia that has been so rampant, especially in the past year or two. Seeing that directed to a place that's so close to my heart was just really devastating." 
As outdoor schools work to become more welcoming and safer for vulnerable students, they face spillover from the nation-wide increase in anti-trans political rhetoric and policies, often directed at youth. 
"I think any program, school, or district that is vocally supporting any student from a marginalized identity and community is a political target right now," says Spirit Brooks, the interim director of Oregon's Outdoor School for All, the Oregon State University-based program that oversees state-funded outdoor school programs like Camp Tamarack. 
More than 80 percent of Oregon students go to outdoor school, after a 2016 ballot initiative made the state one of the first to include fully-funded outdoor school in its public science curriculum. And while many camps, Tamarack included, have worked hard to become a welcoming place for all students, Brooks' research has found that trans and nonbinary students have less positive outdoor school experiences than their peers.
It isn't easy to be a gender-nonconforming kid. According to a 2022 UCLA report, youth ages 13 to 17 are significantly more likely than adults to identity as transgender, and that number is increasing. Suicide rates are exceptionally high in transgender youth compared to the rest of the population, and studies show that gender affirmation at school—like allowing students to use the bathroom that suits them—reduces that risk. At Camp Tamarack, trans and nonbinary students have the right to self-assign to the cabin that most aligns with their gender, and to use private restroom facilities. Some other outdoor camps have all-gender cabins. The inclusion and accessibility practices at Tamarack are consistent with nationwide guidelines from the American Camp Association.
The central Oregon LGBTQ+ community and Camp Tamarack alums have rallied around the camp. "It has been so beautiful to see the amount of support and love directed towards Tamarack and their programming," says Reitz, whose outdoor education career began as a high school counselor. As a freshman, she fell in love with teaching kids about local ecology on the camp's pine-covered lake shore, and was excited to learn leadership skills and help build an accepting community. Reitz (who uses she/they pronouns) worked at Tamarack for five years, and is now staff at a similar outdoor school in California.
Even as outdoor schools and districts continue to navigate a difficult national political environment for supporting gender-diverse youth, Brooks is confident that Outdoor School for All's goals and values won't change. "Even though there's a vocal minority, we're going to continue to support equitable, culturally responsive outdoor school programs for Oregon youth," she says. "When we have programs that have high school leaders who identify as trans, nonbinary, or gender expansive, that's a really positive thing."
Lead Photo: Charlie Anderson