This Rock Has a Voice And You Can Listen to It
Geologists have captured the low, deep hum of Castleton Tower near Moab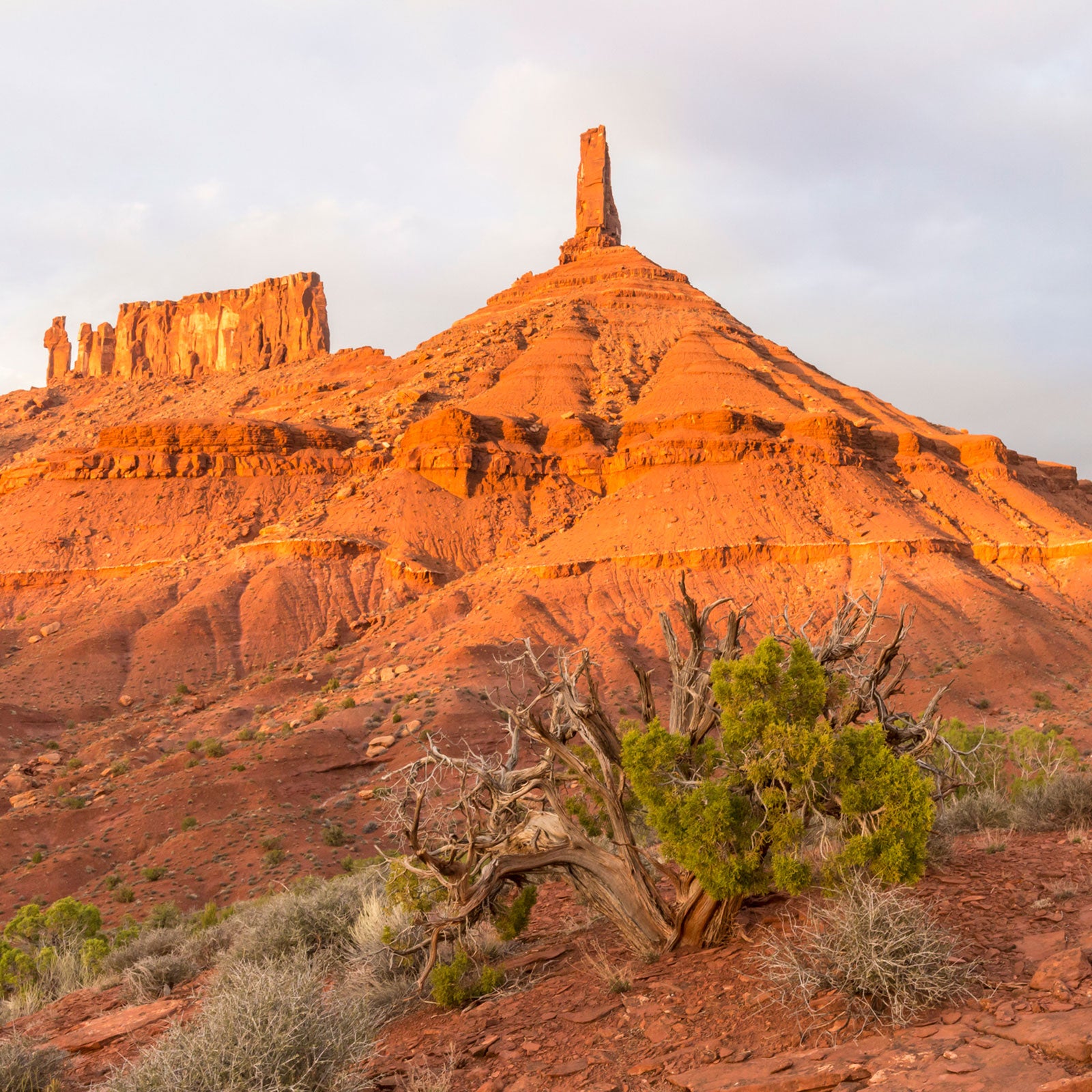 Heading out the door? Read this article on the new Outside+ app available now on iOS devices for members! Download the app.
When you're approaching Castleton Tower, a 400-foot-tall rock formation near Moab, Utah, it seems completely quiet. And if you place your hands and feet on the sandstone, it'll feel perfectly still. 
But, like other large rock formations, Castleton Tower hums. It vibrates from energy produced by earthquakes, ocean waves, cities, trains, and road traffic, or even from wind or aviation noise in the air. 
And thanks to a group of geologists at the University of Utah—and a couple of ambitious rock climbers—now you can hear it. 
The researchers, led by geologist Jeffrey R. Moore, published a study on Tuesday in the Bulletin of the Seismological Society of America that shared a recording of the tower's vibrations. To make the recording, Moore's team used seismometers, devices that pick up slight movements in the earth in three dimensions. They then amplified and sped up the nearly three-hour recording to a frequency audible to humans. 
You can listen to the rock here:
"It has ebbs and flows to it, but it's largely a sort of droning sound, emphasizing how the tower is always vibrating as energy comes up through the earth," says Paul R. Geimer, PhD, an author on the study. 
Moore and his colleagues have been measuring the vibrations of rock formations since 2013, but had previously been limited to small structures such as arches, bridges, and hoodoos (pinnacle-like structures). In order to listen to a rock, one needs to ascend it, to place a seismometer on top of the structure. So formations like Castleton, which is one of the largest free-standing rock formations in the Southwest, pose a challenge for scientists. 
That's where Kathryn Vollinger and Natan Richman came in. Both seasoned rock climbers, Vollinger and Richman were looking for ways to keep their skills sharp during the off-season. They found and reached out to Moore's group in December 2017 with a standing offer to climb larger, more technical rock formations and set up seismometers. The researchers jumped at the chance. "Their skills provided us an opportunity to measure something we couldn't just walk up to," says Riley Finnegan, another author on the study. 
After a few weeks of training to get the climbers comfortable with the equipment, they were sent to climb Castleton Tower in March 2018, placing one seismometer at the base for reference and another at the top to measure the movements.
The recording confirmed what the researchers originally thought: that the Tower behaves as "one slab of intact rock, connected from top to bottom," says Geimer. It vibrates at a very low frequency, likely due to its enormity. Smaller rock formations vibrate at higher frequencies—Finnegan compares this to the strings on a guitar. This makes Castleton less sensitive to accumulating damage over time compared to structures that are more susceptible to transferred energy, according to Finnegan.
Major collapses in Arches National Park, like the one that occurred in 2008, were motivating events for the group's research, says Geimer. "We are trying to identify any precursors in these rock formations before either there is going to be a rockfall or these features are going to fail. It's a way to non-invasively listen in and assess the health of these features." 
Castleton Tower was first climbed in 1961 and was named in the 1979 book, Fifty Classic Climbs of North America, earning a place on many climbers' to-do lists. 
Lead Photo: lightphoto/iStock