Climate Change Could Make Avalanches More Dangerous
Study finds that high-elevation areas in the Himalaya are seeing wetter, more frequent slides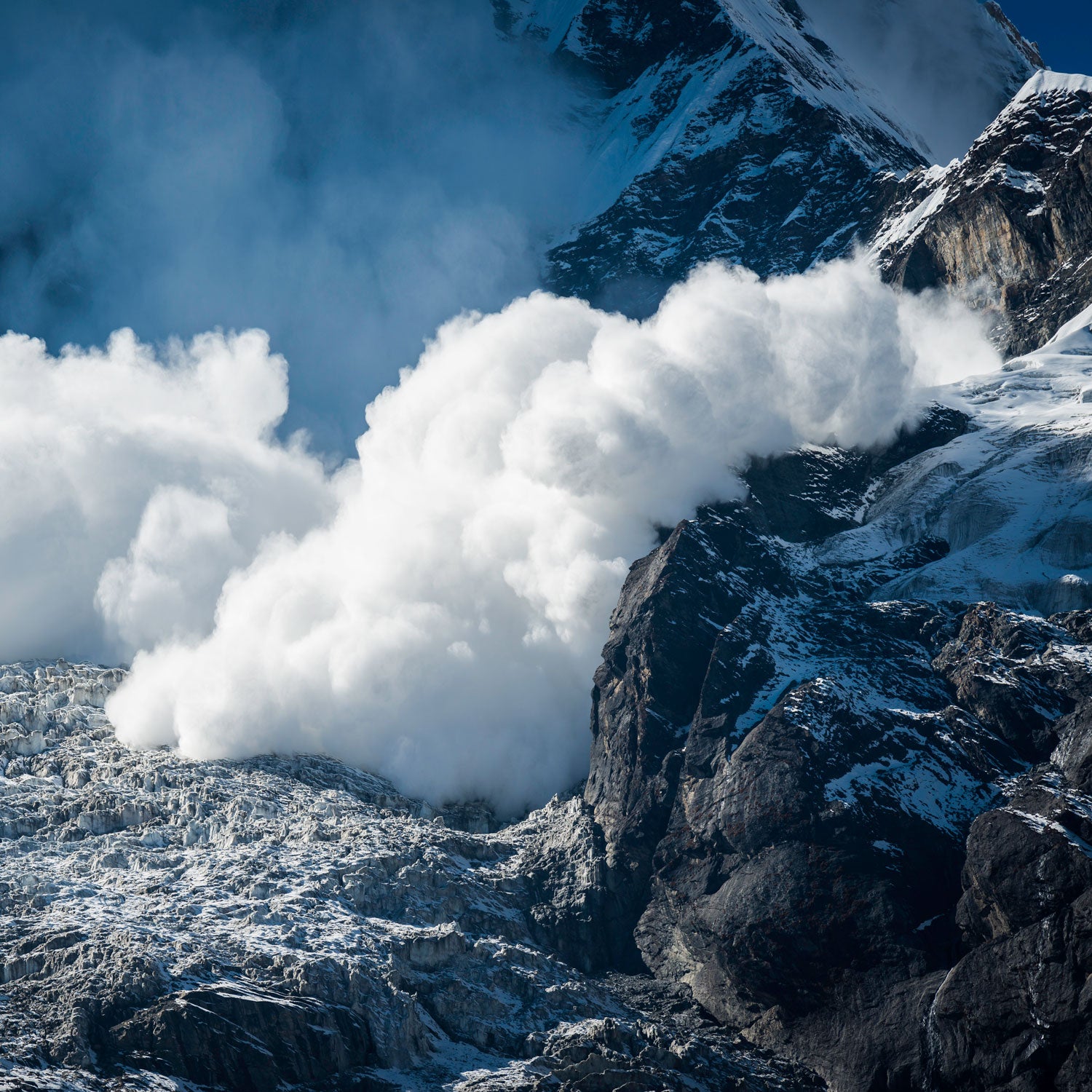 fotoVoyager/iStock(Photo)
Heading out the door? Read this article on the new Outside+ app available now on iOS devices for members! Download the app.
The planet's warming, and the Himalayas, of course, are not exempt. One result of those rising temperatures could be increased avalanche risk, according to a new study published last week.
The researchers focused on the Western Himalaya, a region that's seen more and farther-reaching slides in the last 50 years. "In many slopes in the Himalayas, the snow is not a limiting factor, but the warmer temperatures are affecting the snow pack stability," says Juan Antonio Ballesteros-Cánovas, lead author and scientist at the Institute for Environmental Sciences at the University of Geneva, Switzerland. In other words, the volume of snow has remained relatively constant, despite warming. It's the changing air temperature that causes a problem: as the days get warmer earlier in the year, the snow pack destabilizes, leading to wetter, more frequent slides in late winter and early spring.
Scientists have seen similar patterns in the Rocky Mountains and the French Alps. At the same time, recreation in these areas has grown, making more people vulnerable to fickle alpine conditions; in the U.S., avalanche deaths are increasing. 
In their study, Ballesteros-Cánovas and his team were interested in an east-facing slope in the Western Indian Himalayas, which looms over a key roadway connecting the lowlands and mountain regions. The scientists wanted to gauge the threat of avalanches to the roadway and to a proposed tunnel in the area. 
Avalanches are complicated, often-spontaneous events affected by many factors, such as snow type, weather, and the shape and angle of the underlying slope. That makes them hard to study. But, luckily for the scientists, avalanches leave a record in trees, through scars, stumps, and slanted trunks. The scientists analyzed 144 trees on the slope, making observations of damages and dating scars using their rings. Using this process, they constructed an avalanche history dating back over 150 years. "By doing this, we are sure that the frequency and extension of snow avalanches in recent decades has been much larger than previously," says Ballesteros-Cánovas.
Over the entire period, the area averaged 0.24 avalanches per year. But, in recent decades, starting in the 1970s, the average was as high as 0.875 per year. A greater area of trees was injured in more recent avalanches, indicating that not only are avalanches becoming more frequent, but they're also covering more ground. 
It's intuitive to assume that as temperatures climb and snowpack decreases, avalanches will become less common. Instead, in high-elevation areas, the study suggests the opposite. With warmer temperatures, snow is wetter, and thus loosens free of the underlying slope earlier in the year—at a time when there's also a greater volume of snow. Plus, wet avalanches tend to travel farther than dry ones, due to their sheer mass. 
Some argue the results of the study, which was mostly confined to one slope, are too limited to extrapolate. As David McClung, a professor of geography at the University of British Columbia, puts it: "The tree damage study area is in the foothills, a long distance from the high peaks of the Himalaya." 
Ballesteros-Cánovas says there's work to be done before it's possible to understand how the results apply to other areas. Still, he thinks it's important for alpine skiers and mountaineers to to be aware of these results. "Warmer temperatures in spring, after a good winter, can be dangerous." 
Lead Photo: fotoVoyager/iStock
Trending on Outside Online