Inside Ryan Zinke's Department of the Interior
Within the understaffed offices of the DOI, is any work actually getting done?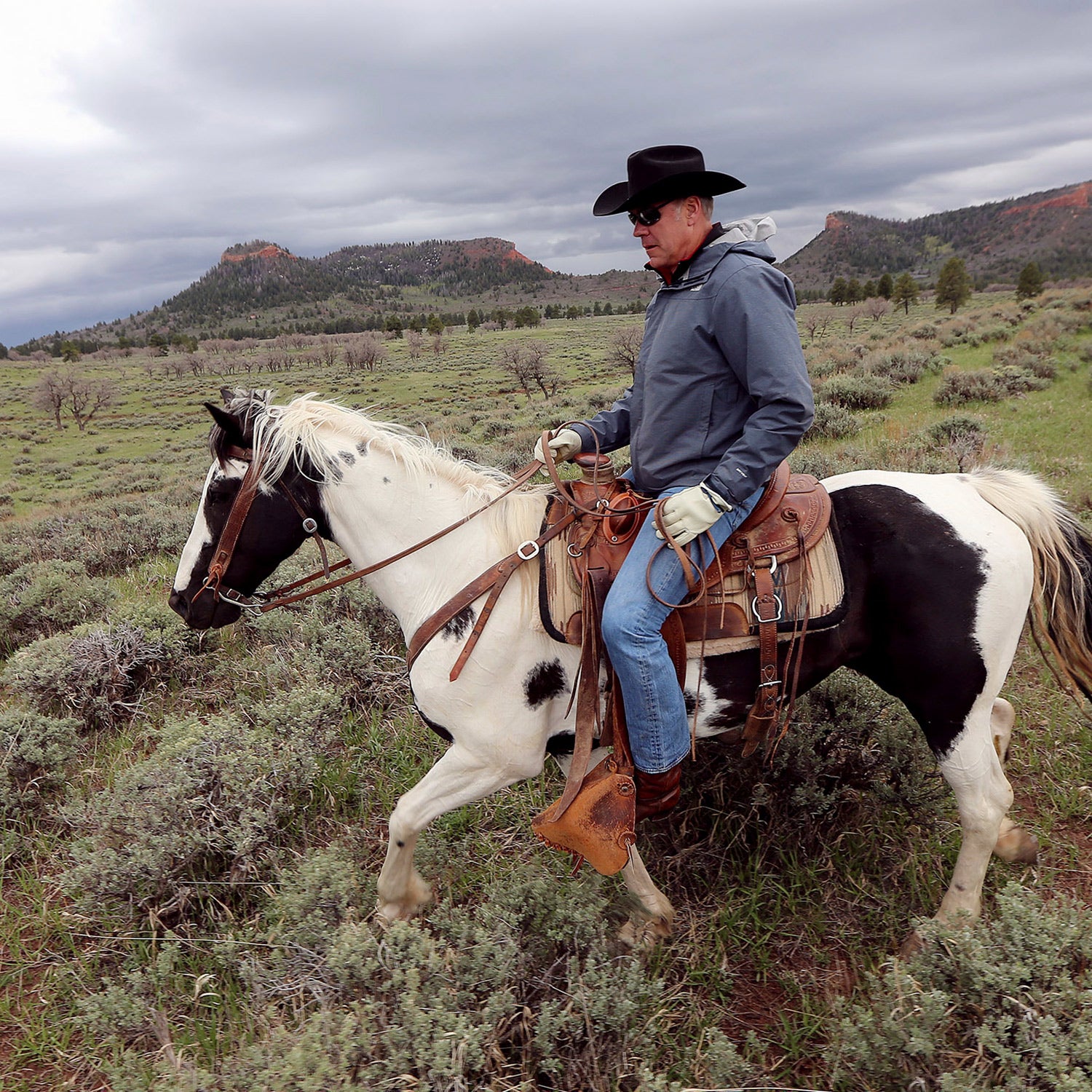 Scott G Winterton/The Deseret Ne(Photo)
Heading out the door? Read this article on the new Outside+ app available now on iOS devices for members! Download the app.
Kate Kelly was cautiously optimistic when President Donald Trump nominated Ryan Zinke to head the Department of the Interior in March. The former DOI communications director under secretary Sally Jewell told me that many interior staffers were excited about this cowboy from Montana who spoke of native sovereignty and said he opposed selling public lands.
Kelly's optimism faded as Zinke's team transitioned into office. "It's very clear there's a huge gap between his rhetoric and reality," she says. (Kelly, as a political appointee of Barack Obama, tendered her resignation under the Trump Administration, and now works as the public lands director for the Center for American Progress). "[Zinke has] definitely put a lot of work into the facade of being a Westerner, but his actions appear to betray these Western roots."
After months of interviewing past and present DOI staff (most of whom asked not to be named for fear of losing their jobs), I got the distinct impression that Zinke is the captain of a ship that isn't sinking—it's just floundering. Zinke has ordered that a new course of direction be set, but no one's at the helm steering. Meanwhile the people at the oars are flailing, treading water with no forward progress. Many people I spoke with said the department is critically understaffed, with too few senior leaders to make effective policy changes. And when policy changes do happen, the execution is haphazard at best.
Take climate change research, for instance. "All that outreach work, even scientists speaking at conferences, has stopped," says Joel Clement, who served as a senior scientist and policy expert in the DOI for seven years, mainly focusing on efforts to fight climate-change. Most non-federal advisory committees that provide expert advice are "on ice," he says, while the U.S.G.S. Climate Science Centers "are on pins and needles waiting to see how they will be treated in the budget." After Zinke's appointment, Clement found himself re-assigned to an accounting position in the Office of Natural Resources, where he would be in charge of approving, among other things, oil and gas leases. In October, he resigned from the DOI, citing poor leadership, wasted taxpayer dollars, and climate-change denial as his reasons for leaving.
He's not the only one wary of the new leadership. In June, Zinke proposed slashing 4,000 employees—eight percent of the department. Later that month, Michael Nedd, acting deputy director of the Bureau of Land Management, sent a letter to employees indicating that up to 1,000 of those jobs could be cut from the BLM. Then in September, Zinke infamously called a third of his DOI staff "disloyal." After that, Clement says, morale plummeted to an all-time low. "Staff are openly mocking the Secretary's ethical struggles and lack of respect for both mission and career staff," he says. 
The department had already been grappling with a charged workplace environment. Last week, the Federal Consulting Group and the CFI Group released the Work Environment Survey, which gives a sense of how DOI employees felt before Zinke took over. More than 21,300 people—a third of the department's staff—reported that they had experienced some type of harassment at work in the previous year. Numbers across all of Interior's departments were high: 19 percent of National Park Service employees said they experienced gender-based harassment; nearly 25 percent of Office of the Special Trustee employees reported racial discrimination; and 40 percent of employees in the Bureau of Indian Affairs said they had experienced some sort of harassment.
Earlier this fall, Zinke's deputy secretary David Bernhardt had sent an email to staff naming two DOI employees who had been accused of harassment and misconduct. "I share these examples because you need to know that your leadership is listening," he wrote. "We will hold people accountable when we are informed that they have failed in their duties and obligations."
Former employees said emails like these, instead of being reassuring, made employees more fearful, with a threatening note that seemed to echo Zinke's exhortations for loyalty. In the same email, Bernhardt reprimanded those who strayed from their oath of office as public servants:  
I am troubled that there is not a universal sense in the Department of the Interior (Department) that those few employees who have failed to uphold these standards are appropriately being held accountable. Please be assured, that I am committed to ensuring that leaders at all levels of the Department are, themselves, ensuring that legally sound, measured, and decisive action is being taken.
In the midst of all his talk of slashing jobs, Zinke—with nine months as secretary—has yet to fill several positions that require Senate confirmation. There have been no nominees for some of the department's most key positions: the directors of the Bureau of Land Management, Department of US Fish and Wildlife, the National Park Service and the U.S. Geological Survey, according to a running total kept by the Washington Post.
That's not to say the department is totally leaderless, says Jeff Ruch, executive director of Public Employees for Environmental Responsibility. Employees "are getting direction. But they're not getting direction from people that have any on-the-ground experience in the agency," he says. And without directors of several departments, it leaves their missions a state of limbo. "The mission of the park service: who's supposed to be in charge of keeping that secure? We don't know," he says.
The problem will likely only get worse. According to a report by the United States Government Accountability Office, over 30 percent of Interior employees will be retirement-eligible in 2018. Some worry that people may choose to retire, leaving the DOI in a lurch to find qualified people. "One of the issues we were working on and struggling with was making sure we were hiring great talent to make sure there wasn't a huge drop-off of experienced people in a few years," Kelly, the former DOI communications director, says.
But the biggest issue may be that the top echelon of leadership doesn't know how to affect policy change, said one of my contacts, who wished to remain anonymous. The DOI leadership isn't adding to the body of law that governs how we use America's lands and resources, they said. They don't appear to be giving any thought to it. "The objectives of the administration aren't even being achieved. It's like they're tying their own shoelaces together and they're upset when they trip and fall," my source said. "You have to understand that there aren't a bunch of obstructionists in the department…We're all standing there with an oar waiting for someone to let us row."
Kelly, the former DOI communications director, was even blunter. "What we're seeing is a lot of solutions in search of a problem. And a lot of policies that appear to be driven by vindictiveness." Her remark reminded me of a comment I saw when I read some of the millions of public statements that came in during the national monuments review this spring. It was simple and to the point: "undo everything obama did !!!!!!!!!!!!!!!!!!!!"
"I spent most of 2017 expecting that any minute the people who understood policy development and understood the way that government works were going to walk through the door," said my anonymous source. "And they just never come."
Lead Photo: Scott G Winterton/The Deseret Ne
Trending on Outside Online