Dog Tracks Endangered Salamanders for Science—and a Ball Toss
Starting this week, Sampson, a rescued Labrador with Conservation Canines, will sniff out a very rare and endangered salamander in New Mexico's Jemez Mountains.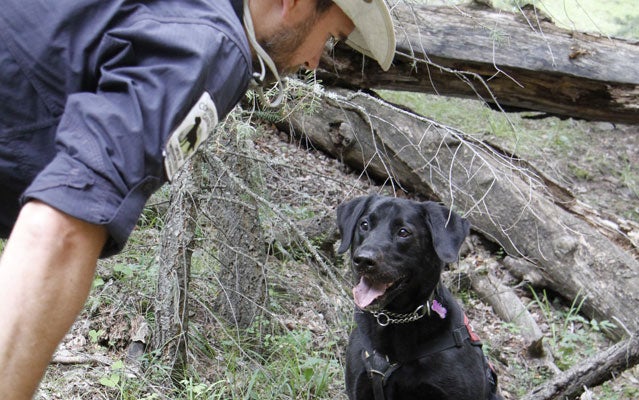 Heading out the door? Read this article on the new Outside+ app available now on iOS devices for members! Download the app.
Biologists don't know much about the Jemez Mountain Salamander, says Anne Bradley, who manages The Nature Conservancy's Forest Conservation Program in New Mexico. The high, volcanic range north of Albuquerque is not typical terrain for amphibians. These particular animals, which grow to four or five inches in length and the diameter of a pencil, spend most of the year underground, coming up only during the summer rains and even then remaining hidden beneath rocks and in rotting logs.
Biologists do know that the Jemez Mountain Salamander is in trouble. Surveys done in the 1970s would sometimes turn up 100 individuals, but more recently researchers have been lucky to find ten. They are not sure if the numbers are declining due to drought or if the species might actually be successfully adapting to the changing climate. Whatever the case, they need more data, but surveying the salamanders is extremely difficult because the animals is tiny, the area in which it lives is vast, and the window during which it shows up above ground is very narrow (especially in dry years).
A well-trained dog, it turns out, is much better suited than humans to the task of locating the Jemez Mountain Salamander. Last year, The Nature Conservancy began partnering with Conservation Canines, a Seattle-based organization that rescues and trains dog to become wildlife trackers. Trainers brought Sampson, a Black Labrador and Frehley, a Border Collie, down to New Mexico to test their skills in rooting out the tiny amphibians. The dogs proved their worth (here's a video to prove it), but the season was exceptionally dry so the survey still turned up low numbers.
This summer's monsoon is proving wetter, so Sampson and his handler Julianne Ubigau are en route back to the Jemez Mountains. Hopefully, he'll be able to locate considerably more salamanders, and do it faster, than his human counterparts.
A Unique Approach
Oftentimes, conducting wildlife research involves tracking and sedating animals in order to take blood samples or attach radio collars, says Ubigau. The Conservation Canine program, founded in 1997 by Samuel Wasser, who also directs the Center for Conservation Biology at the University of Washington, is based on the use of dogs to locate scat, rather than the animals themselves. Scat samples are then analyzed, using methods that can reveal a tremendous amount of information about the animal's genetic and physiological makeup.
"It's a great way to collect information that would have traditionally been captured using more invasive methods," says Ubigau. Given that some species being tracked are endangered, the less stress inflicted during research, they better.
The Center recruits animals—mostly heelers and Labs—from shelters. The candidates generally landed in shelters because they are so intensely, often obsessively, focused and high-energy—qualities that make them difficult for some households but perfect for tracking. Rather than motivating the dogs with food, Conservation Canines uses short ball-fetching sessions.
"We carry a ball with us, and when the dogs find what we want them to find, they sit, to signify the location," says Ubigau. "We reward them with a quick play session, then we put the ball away and get back to work." The dog is continually motivated to find its target, in order to get another go with the ball.
Conservation Canines have been used for research involving many mammals including wolves, martens, bear, and foxes—even Orca whales. The dogs have also been trained on tracking frogs and sea turtles.
Scenting Salamander Scat          
Sniffing out tiny Jemez Mountain Salamander scat in a forest is too tall a task even for Conservation Canines, so for this particular project, Samson and Fehley were trained to locate the animals themselves. Trainers started with scat samples, then swabs taken from the salamanders, so the dogs can learn their scent. This summer, a couple salamanders were captured and shipped to Seattle, where Sampson trained on locating them inside their containers.
Bradley and a team of researchers will work with Ubigau and Sampson to locate prime salamander habitat where recent rains will make the likely to be close to the surface of the forest floor. "When we look for salamanders in rotting logs, we usually have to break them apart to find the animals, so we're kind of destroying their habitat while looking for them," says Bradley. By relying on Sampson to indicate which logs harbor the salamanders based on scent, this won't be a problem, and the surveys will hopefully take a fraction of a the time that research groups generally require.
Jemez Mountain Salamanders are already listed as endangered in New Mexico, but Bradley says it may soon also be listed under the federal Endangered Species Act, which would offer more protection and support from the federal government.