Electric Bugaboo
The conservationists fighting renewable-energy development need to wake up and smell the wind and solar power. Now.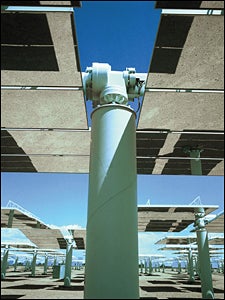 Heading out the door? Read this article on the new Outside+ app available now on iOS devices for members! Download the app.
LOGGERS FELLING PRIMEVAL sequoias, oil barons raising derricks like so many middle fingers on the horizon, Japanese dolphin hunters engaged in horrific bloodsport—environmentalists have rarely had any trouble identifying the bad guy.
Solar plants and Wind farms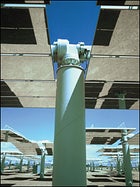 One group went so far as to label solar plants and wind farms "domestic terrorism"
But as America embarks on a clean-energy moon shot, scaling up massive solar and wind projects, the black-and-white ethics that have guided greens since the days of Rachel Carson appear suddenly…quaint. There's a new and widening fault line within the movement itself. On one side: environmentalists seeking to stave off a climate holocaust by fast-tracking renewable-power development. On the other: environmentalists determined to protect important habitat and sacred landscapes, no matter what.
These conflicts, playing out in town halls, courtrooms, and the U.S. Senate, pit vast solar arrays against desert tortoises in California; towering wind turbines against sage grouse in the northern Rockies; and an offshore wind farm against Native American waters near Cape Cod. They've been billed in the media as a case of Green v. Green. Which is true. But this isn't some internecine spat among the Prius set.
The fact is, alternative energy is no longer alternative. It's big business, backed by giants like Bechtel and Goldman Sachs.
This is a good thing.
If the U.S. is going to break its dependence on coal and oil, we're going to need massive renewable-energy projects and all the capitalist spirit we can marshal. And, yes, we're going to have to do some building on sensitive landscapes. Leaders of most of the big environmental groups—the Sierra Club, the Natural Resources Defense Council, and the National Wildlife Federation—get this. They know that unchecked pollution and rising global temperatures will decimate the wild world, so they're willing to sacrifice some of the public lands that they would have fought tooth and nail to protect a generation ago. Not that it's easy.
"This challenges people. Hell, it challenges me!" says Carl Zichella, director of the Sierra Club's renewable-energy program for the West. "But we can't not do it."
Yet many conservationists, especially on the local level, aren't buying in. Having spent their lives fighting developers, they refuse to let any into their backyards now, even if they're wearing green hard hats. Instead, they're resorting to the same obstructionist tactics honed over decades of fighting polluters. A manifesto from a group calling themselves People Only Wanting Energy Responsibility (POWER!) declared: "Big Solar, wind farms, hydroelectric plants, along with the necessary transmission lines are nothing less than Domestic Terrorism being perpetrated on…our Desert Southwest's premier wildlands."
According to Colorado-based energy analyst Randy Udall, "Renewable-energy developers are running headlong into half a century of very successful environmentalist opposition to large energy projects." Udall has a name for this kind of shortsighted obstructionism: stopology.
JOHN WOOLARD IS NOT a man environmentalists should be trying to stop. The 45-year-old CEO of BrightSource Energy, a solar-power company based in Oakland, California, grew up kayaking in Virginia and spent an epic post-college summer living out of his truck in California, working as a rafting guide. After a stint leading trips on Zimbabwe's croc-infested Zambezi, he entered grad school in the early nineties intending, he recalls, "to fight all the bad corporations."
That orientation began to shift during Woolard's studies at the Institute for Environmental Negotiation, a group at the University of Virginia that looks for market incentives to solve environmental problems. He became obsessed with energy efficiency while earning an M.B.A. at Berkeley, and his first startup, Silicon Energy, identified energy savings for industrial clients equivalent to two massive coal plants. Woolard cashed out in 2003 and became a venture capitalist, seeking opportunities to "decarbonize" America's electric works. "I was looking for something that could actually make a difference," he says.
His quest led him to BrightSource, a solar-thermal startup founded by Arnold Goldman, who pioneered solar in California in the seventies. Solar thermal can generate vastly more energy than photovoltaics, at a lower cost. BrightSource's version involves a 1.5-mile-wide circle in the desert, packed with concentric rings of seven-by-ten-foot mirrors, each mounted on a steel post. These "heliostats"—66,000 of them—track the sun like android sunflowers, concentrating light on a boiler tower some 45 stories tall, superheating steam to drive a turbine. (To ensure consistent output even on cloudy days, the steam can also be heated by natural gas from a 1,000-square-foot complex below the tower.) Line up three of these circles on an axis and you can produce 392 megawatts—enough to power Pasadena, with 400,000 fewer tons of CO2 emissions than from a coal-fired plant.
In the lingo of Silicon Valley, this is disruptive technology, meaning that, kilowatt for kilowatt, it's cost-competitive with new natural-gas plants—even without factoring in the costs of pollution. Not surprisingly, BrightSource has attracted backing from Chevron, Google, and Morgan Stanley and is under contract with California's largest utilities to produce 2.6 gigawatts of power.
Of course, any installation covering five square miles of desert is also plain disruptive. But this is where having a CEO with a master's degree in environmental planning makes a world of difference. "From the beginning, we set down fundamental principles that we would seek the lowest environmental impact," Woolard tells me when we meet in his 21st-story boardroom, with a panoramic view of the San Francisco skyline.
BrightSource wants its plants far from critical wilderness and close to preexisting electrical-transmission and gas pipelines. Its design calls for heating and cooling water in a closed loop, using a 25th of the water of a traditional steam-driven solar plant. And unlike the previous generation of plants, BrightSource won't blade the desert to create a level surface for its panels.
For one of its initial sites, BrightSource target=ed Broadwell Dry Lake, a dust bowl of federal land outside Barstow that was once proposed as a nuclear-waste dump. Out of view from two interstates, bisected by transmission lines and crisscrossed by dirt roads, next to a gas pipeline, and—most important—close to Los Angeles, it seemed an ideal spot.
But try telling that to David Myers, director of the Wildlands Conservancy, a California nonprofit that's fought BrightSource as though it were ExxonMobil. "You couldn't pick a worse place to put solar," says Myers, who believes the project would displace migration routes of wildlife from surrounding wilderness. In the nineties, Wildlands raised $45 million to subsidize the government's acquisition of Broadwell, among 266,000 acres of desert formerly deeded to the Southern Pacific Railroad, with the understanding that it would be preserved.
How serious an impact would the plant really have? We'll never know. Last fall, Senator Dianne Feinstein—herself a fierce defender of the California desert and the main reason there's a Joshua Tree National Park—effectively blocked development at Broadwell when she included it in a proposed Mojave Trails National Monument. The senator's move, made after lobbying by Wildlands and other groups, killed not only BrightSource's installation but a dozen other renewable projects across the Mojave.
File this one under They Just Don't Get It: The 941,000-acre monument would celebrate not only desert wilderness but also car culture, preserving what a Wildlands press release called "the most pristine, undeveloped remaining stretch of historic Route 66."
RENEWABLE-ENERGY proponents eager to act now are furious when tripped up by fellow environmentalists. They've raced to engineer technology that allows them to compete with fossil fuels—the tipping point greens have been waiting for—only to be undercut by their closest allies. "We finally come up with a solution," says a top climate advocate who spoke on condition of anonymity, "and now it's our own side that's killing us!"
The infighting is both splintering traditional alliances and producing strange bedfellows. The Sierra Club is eager to see BrightSource break ground at another site, Ivanpah, a plot of degraded former grazing land in the Mojave, down the road from a golf resort and just across the state line from a pair of Nevada casinos and a natural-gas plant. But last fall, the Club's own Desert Committee sought to block Ivanpah, because it would force the relocation of a handful of endangered desert tortoises and cover up several square miles of what committee chair Terry Frewin calls "viable habitat"—a fuzzy designation that can be applied to all sorts of land. Frewin says he applauds the national Sierra Club's drive to eliminate the use of coal in America but doesn't want the desert "to be sacrificed for that goal to be met."
Meanwhile, in the northern Rockies, where the struggling sage grouse could easily have been turned into the next spotted owl, the Sierra Club and NRDC are partnering with wind developers to help them mitigate habitat loss. "People are willing to work with us because we're approaching these issues from the context of solving problems," says Carl Zichella. On the other side, Wyoming's Northern Laramie Range Alliance, a group fending off "outside interests…trying to industrialize our pristine mountain country," has been linked to oil-drilling businesses.
I understand where the conservationists are coming from: It makes no difference to a sage grouse if its habitat is destroyed by an oil derrick or a wind turbine. But even if you don't fault them for failing to see the big picture—that climate change is a greater threat than renewable-energy development—it's hard to excuse those who reflexively oppose big projects simply because they're big.
As Frewin admits, "If anything, it's the size of these things that shake most of us up." In the mind's eye of a hardcore conservationist, the new age of clean energy is all about rooftop solar panels and windmill hats. The reality is that we do need those kinds of small contributions, just like we need all the energy efficiency we can muster, but they'll hardly be enough. "The bitter truth is that we're going to need to do large-scale renewable energy," says Zichella, "and that's something people have been very reluctant to accept."
But why? Consider the thousands of square miles flattened in the quest for Appalachian coal or under lease to oil and gas developers. To succeed, renewable-energy advocates have to fight big with big. "The notion that if we just cover rooftops, we can leave the deserts alone, that we don't need new wind farms, and don't need to build new transmission lines—that doesn't pass the mathematical sniff test," says Udall. "What I say to these people is: Buy a calculator. Run the numbers. We're going to have to scale up renewable energy in a way we can hardly imagine."
IF THERE'S ONE POINT of agreement, it's that there are no easy answers. "It's fascinating," says Woolard. "The environmental community is at this soul-searching moment where everyone is trying to figure out, What the hell do we do?"
Fortunately, the solution isn't an endless horizon of solar plants and wind farms. America's energy needs could be met, for example, by the solar power generated from less than 2 percent of the U.S. land area. There's enough exploitable wind in this country to power the nation nine times over.
If projects could be sited according to unified scientific standards that protect vital habitat and uncommon "viewscapes," the renewable revolution could proceed without all the Sturm und Drang. Problem is, there are no such standards. So every project gets bogged down by NIMBYism and a tangle of overlapping bureaucracies. "At the end of the day," says Woolard, "there's not a single project of any size or scale moving forward without environmental opposition."
State and federal governments helped make the mess by offering rich incentives for renewable development without providing the rules of the road. The feds are now slowly catching up. The Interior Department has streamlined interagency reviews for renewable-energy proposals, and the Obama administration has established 1,054 square miles of Solar Energy Study Areas, including land in the Mojave, intending to pre-clear appropriate areas. "We can do this right, in less time, without cutting corners in environmental law if we just get better organized," says Zichella. "That's what they've done."
And some projects are moving forward. In February, BrightSource downsized Ivanpah by nearly 50 megawatts to mitigate the loss of tortoise habitat. A week later, the Department of Energy blessed the project with nearly $1.4 billion in provisional loan guarantees.
The bad news? The biggest battles are still to come. So far, renewable-energy projects have been feeding power into an existing network of transmission lines that's quickly maxing out. Placing new lines, which don't have the feel-good vibes of wind turbines or solar panels, will be a dogfight. Scaling up to just 20 percent wind power will require building nearly 20,000 miles of new transmission lines, subject to the resistance of every municipality through which they pass.
"We're trying to get things built with the least amount of controversy," says Zichella, "but the one thing I've learned in three years of trying: Everything is harder than it seems."