The End of Snow Is Now?
A new book, DEEP, digs into the science and emotion swirling around climate change and how it will impact the ski industry.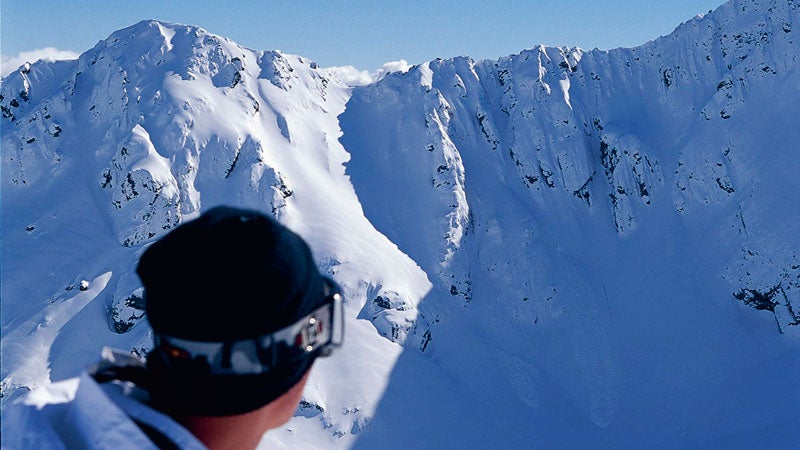 Heading out the door? Read this article on the new Outside+ app available now on iOS devices for members! Download the app.
Porter Fox felt under the gun to research and write "DEEP: The Story of Skiing and the Future of Snow" in just around 18 months. For one thing, there were many other writers chomping at the bit to publish on this topic. More importantly, this book is a call to action that he was running out of time to make. The message: For those of us who love sliding on snow, climate change may entail losing more than just deep powder and that dreamy, euphoric state it puts us in.

DEEP is written in two parts. The first is set in the Cascades and Rocky Mountains and the second unfolds across the Alps. Fox built the first part around the February 2011 avalanche that took the lives of three expert skiers in Tunnel Creek, near Washington's Stevens Pass ski area (disclosure: one of the victims, Johnny Brenan, was a friend of mine). He keeps you a bit uncertain of why he continually returns to this story as he wends through his own skiing backstory and introduces us to snow scientists and avalanche experts who walk Fox through possible outcomes based on a range of global temperature increase predictions through the end of the century. In the end, Fox does not blame the Tunnel Creek tragedy on climate change, but he does illuminate the possible linkages between the two, citing several scientific studies that point to the increasing number and potency of avalanches due to an uptick in major storms paired with variable temperatures.
Porter, long-time features editor at POWDER magazine, said during a panel on climate change in San Francisco last month that before writing the book he was not aware of just how much an impact climate change is having on ski areas or the potential losses it might bring. "We were doing ski stories noticing there was less snow on the ground, but after doing some research, we were shocked," he said. "I've been writing about skiing for 20 years and I was totally surprised by how much snow has already been lost."
 
"The snowpack in British Columbia has declined by half overall and the ski season in some regions is four to five months shorter than it was 50 years ago," he writes in DEEP.  "Eastern Canada is even warmer… Computer models show the Northeast ski season shrinking to less than 100 days by 2039. Under other models, the mean snow depth for the Rocky Mountains is predicted to drop to zero by 2100."
But the more dire effects are being felt in the Alps, where "temperatures are rising three times faster than the global average," he writes.
Fox travels to Les Grand Montets, the Tyrol region, Zermatt, and La Grave, using vivid storytelling, historical context, and interviews with European guides, glaciologists, and climatologists to convey the ways climate change is being perceived on the other side of the Atlantic.
"Europe has always been a pioneer of social and environmental progress, but many in the Alps are resistant to change," Fox writes. "People have inhabited the Alps for more than 1,000 years and are far more familiar with natural climate fluctuations than their counterparts in America—making many in the Old World hesitant to believe that humans have anything to do with current warming."
In Chamonix, he meets Yan Giezendanner, a respected meteorologist who tells Fox the current warming trend is "just a cycle" and that "climate change is just propaganda." The other experts and skiers Fox meets in Europe have very different views, but Fox writes that the contrarian nature of the issue has left ski resorts caught between "preparing for the future and scaring off residents, guests, and investors."
Yet, he notes that glacial melt could mean much more than just less skiing in the Alps; the infrastructures of the high alpine (refuges, chairlifts, antennas, etc.) are built on permafrost and without reinforcements are likely to crumble as permafrost melts.
There are moments in DEEP when studying climate change through the lens of skiing is a little off-putting; clearly the climate outlook is far more disconcerting when looking at the impacts already being felt in small island nations and in the developing world, overall. While that's true, Auden Schendler, vice president of sustainability at Aspen Skiing Company, puts the issue into some helpful perspective. "Who cares if you can't go ski? Skiing and art and music and culture, all of those 'disposable things' are what make human societies flourish and are what moves us forward. What if we lose that? Well, that would be a greater tragedy than anything else."
Trending on Outside Online