On Walking
What Walking Taught Me About Environmentalism
Lessons from Wendell Berry, Wallace Stegner, and my neighborhood trees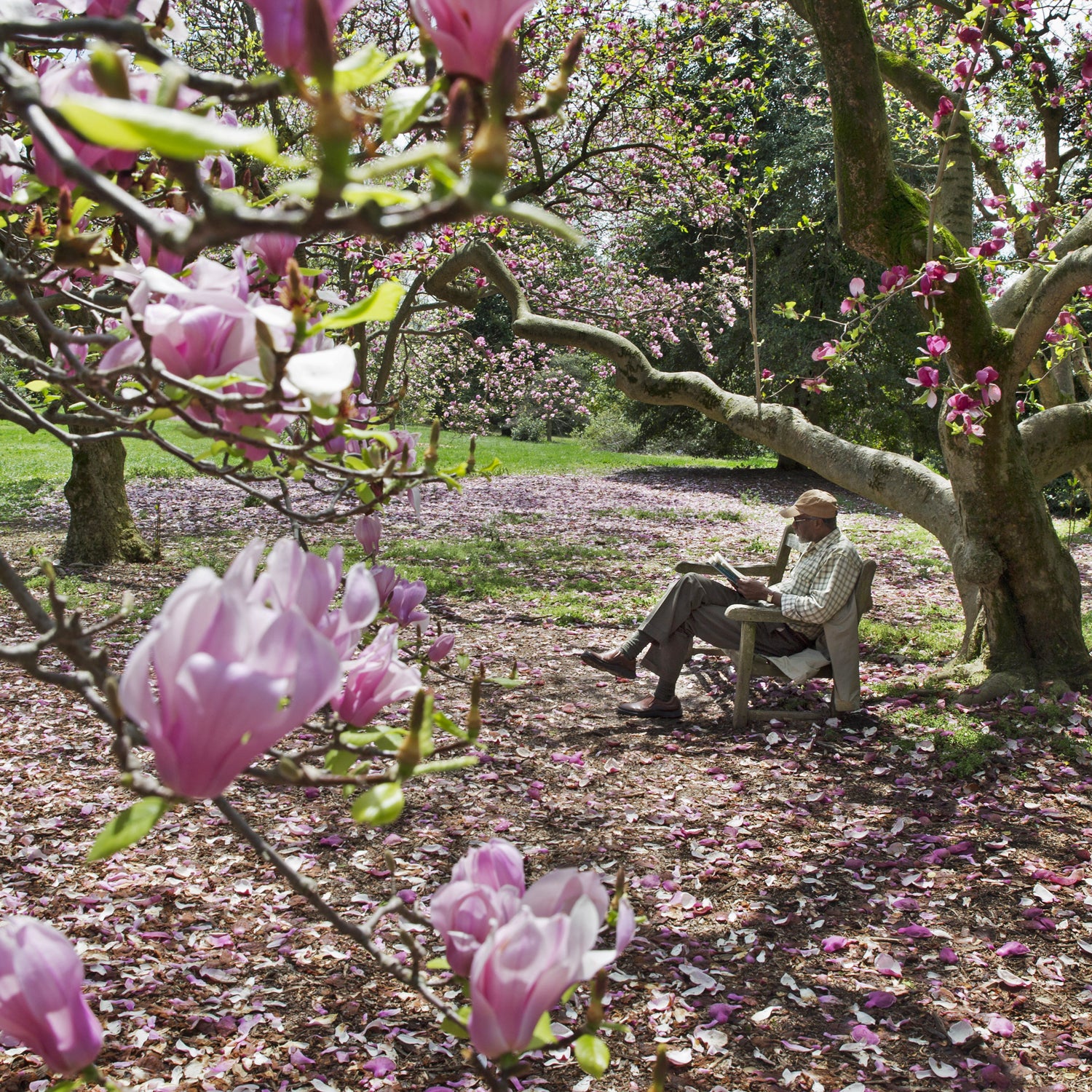 Heading out the door? Read this article on the new Outside+ app available now on iOS devices for members! Download the app.
There's a magnolia tree down the block that is on the verge of bursting, its pink and white cups ready to crack open.
I know that because I have been frantically walking around the neighborhood. In the mornings, I head north to shake my brain into motion and keep my shoulders from rising all the way up into my ears after I read the news. At night, my partner and I slosh wine into our coffee mugs and circle the blocks around our house: we head left for two blocks to the highway overpass, uphill past the dark pizzeria and the half-built new condos, and back down the hill to the magnolia tree.
We are touring the residential grid around us, looking up or glancing over as we stroll, teaching ourselves the names of new plants. We've noticed that things appear different between morning and night: the overgrown lawns and the immaculate ones, the scooter-strewn places where kids must live, that one big drapey tree that looks like a witch.
Part of this comes from the forced inertia we're in and the anxiety. I know that I shouldn't sit still and reload Twitter anymore, but I still do. I am too nervous about too many things. In normal times, my cure for everything is motion—road trips, long runs—but these are not normal times.
At home I struggle to concentrate on anything for very long, but somehow I've managed to reread two favorite pieces of environmental writing: Wendell Berry's 2012 lecture "It All Turns on Affection" and Wallace Stegner's "Wilderness Letter." 
The two writers are tied together in my mind (Berry, now in his eighties, was a student of Stegner, who died in 1993) and have become a touchstone in difficult times. These old conservationists seem to explain our world better than I ever could. I turn to them time and time again to help me process contemporary events and think about the environment, especially about how to take care of it. Right now their writing has pointed me toward two insights about the stay-at-home order that I might normally resist: that lessons can be learned by digging into your own place, and that there's value in the unknown.
Stegner's famous "Wilderness Letter," of course, became part of the basis for the 1964 Wilderness Act. His writing had a hand in preserving some of the places I love the most, places that I love to visit: the Boundary Waters in Minnesota, the Goat Rocks in Washington. But as I read Stegner's words in self-isolation, I am reminded that the most important tenet of protecting wilderness is not necessarily that human beings are able to experience it, but that it exists for its own sake. "The reminder and the reassurance that it is still there is good for our spiritual health even if we never once in ten years set foot in it," he writes. More than half the world's human population is residing under stay-at-home orders this week, but the animals, plants, and ecosystems that we care about are still out there. They are still crucial and still nourishing for us.
And while we are home during this time, there's value in being fully present where we are. We can dig in and look closely at our local landscapes; we can learn to see the connections between the plants and times of day, between one's mood and the weather patterns, just as early environmental writers did. 
In "It All Turns on Affection," Berry, who has spent most of his life in the Kentucky countryside where he grew up, writes that there are two kinds of Americans: "boomers" and "stickers." Boomers are antsy for the next adventure, always trying to see more and do more. 
"Stickers on the contrary are motivated by affection," Berry writes. "By such love for a place and its life that they want to preserve it and remain in it."
At the moment, hanging on to our sanity as creatures is paramount. Shrinking our personal radius is an act of both compliance and care.
I have always been a boomer—on the road, exploring, trying to swallow up as many beautiful experiences as possible. That has often felt like a tenet of my environmentalism. I care about wild places because some of them have become important to me through personal experience. But now I'm forced to stick to one spot and to do my best to see the good sides of it.
Berry says you need to know a place to love it. You must understand its web of ecology and how you're connected to all of its facets. "I will say, from my own belief and experience, that imagination thrives on contact, on tangible connection," he writes. "For humans to have a responsible relationship to the world, they must imagine their places in it."
We are part of a vast interconnected organism. That can be easy to recognize outdoors, when natural extremes and physical exertion combine to make your small place in the world quite apparent. Being locked down in Seattle this month, though, made me realize the other intricate webs I am part of. I am woven in with this city's construction workers and the Chinese takeout places; the traffic patterns and the toilet-paper stashes; and, yes, the faraway mountains visible on clear days and our neighborhood magnolia. 
We are all in this together—and, as we've seen from the way economies and communities have collapsed as one in the past few weeks, we are incredibly fragile when the strands that sustain us break. Self-isolation measures have asked us to refrain from bursting out into the world, as is our culture's boomer tendency, and to instead demonstrate our affection by staying, or sticking, in place. The coronavirus teaches us, as deep ecology always has, to consider when our individual deeds might ripple out and harm the whole. In every case, our sustainability relies on our affection and care for what surrounds us.
Stegner, famously, called the ability to love the wilderness beyond yourself the "geography of hope." He writes, "We simply need that wild country available to us, even if we never do more than drive to its edge and look in. For it can be a means of reassuring ourselves of our sanity as creatures, a part of the geography of hope."
At the moment, hanging on to our sanity as creatures is paramount. Shrinking our personal radius is an act of both compliance and care. If you're someone who enjoys parks and public lands, it may be hard to accept that avoiding those sites is the best thing you can do right now. But look around: let's see if we can learn to see with the clarity of Stegner and Berry anytime we find ourselves "stuck."
As Berry says, sticking requires both imagination and a great love for the place you are in. He reminds me that, even in the geographies we can only cover with our two feet (or our bicycle wheels), when we leave our front doors, "We do not have to live as if we are alone."
Lead Photo: Jacquelyn Martin/AP