The Chaos of a Flash Flood at Havasupai Falls
About 200 people were evacuated by ATV and helicopter last week from a campground near the iconic falls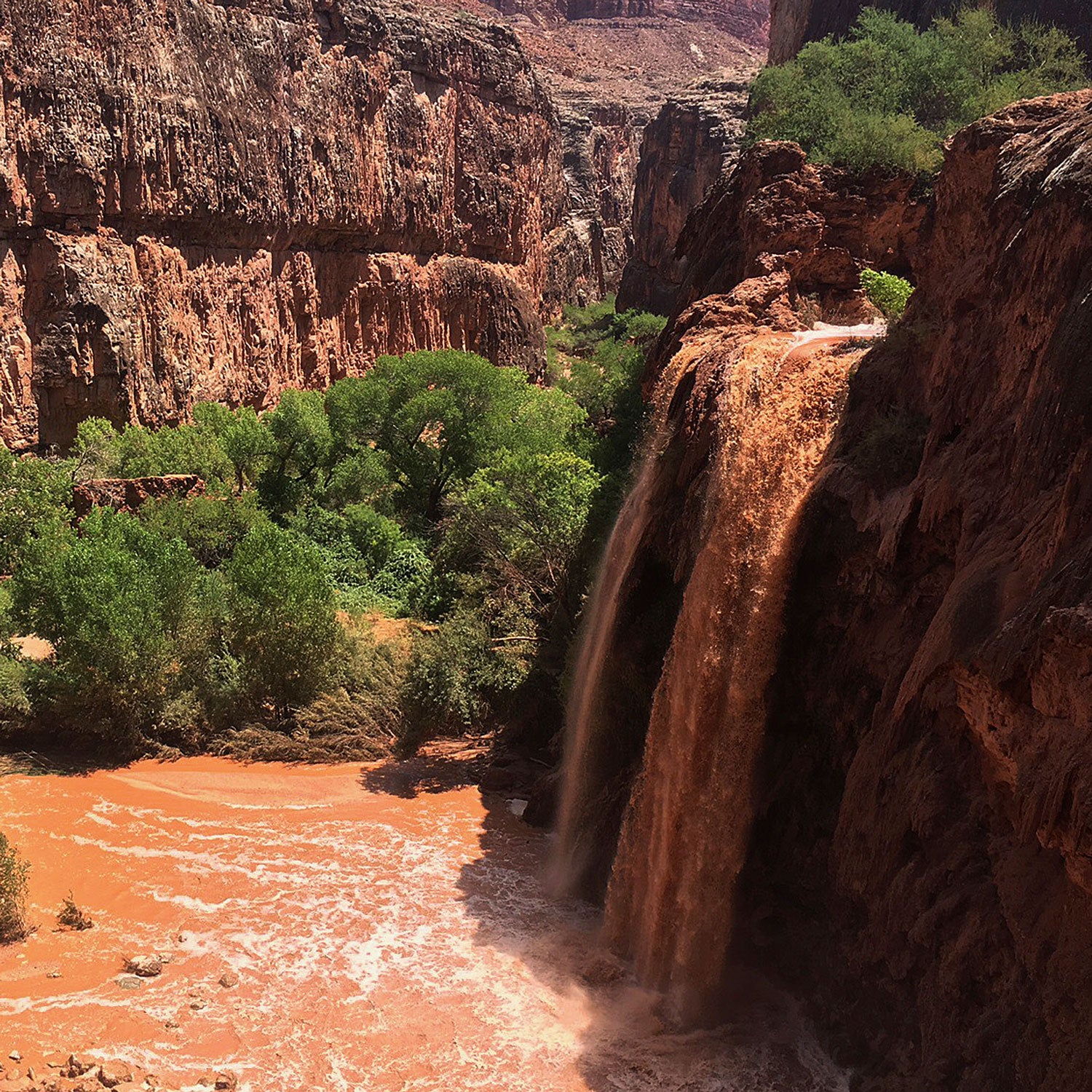 Heading out the door? Read this article on the new Outside+ app available now on iOS devices for members! Download the app.
As early as last Wednesday, rain began dumping into the Havasu Falls area of the Grand Canyon, turning the renowned and typically placid turquoise water into a muddy flash flood. One visitor told The Arizona Republic that almost in an instant the winds picked up with "sand blowing everywhere" and the pools of water beneath the base of the waterfalls filled and sent people scrambling to higher ground. The surge caused the speedy evacuation of nearly 200 visitors, although no serious injuries were reported.
From June to August, the area, which sits ten miles from any road and deep in the Havasupai Reservation, is especially susceptible to flash floods because of monsoon season. Visitors usually stay at a campground between Havasu and Mooney Falls, surrounded on either side by canyon walls that are hundreds of feet high and make it nearly impossible to escape. By Thursday the rivers had swelled so much that everyone was ordered to evacuate a couple miles upriver to the town of Supai.
The flooding destroyed footbridges and obstructed exit trails, so tribal members drove ATVs to help move visitors outside the canyon completely. A helicopter that normally helps shuttle supplies and tourists into town also began lifting five to six people at a time to the rim, while others sheltered in a community building and a school in town as they waited their turn.
"I saw nature's beauty and her wrath all in the matter of a couple of days," Christopher Brewer, who was camping when the floods hit, posted in a Facebook group for those visiting the area. "This was the most happy and scared I've ever been in my life and I still don't regret coming down here."
By Thursday evening nearly everyone had been evacuated. Reservations to the area are often made months in advance, and for the next week tribal officials said the campgrounds and all access to the falls will be closed, according to the Havasupai Tribe's website.
At least 300 people had reservations impacted, Havasupai spokeswoman Abbie Fink told the Associated Press. Those individuals will have the opportunity to reschedule their visits for later this year.
So far it doesn't seem like there was any serious damage to structures in the town or to the natural formations. That wasn't the case in 2008, when a massive flash flood caused the evacuation of hundreds of campers and tribal members. When people returned they found that Navajo Falls, one of the most prominent features in the Havasu Canyon, had been decimated as water ripped through the terrain and diverted the river that feeds the falls.  
Lead Photo: Eric Kremer/Associated Press