Galleries We Like: Camille Seaman's Icebergs
Heading out the door? Read this article on the new Outside+ app available now on iOS devices for members! Download the app.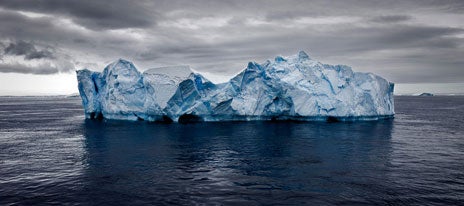 In 1999, Camille Seaman gave up her seat on a one-hour flight from Oakland to L.A. and scored a round trip ticket anywhere in the world. She chose Alaska. Once there, she decided to walk from a coastal town named Kotzebue across the ice towards Russia. After feeling cold, lost, and somewhat panicked, she had a moment where she stopped, looked around, and felt a connection to the earth. That one moment ignited a passion for Arctic landscapes that she turned into a career.
–Joe Spring
 Listen to the full podcast interview with Camille Seaman.
View a gallery of Camille Seaman's Icebergs.
When did you get started as a photographer?
Not until I was 32 did the switch come on that I needed to use the camera as the tool.
What caused that switch to come on?
It was two things. Most specifically it was the fact that I went to high school in Manhattan. One of the jobs I had was as a bike messenger, and I used to deliver things to the World Trade Center all the time. Also, just being a student in New York, all of these pictures of me and my punk rock friends had those towers in the back. So that, when they fell, I had these pictures that had a very different meaning. I understood for the first time the importance of a photograph as a historic document—you know, proof that these buildings existed.
At the same time, I had a child, and she was almost two, and it seemed strange to me that she wouldn't know those buildings the way that I did.
And so, I actually remember the moment. I was watching one of those CNN reports. We were attacking Iraq and there were all of these cool night vision scenes of bomb exploding, and I just remember thinking, What can I do to counter all this negative cynicism? It just seemed so bleak. I remember watching the TV and thinking the only thing I could do was make pictures. And just like that a switch came on. I knew that I wanted to use a camera to show that there were some pretty amazing things about life and about this planet.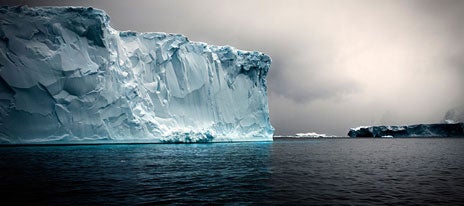 What do you look for in your projects?
I can't claim credit for any ideas. It's very serendipitous. It's very organic. Even the Antarctic and Arctic thing. I never, ever once said, I'm going to go to these places and do this or that. Anything I've ever done has been out of curiosity, and then it leads to another thing, and another thing. Going to the Arctic for the first time, it was never in my vocabulary as something I wanted to do.
When I was 29, in 1999, I gave up my seat on an oversold flight. It was Oakland to L.A. So it was just a one hour flight, and they said they'd give a free round trip ticket to anyone who would give up their seat. It was Alaska Airlines. And I was like, ooh, I always wanted to go to Alaska. So it was in this place called Kotzebue, which is up near the supposed Bering Land Bridge. It was the first week of April, or late March. It was still really cold. I was really naive and quite stupid, and I bought a bunch of clothes that the airline lost. And then I decided, just out of curiosity, to start walking on the frozen sea toward Russia. And I started to have one of those experiences where you are way over your head and what are you going to do? But in that moment understood a lot of teachings of my grandparents and my family and my Indian  heritage. This planet, this thing I was standing on, was my own. 
Later, I went to the Arctic with my mother in law. I really fell in love with breaking the sea ice from the ship. So those pictures we're the beginning, but I didn't know what they were the beginning of.


What was your toughest shot?
In Greenland I was on this small Norwegian ice breaker called the polar star. The light was incredible. It was close to 10:00 at night, but because it was summer it wasn't going to get really dark. There was this really low cloud ceiling, less than 1,000 feet. This one [iceberg] I saw many miles away. And I was standing out on the bow, waiting and waiting. It was bloody cold. Having the wind and being on the bow didn't help. This camera that I was using was a Linhof 617.
It was metal, German, and really, really, unfriendly. To wind it was really hard. To load the film was a challenge. And it was set up so there was no way you could wear gloves and operate this camera. So I'm standing out there because I see this iceberg coming. And I have to say, the captains never, ever, go out of their way. You have to stand out there and be ready. It's kind of like drive by shooting for a lot of these things. And so I saw it coming. I only get four shots to a roll. And so I took 4 shots as we got close. And then the captain could see that I was really struggling to reload the camera because my hands were shaking and you can't use a tripod. There's just no point on a ship because it's tilting side to side. And so he—it was the one and only time the captain circled back around.
And I think it was because he saw me like, arghh. I was beyond feeling my fingers. It was pain. I could see they were starting to change colors. And he circled back around and I got the shot. And then I quickly ran in and had to deal with my fingers.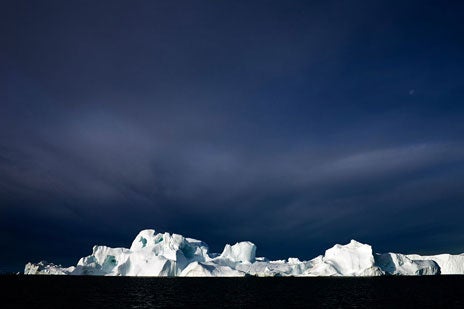 What are the conditions like?
As far as lighting conditions, I'm interested in a very certain type of light that I've only experienced in the polar regions. It's a very monochromatic world. But there is color, and it's very subtle. When you have it, it's really intense because everything else feels so millions of shades from white to grey to black. Of course, there are days when there are blue skies, but I cringe on those days. I walk around the ship just moping.
I was in Greenland for three months in 2009, and I almost slit my wrists because it was sunny every day. Not a cloud in the sky. Waiting and waiting.
When I'm on the ship, I'm usually not sleeping very much, and I like it that way. I really enjoy the lack of night. It's something I got used to very quickly.
So how long do you sleep for?
When I was in the far side of Antarctica it was so exciting and there was so much happening at two in the morning, three in the morning. We'd get these get these orcas chasing penguins. Just amazing stuff. I think for 30 days I probably slept an average of three hours a night, and I felt fine.
Do you have a favorite shot?
No

Is there any one shot that you think stands out for a reason that's important?
One of my favorite shots, that I personally enjoy and can look at for a long time, I took in Antarctica. It's one where there is a man standing on the rear of the heli-deck and he's looking out across the frozen sea and there are two icebergs on the horizon. There's something about that picture that reminds me of that feeling when I was walking across the ice. This extra terrestrial feeling. It could be a picture from outer space, or another planet, or a sci-fi thing, but it's this planet.
What do you hope people get out of these pictures of icebergs?
I want them to feel something. I want them to have an emotional response. It really has varied for different people. But I want them to feel a bit of what I feel when I'm there. I personally need people to understand that these things, these places, are so interconnected with our life here. Even though they seem so far away and so foreign, we don't get to have what we have here without those things existing there.      
Trending on Outside Online