Gary Johnson, We Hardly Knew Ye
After a hard-charging start the Libertarian candidate bonked bigly, thanks to a series of gaffes and a rather sad(!) lack of preparation. On the eve of a historic election, a onetime supporter wonders about what might have been.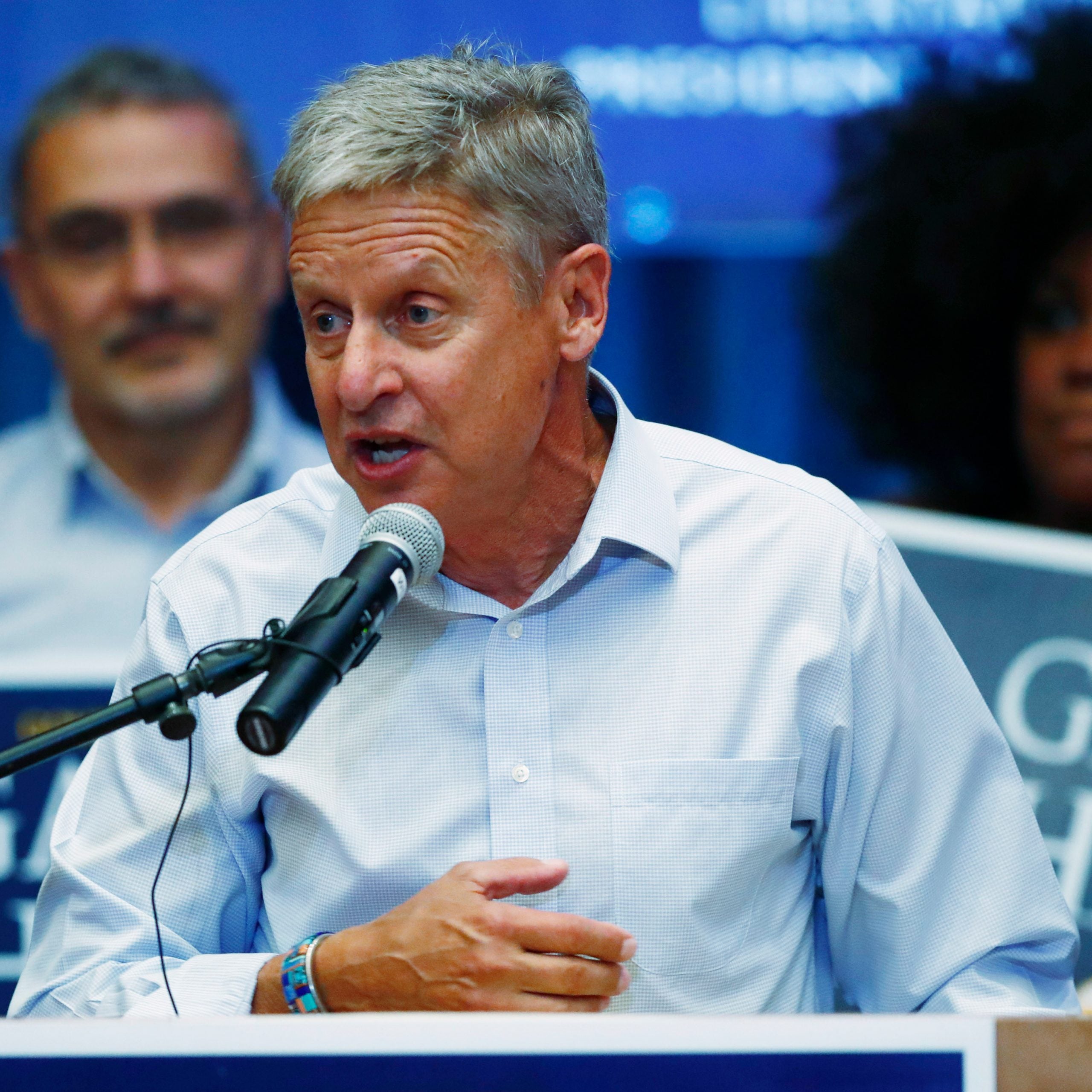 Heading out the door? Read this article on the new Outside+ app available now on iOS devices for members! Download the app.
I first met Gary Johnson, the Libertarian presidential candidate, in 2003, at a whitewater-kayaking retreat in California. He was just back from a successful Everest climb and was nursing a toe blackened by frostbite, which would later be partially amputated. Johnson self-identifies as a hardcore outdoor jock who prioritizes health and fitness; his résumé includes several Ironman triathlons, the Breck Epic mountain-bike race, the rest of the Seven Summits, and other daunting feats. But many Americans now know him as the Cheeba chewing legal-weed advocate who was poised to do well in the 2016 presidential election, and maybe even steal it, before he suffered a massive foreign-policy face plant. His "Aleppo moment" was so egregious that the typically Johnson-friendly Bill Maher referred to him as a "fucking idiot."
Former Outside Natural Acts columnist David Quammen tweeted: "Poor #GaryJohnson is a clueless embarrassment & should withdraw from race."
Johnson is neither an idiot nor clueless, despite this and other lowlights. When he ran for president in 2012, first as a candidate for the GOP nomination and then as a Libertarian, I spent a lot of time with him—maybe more than any other journalist—while working on an Outside profile, biking, skiing, following him on the campaign trail, and hanging out in his home and haunts in Taos, New Mexico. Johnson is a fun, interesting guy and a legit candidate, but he failed to muster enough support to make his way into the debates, essential for a serious contender. 
Part of the issue back then was something I called his "charisma problem." One of several odd moments occurred when I joined him for a mountain-bike ride near his house. I thought we were going to sit down for an interview afterward, but he wanted us to jointly soak in his hot tub first. He then dropped trou in the living room, with Johnson's johnson revealed in all its unpresidential glory. Did you forget I'm a reporter working on a story, brah?  
At the time, I chocked up his junk-and-all attitude to a certain level of naiveté about how presidential campaigns actually work. Johnson attributed his level of transparency to his "honest man in politics" approach. During the current election, Johnson's charisma problem might be better described as a communication fail. He had plenty of good moments in the early going: At one point, he was polling nationally at 12 percent and appeared to be on his way to the 15 percent needed to crack the debate-inclusion threshold. And then… Aleppo.  
The Johnson campaign tried to dismiss this as a mental stumble during a pop quiz, an inconsequential moment of bad TV. But it didn't play that way in the media or to many Americans. Johnson came across as lazy, ill-prepared, and "clueless." Just as he seemed ready to step onto the same stage with the major party contenders, he bonked—bigly.  
At a press conference on the night of the first debate, Johnson lashed out, scarily, at a reporter who asked if he was concerned he would become the election's spoiler. When he appeared on CNN in early October, he wasn't looking good. His hair was disheveled, the bags under his eyes almost ghastly. He seemed irascible and exasperated, yelling at the camera to try to make his point, which was, essentially, that he didn't need to "dot his i's and cross his t's" to be a good leader, because such details don't matter.  
Well, yes, they do, but Johnson didn't want to sweat the small stuff. As The Wall Street Journal put it presciently back in June: "The lack of detail [in his policies] is not a big deal now, but that will change if Mr. Johnson's poll numbers improve and scrutiny increases. Most Americans would blanche at positions some libertarians espouse, such as legalizing heroin and getting rid of driver's licenses. One bearded, generously proportioned candidate for chairman stripped down to a thong on live television at the party's convention last month. Mr. Johnson laughs about it: 'A little diet and exercise…' But then adds, seriously: 'If we're going to start talking about goofy, believe me, all the parties have goofy.'" 
I had hoped to see Johnson build on his efforts from 2012, to transcend goofy. He's not a policy wonk and never will be, but I thought that after four years he would return with a more refined message, a polished narrative, and a persuasive persona. America seems like it could use a budget balancer right about now. (Johnson's signature issue.) Obama will leave behind a $20 trillion deficit, something Johnson rightly calls obscene.  
What's more, the door was wide open following the major party nominations, since one candidate generated serious trust issues and one generated serious pretty-much-everything issues. Many Americans are disillusioned with both the Democrats and the Republicans. It's hard to imagine a more advantageous time for a third-party candidate to step up. 
Johnson needed to recognize and take seriously something that Matt Welch, editor at large for Reason, has called the Libertarians' "Weird Man Burden." Welch aimed this phrase at another Libertarian hopeful, Rand Paul. Like both Rand and his father, Ron, Johnson is attempting to mount a revolution built around unconventional ideas, with an unconventional person at the helm. And this means, as Welch put it: "If he wants to run for president, he needs to be better, not worse, and not merely as good, as the competition when it comes to the most seemingly trivial matters of comportment."  
The Johnson narrative has always had the potential to be a doozy: self-made millionaire, Everest climber, popular two-term governor who left the state of New Mexico with a billion in its bank account. His record, both personal and professional, is impressive. But the brighter the lights became, the more awkward and unqualified he appeared. It's too bad. Johnson, and the Libertarians, have some compelling ideas that warrant discussion. Weird ideas, if not always weird folk, have a way of normalizing over time. A round earth was once considered strange. Americans might be more likely to buy into positions such as legal marijuana, 20 percent (or more!) budget cuts, a smaller government, a flat tax, entitlement reforms, and noninterventionist foreign policy if they hear a reassuring explanation as to how it will serve them in the long run. 
And the long run should be Johnson's forté; he's an endurance athlete, after all, and a good one. Johnson won't win at this point, obviously. Even his running mate, Bill Weld, seemed to throw in the towel in the final week, indicating some support for rival Hillary Clinton. Johnson's exclusion from the debates, not his problems in front of the cameras, were the reason. The debate-inclusion process is more complicated than a few seconds of bad TV can upend, but politics is also show business, and it's hard not to think that a great flourish during a few interviews might have given Johnson the bump he needed. For a while at least, it seemed as though Johnson's Aleppo moment might just as easily have been a Libertarian turning point. 
Lead Photo: AP