The Good Route: It's Getting Hot Out There
Heading out the door? Read this article on the new Outside+ app available now on iOS devices for members! Download the app.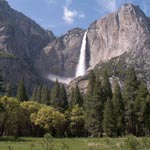 A new report from the Natural Resources Defense Council and the Rocky Mountain Climate Organization casts a foreboding future for California's National Parks, which could become poster children for the likely detrimental impacts of climate change. The study found that 10 parks in the state, including Yosemite, Death Valley, Redwood, Joshua Tree and Sequoia, will experience significantly higher temperatures over the course of this century, based on emission projections, reports Scientific American. 
The researchers used estimates from the California government on what "medium to high" emissions  of heat-trapping gases will be emitted in future decades, and then modeled likely scenarios based on these numbers.
By 2099, the average temperatures in Yosemite would increase by 7.5 degrees and Death Valley would get 8.1 degrees hotter. And as the parks get hotter, they could be unable to support the life forms they now nurture. One iconic resident, the Joshua Tree, would disappear from its namesake park if the area no longer experienced the freezing temperatures needed for the tree's seeds to set, notes Sci Am.
And the ripple effects of these changes would hurt other parts of the state, through a depletion of fog (which redwoods depend on) up north, and higher water levels throughout the region.
In other news, Oprah is spending a couple days at Yosemite National Park, and will talk about the trip on her show on Friday. I wonder if maybe she could explain to her 30 million viewers what peril that park is in…
—Mary Catherine O'Connor is a freelance writer, covering the environment, sustainability and outdoor recreation. The Good Route, her blog for Outside Online, is focused on the places where the active life and sustainability merge.
Trending on Outside Online