In the Tetons, Backcountry Skiers Might Have to Sacrifice Their Terrain to Bighorn Sheep
A group of biologists are trying to protect a threatened herd in the iconic Wyoming range, but their plan includes closing recreational areas that many aren't happy about losing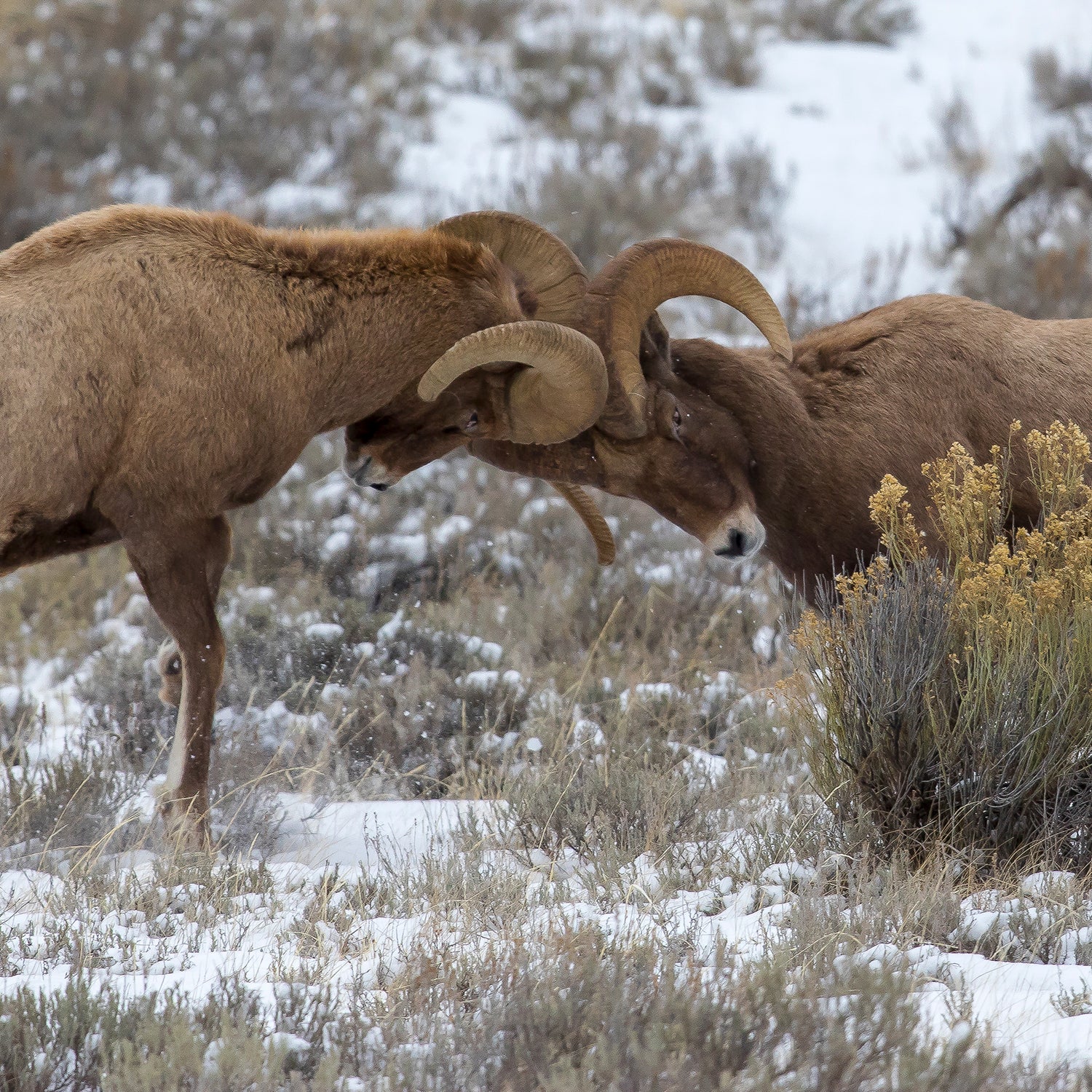 moose henderson/iStock/Getty
Heading out the door? Read this article on the new Outside+ app available now on iOS devices for members! Download the app.
In Wyoming's Grand Teton National Park, the ranges of two species are being threatened: Teton bighorn sheep and backcountry skiers.
The sheep, which are native to the Teton Range, once spent their winters in its valleys. But in the past few decades, habitat loss has pushed them unnaturally high up the mountains. That newfound winter habitat also happens to be home to world-class Teton ski terrain, the kind that people pack up their lives and move to the most economically stratified county in the country for. New recommendations from government biologists would close 21,233 acres of Grand Teton National Park and surrounding national forests to backcountry skiers—including 2,833 acres that have been deemed high-value ski terrain—to try and mitigate impacts on the herd. (Jackson Hole Mountain Resort, in comparison, contains 2,500 acres of in-bound terrain.) Local skiers are up in arms at the prospect of limited access to the very wilderness that makes the Tetons iconic. The debate hinges on a tricky question: How do you balance human recreation and protection of a threatened species when the two can no longer coexist?
The Teton sheep herd has been shrinking since the 1960s, the result of human causes like development, ranch fencing, and habitat destruction. The herd has since been pushed to elevations as high as 10,000 feet, and approximately 80 of them are left, barely enough to reproduce. According to Aly Courtemanch, a wildlife biologist at the Wyoming Fish and Game Department, their range has become even more impacted in the past 20 or so years, as ski-touring technology has advanced and more people have traveled deeper into the backcountry. Between 2008 and 2010, when she working toward her master's degree at the University of Wyoming, Courtemanch conducted a study in which she radio-collared 28 adult female sheep in the herd and then had 760 volunteer skiers carry a GPS device into the backcountry over the course of two winters to see where their patterns overlapped.
"We found that sheep completely avoided where skiers go, even if those places were suitable bighorn sheep habitat," she says. That constituted 30 percent of their viable range. Backcountry skiing is, by nature, dispersed and diffuse, but the inconsistent travel patterns of the skiers still disturbed the skittish sheep, even when people were only occasionally present. "The sheep had higher movement rates [compared to areas with no recreation use], which is a problem if you're trying to live off your fat, especially for pregnant females," Courtemanche says.
"This is such an emotionally charged topic, but I'm seeing a lot of conversations around stewardship and what it means to be a steward. That dialogue is what we need."
To combat that decline, the Teton Range Bighorn Sheep Working Group—comprised of biologists from Grand Teton National Park, the Wyoming Fish and Game Department, and the surrounding national forests—has spent the past two decades trying to protect the herd. "For decades, many people were convinced that a recreation-based economy was a sustainable path forward," says Chip Jenkins, superintendent of Grand Teton National Park. Skiing and hiking are arguably less environmentally damaging than economic drivers like mining and ranching. "But we're getting to a scope and scale where nonconsumptive activities are starting to have an impact. Whether you're part of the skiing community or an agency charged with preservation, we have really hard choices we have to make."
In 2017, the Working Group started looking into backcountry closures to protect the sheep, using Courtemanche's research to guide them. They knew their proposals would be contentious and that the Teton ski community was passionate, so they held more than 40 community meetings in an effort to come up with closures that would both protect the sheep and preserve ski access. Through those meetings, the Working Group identified 57,266 acres of high-value backcountry ski terrain in the Teton Range and then overlaid it with the 45,278 acres of prime sheep habitat that Courtemanch had identified. Last month the group released a series of recommendations based on that process, which it says would only close 5 percent of the prized ski terrain, 2,833 acres, if they were all implemented. Working Group has the authority to institute the closures, but instead it has opted to hold a series of public meetings to try and reach a consensus with locals and get their buy-in.
When the report came out in October, a loud contingency of locals were still irate that the closures would limit recreational access right when the sport is exploding and the backcountry is increasingly crowded. Longtime local mountain guide Zahan Billimoria says the proposals would close more like 50 percent of the area's high-value ski terrain, and he's particularly concerned about losing access to the heavily trafficked Avalanche Canyon and the remote backcountry near Jackson Lake. "It's a massive amount of ski terrain, and it would cause a seismic shift in how we use the Tetons," he says.
He doesn't want to harm the sheep, but he's more worried about how closures would impact people's ability to have wilderness experiences in the Tetons, the kind that are crucial to encouraging environmental stewardship, especially for those who haven't traditionally had access to the outdoors. "Just in the past two seasons we've seen a dramatic shift and a massive growth of interest from communities of color, and now you're going to shut it down?" he says. "Wilderness advocates who share this ethic of conservation are finding themselves on two opposing sides of this debate."
Others have questioned whether the Working Group had enough evidence to demonstrate that the closures would actually help the sheep in a meaningful way. "I don't think the data you have justifies closing wilderness to humans," said Nick Mestre, an engineer from Driggs, Idaho, during a public meeting on October 20. Local mountain guide Jeff Dobronyi told Teton Gravity Research, "By closing vast amounts of wild, high-alpine ski terrain to backcountry travelers, these recommendations heavily burden the ski community while likely doing little to ensure the long-term flourishing of the Teton Bighorn herd that we all love." He says the plan doesn't address the main threat to the herd, which is a loss of access in the low-elevation range they once wintered in. "The ski community feels like we're being thrown under the bus because it's the easiest and most convenient option."
But Sarah Dewey, a Grand Teton National Park biologist and member of the Working Group, says the level to which public input has been considered is unprecedented. Similar multiple-use conflicts are playing out over bike trails in Oregon and hiking access in Montana, and those processes have allowed far less community engagement. Dewey hopes their efforts to maintain a dialogue with the public will make it possible to identify places where the skiers can give a little, because the sheep don't have a say. "This is such an emotionally charged topic, but I'm seeing a lot of conversations around stewardship and what it means to be a steward. That dialogue is what we need," she says.
There were some glimmers of hope for compromise at the October 20th public meeting on the proposed closures. Skiers brought up questions about continued monitoring that would determine whether the closures were working, as well as questions about seasonal closures that would allow some ski access. Dobronyi asked if the Working Group could include a skier, in addition to land managers, and Courtemanche said she thought that was doable.
This is a messy process with no easy answers. And it's raised some urgent and thorny questions for land managers and outdoor recreationists alike that will only be raised more frequently as wild-animal habitat shrinks and humans keep pushing into their territory. But one thing is clear: to navigate these impossible questions and try to find compromises, we all have to be engaged and show up for the places we care about.
Lead Photo: moose henderson/iStock/Getty
Trending on Outside Online