The Great White Shark Returns to Cape Cod
The big surprise about the return of great whites to the birthplace of Jaws? No one's freaking out.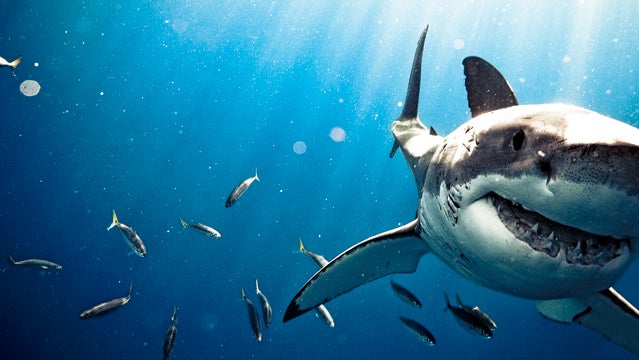 Michael Muller
Heading out the door? Read this article on the new Outside+ app available now on iOS devices for members! Download the app.
DAVE LAMOUREUX WAS paddling his sea kayak out from the beach at Truro, a small town near the northern tip of Cape Cod, when he saw something bob to the surface off his bow. It was a calm, clear Atlantic morning last July, and at first Lamoureux, a 45-year-old titanium businessman who has made a name for himself on the Cape by fishing for tuna from his kayak, thought it was a seal feeding on a striped bass. He coasted forward to take a look. Two fins emerged from the water, about seven feet apart. Lamoureux realized that he wasn't approaching a live seal but a dead one, and it was in the mouth of a great white shark. He had just baited his lines, so his deck was covered with fish blood. He reversed course and headed for shore, trying to keep calm. The shark followed. It was longer than his 12-foot kayak. Eventually, it disappeared under the surface. Lamoureux kept paddling, his mind racing, until he reached shore and pulled out near an old fisherman. "Feeling lucky, are you?" asked the fisherman. Lamoureux was, and the feeling resurfaced four weeks later, when news broke that the first great white attack in Cape history had occurred off the same beach, a nonfatal bite of a tourist from Denver who was swimming near some seals.
The return of great white sharks to the waters off Cape Cod sets up what promises to be a fascinating test case for ecological restoration: What happens when a terrifying apex predator makes a comeback in a tourism hotbed known for lobster shacks, mini golf, and family-friendly beaches? So far it's been a surprisingly soft collision—Cape residents have mostly welcomed the sharks. But the good vibes could fade quickly in the wake of a fatal attack. Should that happen, East Coast beach-goers will start facing the choice that communities in places like California, Western Australia, and South Africa have dealt with for decades: Do we still go into the water? Because the sharks on the Cape, which arrive in May and remain until December, aren't going away anytime soon.
It's been a long road to recovery for great whites on the Atlantic seaboard. In 1975, Steven Spielberg set Peter Benchley's Jaws in a small Massachusetts resort community, ushering in an era of fear that coincided with the wholesale slaughter of sharks in U.S. waters. (Benchley spent much of his life trying to make amends as a born-again conservationist.) Three years earlier, though, Congress had passed the Marine Mammal Protection Act of 1972, which outlawed the killing of seals, a common practice at the time among commercial fishermen, who saw them as competition. Gray seals, a primary food source for great whites on the East Coast, have rebounded and can be found from Long Island to Nova Scotia. Sharks can be found along that same stretch, but for now they've focused on Monomoy Island, a federally protected spit of land with an estimated 10,000 seals, located just a few miles from the public beach at the quaint Cape Cod tourist town of Chatham.
Half-eaten seals started washing up on Cape beaches five years ago. In September 2009, a commercial fisherman and pilot was flying over Monomoy Island when he spotted two great whites near Chatham, prompting beach closures over Labor Day weekend and a brief media onslaught. There have been other sightings since, but things escalated last July when a photo of a shark tailing a kayaker at Nauset Beach, north of Chatham, went viral. Then came the attack on the Denver man.
The media once again descended—ABC, NBC, and Fox News all ran Cape shark stories—but local response was both measured and enlightened. In part, this is because the sharks have proven to be good business. Gift shops in town are hawking shark jewelry and pink halter tops emblazoned with great white jawbones. Some owners have been donating part of their fish-related proceeds to the Atlantic White Shark Conservancy. Last summer, the Chatham Chamber of Commerce sponsored an art installation called Sharks in the Park. When the Denver tourist was attacked, local consensus was that he had it coming: he swam 100 yards out to a sandbar near two seals. A protest campaign even sprang up last September when researchers with Ocearch, a shark-advocacy nonprofit led by former television personality Chris Fischer, caught a great white and inserted a tracking device in its dorsal fin. Residents were worried the fish would be harmed.
Still, fondness for the toothy predators may change "if a 12-year-old kid gets attacked," admits Greg Skomal, a scien-tist with the Massachusetts Division of Marine Fisheries and one of the leading shark researchers on the Cape. That's by no means inevitable: according to Simon Thorrold, a senior scientist with the Woods Hole Oceanographic Institution, the number of great whites around the Cape is "likely in the tens." So far, 34 tagged individuals have been recorded in Cape waters, some of them cruising within 15 feet of shore, in as little as ten feet of water.
"Something would be wrong with me if I said I wasn't concerned," says Orleans harbormaster Dawson Farber, 40, responsible for public safety at Nauset Beach. A lifelong Cape resident, he no longer allows his children to swim off Atlantic beaches alone.
So far, efforts to ensure public safety have been limited to signs warning swimmers to keep away from seals. There aren't many other options. In Western Australia, spotter planes look out for great whites near swimming areas. But aircraft are expensive and would be less useful on the Cape, where water visibility is poor. Another possibility is an array of underwater sensors that would alert harbormasters to the presence of tagged sharks. But that could impart a false sense of security. "Are you going to base your management on what might be a small percentage of the population?" asks Farber.
The odds of attack are, of course, minuscule; South Africa, which has a far higher number of great whites, averages one a year. You're much more likely to be hit by a drunk driver or pulled out by a riptide. But man-eating fish have a way of inciting mass hysteria. Exactly how East Coasters would handle a fatal attack is an open question. But this much is sure: the presence of the ocean's most feared predator marks a major step toward the recovery of a fully functioning ecosystem in the waters off Cape Cod.
"We've become insulated from nature," says Thorrold. "If we want to have a wild ocean, there are some things we have to live with. An extremely slight risk of shark attack is one of those."                  
Trending on Outside Online