How to Save a Grizzly Bear from Hunters. Maybe.
As Wyoming prepares for the first grizzly hunt in the lower 48 in decades, at least two protesters won tags they say they won't use. Will their strategy work?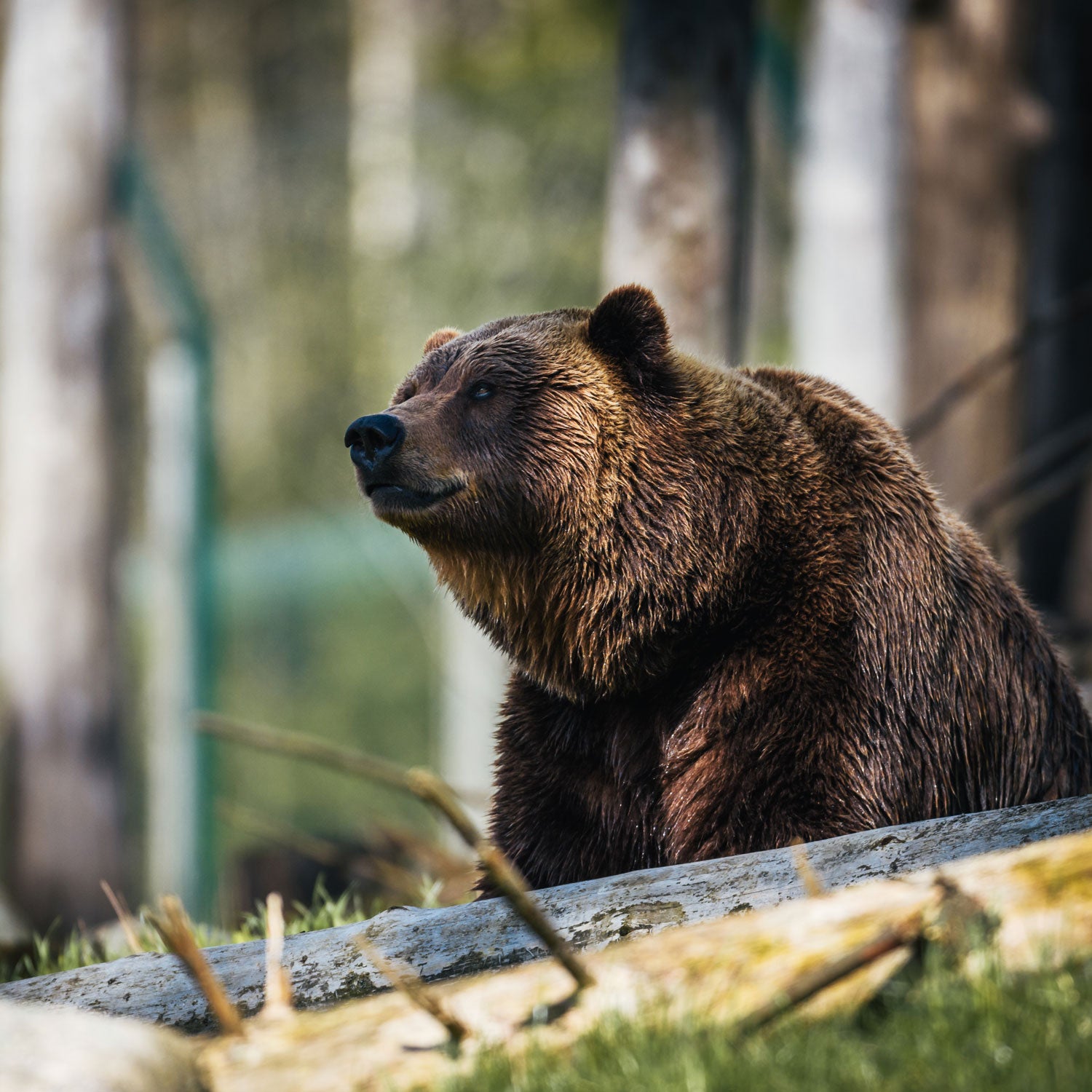 Heading out the door? Read this article on the new Outside+ app available now on iOS devices for members! Download the app.
Kelly Mayor grew up in Wyoming in a family of hunters. "My dad and brother hunt," Mayor says. "My husband is a hunter. His family are hunters. We usually have game meat in our freezer." Typically, the 56-year-old aesthetician has no problem with hunting.
"But I do have a problem with trophy hunting," Mayor says—that is, the killing of a large animal for no other reason than sport and bragging rights.
So when Mayor heard earlier this year that the state of Wyoming would hold its first grizzly bear hunt in more than four decades, the news didn't sit right with her. She soon heard about a campaign that urged grizzly hunting opponents to apply for a hunting tag that they would never use. She applied, one of more than 7,000 people who did. And she won.
Mayor's winning draw gave her tag number two out of ten to hunt in what the Wyoming Game and Fish Department has called "core areas" outside of Yellowstone National Park, which is home to the vast majority of 700 grizzlies in and around the park. Late this summer or early this fall, Mayor will get a ten-day window to head into the woods, with no other bear hunters around. Instead of a gun, however, Mayor will "shoot 'em with a camera," as the protest campaign urges.
Killing a bear isn't just killing one bear.
Famed wildlife photographer Tom Mangelsen also joined the protest and won tag number eight to hunt a grizzly in what the state calls core "suitable habitat" areas. In all, the state will allow for up to 22 bears to be taken, although most of those will not come from the core area near Yellowstone, but from a broader zone around the park that the state deems as less suitable habitat for bears and where it says they come into more conflict with humans. The season will run from September 15 to November 15. (It starts two weeks earlier in the less suitable habitat.)
In the core grizzly hunting area, the hunt there ends as soon as ten males bears or the first female is shot. When his turn comes, Mangelsen says he'll be out there with his long lens. "The hope would be that we would save a bear or two, and maybe even three or four," he says, believing that others, still unknown, might have tags and may have similar plans not to hunt. Only he and Mayor have made their plans public so far, and for that Mangelsen says he has received a death threat.
The federal government removed greater Yellowstone's grizzlies from the endangered species list in 2017, saying the population had sufficiently recovered. Idaho and Wyoming soon made plans to start a grizzly hunt. (Montana is still considering a hunt but decided against starting it this year.) Renny MacKay, a spokesperson for the Wyoming Game and Fish Department, says the state is holding a hunt because the population has recovered, that it is possible to hold a hunt without hurting their numbers, and, lastly, because hunters want one. But obviously not everyone in the community does.
Killing a bear isn't just killing one bear, Mangelsen says. He mentions a much-photographed grizzly in the Grand Teton area called Bear 399—"the most famous bear who ever lived," in Mangelsen's words—who has had 17 or 18 offspring.
---
Wyoming isn't the only place where activists have experimented with this type of protest. British Columbia, which until recently held a grizzly hunt, wrestled with its own controversy over shooting the bears, and among opponents there was a movement to "swamp the lottery," says Kyle Artelle, a biologist at the Raincoast Conservation Foundation and a postdoctoral fellow at the University of Victoria. Some ecotourism lodges offered to host bear-viewing trips for those who won a tag and didn't want to hunt with it, Artelle says.
But blocking one bear from dying isn't a useful protest, argues Sy Gilliland, vice president of the Wyoming Outfitters and Guides Association. If the quota of bears killed isn't reached this year, the state will simply increase the number of bears that can be taken in following years, he says. Indeed that's what might have happed in British Columbia. "We don't understand why some organizations are willing to have this bear run at a level that is way larger than its carrying capacity, to the detriment of its species."
The protest, according to Gilliland, is "just grandstanding, without any benefit for the wildlife."
Aside from temporarily protecting individual bears, the Wyoming protest might prove more effective in other ways. One is by drawing attention to the issue. "It's probably already effective down there, based on the fact that it's all over the press," Artelle says. (It didn't hurt that Jane Goodall signed up for the lottery.)
We want our wildlife on the landscape.
In turn, protesters hope the public attention translates into public outrage. One factor that finally turned the tide in British Columbia against grizzly hunting was public opposition to a trophy hunt, "which is qualitatively different than a hunt for subsistence," or meat, Artelle says. Surveys of the B.C. public eventually showed opposition running in the 90 percent range against grizzly hunting, he says. "That's just unheard of. We don't agree on anything that much up here in B.C." Then, late last year, the province completely banned the hunting of grizzlies.
Ironically, what Mangelsen believes would galvanize public opinion against the grizzly hunt in the United States wouldn't be done by a protester at all: the shooting of Bear 399. "Remember Cecil the Lion?" he says. "Cecil's killing would be child's play compared to the number of people who would be outraged."
The protesters hope their efforts will also help jump-start a conversation that's larger than grizzly bears and more about how the state manages its animals. "At first [our effort] was perceived as sabotage. It's not sabotage," says Lisa Roberson, a 28-year resident of Jackson, Wyoming, who is a member of the grizzly protest campaign. Hunting licenses often provide the majority of funding for wildlife programs, which gives hunters a disproportionate voice, she says. But that doesn't capture all the people who value wildlife for different reasons than killing them. Hunting is on the decline, even as wildlife tourism continues double-digit increases, Robertson says. And yet, nonhunters have never really been welcome into wildlife management conversations, she says.
"We want our wildlife on the landscape," Robertson says.
It's unclear how much traction this argument will get in Wyoming. Both the outfitters' association and the state game and fish agency point out that nearly $50 million was spent on grizzly recovery over the past few decades. That money came from sportsmen's licenses and taxes on outdoor gear. Today, people can photograph grizzlies "while not contributing to the state's efforts," says MacKay of the Wyoming Game and Fish Department.
"That's bullshit," Mangelsen counters. Tourists pump much more than that into Wyoming each year when they come to see wildlife, he says. Wildlife watching is a $365 million industry in Wyoming, according to 2016 figures from the University of Wyoming. That amount makes it nearly equivalent to all spending by both hunters and fishermen in the state each year.
It is yet possible that much of these efforts could be moot. At the end of the month, a federal judge will hold a hearing in a Montana courtroom as part of an ongoing lawsuit brought by environmental groups. For all the hopes for the grizzly protest, it is a judge who may have the final word on the animals' fate.
Lead Photo: Janko Ferlič/Unsplash