How Portland's Unusual Moss Uncovered an Air Pollution Problem
A city-wide survey of Portland's moss helped scientists to target a likely source of the city's air pollutants
lucywightman/iStock(Photo)
Heading out the door? Read this article on the new Outside+ app available now on iOS devices for members! Download the app.
On a drizzly March day, Sarah Jovan pauses to inspect a leafless maple growing through a hole in a downtown Portland sidewalk. She passes a slender hand over the miniature ecosystem colonizing its trunk—chartreuse savannahs that stretch between stands of thick, shaggy moss and lone shrubs of fruticose lichen. "These look stressed," she says of the latter, noting that the pale green epiphytes seem dull and stunted compared to their brethren in the wild.
That's where Jovan, a moss and lichen expert at the U.S. Forest Service's Pacific Northwest Research Station, usually works. But in 2013, she and her colleagues began studying the moss on Portland's countless urban trees. Their findings rattled the city: The moss revealed that Portland has an air pollution problem.
The news wasn't a complete shock. The Oregon Department of Environmental Quality (DEQ) has known for years that Portland's air contains unhealthy levels of heavy metals like cadmium and arsenic, both carcinogens. But a city-wide survey of moss allowed scientists to finally pinpoint a likely source: two art glass producers that use the metals in their manufacturing process.
The DEQ confirmed the moss results in October, using conventional air monitoring instruments that detected levels of cadmium and arsenic far above state benchmarks near one of the plants. The early February announcement angered many residents, who thought the department—which is charged with protecting Portland's air—should have taken action sooner. The director stepped down soon after, citing health issues.
After the revelations surfaced, the glass manufacturers—Bullseye and Uroboros—voluntarily stopped using heavy metals. The DEQ will now require both to install emissions control devices after the EPA determined that the plants do not, in fact, qualify for an exemption that allowed them to operate without such devices in the past. Meanwhile, officials have scrambled to cope with the consequences. So far, follow-up tests of soils and urine from residents near the plants suggest the long-term human health risks are low, although authorities identified a slight increase in bladder cancer rates around Uroboros between 1999 and 2003.
Without moss, though, the issue may never have come to light. Unlike vascular plants, moss and lichen lack roots, so they must extract all the nutrients they need from the air. And because they also lack waxy leaf coatings or other natural barriers to unwanted compounds, they soak up pollution "like a sponge," Jovan says.
Scientists, who first realized these plants could act as biomonitors in the 1970s, have since used them to study a range of pollutants, from heavy metals to polycyclic aromatic hydrocarbons, which threaten both human and environmental health. In fact, one of the great benefits of moss is that a single sample can yield information about many different contaminants, says Linda Geiser, director of the Forest Service's Air Resource Management Program. And studying moss is cheap. "It doesn't require power, and you can just send someone to hike back wherever you want, into the most remote place, to collect information," Geiser says.
That's one reason the Forest Service and other agencies have used moss to monitor air quality on public lands. A 2001 study in Alaska, for instance, revealed that dust from mining trucks was dousing fragile tundra plants in the Cape Krusenstern National Monument with heavy metals.
Still, moss has limitations when it comes to gauging threats to human health. The exposure pathways are different: Moss passively absorbs contaminants, while the effects on humans vary depending on whether they are inhaled or ingested. And concentrations in moss can't be directly translated into concentrations in the air. So it's not entirely clear what Jovan's results, on their own, mean for Portland's residents.
Geoffrey Donovan, Jovan's colleague, stresses that their moss study wasn't a replacement for traditional air monitoring, but a way to guide it. In the past, Portland only had one air monitoring station capable of detecting heavy metals, which could not provide regulators with detailed information about individual emitters. So Donovan used a model to turn their 346 moss samples—collected from every square kilometer of the city—into a detailed map of pollution hotspots that helped the DEQ focus its investigations. The cadmium results were recently published in the journal Science of the Total Environment.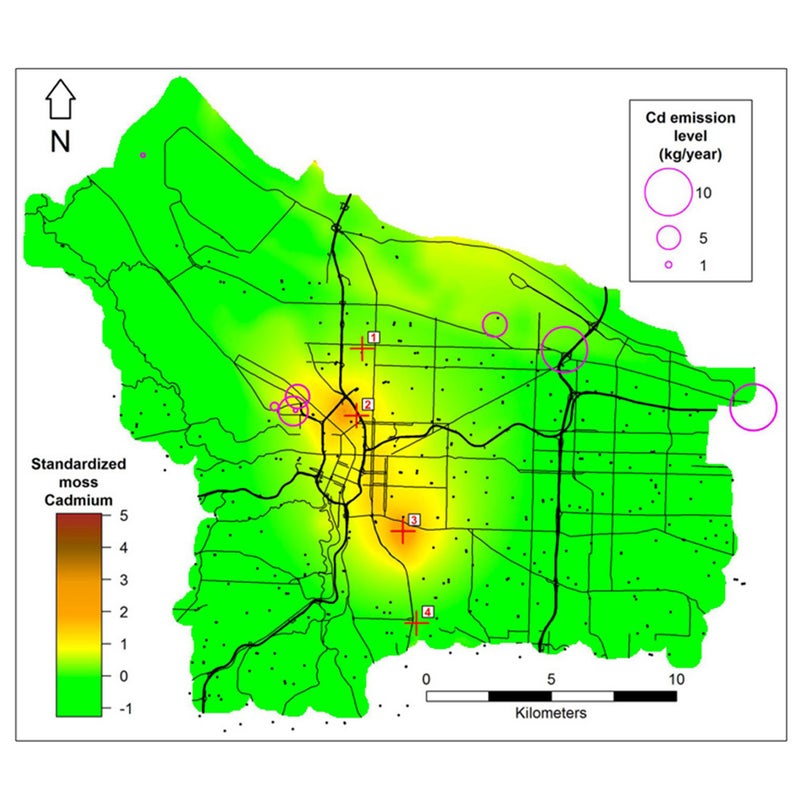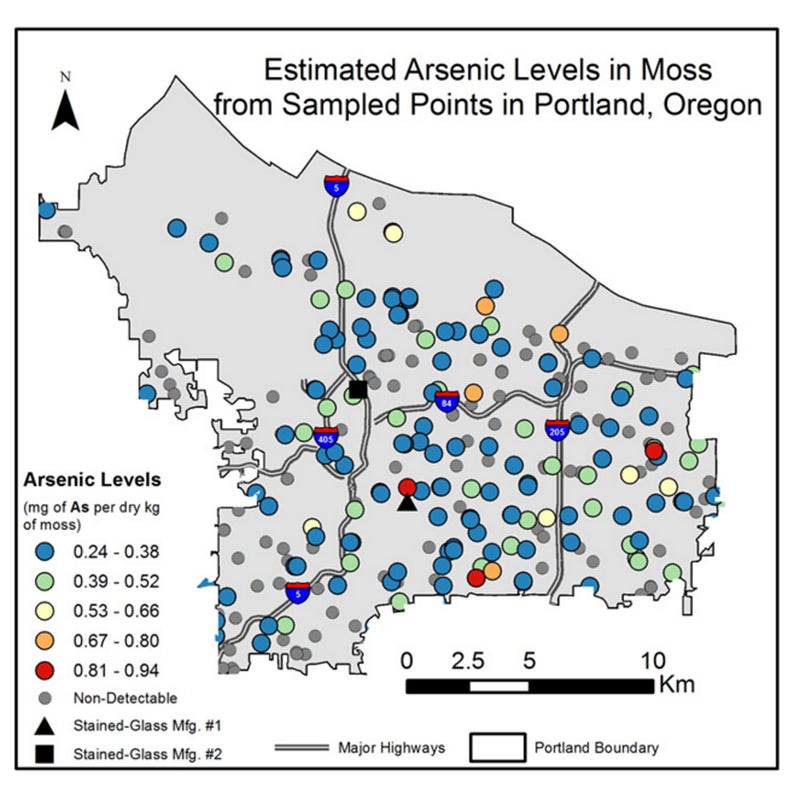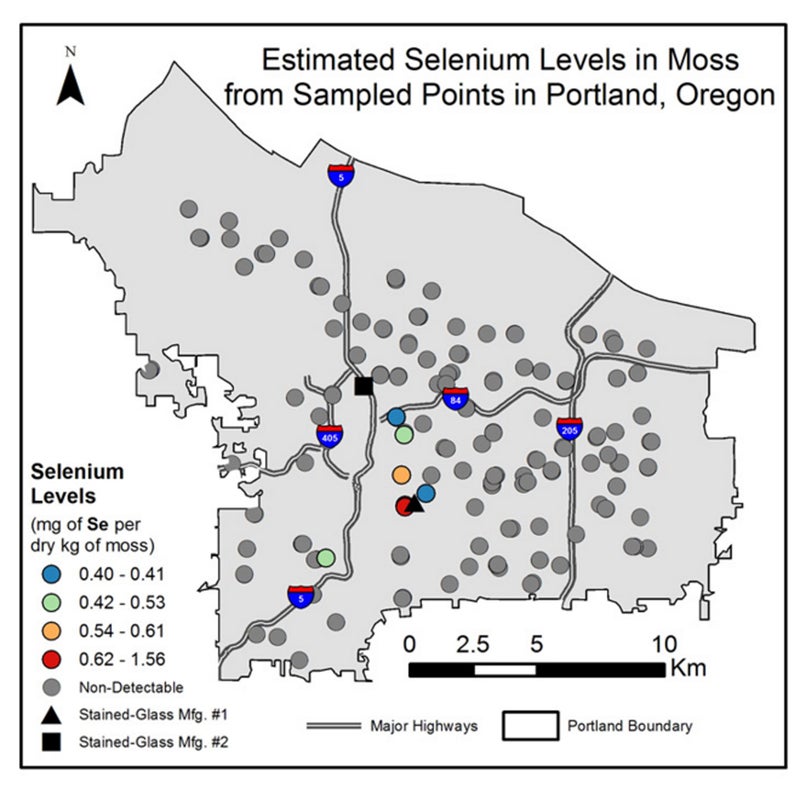 The approach, which has been used in European cities, may now gain traction in the U.S. The Environmental Protection Agency plans to review the Portland study to evaluate whether it could use the method to screen for toxic air pollutants.
As cars roll past Jovan's tree, the tires sucking at the wet pavement, the moss already seems to have melted into the fuzzy green backdrop of Portland life. But the story isn't over. Despite the state's reassurances, some locals fear possible health impacts and question whether the DEQ will prevent similar situations in the future. To quell these concerns, Gov. Kate Brown recently established a new state program to strengthen air quality regulation.
Moss may very well play a role in that initiative—precisely because of its ability to detect sources of pollution. That, Jovan says lovingly, "is what we are solving with these delightful little primitive plants."
Lead Photo: lucywightman/iStock