The Social-Media Sleuths Hunting Down Moose Harassers
The public's helping Colorado Parks and Wildlife crack down on the harassment of animals—one distressed moose at a time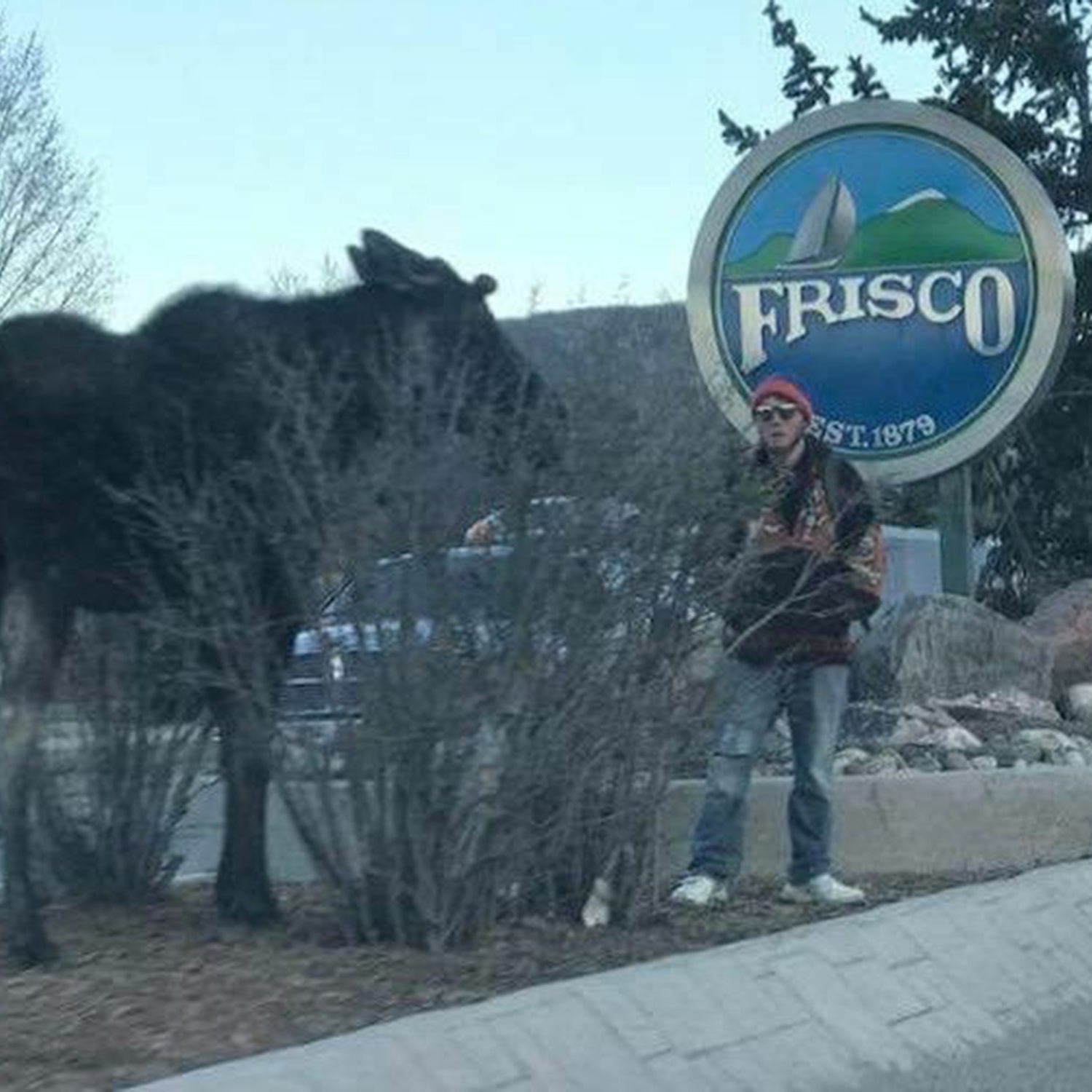 Heading out the door? Read this article on the new Outside+ app available now on iOS devices for members! Download the app.
On May 4, a man chased a moose onto the median of a busy stretch of highway in Frisco, Colorado. The man stood casually next to the moose with his hands in his pockets, like he was standing with a friend. The moose, awkwardly marooned on a narrow patch of dirt, was visibly agitated, its ears drawn back and hackles raised. A startled motorist slowed so his passenger could take a photo of the scene. He posted it on social media.
"It is very evident from the photo that the moose is angry, and the man could easily have been attacked and injured, or possibly killed," Summit County District wildlife manager Elissa Slezak said in a statement. "It is likely this person does not realize how much danger he put himself in, or maybe he does not care."
Later that same day, in Summit County, a woman posted a video to Facebook of herself feeding a moose through her car window. A few weeks earlier, a video had circulated of people trying to touch a moose in a Frisco neighborhood, causing the animal to kick at one of the men.
Colorado Parks and Wildlife learned about all these events through social media, as the posts, now evidence, made their way around the Internet. In all of these cases, CPW solicited the public to help identify the culprits, with some success. The men in Frisco have yet to be identified, but the woman (who's since removed her post) has been, and she's been cited for illegal feeding of wildlife. She also received a warning for harassment of wildlife. As for the man in the median, tips helped CPW identify him, too. After pinpointing the harasser using the social post, CPW learned he had already been picked up by the police in Frisco after they received reports of his "erratic behavior" toward the moose. "We know who he is and have attempted to contact him about the moose incident," Slezak said in the statement.
People get too close to things they shouldn't (i.e. animals that can kill them) all the time. In Yellowstone National Park, for example, bison have injured more people than any other animals (it's also worth mentioning that bison can run three times as fast as humans). Park officials recommend that people stay at least 25 yards from the animals. Yet every year, the park deals with a handful of its nearly 4 million annual tourists trying to take a #BisonSelfie, which has resulted in numerous injuries and gorings. 
It has become common for understaffed outdoor agencies to use social media to aid in their detective work. The prevalence of camera phones and crowds—and our propensity to upload our selfies, even when they show us doing something illegal—makes it difficult for people to commit crimes or infractions without anyone seeing them. 
Of course, sometimes people make it a little too easy for officials. In 2011 two South Korean exchange students etched their names into a rock in New Mexico's El Morro National Monument, then posted photos of their work to their Facebook pages (they also signed the guest book with their real names). In 2014, graffiti artist Casey Nocket defaced seven different National Parks with her work and posted photos of it to social media. There was also the case of the Boy Scout leaders knocking over a hoodoo that dated back to the Jurassic Period (145 to 170 million years ago) in Utah's Goblin Valley State Park. The video they took of the act went viral and the men were later charged for the crime, eventually reaching a plea deal to pay restitution.
Public shaming can educate people on proper behavior. "If high-profile cases like this serve to spread the word, whether through social media or the grapevine, that alone has accomplished much of what we are trying to do to inform the public," says Slezak. "It was encouraging to see how many local folks are already aware of the dangers relating to moose, so there is definitely some community self-policing going on."
But really, we shouldn't have to explain that moose—which can weigh up to 1,000 pounds, run faster than humans, and will defend themselves aggressively if threatened—should be given wide berths. You might think it's neat to go live on Instagram and walk up to a moose (maybe you could pet it!), but all you're really broadcasting to your followers is that you're an idiot. Oh yeah, you're also providing evidence to the agency that is going to issue you a fine—and maybe you're even recording your own mauling.
If you have information on any of these cases, CPW would like you to call Operation Game Thief anonymously at 877-265-6648. Awards are available if the information leads to an arrest or a citation.
Lead Photo: Colorado Parks & Wildlife