The Right Way to Put Out Your Campfire
Do it poorly—or not at all—and you could start the next catastrophic wildfire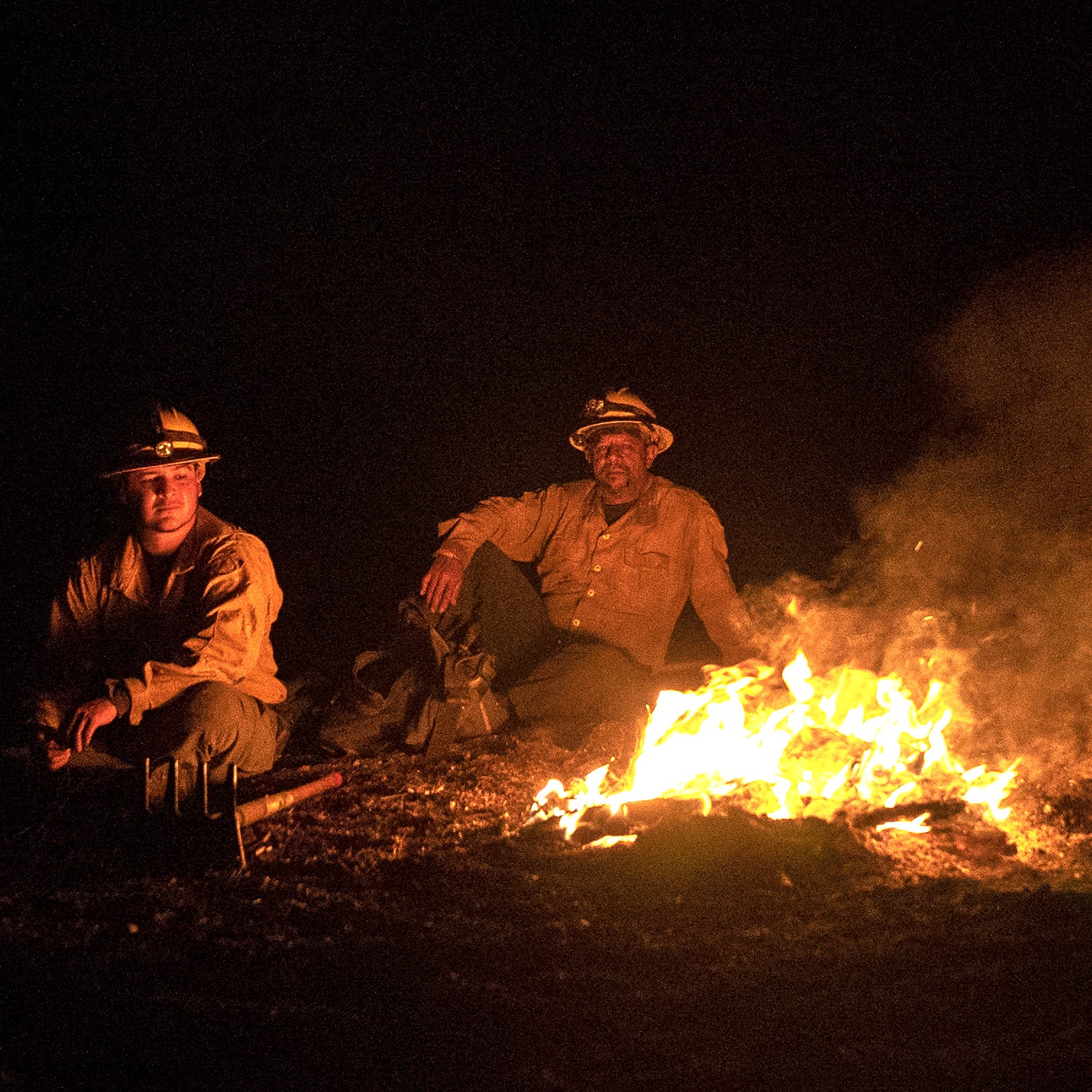 Heading out the door? Read this article on the new Outside+ app available now on iOS devices for members! Download the app.
Humans cause nearly 85 percent of wildland fires in the United States, according to the Forest Service. One of the culprits? Campfires that aren't completely out. Letting your post-s'mores logs burn down unsupervised isn't safe—you've got to douse them with water until the coals are cool. I called up Gwen Beavans, national fire-prevention program manager with the U.S. Forest Service, for her tips on how to put out a fire pit and snuff out your flames for good.
How to Put Out a Fire Pit, or Any Kind of Campfire, The Right Way
Build a Fire Safely (or Not at All)
Whether you're going camping or building a bonfire in the backyard, first make sure it's allowed in that location on that day. Your local Forest Service office will have up-to-date information, as will campgrounds. A fire ban in your area means that air temperatures, relative humidity, wind speed, or a combination of the three pose a major risk for wildfire. Obey the ban; it's there for a reason. If campfires are permitted, build yours in a designated fire pit (if one exists) or bring your own—but don't build one yourself. Fireside Outdoor makes a Pop-Up Firepit you can store in your car. Next, check the entire area to make sure it's safe. "Look up, down, and all around before you build a fire," says Beavans. "You don't want any trees overhanging. On the ground, you want to make sure you've got a clearance of ten feet all around, without any trees or tall, dry grass."
Get Equipped
There are many ways to build a campfire. Make sure you have a shovel and a water source nearby when you do. The Ace Hardware Little Pal Mini Round Point Shovel fits in the trunk of your car. If you're backpacking or tight on space, the Gerber Gorge Folding Shovel breaks down and stows in a storage bag. To transport water to the fire, you'll need a lightweight, sturdy bucket, like Granite Gear's collapsible two-gallon Water Bucket or this ten-quart one from Rubbermaid.
Douse with Water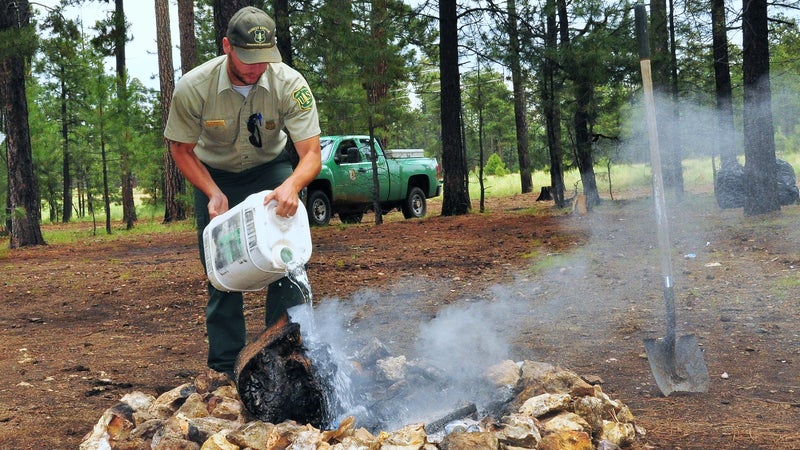 When you're done roasting marshmallows and drinking whiskey around the campfire, fight the temptation to crawl right into your sleeping bag. Plan ahead to let the last log burn down to ash. If you don't have time or need to leave abruptly, you can pour water directly onto the flames. But Beavans says she prefers to let the fire burn down on its own, because with smaller pieces, it's easier to tell when the fire is completely out. Once there are no flames, drown the embers in water. "To drown, you'll need a lot of water—at least two buckets," says Beavans. "Make campfire soup. You're going to want standing water in there." Pour the first bucket of water on slowly, ensuring you douse all parts of the fire while holding your face back from the steam. If you don't have water, pouring sand or dirt on the fire will also work.
Mix It Up, Then Douse Again
"Drown, stir, drown, and feel," says Beavans. Use your shovel (or a stick) to mix the embers and water. If you still have logs, "stir and scrape them, getting the embers off," says Beavans. "Rotate the log around so it's sitting in that water." Once that's done, slowly pour on the second bucket of water. Use your senses to make sure the fire is out completely. "Do you see any red embers? Do you hear any hissing sound? You shouldn't hear anything or see embers burning," says Beavans. "Then there's feeling. What we're talking about is putting the back of your hand above the coals—maybe hovering four inches above—and if you can feel heat or you can't get your hand that close, then start the whole process over again." If it's too hot to touch, it's too hot to leave.
Survey the Scene
Beavans says she likes to wait around even after the last ember has fizzled out, just to make sure. "I'll stay there with it for a little longer to see if the wind picks up or if there was something I missed," she says. "I'll look around the area for any glowing embers." The stargazing might be good, so lean back in your camp chair and soak up the view in the darkness before retreating to the warmth of your tent. You can sleep soundly knowing your fire is completely out.
Lead Photo: Courtesy US Forest Service/Cecil