Bears Ears Officially Opens to Oil and Gas
Companies focused on resource extraction now have access to huge chunks of the former national monument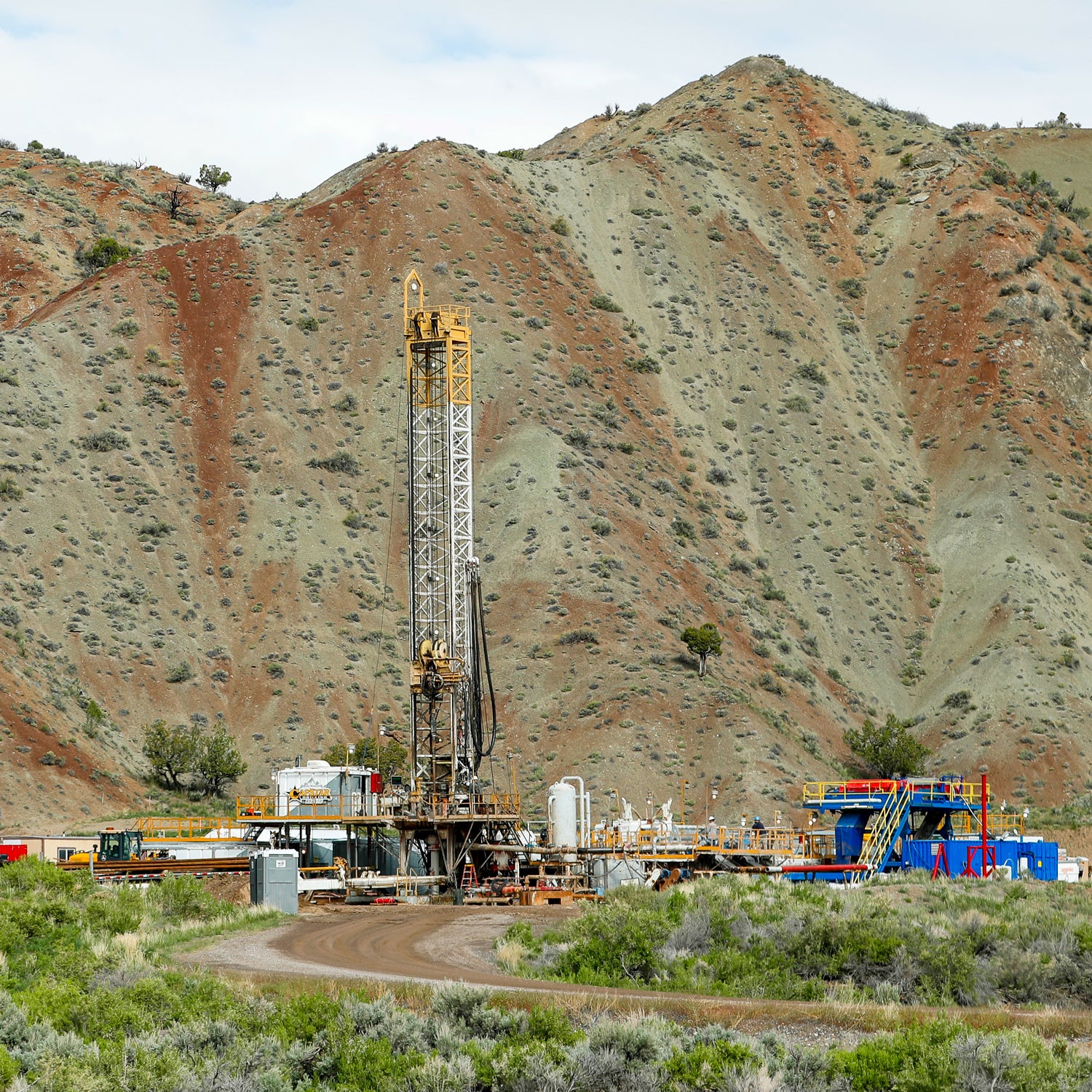 George Frey/Getty Images(Photo)
Heading out the door? Read this article on the new Outside+ app available now on iOS devices for members! Download the app.
As of 9 a.m. on Friday, the protections for what was once Bears Ears and Grand Staircase-Escalante national monuments ceased to exist, and all the surrounding public lands opened to resource extraction.
Sixty days ago, President Trump signed an order in Salt Lake City to reduce the size of the two monuments—Bears Ears by 85 percent and Grand Staircase by half. Today, they officially open to mining claims. There's been a lot of fuss in the media about how these claims work, because they're governed by the General Mining Law of 1872. That means anyone with motivation and four stakes can, technically, rush out and claim their own plot, as long as you have the $212 filing fee. But there probably won't be an 1800s-style land rush.
What's more likely is the energy industries that lobbied the Trump administration and Utah Republicans to slice up the monuments in the first place will take out big leases. But conservationists who worry the area will fill up with oil platforms and diesel work trucks can rest easy, because not much will change, at least not in the short term.
The land around the two monuments is still public land. It just reverts to its prior jurisdictional patchwork under the BLM, the Forest Service, and the state. Large pieces in the area still have protection as Wilderness or Wilderness Study Area, which ban any development, cars, even bicycles. But within and around these protected areas are chunks of land now open to the energy industry.
What's likely to happen is companies will buy the leases cheap during Trump's public lands bonanza.
Before Obama designated the land a monument in the last days of 2016, energy companies had put in 88 requests to the BLM to lease more than 100,000 acres in or near what later became Bears Ears. But oil companies looking to drill there will now suffer the same problem they do elsewhere in land that is remote and difficult to work: oil is cheap. As of September last year, there were 27 existing oil and gas leases within Bears Ears, according to BLM figures. But in the past decade production in the area has dropped, and there's cheaper, more accessible oil as close as Northern Utah. Even though existing oil leases were grandfathered into the monument, none were active. In fact, the last active well inside the monument shut down in 1992. Last year, the associate director of oil and gas at the Utah Division of Natural Resources, John Rogers, told Inside Energy there was a lot of interest in drilling the area in the 1960s and 1970s. "But nothing significant was found," he said. "So all the wells out there have been plugged and abandoned."
What's more likely to happen is that companies will buy the leases cheap during Trump's public lands bonanza, then hold onto them and wait for prices to rise. Until that happens, there probably won't be many more oil platforms. "That area is just too inaccessible," John Ruple, a law professor at the University of Utah who focuses on public lands, told NPR. "The oil and gas potential is very low and the cost of getting any product out to a refinery and to market would be very high."  
It's a similar situation for uranium mining, although the industry applied a lot of pressure on Republicans to shrink the monuments. Trump and Secretary of the Interior Ryan Zinke said over and over that the cuts had nothing to do with energy extraction. But, as The Washington Post's Juliet Eilperin uncovered, Canadian-owned mining company Energy Fuels Resources had pressed local Republicans, hired lobbyists, and met with the Trump administration in an effort to open certain lands up. The company even emailed Utah Senator Orrin Hatch maps that specified the land it wanted out of the monument. If you look at a map of resource deposits in the area, there's a fluid stain of potential uranium deposits through the center of Bears Ears. In Trump's map, his two new monuments largely fall to either side.
The idea of a uranium resurgence is especially insulting to Native Americans who live in the area, due to a history of groundwater contamination. There are people who still won't drink tap water, like Shanon Sangster, who told The New York Times last month she sends her daughter to school with bottled water. "It's like we are all scarred by it, by the uranium," she said. 
Energy Fuels runs the only uranium processing mill in the U.S., but it faces the same dilemma as the oil industry. Uranium is cheap, about $22 a pound. That's about $20 too cheap, according to the Post, to justify mining in Bears Ears. There are more than 300 uranium mining leases in the former monument's territory, more than one-third of which are owned by an Energy Fuels subsidiary. And while it might be too cheap now to mine new claims, Energy Fuels is playing the long game, hoping America will get over its fears of nuclear energy and uranium prices will surge. 
The most visible and obvious changes to Bears Ears or Grand Staircase-Escalante may well be the increased presence of cars and ATVs. Both were still allowed on existing roads in the monument, but Obama's order put priority on preservation, so their access was restricted. Four-wheeling was actually a huge point of contention in Utah—it got San Juan County Commissioner Phil Lyman thrown in jail four years ago, after he, Ryan Bundy, and their militia illegally rode four-wheelers through Recapture Canyon. Now ATVs will be allowed anywhere on the areas 1,800 miles of road and trail they could drive before. And aside from the general annoyance of whining engines in the backcountry, the conservation argument for not allowing motorized vehicles in the area is that Bears Ears is home to thousands of ancient and sacred archeological sites. Many have already been looted or damaged, and quick access increases risk.
For now, though, the immediate effects of Trump's decision will mostly be unnoticeable. Mining companies and maybe even a few prospectors will lease land. But promises to revive the coal industry, or cries to open public land and reclaim American energy independence—at time when we're producing more oil and gas than ever—will likely remain more symbol than reality.
Lead Photo: George Frey/Getty Images