Lake Powell Is on Life Support
The American Southwest hasn't been this dry in 1,200 years. The region's water supply—and entire energy infrastructure—is at stake.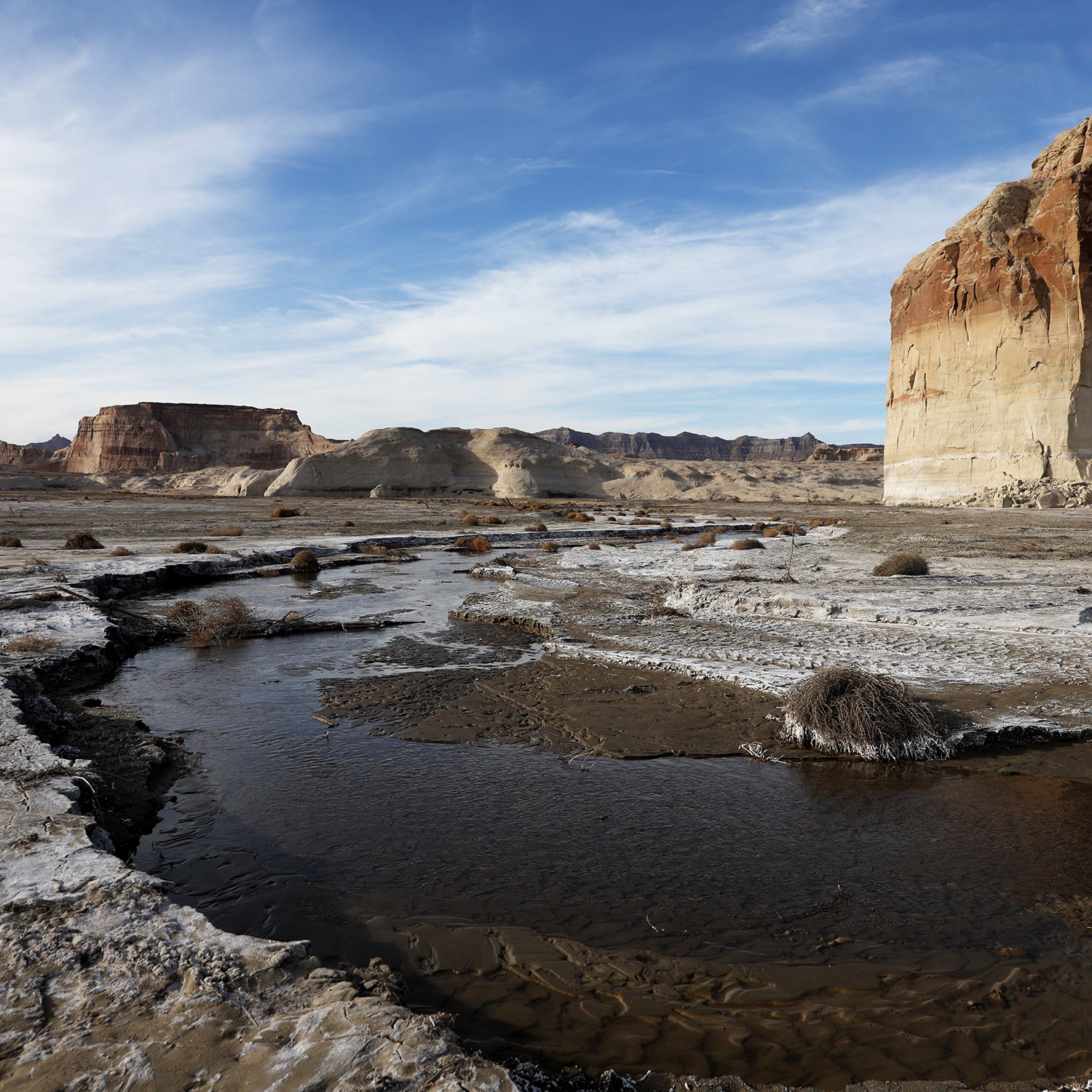 Heading out the door? Read this article on the new Outside+ app available now on iOS devices for members! Download the app.
Over the past year or so, the Colorado River has hit a number of historic firsts, none of them good. In 2021, the water level of Lake Mead, which is fed by the Colorado, located on the Arizona-Nevada border, and distinguished as the largest reservoir in the U.S., dropped to an all-time low. States on the lower end of the Colorado River basin—Arizona, Nevada, and California—agreed to voluntary and unprecedented cutbacks in the amount of water they will receive over the next two years. And this spring, Lake Powell, which sits a few hundred miles upriver from Mead, recorded its lowest-ever level since the reservoir was filled five decades ago, with wide-ranging consequences for electricity generation, recreation, agriculture, and water for millions of people.
The situation at Powell is particularly dire, as demonstrated by a contrasting set of photos that went viral in March. The first, from summer 2021, showed a channel of water below a cliff band. An image from March of this year, of the same view, showed that what had been open water was now an expanse of sand.
By early April, conditions at Lake Powell had reached a crisis—the waterline at Glen Canyon Dam was just 30 feet above the lowest point required to produce hydropower. The dam contains giant turbines that have a full capacity of 1,320 megawatts, enough to light the equivalent of hundreds of thousands of homes. As of this writing, the lake's waterline is holding at 3,522 feet elevation, but when that figure dips below the threshold of 3,490 feet (as projections suggest it will in the next few years), power production will halt. In February, the U.S. Bureau of Reclamation said there is a 25 percent chance of this occurring by September 2023.
"It's not like everyone has been ignoring this problem, but the reality is that climate change is hitting even faster than expected," said John Fleck, professor of practice in water policy and governance at the University of New Mexico and coauthor of Science Be Dammed. "We've stretched the system beyond the available tools. Somewhere in the Colorado River basin, someone will have to go without water. The question is who and where."
---
The Colorado River serves more than 40 million people in the Southwest, including the metro areas of Phoenix and Las Vegas. It irrigates some of the most productive and lucrative agricultural fields in the world. For decades, people in this region have taken more water out of the Colorado River—for agriculture and municipal and industrial use—than naturally flows back in. This problem has been accentuated by the mounting climate crisis: 20 years of drought have pinched the basin, while attempts to curb demand have largely failed. A recent letter from the Department of the Interior (DOI) called these the "driest conditions in the Basin in more than 1,200 years."
"We have an inescapable math problem in the basin, with demand far exceeding supply," said Anne Castle, a senior fellow at the University of Colorado Law School, where she works on water policy. Castle ran the numbers and found that Lakes Mead and Powell have lost about 4.5 million acre-feet over the past year and almost ten million acre-feet over the past two extremely dry years. (For reference, an acre-foot is enough water to cover a football field, more than 300,000 gallons).
The response to this new low has forced federal and state water managers to take unprecedented steps. In late April, the seven states that draw water from the Colorado River agreed to a proposal from the DOI to divert 480,000 acre-feet from the lower basin states of Nevada, Arizona, and California. This emergency action would hold Lake Powell at a level that allows its turbines to generate power and keep the water on for the 7,500 residents of Page, Arizona, who are at risk of being cut off. Such an act, as yet unheard-of, would come on top of the voluntary cuts the three states agreed to last summer.
---
The inundation of water into Glen Canyon to create Lake Powell in the 1960s spawned outrage from conservationists. The area was famous for its miles of slot canyons, spectacular red-rock architecture, and hanging gardens, as well as millennia of Indigenous cultural artifacts and sites. Sierra Club founder David Brower famously dubbed the construction of the dam "America's most regrettable environmental mistake."
Today, power generated from Glen Canyon Dam is distributed to utilities across the West, including power grids in Wyoming, Utah, Colorado, New Mexico, Arizona, Nevada, and Nebraska, as well as to several tribal nations. If Lake Powell's ability to produce hydropower is compromised, the consequences will be widely felt.
"The western electrical grid would experience uncertain risk and instability, and water and power supplies to the West and Southwestern United States would be subject to increased operational uncertainty," wrote Tanya Trujillo, the DOI's assistant secretary for water and science, in a letter to Colorado River basin water officials in April about Lake Powell's declining levels.
Glen Canyon Dam is an important source of baseload power—electricity that can be made available immediately during periods of high demand. Flowing water can produce reliable and instantaneous power in a way that solar or wind energy cannot, and its output helps the grid manage usage spikes, like those that occur routinely in the evenings. Without hydropower, the net impact to the western grid may well be increased demand for fossil-fuel-based energy sources, like natural gas or coal plants, a recent High Country News analysis found. In addition, several regional tribes rely heavily on power from the Western Area Power Administration, the federal agency that runs the dam. On the Navajo Nation, power costs for the tribe's utility could increase by as much as $1.3 million per year if the dam becomes inoperable, according to that analysis.
Lakes Mead and Powell have lost about 4.5 million acre-feet over the past year and almost ten million acre-feet over the past two extremely dry years.
The dropping water level also poses a potential threat to the physical integrity of the dam, which is the second largest in the country after Hoover Dam, on Lake Mead. When the reservoir is full, water turns the power-generating turbines. When water levels are too low, an excess amount of air would flow through the turbines. This, according to Castle, could send shock waves through the dam, a process known as cavitation that could cause enormous internal damage.
If the turbines cannot operate, Glen Canyon Dam would be forced to let water through using outlet tubes at the dam's base, below the turbines. But these tubes were not designed to handle a constant flow of water. This is uncharted territory. As Trujillo wrote in the recent letter: "Glen Canyon Dam was not envisioned to operate solely through the outlet works for an extended period of time." Trujillo highlighted the scenario in the same letter: "We are approaching operating conditions for which we have only very limited actual operating experience."
The reservoir is typically low in the spring, before its water level is replenished by snowmelt. But officials don't know how much water will flow in this year. The 2021–22 winter snowpack was uneven, and the Rockies experienced an unusually warm March. As of mid-April, the snowpack for the Colorado River basin as a whole was 83 percent of its historic median, according to federal data, substantially below what's needed to refill the reservoir. And Lake Powell itself cannot hold as much water as it once did. A recent study from the U.S. Geological Survey and the Bureau of Reclamation found that Lake Powell has lost 7 percent of its historic storage capacity due to decades of sediment deposited by the Colorado River.
---
Lake Powell is more than just an energy source. It's also one of the largest playgrounds in the Southwest, a hub for water sports, fishermen, and paddlers who explore its hundreds of miles of red-rock coastline. Visitors use the lake to access boat-only attractions like the Hole in the Rock and Rainbow Bridge National Monument.
In fact, Glen Canyon National Recreation Area is one of the most popular national-park sites in the country; with 4.4 million visitors annually, it rivals Yellowstone and Zion. According to a 2019 study conducted by the National Park Service, the tourism and recreation industry in the area supports 5,243 jobs and contributes more than half a billion dollars to the local economy annually.
Businesses that rent and sell houseboats generate a sizable portion of this revenue. These crafts dot the lake by the hundreds every day during the summer. Now simply launching a houseboat into the lake is a challenge. The boat landings used to access the lake were not envisioned for a drought of this magnitude. As of late April, out of more than a dozen boat launches on Lake Powell, just one was open to motorized craft–Wahweap Stateline Auxiliary Launch–according to the Park Service. Closures include the most popular marinas, including Wahweap Launch Ramp in Page, Arizona.
So diminished is Lake Powell that sunken features of Glen Canyon itself, flooded 50 years ago to create the reservoir, are beginning to emerge, with long-inundated mazes of twisting slot canyons slowly becoming accessible to boaters–if they can get their vessels in the water.
---
This week in another unprecedented step, the Interior Department announced that it would hold 480,000 acre-feet in Lake Powell to immediately address the crisis at Glen Canyon Dam. That water was legally bound downstream to Lake Mead. Supporting this move, the Bureau of Reclamation plans to release 500,000 acre-feet from Flaming Gorge Reservoir in Wyoming to Lake Powell. As part of the agreement, Arizona, Nevada, and California will not be penalized if Lake Mead falls below a threshold that would trigger further water-use cuts that were agreed upon in a 2019 drought plan.
But no matter the moves water managers make to refill Powell—whether releasing water from high in the Rockies or holding it back at Glen Canyon Dam—the amount in the river remains the same. Replenishing Powell means taking water from somewhere else in the basin. Water levels in Lake Mead, which is no less important than Powell, will necessarily suffer. Lake Mead was about 30 percent full when this story went to press. At a certain point, shifting water from here to there cannot cover the painful fact that there is too much demand for an increasingly scarce supply.
This uncomfortable reality looms over upcoming negotiations that will determine the management agreement governing the Colorado River. Current guidelines are set to expire in 2026, and a new set must be negotiated. Every major stakeholder on the river will be involved. Agriculture accounts for around 70 percent of the river's total use, with the lion's share of that going to farmland, though this figure fluctuates depending on the region. The negotiation process will include large agricultural users, like the Metropolitan Water District of California and the Central Arizona Project, as well as small rural farming communities that would not exist without the river's water.
In addition to representatives of cities and agricultural interests, federal and state water managers as well as recreational and environmental and business groups will submit comments as part of the process. Thirty southwestern Indigenous nations rely on Colorado River water. And despite the fact that ten tribes hold one-fifth of the river's water rights, as High Country News recently reported, the federal government has habitually ignored or actively repressed sovereign claims from tribal governments and excluded them from negotiations and water-management decisions.
The reservoir is typically low in the spring, before its water level is replenished by snowmelt. But officials don't know how much water will flow in this year.
Cities have not ignored the looming shortage. Las Vegas, Phoenix, and San Diego have been leading water-conservation innovators, dramatically reducing their consumption in recent decades by incentivizing homeowners to cut back on usage and by investing in water recycling and desalination programs. Increasing municipal reuse and desalination technology will be emphasized going forward. In the agriculture sector, incentivizing farmers to voluntarily reduce irrigation, while also attempting to regulate water use, will be significant parts of the negotiation process. Techniques like crop rotations and fallowing fields have become more prevalent.
But long-term planning is often undermined by short-term needs. Fleck, of the University of New Mexico, believes the renegotiation process could be hampered by the immediate need to maintain hydropower at Glen Canyon Dam. This is especially true when it comes to hard decisions about demand management and enforcing water-use cuts to politically influential sectors, like agriculture.
"It's a natural reaction by the human mind," he said, "but we've got a whole bunch of people who should be negotiating the long-term future of the river and are instead caught up in short-term operational stuff."
Fleck is a longtime writer, commentator, and researcher on southwestern water issues. When it comes to the future of the river, he said he's developed the reputation as "the optimist in the room." He has consistently made the case that municipal successes in water conservation, collaborations, good-policy incentives, and innovation would ultimately help fix the persistent problem of too much demand and not enough supply. But the drought, the river's rapidly worsening state, and the inability of stakeholders to cut withdrawals add up to a situation that has him scared.
"Moving water around in useful ways doesn't change the overall problem," Fleck said, "which is that there isn't enough water in the river and the system is collapsing."
Lead Photo: Justin Sullivan/Getty Images