In the Line of Wildfire
Drought and climate change have turned western forests into firebombs that go off every summer. Even with new technology, the essential weapon in the fight against flame are the Hotshots, an elite group of wilderness first responders who head straight for the heat.
Heading out the door? Read this article on the new Outside+ app available now on iOS devices for members! Download the app.
I roll out of my sleeping bag at 5 a.m., waking to the smell of dry grass and woodsmoke. I spent last night in the open, camped on rodeo grounds in the tiny Northern California town of Stonyford. Flames are visible on a ridge half a mile away. Time to go to work.
It's July 12, 2012, and I'm about to be sent to my first forest fire of the season. I arrived yesterday to meet up with the Tahoe Hotshots, an elite group of wilderness fire-fighters based about 120 miles east of here, in a Sierra foothills town called Camptonville. The Tahoe team is part of a sprawling, multifaceted army: 177 federal, state, and county crews who must try and stop a fast-moving, 17,000-acre blaze before it spreads into Stonyford. Known as the Mill Fire, it was started on July 7 by lost hikers and raced east through the Coast Range and the Mendocino National Forest. Drought conditions and 60-mile-per-hour Pacific winds have fueled its advance; already, five buildings have burned on the edge of town.
The U.S. Forest Service, which usually runs the show when a big fire breaks out on federal land, has declared the Mill to be a national priority, and there are 1,500 wildland firefighters from around the West assembled to battle it. Some work on engine crews, manning the trucks that deliver water to the front lines. Others are smoke jumpers, who parachute straight into burning forests from cargo planes to stop small fires from growing. Some, like my group, are hotshots, backcountry firefighters who use chainsaws, Pulaskis, and rakes to cut firebreaks of bare earth around a blaze.
"If I had known about this job years ago, I never would have gone into teaching. This is it. This is all I ever want to do."
At the moment, though, all of us seem to be standing in the same line waiting for coffee and breakfast, which is being served at a mess tent staffed by high school students from inner-city Oakland. I work my way to the front, fill a Styrofoam cup, and head toward a set of rodeo bleachers to meet my boss, Rick Cowell, the 55-year-old superintendent of the Tahoe Hotshots.
"Dickman, you should have been here yesterday!" he says when he sees me. "We had a hell of a shift!"
Back before I had a desk job, I was a full-time hotshot. In 2006, I worked with the Tahoe crew, and this year Cowell agreed to let me rejoin. I arrived here too late for yesterday's action, when the crew cut a line around a spot fire that started after an ember flew over a firebreak.
A six-foot, 170-pound man of Karuk Indian descent, Cowell has a broad chest, a beaked nose, and hands that feel like elephant hide. He's fought nearly 800 blazes in his 36-year career, and his experience and leadership are a big part of why Tahoe is one of the best hotshot crews in the country.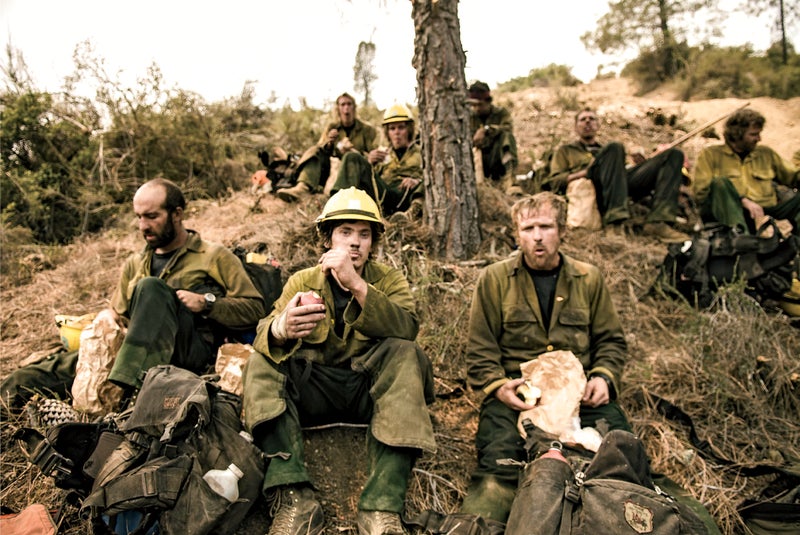 Our job today is to cut and dig a line while engine crews hose down the fire, air tankers dump chemical retardant, and helicopters drop water from above. Once the Mill is surrounded by firebreaks and established logging roads, hotshots will intentionally burn brush and trees inside the perimeter, starving the fire of fuel. The stakes are high. If we succeed the flames stop. If we don't, Stonyford, a town of about 150, and a forest the size of Boston will burn.
I hop in Cowell's Ford pickup and we ride up a dirt road to a campground, the parking spot for two mint green customized trucks known as buggies, which serve as the hotshots' mobile field base. The rear doors fly open, and to the sound of Metallica, the 20 members of the Tahoe Hotshots stream out, ready to work. Dozens of record-setting blazes have been burning in the West for the past couple of months, including the Waldo Canyon Fire, which destroyed 347 homes in Colorado Springs. But so far Tahoe has mainly been holed up in Camptonville. This is their first big fire of the year.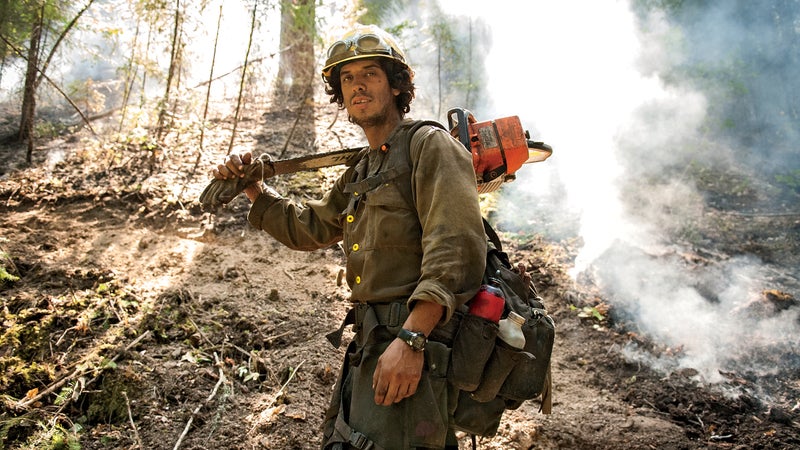 Tirso Rojas, a 35-year-old Apache who had the Tahoe Hotshots logo tattooed on his calf, sits in the shade, sharpening his chainsaw. Alicia Miller, a 25-year-old hotshot from Redding, California, and the only woman on the crew, does the same with her Chingadera, a sort of shovel-hoe hybrid. Nearby, 26-year-old Andrew "Goon" Gruenberg uses a pinecone to scratch a poison oak rash behind his ear. "Hey Alicia," he calls. "Do you think I smell like ammonia because I'm burning muscle and not fat?"
Tony Barbero, a 32-year-old former third-grade teacher from Berkeley, interjects: "No, dipshit. I think it's 'cause you stink."
Before long another supervisor arrives with marching orders: our job will be to improve a five-mile ridgetop firebreak that runs just north of a small creek. The crew piles into the buggies and we head out. Soon we arrive at a brush field where we can see the main fire billowing smoke, still about a half-mile away. A pair of helicopters hover above, dropping 1,000-gallon buckets of water on leaping flames.
"I like it," Cowell says. "I want a 50-foot-wide cut, and I want everybody who isn't running a chainsaw swamping." Hotshots who use chainsaws are called sawyers; a swamper's job is to clear the fuel they cut down. We grab 40-pound backpacks, known as line gear, containing rations, flares, water, gas and oil for the saws, and an emergency fire shelter—an aluminum pup tent you can duck under if flames overtake you.
Rojas and six other sawyers wade into 12-foot brush. I follow them with the other swampers, and we spend the next eight hours tossing poison oak bushes off the ridgeline. The temperature soars to 105 degrees. A rookie hotshot goes down with heat exhaustion and recovers in shade from the thicket. I watch a sawyer slip and drive his chainsaw into his leg, slicing his Kevlar chaps.
That night I feel a poison oak rash forming on my forearms and ears. In the next two days it spreads all over my body, and my legs become so swollen that I can't bend my knees. I don't want to leave until the job is done, but Cowell sends me off the line. "Come back when it's taken care of," he says. I'm disappointed, but it seems like the fire is under control, the action almost over.
Not quite. The next night I fly home to New Mexico. Right around the time a flight attendant hands me a ginger ale, the Mill Fire explodes.
---
I first arrived at the Tahoe Hotshots' base camp on a warm morning last May. Situated at a trailer park called Bullards that overlooks a placid reservoir, the camp consisted of three double-wide trailers, a few rows of pickup trucks, a sand volleyball court, and a large wooden bull's-eye propped up on a picnic table, the target for one of the crew's recreational pastimes: ax throwing. A small group of shirtless hotshots stood outside the office, arguing about the San Francisco Giants' pitching staff.
Cowell's crew hikes at a faster pace than most people jog, all while carrying chainsaws and 40 pounds of gear.
I said hello to a few guys I knew in 2006, including Brad Moschetti, a charismatic 31-year-old from Truckee, California, with curly hair and a linebacker's build, and Rojas, the Apache sawyer. Rojas had been busted five times for DUI and was back with the Tahoe Hotshots after a six-year hiatus. The last time I'd seen him, we were drinking in a South Lake Tahoe casino.
I entered the office, where the guys were lacing up their running shoes for training. One hotshot I didn't recognize, Ryan Emery, had recently joined after quitting a high-paying finance gig. Another former crewmate of mine, Daniel Guerrero, a ninth-year hotshot from Los Angeles who served time for armed robbery in the early 2000s and learned to fight fires on a prison crew, greeted me. "You look fit," he said as I changed into workout clothes. "You ready for this?"
I wasn't sure. I started my fire career as an 18-year-old college student, working on a Forest Service engine crew near Truckee. After putting in four seasons on the engine, I had options: I could transfer to a helicopter crew, whose members rappel into small fires or douse flames from above. Or I could become a hotshot and, eventually, a smoke jumper. Fewer than 300 of the 10,000 firefighters who work for the Forest Service every summer are jumpers, and the majority of them are hired from hotshot crews. I decided to go to work for Cowell.
I loved my time in Tahoe but opted out after one season. I was covered in poison oak rashes for six months out of the year. I had no time alone and punished my body more than ever before, swinging a heavy tool for 16 hours a day. I left the hotshots proud that I'd simply survived.
The hotshot life isn't any easier now, but the people who work for Cowell are drawn to him precisely because he sets high standards and leads by example. His crew hikes at a faster pace than most people jog, all while carrying chainsaws and 40 pounds of gear. There are daily training runs at a demanding clip—no slower than seven minutes per mile.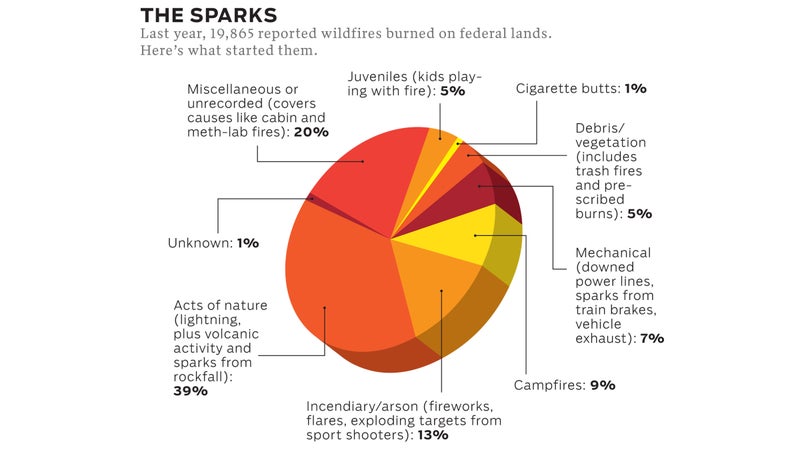 Last February, I wrote Cowell and asked if he would let me sign on as an embedded journalist, promising that I'd be in shape if he agreed. The summer of 2011 had been one of the worst fire seasons in recent memory, with nearly nine million acres burning nationwide. Then, in the winter of 2011–12, a meager western snowpack led to dire forecasts. Experts were warning that the summer might shape up to be the worst fire season in U.S. history. I wanted to get back in the action, to see how a crew of 20 men and women would handle nonstop labor during an extreme summer of smoke.
Cowell welcomed me, but with a caveat: he might have to skip a fire or two to help his wife, Janet, who has been confined to a wheelchair since 2009. "She's my first priority," he told me. The Forest Service was less excited about the idea of me joining up. Unlike the military, the agency sees little benefit in allowing reporters to embed with its crews. It took six months of negotiating before I was green-lighted. The Forest Service's fire and aviation director, Tom Harbour, had to sign off on it personally.
Now it was time to see if I was up to it. I'd spent several months training in the mountains of New Mexico, but nothing can completely prepare you for your first day. When I came out of the double-wide, the guys, shirtless and posturing, were milling around. Some flexed their pecs—left, right, right, left—while others bounced up and down on their toes. Miller, the rookie, was stretching quietly by herself.
Miller said she had come to Tahoe because of Cowell's reputation as "the best in the business." Her husband, Mike Kelly, a full-time crew member, had left for a smoke-jumping job in Idaho a month earlier, and she hadn't seen him since. In her first run with the crew, Miller had finished a distant last. She spent the next month running between three and six miles, twice a day. Now she looked fit and ready, and was regularly keeping up with the rest of the pack.
Cowell emerged from the office with his running shoes on. "Mountain Lion," he said, referring to a tough 3.5-mile run. The crew took off. I picked Barbero as my pacer, because we're both short and stocky. He set a clip for six-minute miles, and I hung with him until the trail jacked up into a 500-foot climb. My pulse redlined. Barbero disappeared. I didn't see him again until the finish line, where he was waiting to slap my hand. I had passed the first test. Now it was time for the rest of the workout: 60 pull-ups, 240 push-ups, 390 sit-ups, and an afternoon spent cutting line. By day's end, I felt poisoned by lactic acid.
---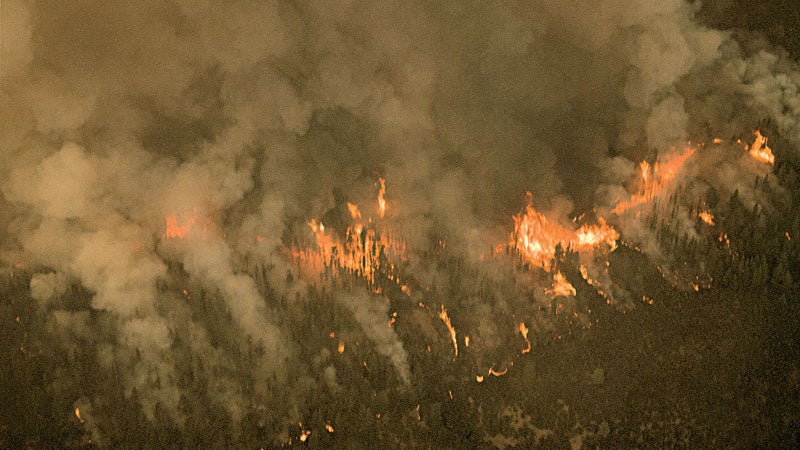 "I like to get up and see the world before it goes to shit," Cowell said. It was a few days later, and we were at his house, a small home on a 13-acre clearing stamped into the pines, half a mile from Bullards. The property was covered with neat vegetable and flower gardens. Cowell sat in his boxers at the kitchen table, drinking coffee and rolling his foot back and forth across an empty spice jar. It relieved his plantar fasciitis, the only lasting injury he's suffered in nearly four decades of firefighting.
Cowell was 19 when he started working for the Forest Service in 1977, six years after his dad was shot and killed in Oakland. When he was 15, his mother married a school administrator, and he and his three sisters were relocated to upper-middle-class Cupertino. After high school, Cowell moved north to Orleans, on the Klamath River, to live with his grandparents and work on a hand crew, the minor leagues for hotshots. He hasn't left the line since. "I found what I loved in hotshotting," he says. "The amount of work 20 people can accomplish—that's a beautiful thing."
In the fall of 1987, Cowell became one of Tahoe's foremen. A year later he married Janet La Hue, a firefighter he'd met on a different crew. For the next two decades, Janet raised their two children while Cowell fought some of the biggest blazes in the West, including Arizona's 1990 Dude Fire, which killed six firefighters. Hotshot life was rowdier back then, with drinking and occasional fistfights. One year, the veterans stuck revved-up chainsaws near the faces of sleeping rookies. (The chains were off, but still.)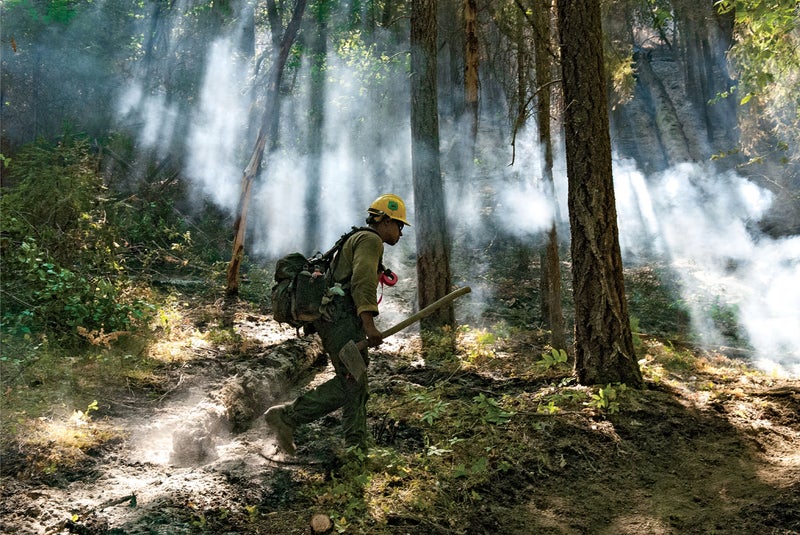 On June 19, 2009, Cowell and Janet were lying in bed when she felt a bolt of pain. An hour later, she was paralyzed from the chest down. She was helicoptered to a specialist in Davis, where her spine was cut open and a blood clot the consistency of Jell-O was dislodged. Doctors said the paralysis might disappear once the clot was removed, but it didn't. Cowell got busy retrofitting their home, expanding the shower and adding ramps and a small elevator to accommodate a wheelchair. He does the driving, the shopping, and most of the cooking. "Things are harder now," he said. "Janet can't do what she used to. I'm not sure we'll ever get used to it."
"I used to eat, drink, and sleep firefighting," he went on. "The reason I do it now is because I want to help young people get where they want to be." Recently, he'd been helping Rojas. During his first stint on the crew, in the early 2000s, Rojas emerged as a natural leader: a gifted sawyer, physically unbreakable, liked by all. But he had a drinking problem, and hotshots can be pretty good enablers. "Those guys could drink until five in the morning, then wake up at six and build line all day," Rojas told me. When we worked together, on the engine crew in 2005, we spent many nights in the bars and casinos near Tahoe. We fell out of touch; he eventually left the Tahoe Hotshots to become a smoke jumper but was cut from the crew when he got tangled up during a practice jump in the third week of tryouts. He got a job hanging electrical wire for $100,000 a year, and with the money came opportunity. "I could afford to drink every night," he told me.
The temperature soars to 105 degrees. A rookie Hotshot goes down with heat exhaustion and recovers in the shade of a thicket.
Rojas bottomed out in 2007, after crashing his truck into a farmer's field in Loyalton, California. When the cops showed up, he was calmly drinking Jack Daniel's from the bottle. He was sent to a maximum-security prison for three years, vowed to never drink again, and was released after 20 months. He's been sober ever since.
The Forest Service frowns on hiring people with DUI convictions, but when Rojas called Cowell for a recommendation to another hotshot crew, Cowell put his own reputation on the line to get the sawyer back to Tahoe. There were no stipulations. "Roe didn't need me to remind him he can't drink," Cowell said. "He needed good people around to help him out."
Cowell got up from the breakfast table and removed a pot of boiling sugar water from the stove. "It's like crack for the hummingbirds," he said. He headed out to fill the feeders, water the garden, and feed the dogs. A half-hour later, he disappeared into the bedroom to help Janet get ready for the day. I headed to Bullards. We caught up later that night, after he'd led our crew in a training session, helped his daughter move, gone grocery shopping, and put Janet to bed. For the first time since I'd met him, his shoulders were slumped. "I need a fire assignment to relax," he said.
---
The night after I leave the Mill Fire, the hotshots begin a controlled burn on the north side of the canyon. But then the winds pick up: 15-mile-per-hour gusts start blowing downhill, threatening to carry the flames onto the canyon's southern slopes. By this point, the fire is at 25,000 acres.
Cowell and Eric Rice, one of Cowell's two foremen, leave the crew to scout a corner of the canyon where the winds are particularly volatile. Above, a helicopter launches napalm-filled pellets into the brushy draw between the road and the main fire, an attempt to coax a fuel burnout before the winds get stronger. Ten engines are parked on the road, ready to hose down any sparks that blow across the stream into the southern side of the canyon.
That's when things go haywire. Around 7:30 p.m., a gust sends the fire down toward the line, blowing burning leaves over the engine crews. Some land on the exposed necks of firefighters, sizzling in their sweat. Others float into the dry chamise thickets at the base of the canyon's southern slopes. A strap of fire begins running up from the creek bed.
Cowell grabs his radio and barks to Moschetti, the other foreman, "Get 'em up, Brad. We're going after the west flank." The spot fire runs from bushes to gray pines: one, two, four acres. In the creek bed, the crew members are boot deep in the stream's tepid water, waiting for three guys from an engine crew to drag a hose up the cut bank that separates them from the flames.
Rojas and a swamper scramble up the cut bank and, with another hotshot crew, use chainsaws to bore a three-foot-wide hole in the brush—just big enough to drag a hose through. The engine crew follows behind, shooting a beam of water over Rojas and into the 15-foot flames roaring ahead. It's steep, 45 degrees in places, and covered with stones the size of a baby's head. Rojas yells "Rock!" when he knocks them loose; they come tumbling down the mountain at the other hotshots, who are widening the break.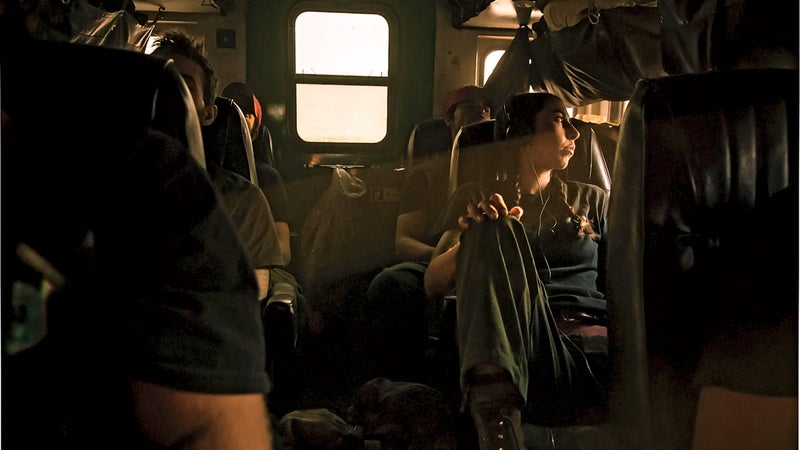 Alicia Miller brings up the rear, using a rake to sweep away the leaves lodged in the scree. Between her and Cowell, who's up front with Rojas and the sawyers, some 40 hotshots and engine-crew members are working on the line at a frantic pace.
At 11 p.m., the crew hooks over the top of the spot and starts building line down the eastern flank and back toward the creek. Rojas is mowing through the brush when a flare-up sends a wash of embers overhead. Behind him, Cowell yells, "RTO! RTO!" It stands for reverse tool order, which basically means get the hell out. The crews power through the brush to the top of the spot, where they pause to catch their breath.
Burning mountains surround them, and Cowell has to make a decision. They either gamble and try to put out the spot fire by building a firebreak directly on its eastern edge, or they back off and take the line up to the ridge top. Option two is safer, but it gives the fire a chance to gain momentum. Cowell sends Rice downhill to scout. The foreman climbs a tree, sees emergency lights flashing 500 feet below, and hears another hotshot crew's saws screaming in the night. The fire looks manageable. "We can do this," Rice radios to Cowell.
"Tirso, you're on," Cowell says to Rojas, who fires up his saw and starts building line downhill. Not long after midnight they finish. The spot's contained, and the Mill Fire won't grow another acre.
---
Over the next two months, the crew fights everything from small wilderness fires near Redding to a 315,000-acre monster called the Rush Fire near the Nevada state line. They see fire whirls in the Great Basin and thunderstorms in the Southwest, and they camp out for a week on an isolated ridgeline in California's Klamath National Forest. By late August, seven million acres have burned nationwide, and the hotshots have seen more fire than any Tahoe crew in a decade. They're living the adrenaline-filled, all-consuming life every wildland firefighter dreams of: 112 hours a week, with hazard, holiday, and overtime pay. The crew members make $3,000 every two weeks, but they have nowhere to spend it. Hotshots measure time in days off, and by late summer they've had just ten of them. "This is the best year we've had in a long, long time," says Cowell.
It takes a toll, though. Every time Guerrero, the hotshot who once worked on an inmate crew, comes home, his two-year-old daughter can say a new word. Cowell is also feeling the pressure. At the end of August, Janet gets sick. While the crew fights the Rush, he spends ten days at home.
After the Rush Fire is over, Miller finally connects with her husband, the Idaho smoke jumper. They have seen each other once since he left in June, but their schedules align when he gets an assignment in Nevada. They spend a weekend yelling, and she ends up telling him she wants a divorce. "I love firefighting, but it's the only thing he ever wants to talk about," Miller tells me later.
I meet up with Tahoe again in mid-September at the Stafford Fire, a blaze outside the tiny town of Hayfork in Northern California. When I arrive, the fire is cold and moving slowly, creeping around rotting logs and duff. There's hardly any danger—it looks like a prescribed burn. Moschetti, the foreman, drives a buggie from our camp through heavily forested mountains where the smoke is draped over the trees like a dense fog. As we approach the line, we drive past cardboard signs that read, Thank You! God Bless Hayfork Firefighters! "Every wildfire is an emergency when it's in your backyard," Moschetti says.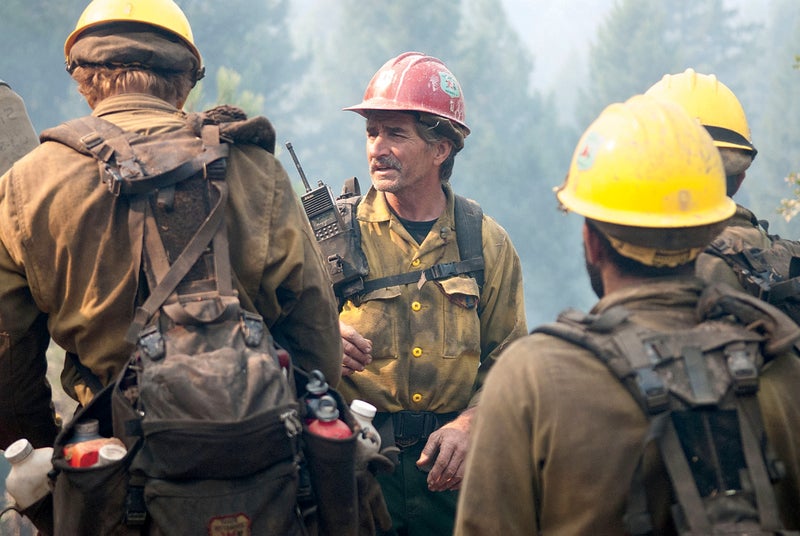 We work a slow line-cutting shift. The next day, with the blaze under control, we're assigned to a new fire that popped up two hours away, across I-5 from Castle Crags State Park. We drive north and head to the line after dark. Cowell loves fighting fire at night. He and I scout the flames while the crew carves a firebreak behind us. At one point, Cowell starts cutting line around a patch of three-inch flames that he wants to keep out of a dense thicket. He asks me to help, and for 20 minutes I swing my Pulaski with all I've got. I sweat through my clothes, and once we've caught the fire, I duck behind a tree and vomit. Cowell tosses me a can of chewing tobacco, as if it's a nausea cure. "Lucky us," he says. "We got the only piece of action tonight."
The fire slows. I leave Cowell, who is putting out a burning tree, and join Miller for an hour. She's been put in charge of a small squad of hotshots improving a section of line by a creek. Now, though, the blaze is mostly out; there isn't much urgency in the work. "The slow shifts are the worst," she tells me later. "It gives you time to think."
Around midnight, I follow the fire's amoebic shape up to a logging deck where it started. Little fingers of orange and black fall in and out of drainages, crackling and popping softly in moss and wet logs. It's like walking around an immense campfire, endless and mesmerizing.
Rojas, Rice, and Barbero unspool coils of hose at the logging deck, and we work until 3 a.m. Eventually, exhausted, I make a pile of burning logs and lie down by the warmth. Rice, Rojas, and Barbero join me, and we fall asleep in the cold ash of the fire. At sunrise it's clear our work is mostly done. What's still burning is well inside the fire line.
"If I had known about this job years ago," Barbero says, "I never would have gone into teaching. This is it. This is all I ever want to do."
---
I return to Bullards one last time on November 1. It's pouring rain. The crew has spent most of October in the Idaho panhandle, fighting one of those mystifying fires that burns even when temperatures are cold enough to freeze the water in hoses. Half the crew will get the flu. By this point, fires haven't been in the news for weeks. The hotshots have been spending their days burning piles of slash they made throughout the summer to clear the forest of extra fuel. People are counting down to the November 3 layoff date for seasonal firefighters—everyone but Cowell, Rice, Moschetti, and a few other full-time staff. They've spent eight months living together, with 104 of those days on the fire line. The proximity has caused tension. Walking into the base, I get the feeling that people just want the season to end.
Rojas is mowing through the brush when a flare-up sends a wash of embers overhead.
I meet everyone in the garage. They're huddled beneath the awning, watching the rain fall, nursing hangovers from the previous night's trip to the Mine Shaft, a Nevada City bar. Barbero curls a barbell and asks, "Who wants to run Rim-to-Rim-to-Rim?" It's a 40-plus mile run that crosses the Grand Canyon twice.
Rojas says he's in. Two years of sobriety have been good to him, and he seems to be in a happier mood than the rest of the group. With Cowell's help, he's been applying to smoke-jumping jobs. Two months from now, he'll be shocked to find out that he's the top candidate at three different jump bases, and he'll accept a job in Grangeville, Idaho. "I'm going to be the best rookie they've ever seen," he tells me later.
Miller looks less excited. She's doing sit-ups on a giant medicine ball, her face drawn. The season, and the dissolution of her marriage, have obviously taken a toll. She thinks about quitting, but she'll eventually sign on as a lead firefighter on a hotshot crew based in Fairbanks, Alaska.
Now Cowell enters in his running shoes. He believes hard workouts cure hangovers. "We're running," he says. The crew races out ahead on Mountain Lion. Cowell and I run together, the ground soggy beneath our feet. After a couple of miles, he starts talking about the inevitable: his retirement. "I know I owe it to Janet," he tells me between breaths. He hates the destruction that fire causes but loves the work and craves the rush of one more ripping blaze. "I want to go out on a good note," he says. We approach the water tower that marks the top of the Mountain Lion climb. Every time he has passed the tower for the past 26 years, Cowell has slapped it. "This run has always been cathartic for me," he says, tapping the wet concrete.
We spend the rest of the day burning piles of slash. That night the Forest Service extends Tahoe for a final assignment to Southern California. It's a babysitting mission. There's no fire; the crew's just going down in case something breaks and the Santa Ana winds pick up. I decide to say goodbye. Early in the morning, as the crew loads in the buggies, I resist the urge to hug Cowell, which feels somehow unjournalistic. I do hug Rojas, though. Then I rush to leave. Lingering stings.
On November 5, Cowell gets his wish. A spark from a utility truck ignites a fire two miles from Tahoe's temporary base on I-15. The Santa Anas whip it into an inferno and blow it parallel to the freeway. Tahoe's the first crew on the scene. I-15 is shut down, and for 11 hours, Tahoe chases the Devore Fire up ridgetops and down drainages. The crew catches it at 350 acres when it runs into an old burn scar. As they hike back to the trucks in the dark, Cowell tells Rice and Moschetti that he's satisfied. "It's time I talk to the crew," he says. The 2012 season hasn't turned out to be the biggest on record, but with 9.3 million acres burned, it's been the third largest.
A couple of days later the fire is mostly out, and the crew is lounging in the shade of a half-burned eucalyptus grove. Rojas snaps photos of a bees' nest, while Miller, Moschetti, and Barbero chew tobacco. Then Cowell calls the crew to him. They circle up tightly.
"Over the past 40 years, I've been to the top of a lot of mountains and the bottom of a lot of valleys," he says. "But this is the last time I'm going to carry this piece of shit." He kicks his backpack. The crew doesn't yet understand where he's going. Cowell takes a moment and tries again. Now his voice cracks. "This is my last fire as a Tahoe Hotshot." Miller and Rice choke back tears. Rojas is shocked silent. Cowell continues, "This is a good thing. Stop looking at me like I'm dying."
The next day, the hotshots drive north back to Bullards in a steady rain to pack up and say goodbye. But when they reach Truckee, it's snowing heavily at Donner Pass, and the buggies can't get through. The hotshots get a hotel and eat at the FiftyFifty Brewing Company. After dinner some firefighters head to bed. Most, though, stay at the bar with Cowell, drinking cheap beer and whiskey shots, clinking their glasses to toast the end of something good as the snow piles up outside.
Kyle Dickman is an Outside Associate Editor.