Live Free or Die
What to do with nearly 42,000 captive mustangs that could be forced off the government dole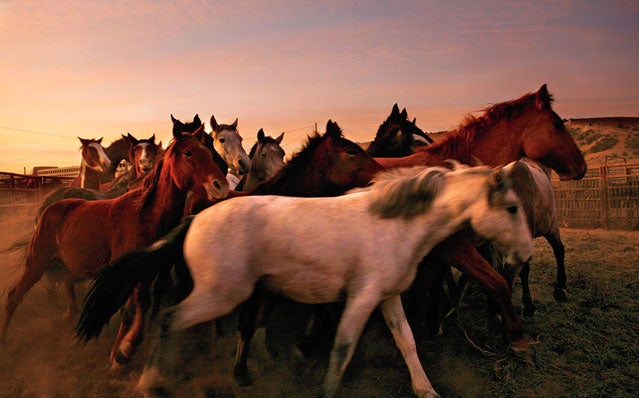 Dana Romanoff/Getty Images
Heading out the door? Read this article on the new Outside+ app available now on iOS devices for members! Download the app.
THE WEST'S WILD HORSES are in trouble. Not because there are too few of the iconic equines, but ­because there are too many—80,200 at last count. Since 2007, when the feds banned commercial horse slaughter, the population of western ferals has exploded. The Bureau of Land Management (BLM), which is charged with managing them, was budgeted $75 million this year, ­mainly to ­corral more than half the population into what amounts to a permanent limbo of ­massive feedlots and fenced pastures.
The BLM has tried everything from sterilizing mares with contraceptive darts to castrating stallions, but nothing has succeeded in reducing their numbers. Now, with federal deficits mounting, the Government Accountability Office has told the agency it must fix the problem: get the population under control and—the larger conundrum—do something with the nearly 42,000 already in captivity. The wild-horse program, which was taken over by longtime mustang advocate Joan Guilfoyle in August, is expected to publish new regulations this fall calling for more contraception and fewer costly roundups, and for paying private citizens to look after captive horses.
Few people think these kinds of incremental changes will work, but one person who's willing to pitch in on the private-­sector side is Madeleine Pickens, wife of billionaire ­finan­cier T. Boone Pickens. In 2010, Pickens bought two ranches in Nevada, where she's attempting to obtain equine grazing rights to more than half a million acres. She's suggested turning the spread into Mustang Monument, a park where visitors can observe horses roaming free on the range, but the BLM has so far balked. "The government in this country is ­busted, and it's got a $75 million horse problem," Pickens says. "The BLM has some­one who wants to work with them and who's got the money to do something, and they continually find a reason not to change."
Trouble is, the BLM believes Pickens's ranch can support only 970 animals, and her proposed annual care price of $500 per horse, which the government would pay, is actually $25 more than it's currently spending.
The issue is particularly contentious because of the abuse the animals have endured over the years. Until President Richard ­Nixon signed legislation to protect them in 1971, mustangs were crammed into railcars and shipped to dog-food plants. To deliver the beasts to their fate alive—­mustangs don't herd like cattle do—wranglers ­handi­capped them by sewing their noses partially shut with thongs of rawhide, cutting ligaments in their knees, and gut-shooting them.
Despite the emotional response mustangs inspire, it's a misconception that these 80,200 steeds descended from Iberians left behind by 16th-century conquistadores—mesteño is Spanish for "stray." As far as the BLM is concerned, even a scraggly 4-H pony turned loose on public land is a mustang. In fact, there are fewer than 1,000 true Spanish mustangs, the most famous of which make up the 167-strong herd living in the Pryor Mountains along the Montana-­Wyoming state line.
One family in particular, the Tilletts, have looked after the Pryor herd over the years. It was Lloyd Tillett who, in 1968, alerted reporter Hope Ryden to the BLM's plan to cull it. "Dad was afraid the BLM would lose all its start," says Lloyd's son Hip Tillett, 53, referring to the animals' bloodline. Lloyd saved a handful of mustangs to preserve the stock, and Ryden's ABC ­Evening News story sparked such an outcry that ­Interior Secretary Stewart Udall called off the cull and set aside the Pryor Mountain Horse Range. Hip Tillett has broken and trained mustangs his entire life.
But when it comes to those 42,000 captives, there are no easy answers. Adoption numbers have steadily declined since 2004, and even Pickens can't afford a seven-figure feed bill. Tillett is among the few people willing to face a harsh reality: we may need to consider reopening the slaughterhouses.
"Dad wouldn't have wanted any kind of bill against the taxpayer about the horses," Tillett says. "I'd much rather see them canned [for pet food] than killed for no reason. There are just too many of them."
Trending on Outside Online