Living in Glacier During a Massive Wildfire
Our writer sent us a dispatch from the frontlines of the blaze, where the air is thick with smoke and the wildlife is taking shelter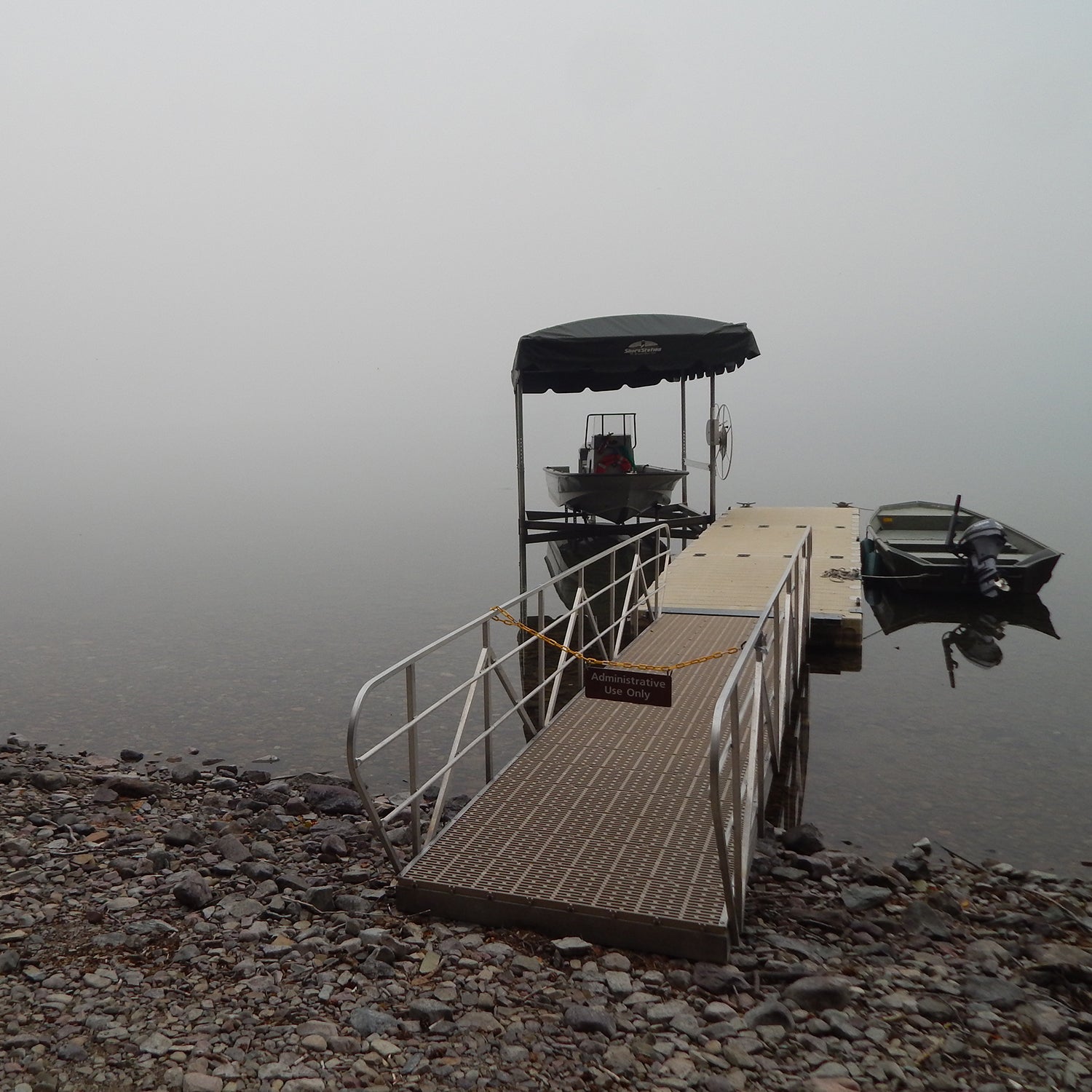 Charlie Ebbers(Photo)
Heading out the door? Read this article on the new Outside+ app available now on iOS devices for members! Download the app.
I've heard that there's no bad day living in the mountains, but living through wildfires in northwest Montana for the past few weeks has made me question if that's true. I live at the Polebridge Ranger Station, inside Glacier National Park, and I work on a trail crew for the National Park Service. Two weeks ago, I drove my visiting family seven miles up the road to Bowman Lake for a day of fishing and paddleboarding. I took photos of my sister out in the middle of the perfectly clear water and pointed out crazy rock formations on Chapman Peak, some 15 miles away. We spent the whole day on the lake's beach while hundreds of other people came and went.
Today, the lakeshore looked like a scene from Cormac McCarthy's The Road. The beach was empty, and I couldn't make out the shoreline more than 250 yards in front of me. My voice sounds like I've been smoking rolled cigarettes late into the evenings, and if I stop and think about it, I notice that my throat burns and I've had a headache the whole day. A heavy, dry, ashy blanket lies over the entire park—smoke that burns my eyes like a green-wood campfire. Yesterday's air quality rating in the nearby town of Columbia Falls, Montana, reached a particulate matter (PM) level of 278, according to the World Air Quality Index Project. That's nearly three times the 100PM level that is considered hazardous to human health. But there's no place to get away from it. About 90 miles south of here, the town of Seeley Lake has had "hazardous" air since August 1 due to wildfires. That's a month of taking in toxic air with every breath.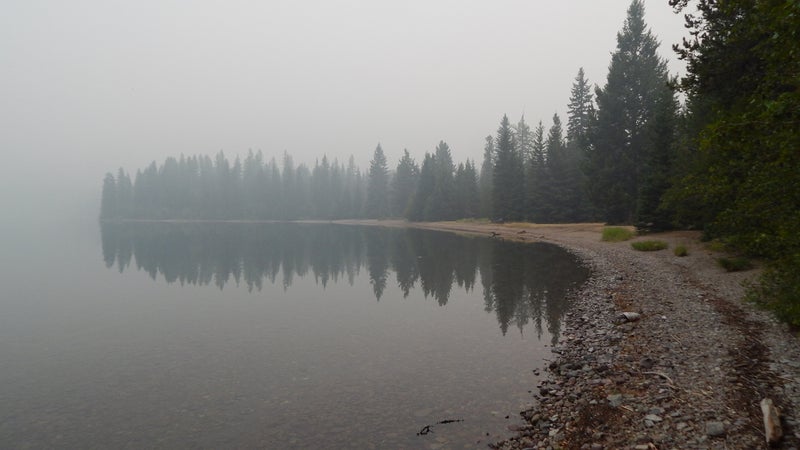 The fires started burning in Glacier in early August. Most sparked on August 10, the night more than 150 lightning-to-land strikes were reported. The fire crews had a quick response and went to work trying to manage everything that was burning across the vast national park. I worked on the beginning of the Sprague Fire. It was just another small-acreage fire when it started—about four acres on day one—but it's since grown to 14,750 acres and even burned down part of the 100-year-old Sperry Chalet. But a tiny spark can set a great forest on fire. 
This summer has been the driest I've seen in eight years of working at the park. It's been drier than my hometown of Albuquerque, New Mexico. August rainfall was recorded at .65 inches compared to the 20-year average of 1.21 inches. Granted, that's still more than August 2003, when we received only .12 inches of rain and suffered the most heinous fire year for Glacier in recent memory.
It's hard to know what's coming next. Our work truck only gets Canadian radio, and I heard one of their wildland fire managers say to CBC that this is the worst wildland fire year in 60 years. British Columbia has more than 140 fires burning, and Alberta has 17. Waterton National Park, Glacier's sister park to the north, shut its doors this week due to the 19,000-acre Kenow fire.
Though I've never seen anything like this, I know these mountains have dealt with it before, and I know there are long-term benefits because of fires. Fires create snag forests that make for unique wildlife habitat. It's nature's burn-and-rebuild model. To live through it, though, is downright oppressive. If the skies were clear, I'd be able to see six fires from my house—some in the park, some in the adjacent national forest, and some on provincial land.
I haven't seen any wildlife in three weeks. Usually this time of year I'd see grizzlies, black bears, and elk. Recently, I've seen just a few tiny black flies. I'm trying to remain optimistic, and I'm trying to trust that these fires are a vital part of the ecosystem. But right now, it's no place for people.
Lead Photo: Charlie Ebbers