The Longest-Range Weather Forecast
Why is Europe dominating the United States in meteorological prognostication? Follow the money.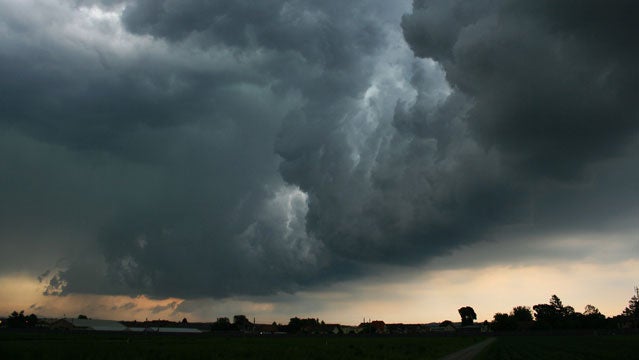 Heading out the door? Read this article on the new Outside+ app available now on iOS devices for members! Download the app.
We've come a long way with the science of weather prediction. A five-day forecast today is as accurate as a one-day forecast was in the 1970s. Heavy snowfall predicted 12 hours in advance back then can now be called five days ahead of time. And the National Oceanic and Atmospheric Administration's margin of error when tracking hurricanes three days out has fallen by 70 percent since 1990. Yet, as Hurricane Sandy starkly highlighted last fall, U.S. government forecasting isn't where it should be.
Seven days before Sandy made landfall, Europe's intergovernmental Centre for Medium-Range Weather Forecasts predicted that the storm would wallop New Jersey with a heavy right hook. National Weather Service models, meanwhile, mostly showed Sandy dancing into the North Atlantic to wither and die. It wasn't until five days before the storm hit that the NWS revised its call.
To understand why the Europeans nailed it first, it helps to know something about weather modeling. Computers predict storm trajectories by breaking down the atmosphere into discrete boxes, which scientists analyze by plugging in values for temperature, humidity, and other variables. The European Centre uses two powerful super-computers (among the 50 fastest in the world) to run simulations with 16-square-kilometer boxes up to ten days out; the NWS uses two wimpier supercomputers (they don't even crack the top 500) to run models with larger boxes—25 square kilometers—up to seven days out, and then 50 square kilometers after that. Imagine the difference in resolution between a hi-def flat-screen TV and an old tube set. 
The main reason for the discrepancy: funding. For two decades, the Europeans have ridden a wave of cash from 34 nations, while the NWS has languished in budgetary doldrums. Put simply, says NWS head Louis Uccellini, "They advanced during the nineties, and we flatlined." What's more, while the NWS disseminates its information for free, in part to assist developing countries that lack access to sophisticated weather data, the European Centre and the UK Met Office, Britain's weather service, charge foreign entities for their forecasts, bringing in revenue. "The richest country in the world can't afford first-class weather prediction? For the cost of one fighter jet?" says Cliff Mass, a professor of atmospheric sciences at the University of Washington. "It's kind of ridiculous."
In the meantime, private companies have ramped up their offerings. While the NWS caps its forecasts at seven days out—when the reliability of its models drops off markedly—commercial outfits are basically unregulated, free to make predictions as far out as they like. Industry titans like the Weather Company (which owns the Weather Channel properties) and AccuWeather—along with start-ups like EarthRisk Technologies, which offers 40-day outlooks to energy-stock traders—often bundle NWS data with forecasts purchased from foreign services. They sell this information to everyone from Lowe's (whose managers must decide when to stock sprinklers) to utility companies (which need to plan for demand spikes in the power grid). It's big business: a 2011 study found that weather variability affects the U.S. economy to the tune of $485 billion annually, and the commercial weather industry is expected to generate more than $3 billion in 2013.
Change is coming, however. In February, Congress approved $25 million in forecasting improvements as part of the Sandy Supplemental Bill, and Uccellini is optimistic that the agency will soon be able to extend high-resolution modeling out to ten days. "We could improve forecasting tomorrow," says Betsy Weatherhead, senior scientist at the University of Colorado, "if we just had more computing power." With an annual budget increase of $200 million, Weatherhead believes, the agency could make more than a decade's worth of improvement, perhaps forecasting at a three-square-mile resolution across the globe.
Until that happens, what's the best source for accurate weather information? That depends on what you're looking for. With so much data widely available, so much money on the table, and so many new technologies, there are now apps and gadgets that spit out hyperlocal powder alerts and allow your camera to sense lightning strikes. So while it's true that our official data may be lacking, as Peter Neilly, senior VP of global forecasting for the Weather Company, points out, "It's pretty hard to find such a rich availability of weather information in any other nation in the world."
Trending on Outside Online