A Montana Judge Just Ruled in Favor of 16 Young Climate Activists
The ruling says the state has an obligation to provide residents with "a clean and healthful environment"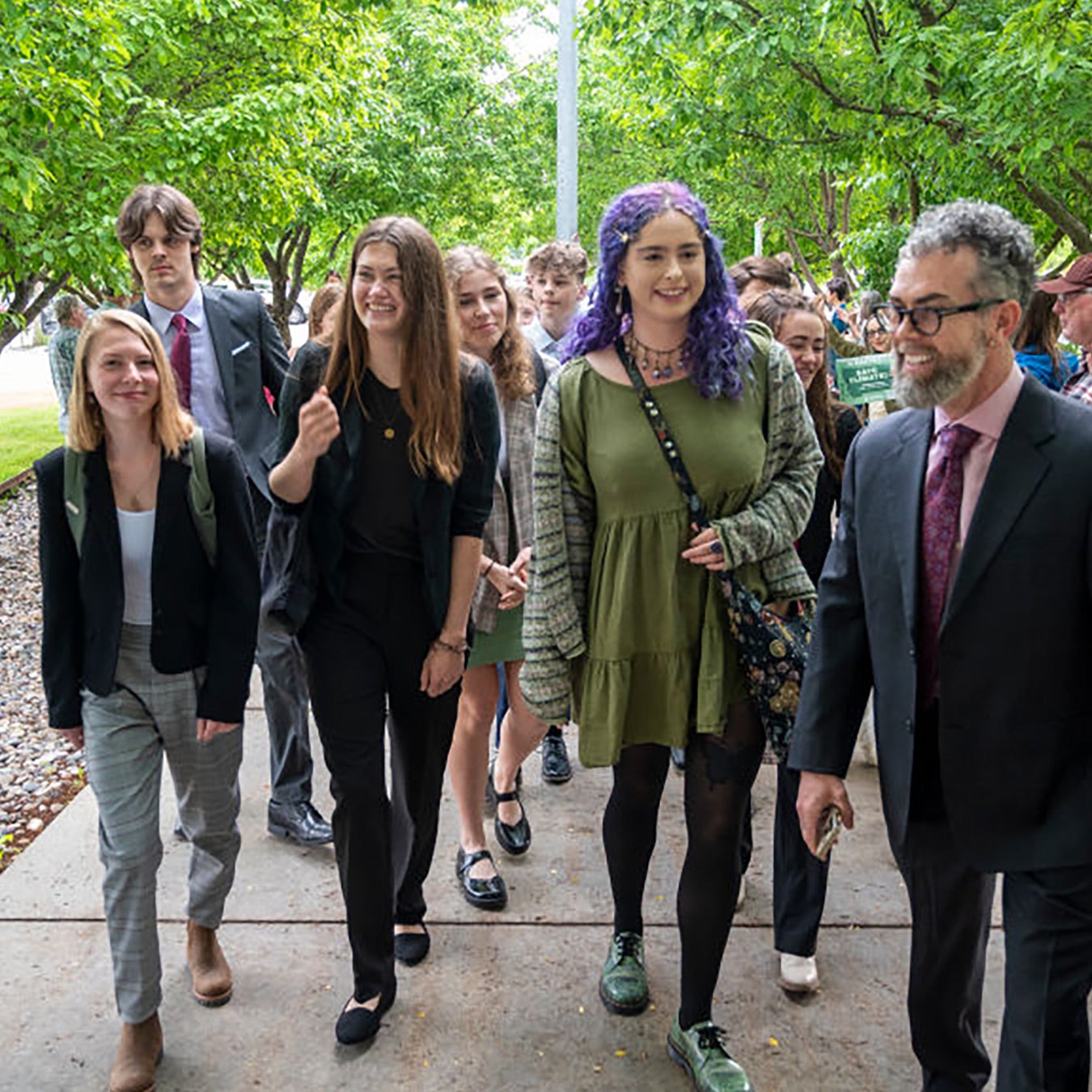 William Campbell / Getty Images
Heading out the door? Read this article on the new Outside+ app available now on iOS devices for members! Download the app.
The Montana kids battling climate change in the courts have won—for now.
On Monday, a state district judge sided with 16 young environmental activists—aged five to 22—who had filed suit in 2020 alleging that the state violated their rights by promoting fossil fuels in its energy policy and by approving projects that produce greenhouse gases. Montana's state constitution includes a clause guaranteeing citizens the right to "a clean and healthful environment," and the plaintiffs argued that Montana's development of greenhouse gas-emitting energy violated that right.
During a trial in June, attorneys for the 16 plaintiffs argued that the affects of climate change—hotter temperatures, more prevalent wildfires, and drought—were harming young people's physical and mental health. District court judge Kathy Seeley agreed with them in her 103-page ruling on Monday.
"Plaintiffs have a fundamental constitutional right to a clean and healthful environment, which includes climate as part of the environmental life support system," Seeley wrote.
Seeley also ruled that a new state law prohibiting state agencies from considering climate impacts when deciding on large-scale projects like coal mines and power plants was unconstitutional. The law, called the Revise Environmental Policy Act, was signed by Montana Governor Greg Gianforte in May.
"Montana's emissions and climate change have been proven to be a substantial factor in causing climate impacts to Montana's environment and harm and injury," Seeley wrote.
Lawyers for the 16 plaintiffs hailed the ruling after Judge Seeley published the decision. "This is a huge win for Montana, for youth, for democracy, and for our climate," said Julia Olson, executive director of Our Children's Trust, one of the environmental groups that backed the case. "More rulings like this will certainly come."
The lawsuit, called Held v. State of Montana, garnered international attention due to the young age of the plaintiffs. Other groups of youngsters have filed similar lawsuits in other states, but the Montana suit was the first to go to trial. The complaint was originally filed in March 2020 by the environmental groups Our Children's Trust and the Western Environmental Law Center. After its filing, attorneys from the state of Montana submitted motions to dismiss the case outright. But in 2021 a district court brushed aside those filings, clearing the way for the case to proceed.
During the trial, attorneys for the plaintiffs called on climate change experts who argued that greenhouse gas emissions are causing health and environmental problems across the globe. Some of the plaintiffs also told the court how they were seeing the impacts of climate change at home in Montana.
Rikki Held, 22, said that extreme weather has hurt her family's ranch. Another plaintiff, who is 15, said he felt like "a prisoner in my own home" when his town was engulfed by wildfire smoke.
Earlier this year, one plaintiff, Grace Gibson-Syner, told Outside why she decided to add her name to the lawsuit. Gibson-Snyder, 19, who lives in Missoula, said the the impacts of climate change were affecting her daily life. During a senior trip to Glacier National Park, she and friends gazed out at the receding patches of ice. Her summertime soccer season was derailed by smoke from nearby wildfires.
"We had a lot of practices and some games canceled," she told Outside. "It's so unpleasant to try to play soccer in the smoke. It settles in your lungs. It's like breathing tar. Your nose, your mouth, and your eyes get itchy."
Attorneys for the state began and rested their case in just one day—they did not argue against climate change, but instead said that Montana's contribution to global greenhouse gas emissions is tiny when compared to that of other nations. Changing Montana's laws would have "no meaningful impact or appreciable effect" on climate, said Michael Russell, a Montana Assistant Attorney General.
Michael Gerrard, founder of Columbia University's Sabin Center for Climate Change Law, told The Washington Post that the state's defense strategy was a surprise. "Everyone expected them to put on a more vigorous defense," he said. "And they may have concluded that the underlying science of climate change was so strong that they didn't want to contest it."
After Monday's ruling, Emily Flower, a spokesperson for the Montana Attorney General's office, called the decision "absurd."
"[It's] not surprising from a judge who let the plaintiffs' attorneys put on a weeklong taxpayer-funded publicity stunt that was supposed to be a trial," Flower said. "Their same legal theory has been thrown out of federal court and courts in more than a dozen states. The State will appeal."
The ruling was hailed as a landmark decision by environmental groups on Monday, but whether it will influence other climate litigation is yet to be seen. Currently, Our Children's Trust has similar pending lawsuits in four other states, and this year, a judge in Oregon ruled that a similar lawsuit could proceed to trial. The group's 2015 case, Juliana vs. the United States, is also moving toward a potential trial.
Lead Photo: William Campbell / Getty Images