"My Office Is the Grand Canyon. Mic Drop."
Elk sightings and waterfall hikes are all part of a day's work for Grand Canyon park ranger Perri Spreiser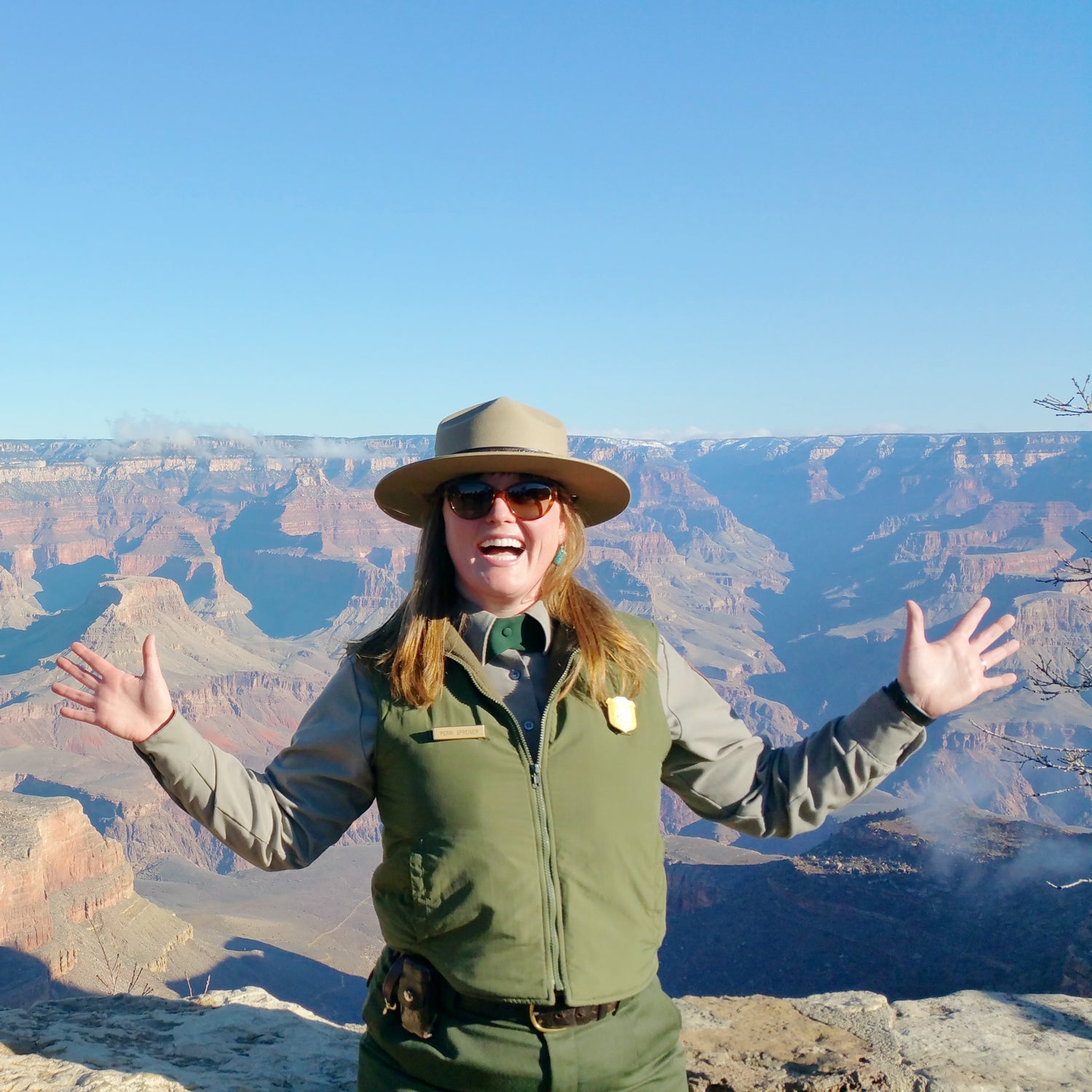 Heading out the door? Read this article on the new Outside+ app available now on iOS devices for members! Download the app.
Perri Spreiser worked her way from ecology-loving first-grader to park ranger at the Grand Canyon. But there's more to being a ranger than trekking one of the most iconic natural wonders in the world, especially since the national park surpassed a record-breaking 6 million visitors in 2016. We talked to Spreiser about hidden side canyons, clueless visitors, and the job perk known as informal roving.
Age: 28
Hometown: Tucson, Arizona
Day Job: Park ranger at Grand Canyon National Park
Where She's Worked: Coronado National Forest, Arizona; Katmai National Park and Preserve, Alaska; Coronado National Memorial, Arizona; Chiricahua National Monument, Arizona; Fort Bowie National Historic Site, Arizona; North Rim, South Rim, and Phantom Ranch at Grand Canyon National Park, Arizona.
Work Hours: Spreiser works nine hours a day; every other week is a four-day workweek.
Credentials: Wilderness emergency medical technician; Leave No Trace trainer; certified in search and rescue; certified paddle boat instructor​; degrees in ecosystems of the Southwest and parks and recreation management, plus a partial degree in park protection and forestry from Northern Arizona University.
On Choosing to Be a Park Ranger: "I give a lot of credit to my first-grade teacher, who noticed that I wasn't the average kid. Instead of trying to mold me to be like everyone else, she embraced my differences—like how I had a full entomology lab set up in my bedroom. Then, in high school, I took a field studies course with river rafting, rock climbing, hydrology, ecosystems. That was the first time I realized I could do something like this forever. When I realized a park ranger was a real thing, it was the only thing I ever wanted to do and be."
On Choosing Arizona's Parks: "I was born and raised in Tucson, Arizona, and actually joined the Park Service to get out of state. I lived in Alaska for two years after school while working at Katmai National Park and Preserve, but then I was drawn back in. Arizona has a lot of national park sites, and I've worked at quite a few of them, from southern Arizona all the way up to the Grand Canyon. It's where my heart is. I love the West—the geology here is incredible."
The Daily Grind: "There's no such thing as an average day. One of my responsibilities is informal roving, which is talking to people at the edge of the canyon and answering any questions that they may have…It's the catchall for visitors. I love when I get to go roving.
"My other duties include cleaning the geology museum and restocking. I give a variety of different park programs, including critter chats; fossil walks; and talks about geology, the Kolb Studio building, and the California Condor. I am on the Employee Safety, Health, and Wellness Committee. I am in charge of park publication distribution. I assist with the building operations and maintenance of the Grand Canyon Visitor Center. I work as a park emergency medical technician. There is never a time when I'm wondering what I should do to fill my day!"
"If people are pushing me for 'secret spots,' I usually resist sharing—those are not the folks I want sitting next to me as I watch the sunset."
Best Parts of the Job: "My office is the Grand Canyon. Mic drop.
"Anytime I'm in the canyon, I'm a happy camper. Swimming in the Colorado River is deadly [due to the current], so I choose the side canyons to swim in. In those small riparian areas, so much life is packed in to utilize that precious water resource. I love geology, so watching how the water not only carves but builds is incredible."
Worst Parts of the Job: "The most challenging part of my job is working the visitor center desk. I like it because that's where you interface with the most people, but there are days when there's not much for people to do and you get the same question 3,000 times a day. You have to answer it with a smile every single time.
"Even though I'm a permanent [employee] now, I wish that more people understood how hard it is to be a seasonal park ranger. As a seasonal, you're not legally allowed to work full-time for more than six months. After that, you have about 24 hours to pick up and move. That being said, as a seasonal in between jobs, you have the opportunity to go camping and hiking for months at a time before going back to work. [It's possible for rangers to return to the same park after such a break.] The seasonal lifestyle is incredibly challenging, but it's also the most rewarding thing you can imagine."
Minimizing Desk Time: "I have an office desk where I spend between zero and six hours per day doing publication work; Employee Safety, Health, and Wellness Committee proposals; writing programs; researching; or working on the Grand Canyon Facebook page. The other desk is at the visitor center, where I can spend between zero and 4.5 hours per day. That desk is simply answering questions from visitors, or if there is a medical emergency—since I'm one of the park EMTs—I help with that.
"If work needs to be done, then I sit down and crank it out. But thankfully I have open sections of my day where I'm not required to be anywhere specific, so if I begin to go office-crazy, I go for a walk along the rim to rove. My job is very fun. I don't have a lot of paperwork."
Even Rangers Use Calendars: "Our day is broken up into 1.5-hour blocks, and if there's not something specific in those time frames, then it's up to me to do what I need to do. If I need or want to do extra reading, I'll take that home with me. But my projects stay at work."
"When people climb over the railing to get closer to the edge or jump a gap in the rocks to get farther out, I've had responses like, 'Oh, I'm a rock climber.' I don't care, and neither does erosion."
Free Time: "I try to go exploring and camping or backpacking in the canyon. Sometimes people are surprised by that. They'll ask, 'You camp for a living. Why are you camping more?' Everyone has an activity that helps them recover and relieve stress, and even though I have what I consider a vacation life, hiking and camping still help me unwind."
Following Orders: "My supervisor told me there's no place like this in the entire world, and not many people get the opportunity to work here, so I should explore every single day. I said, 'Yes, boss!'"
Tourists' Worst Habits: "Visitors will ask, 'Where are the rides? Where are the ziplines and water parks?' I always ask people to remember to bring their brains on vacation.
"People also stop on the highway to approach elk, which is illegal for many reasons. They see this amazing animal and their first thought is, 'Get out of the car and take a picture.' Fortunately you see just as many people helping us out, saying, 'Get back in your car. Don't approach the wildlife!' In the parks I've worked in that are wildlife heavy, like the Grand Canyon, the elk are human-habituated. But just because an animal seems OK with your presence, they can change their behavior like a light switch and become dangerous. This is not their fault if you have entered their personal space."
Visitors' Worst Habits: "It's always concerning to me when people climb over the railing to get closer to the edge or jump a gap in the rocks to get farther out. I've spoken to people once they get back and had responses like, 'Oh, I'm a rock climber,' 'I hike a lot,' or 'I run marathons.' Those are all great things, but I don't care, and neither does erosion."
How to Talk to Your Ranger: "I may share a few 'secrets' with you if you're going to be here for a while and if you obviously care about the park—if you're a cool person! All of our 'secret spots' are still public. You just need to be adventurous and go seek them out. But if people are pushing me or specifically wanting to know, I usually resist sharing—those are not the folks I want sitting next to me as I watch the sunset."
Lead Photo: Courtesy of Perri Spreiser