NASA's 5 Favorite Photos of Extreme Weather
Heading out the door? Read this article on the new Outside+ app available now on iOS devices for members! Download the app.
On May 30, 2012, at 3:00 P.M. MST, a series of thunderstorms formed over central and south central Kansas. They dropped golf ball-sized hail before lining up into a dark vanguard that barraged the countryside ahead with 70 mile per hour winds. News of the derecho—a long-lived line of fast moving thunderstorms with winds of more than 58 mph—led Brian Johnson to grab his camera and venture out to an open field where he had photographed lightning the previous night.
The amateur photographer chases big storms for a series of local radio stations. He fell in love with the behemoths at the age of seven, after witnessing the fury of a tornado up close. "My father still regrets saying the words 'Look at that,'" said Johnson. "Remember, if
you take a frightened child out into a storm to show them how beautiful
nature's fury can be, they may turn out like me."
Johnson's photo was one of five winners selected for NASA's Global Precipitation Management Extreme Weather Photo Competition. The agency's Global Precipitation Management satellite captures data about rainfall and snowfall from space. Read on for the stories behind the space agency's favorite images, filed by people shooting in the storms' paths. 

"Storms Stitch 1," May 30, 2012; Kechi, Kansas Photo: Brian Johnson
"As a large squall line moved through the area. The National Weather
Service had warned about a large scale Derecho forming and moving
through. This spawned a couple brief severe thunderstorms that dumped
hail on rush hour traffic before the main line moved in. As the bigger
storm moved into the Wichita area, reports were coming in of 70 mph
winds and hail. There is an open farm field roughly two miles from my
house that I shot lightning on the previous night. I sat there for
about 20 minutes before this large squall line pushed through the
clouds. I was hit with a pretty good gust front as it got closer, but
as the winds increased, I decided to get to shelter. This photo was one
of the last ones I took. This story and others are available at www.ruminationofthunder.com and this specific story is at http://www.ruminationofthunder.com/2012_05_01_archive.html."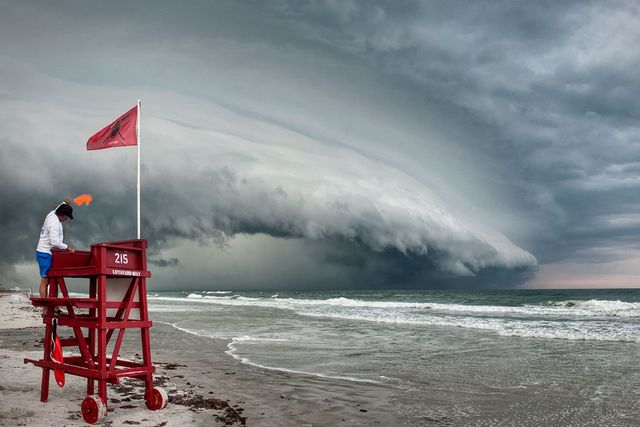 "Ormond Shelf," May 15, 2012; Ormon Beach, Florida Photo: Jason Weingart
"I'm a photography student at the University of Central Florida. I
began chasing storms a little over three years ago. This day started out
like many other days. I was out on a storm west of the coast,
photographing it even as the National Weather Service issued a severe
warning. The NWS lifted the warning, but I decided to stick with it as
it moved to the coast. Just as it started to move offshore to the east,
it made a turn to the south.
I have shot many storms from the same spot this photo was taken, and I
almost drove by to get a different vantage point, but something told me
to just stop at my spot. I jumped out of my car and ran down to the
beach. To my surprise, there were still several beach-goers taking in
the sight of this massive shelf cloud, as well as a few surfers in the
water, trying to catch one last wave. Of course, there was a Volusia
County lifeguard standing there watching over everyone. I walked down to
the water and took some shots, always keeping an eye on the lifeguard.
As the shelf cloud approached, I swung back behind the guard tower,
waited for him to climb up it and signal to the surfers to exit the
water. I took several shots, then hopped back in my car and tried to
stay south of the storm.
The storm actually pushed back on shore as it moved south, and then
became strong enough for tornado warnings on three separate occasions. I
saw a large wall cloud, another spectacular shelf cloud, and some very
tight rotation in the couple hours I stuck with the storm after I left
the beach in Ormond. Had I known what I already shot there, I probably
wouldn't have even bothered. Definitely my signature shot of the year."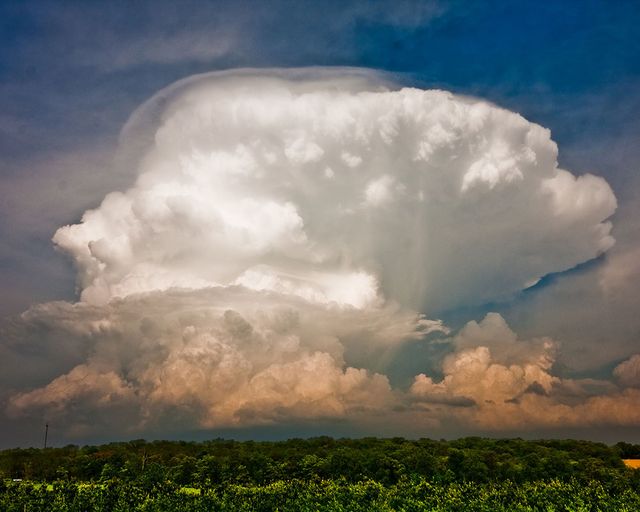 "Thunderstorm," May 22, 2011; Dane County, Wisconsin Photo: Grant W. Petty
"I was out on a farm with a photography club for the purpose of
photographing farm life — animals, barns, etc. I saw this impressive
thunderstorm building several miles to the east of where we were and
ended up focusing on that while the others in the group continued to
follow the goats and horses around. This is one of many examples of how a
completely unplanned photo wound up being among my best photos.
The storm cell dropped 1-3/4 inch hail near Sun Prairie. Fall streaks
barely visible under the right side of the anvil may in fact be the
falling hail."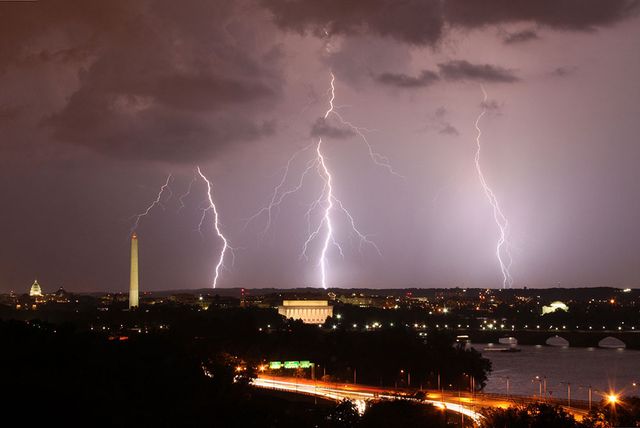 "Three Bolts," September 1, 2012; Arlington, Virginia looking towards Washington D.C. Photo: Brian Allen
"This photo was taken on September 1, 2012 in Rosslyn, Arlington, VA, US, using a Canon EOS REBEL T1i camera. Unfortunately, not a terribly cool story—I just happen to have an
apartment with an amazing view of the city. The storm that blew through
started off with an incredible amount of lightning and then dumped a
significant amount of rain in a short amount of time—on the other
side of the river. DC got drenched and Arlington didn't see a drop."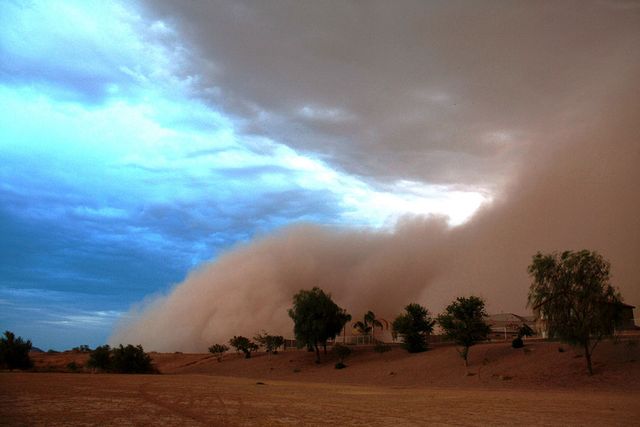 "Wall of Dust," July 5, 2011; Maricopa, Arizona Photo: Meggan Wood
"This photo was taken in a wash that runs through my neighborhood in
Maricopa, AZ. The wash runs north/south through the neighborhood and the
haboob (type of intense dust storm) was rolling in from the east. It was taken on 7/5/11 in the afternoon, not long before sunset. I saw the wall of dust coming and quickly drove to the wash to get a
good wide-open view of the height of the dust looming over the houses. I
barely had time to get back to my car before it hit and I was engulfed!
The darkness was surprising but it only lasted about 10-15 minutes
before it thinned out enough to where I could drive back home, only
about 2 minutes away. This was the giant haboob that made national news
when it rolled through and entirely covered all of Phoenix and some
surrounding cities (more information: http://www.nytimes.com/2011/07/07/us/07dust.html). Maricopa is about a half-hour drive south of the Phoenix Sky Harbor airport."
To view all of the submissions, check out NASA's GPM Extreme Weather Photo Contest on Flickr.
—Joe Spring
@joespring
facebook.com/joespring.1
Trending on Outside Online