Norfolk: A Sinking City
After Sandy, attention turned to fortifying New York City. But another location on the eastern seaboard faces a more immediate threat.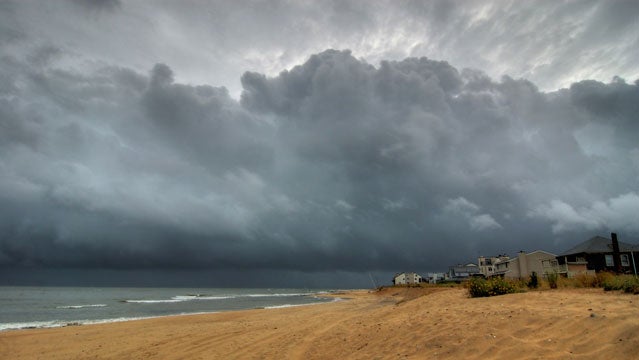 Heading out the door? Read this article on the new Outside+ app available now on iOS devices for members! Download the app.
Norfolk, Virginia, sits in a precarious spot. Sea levels around the city of 243,000, home to the country's largest naval base, are rising faster than elsewhere on the East Coast. Tide gauges show an increase of 14.5 inches between 1930 and 2010—New York's was nine inches—and one study predicts that sea levels there will rise 18 inches in the next 20 to 50 years.
The reasons are complicated. First, the city is sinking. It was built on a marshy depression left by a 35-million-year-old meteor impact, in an area where the earth's crust is still settling after Ice Age glaciation. Second, due to a slowing Gulf Stream, which pulls water away from the coast, the ocean around Norfolk is rising faster than in other spots. The city now sees 250 hours of flooding annually, compared with 25 in the 1930s. Two recent hurricanes—Isabel in 2003 and Irene in 2011—led to more than six feet of floodwater, and a Category 3 storm could inundate the city.
In 2008, Norfolk hired the Dutch engineering firm Fugro to assess the threat. A 122-acre area of downtown is already protected by a half-mile-long floodwall, with two tide gates and a pump station for draining runoff. Fugro recommended an extensive additional network of floodgates, walls, berms, and pumping stations. Estimated cost: $1 billion.
The price, say civic leaders, is modest when you consider the billions in potential damage from a Category 3 hit. Still, the federal government would need to shoulder between 75 and 90 percent of the bill. City officials hope for federal approval by 2016. In the meantime, they're beating a drum for prevention, hoping their voices will be heard before the big one hits.
Trending on Outside Online