Moving Outdoor Retailer Isn't About Politics. It's About Money.
The company that runs the industry's largest trade show is listening, but more brands need to speak up if they really want to make Utah feel the hurt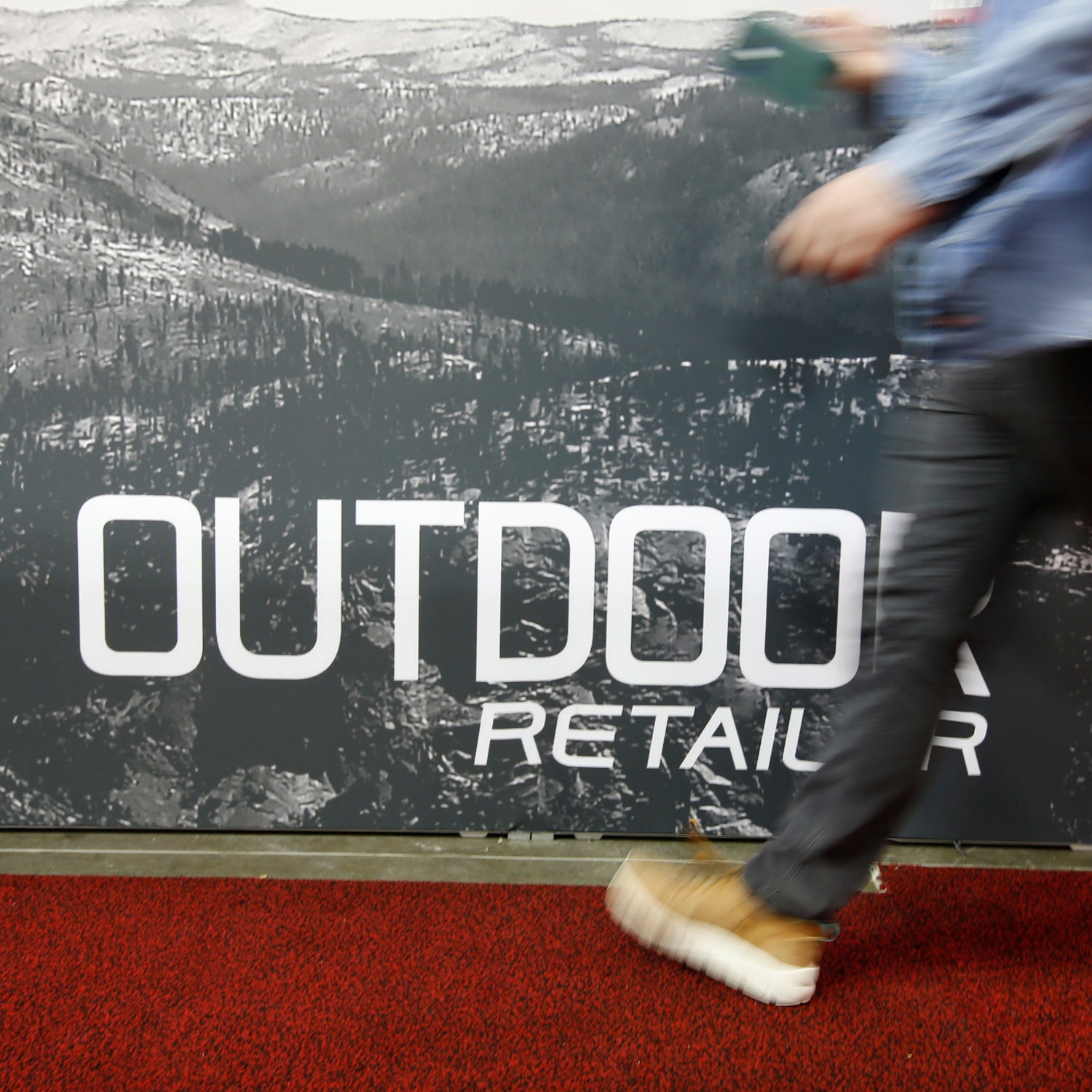 George Frey/Getty(Photo)
Heading out the door? Read this article on the new Outside+ app available now on iOS devices for members! Download the app.
On Tuesday, Patagonia sent shock waves through the outdoor industry when the company announced it would no longer attend the biannual Outdoor Retailer trade show if it was held in Salt Lake City. OR, as it's known, has long been the outdoor industry's largest core gathering—a place to show off the hottest new gear, build buzz, and codify trends. Each summer and winter, 20,000 people pour into Salt Lake City and the adjacent Wasatch Range for the show. Suddenly this week, however, that relationship is in jeopardy, as a growing number of brands are unhappy for one simple reason: Utah's desire to remove public lands from federal management.
Utah is a leader in the movement to transfer federal lands to the states, which concerns adventurers and sportsmen who believe those lands will be compromised or sold off entirely to development. In late January, Utah Representative Jason Chaffetz introduced one bill that would eliminate law enforcement within the U.S. Forest Service and the Bureau of Land Management and another directing the U.S. Department of the Interior to sell 3.37 million acres of federal land to the states. (Chaffetz agreed to withdraw the latter bill after considerable public outcry, though he has yet to do so.) Then, on Friday, February 3, Utah Governor Gary Herbert urged the Trump administration to revoke the recently designated Bears Ears National Monument in southern Utah.
Patagonia's response was unambiguous. "Utah Gov. Gary Herbert signed a resolution urging the Trump administration to rescind the Bears Ears National Monument, making it clear that he and other Utah elected officials do not support public lands conservation nor do they value the economic benefits that the outdoor recreation industry brings to their state," wrote Rose Marcario, CEO of Patagonia, on Tuesday. "Because of the hostile environment they have created and their blatant disregard for Bears Ears National Monument and other public lands, the backbone of our business, Patagonia will no longer attend the Outdoor Retailer show in Utah and we are confident other outdoor manufacturers and retailers will join us in moving our investment to a state that values our industry and promotes public lands conservation."
In January, mid-sized Utah-based apparel maker Kuhl said it would pull out of the show if Utah didn't change its stance on public lands. Many expect Salt Lake–based Black Diamond to follow suit because of the strong public lands activism of former CEO Peter Metcalf. "Utah is the birther state of the most anti-stewardship, anti-public lands policy in the country," Metcalf told the Denver Post last week before heading out on a backcountry vacation. "If we can't affect policy by staying, then the next step is leaving."
More surprising is the stance of the Outdoor Retailer show itself, which brings an estimated $45 million to the city each year. On Monday, Outdoor Retailer director Marisa Nicholson wrote, "We've been listening to the concerns from the industry and agree that it is time to explore our options. Salt Lake City has been an incredible home to Outdoor Retailer for the past 20 years, and we aren't opposed to staying, but we need to do what's best for the industry and for the business of outdoor retail."
Note that word: business. Emerald Expositions is a corporation that owns Outdoor Retailer and more than 60 other trade shows in sectors including technology, health care, and military. That's the strength of Patagonia's announcement—the move doesn't hurt Utah nearly as much as it does Emerald, to which Patagonia pays several hundred thousand dollars in booth fees each time it shows up.
Emerald's contract with the Salt Lake City Convention and Visitors Bureau runs out in 2018, and threatening to depart for a city like Denver could be used as leverage. Emerald, however, denies that it would exploit a sensitive political issue for financial gain. "We put political considerations ahead of our bottom line," says Darrell Denny, who heads Emerald's sports trade shows, including OR, Surf Expo, and Interbike, the bicycle trade show, and who also sits on the board of the Outdoor Industry Association. "We have frequently made decisions that are detrimental to our company bottom line and, instead, put greater industry needs first."
On the other hand, Colorado has been courting Outdoor Retailer since 2010, eager to spread that $45 million economic impact over the Front Range. "Four years ago, we didn't have the facilities to host Outdoor Retailer, but that has changed now," says Luis Benitez, director of Colorado's Outdoor Recreation Industry Office. (It doesn't hurt that Colorado Governor John Hickenlooper has launched a $100 million plan to develop trails across the state and has said that the country needs more public land, not less.)
Denver already hosts OR's primary competitor, the nonprofit Snowsports Industry America (SIA) Snow Show. "It's great to partner with a state that cares so much for recreation and the outdoors," says SIA president Nick Sargent, who says that he'd even welcome negotiating a consolidation with OR, especially if it means doing the right thing by environmental and public lands policy. "We'd welcome a partnership with OR. Our entire industry needs to work together to make sure we thrive."
The real test of Emerald's commitment to the issue may be Interbike. The bicycle industry's premiere trade show is held annually in Las Vegas. That contract expires in 2018 as well, and Emerald is considering moving it to a new location. The company says it is accepting proposals from several cities and has no leading candidates. But sources I talked to said that Emerald prefers Salt Lake City for both OR and Interbike because it's closer to the mountains and because it's a right-to-work state, meaning it has lower labor costs, and therefore lower costs for exhibitors. (Denny was emphatic that lower labor costs would not improve Emerald's profit margins.) 
The question: If Salt Lake City gives Emerald the best deal, will it chose Utah despite its policies? Companies hope not. "I'd have a hard time supporting Interbike in Utah with their current stance on public lands," says Chris Conroy, president of Yeti Cycles. "The outdoor industry is a $646 billion industry, and public lands are an essential component of that. We should be fighting to maintain that."
For now, Emerald isn't quite ready to leave the state over its policies. "I retain some hope that Utah leaders will recognize that outdoor recreation in all its forms is more durable, repeatable, and bankable than other options," says Denny. "We will see if they prove my optimism was ill placed." If it is, it will be up to companies to remember that money talks—and that a significant part of Emerald's revenues comes from the brands who pay to be there. On that front, Patagonia has already taken the lead by putting pressure on the company that ultimately decides where the trade show is held. It's up to other brands to follow suit.
Update (February 9, 2017): Several other companies have now boycotted the Outdoor Retailer show in Salt Lake City. Arc'teryx is the largest company to join Patagonia in their boycott. "The Outdoor Industry has an obligation to protect the wild places that are important to our consumers," wrote company president Jon Hoerauf. "Since 2014, we've been part of the efforts to protect Bears Ears, supporting local grassroots organizations working on a legislated solution. Protecting public lands for future generations is a critical part of our brand values and we will use our influence in a way that is consistent with those values." He went on to say that he'd be joining 21 other Outdoor Alliance members in Washington, D.C. on March 6 to meet with Congress and the new administration, and will be donating $150,000 to the Conservation Alliance over the next three years. Earlier in the day, pack maker Peak Design and lighting maker Power Practical all announced they'd be joining the effort to pressure Utah away from hurtful policies towards public lands.
Update (February 17, 2017): On Thursday, February 16, Emerald Expositions said it would not accept a proposal from Utah to continue hosting Outdoor retailer. Utah governor Gary Herbert's office responded that the decision "smacks of gross ingratitude," according to the Deseret News. It is not yet clear where the next OR will take place, or whether a new location will be selected in time for the previously scheduled summer version of the event, which typically takes place twice each year. Already organizations and politicians in Colorado, Washington, and New Mexico have been working to convince the trade show to move to their respective states.
Corrections:
(09/21/2023) This story originally stated that Kuhl would pull out of OR if Patagonia did; in fact, it will pull out if Utah doesn't stop fighting public lands protections.
Lead Photo: George Frey/Getty