Patagonia Endorses Tester and Rosen
In what might be a first for any American company, the clothing brand has endorsed two Senate candidates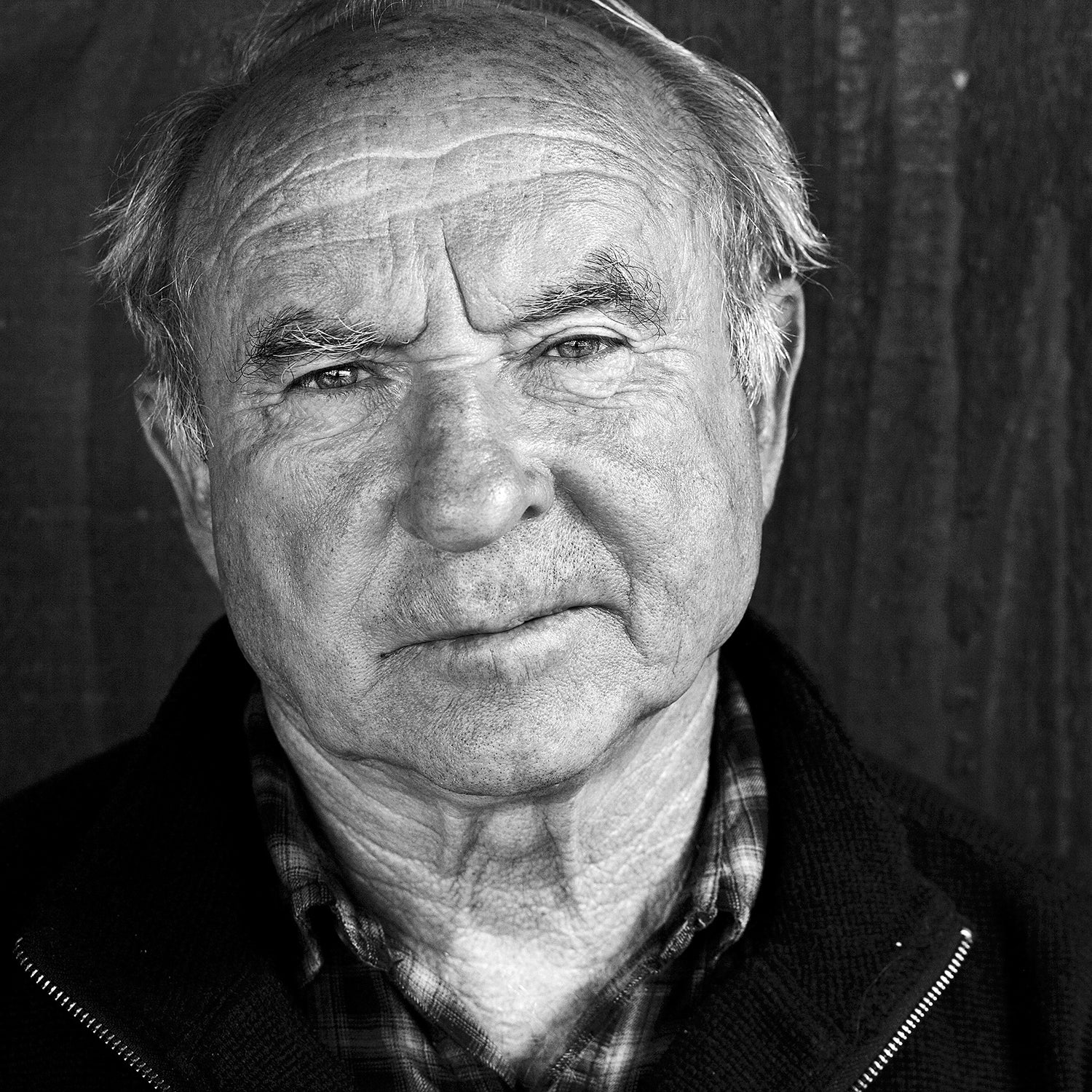 Heading out the door? Read this article on the new Outside+ app available now on iOS devices for members! Download the app.
Last year, the founder of Patagonia, Yvon Chouinard, called the outdoor industry a bunch of "weenies," scared of "their own shadow."
"They're not stepping up," he complained to Outside contributing editor Abe Streep of their hesitancy to take on environmental causes. In that realm, Patagonia has certainly been a leader. Between selling puffy jackets, the company has donated Black Friday sales to conservation nonprofits and produced a documentary on the virtues of tearing down dams. It has toed the line between political activism and outright advocacy, but has generally stayed on the side of the former. On Friday, it took a hefty step over that line.
On the company's website now is a reminder that democracy depends on people showing up to vote. Not so stunning. But if you live in Nevada or Montana and follow Patagonia's social media feeds or subscribe to one of their newsletters, you will see what might be the first time a company has nudged its consumers to vote for specific candidates running for national office.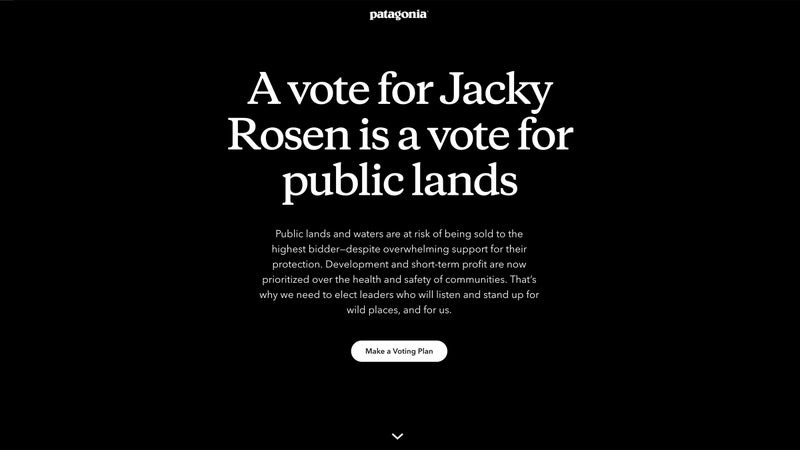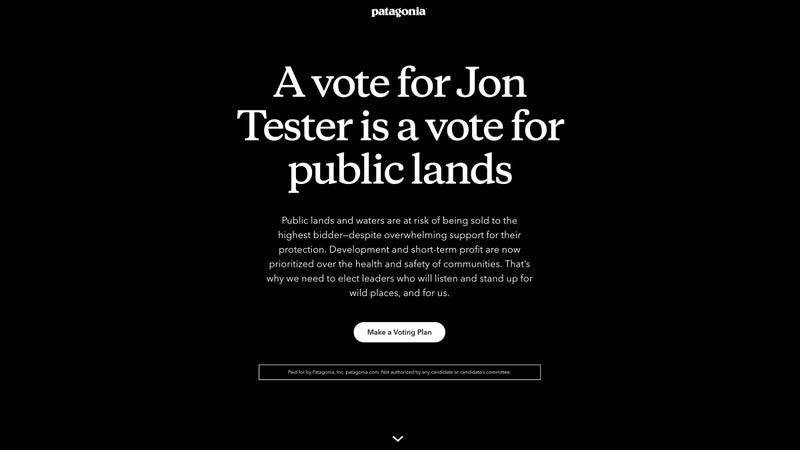 Jon Tester is a Montana Democrat who calls himself the Senate's only working farmer. He's running a close reelection campaign against a Trump conservative named Matt Rosendale who, while running for Congress four years ago, said "there is no call in the Constitution for the federal government to own national forests or BLM land." (He has since come out against transferring public land to states.) Jacky Rosen is a current U.S. Representative for Nevada, a clean-energy booster with a 97 percent approval rating from the League of Conservation Voters. Of course, it's not surprising that Patagonia would back candidates like Tester and Rosen, but that it would back any at all.
"I'm sure there will be plenty of people who will tell us to stay out of politics and stick to making jackets," Corley Kenna, a spokeswoman for Patagonia, told Outside. "But this is core to who we are. This is not inherently meant to be a political statement, it's meant to be a statement about how to protect public spaces."
With the momentum of the past two years, this almost seems an inevitable step for Patagonia. The company's current CEO, Rose Marcario, has said she'd like to see the outdoor industry become a political force like the NRA. "We cannot give up an inch of protected land on our watch," Marcario told Streep. "Not an inch." That campaign kicked off most publicly when Patagonia forced a decision on the governor of Utah: either come out against President Trump's plan to shrink Bears Ears National Monument, or Patagonia, REI, and the North Face would use their clout to move the Outdoor Retailer show and the $45 million it bestowed on the state's economy each year.
Now the show's home is Denver. And after Trump signed an executive order that cleaved Bears Ears by 1.35 million acres, Patagonia sued. Its homepage, in black and white, read bluntly, "The President Stole Your Land." That led the House Natural Resources Committee, chaired by Utah Representative Rob Bishop, who harped loudest for the resize, to tweet a mockingly similar image that read, also in black and white, "Patagonia Is Lying to You." Chouinard and Marcario had their confrontation, weenies be damned.
And that's one of the more interesting questions to come from this: How will the rest of the industry react?
The Outdoor Industry Association is a mishmash of more than 1,200 gear, apparel, hunting, fishing, general outdoor retailers, nonprofits, and enthusiasts whose consumers don't all fall so neatly into the dirtbag or progressive Boulder demographic. "In general, it's not wise for companies to make public statements or visibly support political candidates," Doug Schuler, a professor of business and public policy at Rice University, wrote to Outside. "This is because most companies have a wide range of stakeholders—employees, customers, investors, communities in which they operate—where those individuals may have very different opinions."
That may be more true for the Walmarts of the world. But the outdoor industry is a bit different. For one, most conservative and liberal voters disapprove of the Trump administration's public lands record, and nearly three-quarters disagree with his decision to shrink Bears Ears, according to a poll by the Center for Western Priorities. As much as anything can be these days, protecting public lands is still fairly bipartisan. And second, consumers are also demanding more of their brands. Even Walmart has looked to Patagonia for help greening up its supply chain. It may just be another form of marketing, but Chouinard has certainly never seen those two aims as being at odds.
Of course, with breaking new ground comes more risks than a few shoppers put off by taking political sides. Plenty of CEOs have backed presidential candidates. But those are individuals. A lot of companies also create political action committees where their money is hidden, or pay lobbyists—Last year Patagonia paid a Washington, D.C.-based lobbying group $230,000. But by advocating so blatantly for two U.S. politicians, Patagonia has wandered into the murky Bipartisan Campaign Reform Act.
This law essentially prohibits companies from making contributions to politicians running for national office (state races are a different matter). Patagonia isn't donating money to Tester or Rosen's campaign. But do the hours its employees spent on making and planning the graphics and newsletters, its Facebook or Twitter campaign, count as contributions?
Patagonia also had to be a careful in its wording. You'll notice it didn't say, "Vote for Tester and Rosen." It only suggests that these are candidates who support public lands, implying that if you do, too, then vote for them. "It's a little of a wild west situation," says Dora Kingsley Vertenten, a professor at the University of Southern California's school of public policy. No company she can think of has really done this. And the law, she says, last updated in 2002, hasn't yet grappled with social media.
This all may be a new form of environmentally-conscious advertising. More than ever, companies do much more than just make things. They are the stories and actions behind them. And in that sense, Patagonia has tried to brand itself as Resistance Inc. Or it might just be the waking yawn of a giant.
Last year the OIA released a report that put the outdoor industry's size at $887 billion. The government figured it a bit smaller, although still at 2 percent of the nation's gross domestic product. As Outside contributing editor Streep pointed out in his profile of Patagonia last year, REI alone has three times the membership of the NRA. Given that, the question then might be: Why hasn't Patagonia, or any other outdoor brand, done this sooner?
Lead Photo: Lucia Griggi/Redux