The Politician
Colorado Governor John Hickenlooper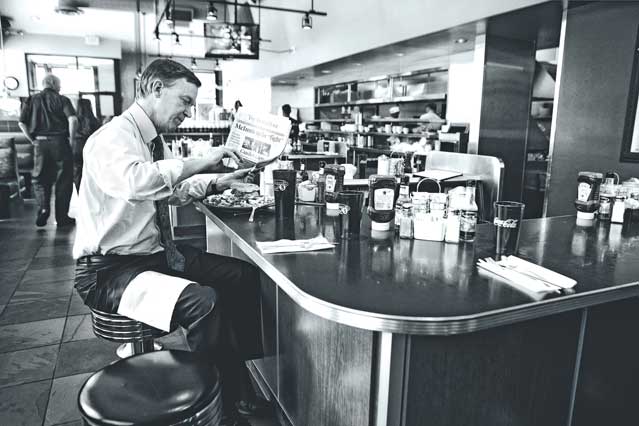 Jeff Nelson
Heading out the door? Read this article on the new Outside+ app available now on iOS devices for members! Download the app.
Colorado's former-brewmaster governor is part goofball, part New Economy wonk. As Denver's Democratic mayor from 2003 to January 2011, John Hickenlooper championed light rail, converted the city's vehicle fleet to alternative fuels, and resurrected downtown—all while garnering bipartisan chuckles with his quirky antics and frumpy wardrobe. In the early nineties, back when he owned the Wynkoop Brewing Company, he offered a $5,000 bounty to whoever could find him a wife (eventually paying up in the form of a donation to a school). For his easy gubernatorial win last fall, the 59-year-old was filmed in the shower (fully clothed) to swear off dirty campaigning. But Colorado's gaping $1 billion deficit is no joke, and as a Dem putting business first, Hickenlooper has angered some greens. What's he got to say for himself?
WILLIAMS: Not all governors know how to brew their own beer. Do you cook, too?
HICKENLOOPER: When I was raising money to start the brewery, every week I'd get four or five potential investors and cook them a meal, as if, "This is what you might get in our restaurant!" My wife says that that's why it took two years to get the money. The cooking wasn't as good as I thought.
I've heard that you like to crank down the heat at home. Where does that come from?
It's hereditary. My mother's family lost everything in the Depression. My grandfather lost his business. (It was a distillery, by the way.) My mother would wash Saran Wrap and tinfoil and reuse it. Everyone was very focused on frugality.
It's probably a handy quality now that you're facing a billion-dollar budget hole.
So true. If you're going to look at combining agencies and trying to find efficiencies and savings, there's a certain credibility you get from trying to cut costs all the time. We've had to make cuts of great significance in things I hold dear, like public education. I'm a believer that we all create our own little microcultures, whether in our household or playing basketball at the Y. And if frugality is part of that, and using less energy and less water, it has a direct effect on the micro­cultures around you. Conservation becomes a key part of it.
 
Is Colorado's goal to get 30 percent of its energy from renewables still realistic?
Absolutely realistic. We're going to need a blend of fuel sources over the coming century. We need to invest in sources that may not be economical now to have a smooth transition to alternative fuels as the price for existing fuels gets higher. You never want to put all your eggs in one basket.  
Yet you told The New York Times Magazine in January that we should "drill the living daylights out of natural gas and cut regulations." Environmentalists freaked out.
It's amazing—an awful lot of environmentalists continue to fly back and forth to conferences and discussions and vacations. We just consume a lot of energy. Natural gas is a transition fuel until we can get to a sustainable solar- or wind-based system. Some of my environmentalist friends bristle, but there's no reason to tie up an oil-and-gas company that's going to drill a well anyway. What we should do is make it easier to drill but hold them more accountable. If they spill fracking fluid into a pond or a waterway, we should double the fine.   
It sounds like you're pointing out the hypocrisy of the environmental movement.
I wouldn't agree that there's hypocrisy. Compared to 30 or 40 years ago, we are able to extract energy much more cleanly, and our vehicles have grown cleaner and cleaner. Could we have gotten there faster? Sure. Some of the more extreme environmentalists say I'm not green because I think natural gas should be used in tractor-trailers going back and forth across the country. It's cleaner and keeps money in this country—it's just good policy.
Is this a bad time, politically, to be labeled green?
You never want to define yourself solely by one issue. I've chosen not to get too bogged down in rhetoric. You know, a lot of this is low-hanging fruit. Energy conservation in buildings really doesn't cost that much more, and the paybacks are dramatic. The issue is we have too much vocabulary and not enough basic math. It's amazing how many oil-and-gas geologists love to be in the backcountry, and yet somehow we get crosswise. They disagree on such a small number of things; they agree on 90 percent. Let's start looking at where we agree.
Don't people in Colorado really like to fight over things like water?
From 2000 to 2005, we cut per capita water consumption between 25 and 30 percent. If you sell 20 percent less, then cost per gallon goes up, and people were quite angry. I said a hundred times, maybe it's not just Denver's water but all of our water. There's a natural benefit for Denver to make sure there's enough in our mountain streams for rafting, skiing, and agriculture. Too often people don't see the natural alignment of self-interest.
How are people going to remember your governorship?
I want the headline to read, GEEK DOES GOOD.
Trending on Outside Online