Zinke's Gone, But the Interior Won't Change
I've watched Zinke's downward spiral with trepidation. Yet his departure does not imply a pro-environment reorientation at Interior, and I doubt we've seen the last of him.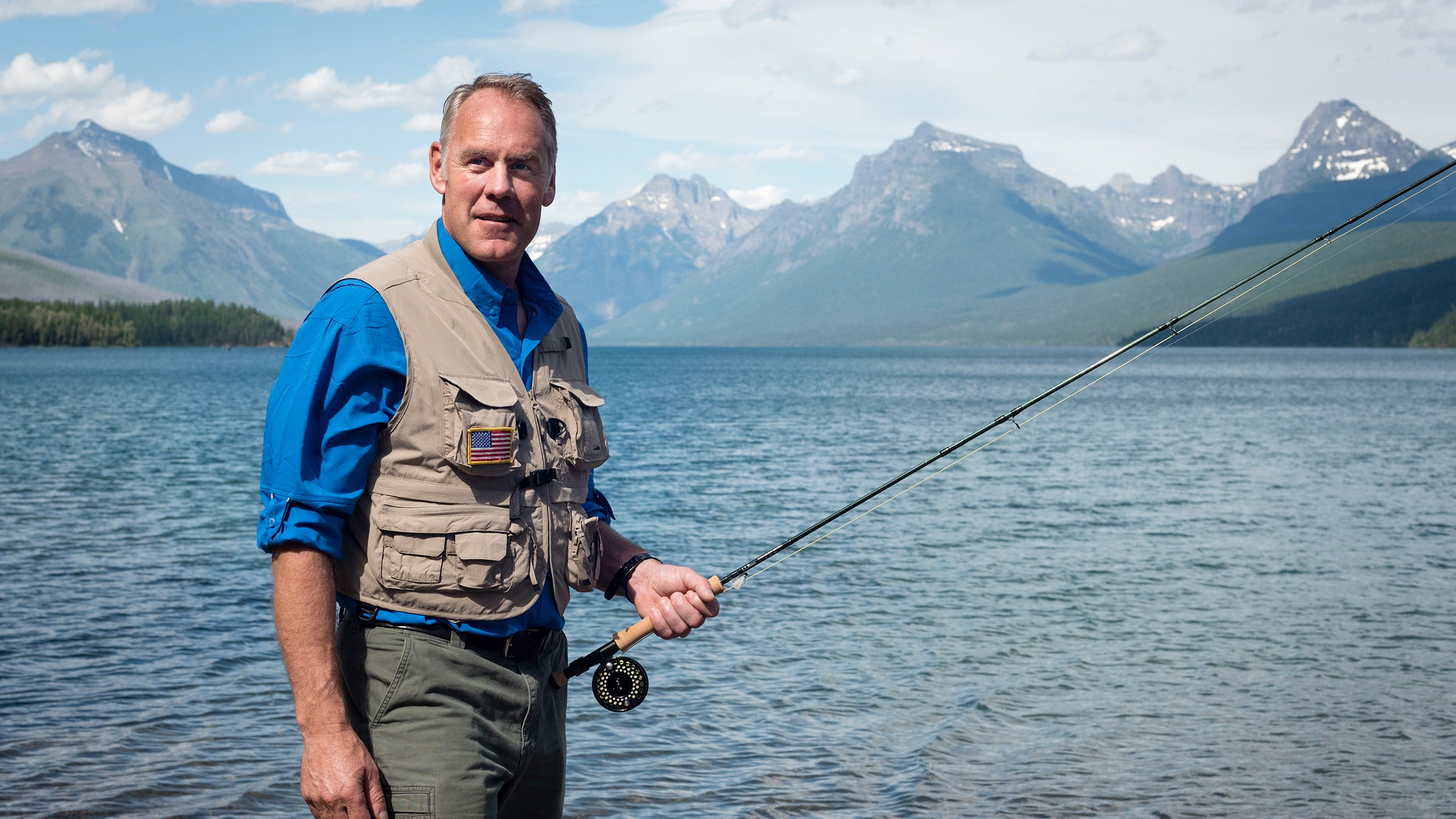 Elliott D. Woods(Photo)
Heading out the door? Read this article on the new Outside+ app available now on iOS devices for members! Download the app.
A little over a year after Outside published my profile of Interior Secretary Ryan Zinke, he's finally on his way out.
Like many reporters who've followed Ryan Zinke's tumultuous tenure at Interior, I'm surprised he was able to hang in there for so long. Zinke seemed impervious to the kind of flak that brought down his colleague Scott Pruitt, the departed Environmental Protections Agency secretary who shilled for oil and gas companies in his previous role as Oklahoma attorney general, along with former Veterans Affairs Secretary David Shulkin and Health and Human Services Secretary Tom Price.
According to the Washington Post, Zinke's scandals became too much for the Administration, which forced Zinke to resign by the end of the year or be fired. His resignation comes amid an avalanche of investigations into his official conduct—one of which, involving his shady real estate dealings with the chairman of Halliburton, was formally referred to the Justice Department in October.
Zinke's office has been scandal-plagued from the outset, drawing scrutiny from nonprofit watchdogs, whistleblowers, and Interior's inspector general for missteps big and small—from ordering a $139,000 set of doors for his office to shuttling his wife Lola around in government vehicles to paying $12,000 for a charter flight from a speaking engagement in Las Vegas to his hometown of Whitefish to commandeering a National Park Service helicopter to deliver him to a horseback date with Mike Pence to threatening Alaska senator Lisa Murkowski over her vote against advancing the House's Obamacare repeal-and-replace legislation.
Amid potentially serious ethics violations, Zinke also gained notoriety for his willingness to be a bulldog in defense of his boss. It was in that capacity that the former Navy SEAL, who claimed he would run Interior as a military command, broke a bedrock maxim of military leadership: Never undermine the troops' morale. In September 2017, he told a group of oil and gas executives, "I got 30 percent of the crew that's not loyal to the flag."
Considering the audience, it was clear he was not referring to the American flag—he was referring to Trump and to himself, implying that a rogue coterie of Interior employees was working at cross purposes to the Administration's aggressive pro-industry and anti-conservation agenda. But those oil and gas executives need not have worried that mutinous Interior employees might sabotage Zinke's plans to open millions of acres to onshore and offshore energy leases and to roll back environmental regulations for the benefit of their bottom lines. Under Zinke's leadership, Interior scientists and field staff whose research into climate change and controversial wildlife issues put them at odds with local power brokers and with Trump's "energy dominance" agenda found themselves involuntarily reassigned—essentially, exiled to Siberia.
Only a few months into his tenure at the time, Zinke was already a disappointment to the conservation organizations that applauded his nomination.
Joel Clement, a senior Interior employee and climate scientist who claims he was reassigned because of the nature of his work, filed a whistleblower complaint that summed up the sentiment among concerned civil servants and citizens. "I believe that every president, regardless of party, has the right and responsibility to implement his policies. But that is not what is happening here," Clement said. "Putting citizens in harm's way isn't the president's right. Silencing civil servants, stifling science, squandering taxpayer money and spurning communities in the face of imminent danger have never made America great."
Zinke marched on, undeterred, making reductions to the Grand Staircase-Escalante and Bears Ears national monuments that conveniently facilitated access to oil, gas, coal and uranium deposits; scaling back requirements for extractive industry companies to mitigate the damage they cause to public land; searching for a way to relieve oil and gas companies of the burden of complying with the Obama Administration's requirement that they capture a certain amount of methane instead of flaring it off and thereby wasting a publicly-owned resource; pursuing offshore oil leasing on nearly the entirety of the Atlantic and Pacific seaboard against the wishes of citizens and governors; opening the Arctic National Wildlife Refuge to energy exploration and expanding leasing in the equally fragile ecosystem surrounding the National Petroleum Reserve Alaska; reversing the twenty-year moratorium the Obama Administration put on mining at the edge of the Boundary Waters Canoe Area Wilderness in Minnesota; pushing for the dismantling of federal sage grouse management plans that identify priority breeding habitat across eleven Western states in order to open millions of acres of public land to energy development.
Zinke's detractors alleged that all of this was being done for the exclusive benefit of extractive industries and the politicians who do their bidding, and Zinke said as much himself. Speaking to yet another group of energy executives in Houston, he said, "Interior should not be in the business of being an adversary. We should be in the business of being a partner." Facing withering criticism, Zinke appeared unfazed. "You know what, I do my job," he said. "I disregard the B.S."
Many of the Zinke scandals recounted above were underway back in 2017 when I was reporting on Zinke for the Outside profile. Only a few months into his tenure at the time, Zinke was already a disappointment to the conservation organizations that applauded his nomination (less so because they were genuinely enthusiastic about his self-styled Teddy Roosevelt Republicanism, and more so because they were appalled by the other names on the list: Sarah Palin, fracking kingpin Harold Hamm, oil products tycoon Forrest Lucas, et al).
While Zinke's inability to properly rig a fly rod generated the most buzz of anything I reported in the story, it was an exchange with Sarah Greenberger—an advisor to outgoing secretary Sally Jewell who worked on the now-embattled sage grouse plans—that seemed most prescient and troubling to me:
"Decisions made now can reverberate for decades," [Greenberger] said. "We are at a place where species, wildlife, and habitat are facing really significant stress from population growth, habitat fragmentation, development, and climate change, and unless we are thoughtful and strategic about the decisions we make at this moment, there's a lot of damage that can be done that's hard to unwind," she said.

"How much damage can he do?" I asked.

"I think a secretary could create long-lasting and irreversible damage," she said.
With Greenberger's assessment rattling in my head all these months, I have watched Zinke's downward spiral with trepidation. Constant media exposure and a litany of investigations did not slow the pace of destruction, and his departure does not imply a pro-environment reorientation at Interior. After all, Deputy Secretary David Bernhardt—an industry insider and skilled political operative—has probably been steering the ship all along. Now he's in charge.
As for Zinke, he's handed out a lot of favors, and he probably has a trailer full of golden parachutes emblazoned with energy company logos to choose from. He's gone for now, but I doubt we've seen the last of him. 
Lead Photo: Elliott D. Woods