Indefinitely Wild
The Everglades Are Burning. Thanks, Climate Change.
The Sawgrass Fire threatens Alligator Alley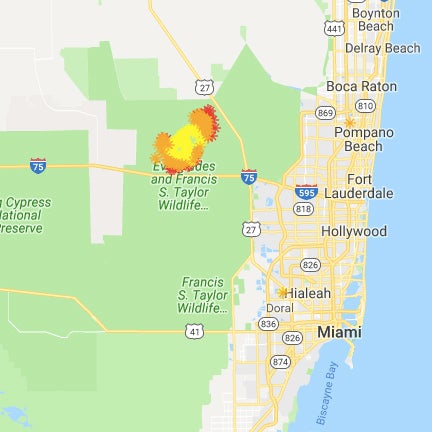 Heading out the door? Read this article on the new Outside+ app available now on iOS devices for members! Download the app.
One topic is going to feel a little more urgent than usual at Wednesday's Democratic primary debate in Miami: Climate change. That's because there is a massive wildfire raging just a few miles away from the venue in the Florida Everglades. 
It's believed that the Sawgrass Fire was started by a lightning strike around 6:30 P.M. on Sunday evening. As of Tuesday afternoon, it's spread to more than 31,500 acres in a state conservation area north of I-75. While it doesn't currently threaten any structures, smoke from the fire is beginning to envelop that highway, which could lead to dangerous driving conditions. Local residents are being warned of the risks of inhaling its smoke. 
Contained within the 165,000-acre Water Conservation Area 3 by surrounding canals, Broward County officials are hoping the current mild wind conditions will remain stable and that the fire won't jump I-75 into the bigger expanse of wetlands south of the highway. The fire does not currently threaten Everglades National Park. Forecasts predict a 40 to 60 percent chance of rain or thunderstorms in the region this evening, which could slow the fire's spread or extinguish it altogether. 
Fires are a natural part of the Everglades ecosystem. The area that's burning is essentially a low-lying sawgrass prairie, while other parts of the area include pine forest, swamp, and wetlands. But human activity has reduced water levels in the Everglades, even while climate change has created drier winters and hotter summers. All that combines to create more fire-prone conditions. The Sawgrass Fire has spread faster than usual and is already considered a large wildfire for the region.
Florida's Everglades are particularly threatened by climate change. Even while fires grow more frequent and severe, sea level rise is already flooding the region with saltwater. And warming temperatures and saltwater are changing the kinds of plants and animals that are able to live there. While that's going on, human development in the region has altered the way water flows into and through the Everglades. A huge hurricane, which could have been made worse or more likely by a warming climate, caused the accidental release of non-native pythons into the ecosystem, which are now wreaking havoc on local wildlife. These threats are so bad that it's not even clear if the Everglades will live to see the end of this century.
If you are, for instance, a candidate for President hoping to put an exclamation point on the urgency of taking action to mitigate climate change, then this is the news event to talk about. 
Trending on Outside Online