Shamu Show Smackdown
Did a judge in Florida just put an end to SeaWorld's famous killer whale shows? A ruling issued yesterday may change the way marine amusement parks work forever.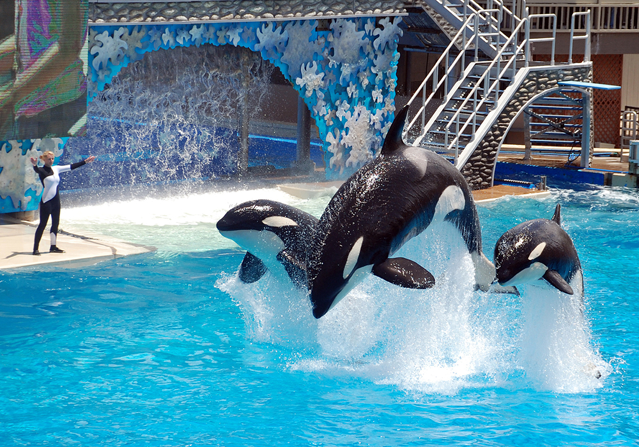 Heading out the door? Read this article on the new Outside+ app available now on iOS devices for members! Download the app.
A decision released yesterday by Administrative Law Judge Kenneth Welsch in Florida will fundamentally change SeaWorld's killer whale shows. In a landmark case, Judge Welsch ruled in favor of the Occupational Safety and Health Administration (OSHA), concluding that the only way to keep Seaworld trainers safe is to either keep them away from close contact with the killer whales (which means no waterwork in the pools with them during shows), or to use physical barriers or other safety modifications to provide the same level of protection. Unless SeaWorld appeals Welsch's ruling and manages to win, the world-famous Shamu Shows—featuring trainers performing in the pools with killer whales—will likely become a spectacle of the past.

"Tilikum, before 26 years in marine parks, once knew what it was like to swim the ocean alongside his mother and family. And perhaps, just perhaps, that also helps explain why Dawn Brancheau died."
OSHA's case was prompted by the death of SeaWorld trainer Dawn Brancheau, who, on February 24, 2010, was pulled into the water and brutally killed by SeaWorld's largest killer whale, a male called Tilikum who weighs about 12,000 pounds. After Brancheau's death, OSHA took a hard look at the safety of SeaWorld's killer whale training methods and high-intensity killer whale shows, which feature trainers swimming with, riding, and leaping off whales. Following a detailed investigation, OSHA hit SeaWorld with a series of safety citations, the most serious of which said SeaWorld knowingly exposed killer whale trainers to being struck or drowned by killer whales when it had them work closely with Tilikum and other killer whales. The only way to abate the dangers, OSHA said, was to either stop working in close contact with the killer whales, or keep physical barriers (or equivalent measures) between trainers and killer whales. In short, OSHA said that SeaWorld's killer whale program was dangerous and needed radical changes.
SeaWorld hotly contested OSHA's conclusions, which it called "unfounded," and launched an appeal. After a series of hearings that took place last fall, Judge Welsch issued his ruling this week. The verdict: OSHA's conclusions stand. In his decision (available here), Welsch systematically picked apart SeaWorld's arguments that its training methods, and ability to predict dangerous or aggressive killer whale behavior, are protection enough for trainers. Here are some of Welsch's key points:
SeaWorld's witnesses argued that SeaWorld is able to predict killer whale behavior with 98 percent accuracy, and therefore has the ability to react to potential dangers. After hearing testimony on how SeaWorld came to this statistic, Welsch bluntly dismissed it: "SeaWorld's estimate of 98-plus percent predictability is not based on rigorously evaluated scientific data."
SeaWorld went to great lengths to argue that its killer whale training methods (which use a form of good behavior reinforcement known as "operant conditioning") create a safe working environment. But Welsch noted that over the past 20-plus years SeaWorld staff have, per SeaWorld protocol, written up some 100 incident reports regarding aberrant, and potentially dangerous, killer whale behavior. "SeaWorld's own incident reports demonstrate that its safety program, either due to misplaced faith in operant conditioning or due to human error in implementing operant conditioning, exposes its trainers to the risks of death or serious physical injury," Welsch concluded.
SeaWorld, in the end, was unable to convince Welsch that even an intensive and sophisticated training program could change the essential wild nature, and capacity to ignore human direction, of a killer whale. "SeaWorld's training program is highly detailed, well-communicated and intensive. Yet it cannot remove the element of unpredictability inherent in working with killer whales," he wrote.
The deaths of Brancheau and Alexis Martinez, the latter killed by a SeaWorld killer whale called Keto at a marine park in the Canary Islands just two months earlier, clearly affected Welsch's view of SeaWorld's training program, and its adequacy as protection for trainers. "Two killer whales trained under SeaWorld's operant conditioning program killed two trainers two months apart. Under these circumstances it cannot be said that SeaWorld's training program reduced the recognized hazard to a significant degree. The Secretary [OSHA] has established that SeaWorld's safety training program, both for killer whales and for its trainers, is inadequate as a means of feasible abatement," Welsch observed.
Knowing that the lucrative and signature "waterwork" elements of its world-famous Shamu Shows were in the balance, SeaWorld testified that seeing trainers in the water with killer whales helps create an emotional and educational experience for audiences. Welsch agreed that seeing trainers launched into the air by killer whales is spectacular. But he asked, "Are the emotions inspired by the grandeur of humans interacting with killer whales worth the dangers created by the interactions?"
He went on to observe that there have been no known attacks on humans by killer whales in the wild, and that, "As far as the court can tell, all known injuries to humans have occurred from interactions with killer whales in pools."
Welsch also criticized SeaWorld for its tendency to blame trainers when incidents occurred, which he astutely identified as a natural consequence of SeaWorld's desire to portray its work with killer whales as predictable and controllable. "Because it is not part of SeaWorld's corporate culture to acknowledge unpredictable behavior by its killer whales, it must necessarily find that its trainers are implementing the program incorrectly," Welsch noted. "SeaWorld holds trainers to a near-impossible standard set by upper management, who engage in a form of Monday morning quarterbacking."
Welsch, despite SeaWorld's arguments to the contrary, concluded that OSHA's recommendations are feasible given the fact that SeaWorld has basically been operating in the manner OSHA recommends since Brancheau died (in the aftermath, SeaWorld limited close contact with Tilikum, and removed trainers from the water).
Welsch limited his order to killer whale shows and performances, accepting SeaWorld's argument that its vets and animal care staff need to get close to the killer whales to take care of them. And the OSHA citations which Welsch affirmed apply to SeaWorld's park in Orlando, where Brancheau died (SeaWorld also has parks in San Diego and San Antonio). But since Brancheau's death, SeaWorld has ceased waterwork at all its parks. Therefore Welsch's rejection of SeaWorld's appeal is likely to shape how all SeaWorld's parks operate in the future, especially given the liability considerations that would come into play if SeaWorld resumed waterwork in San Diego or San Antonio following Welsch's ruling in Florida, and another trainer was injured or killed.
Dawn Brancheau loved killer whales and her job at SeaWorld. But if Welsch's decision stands, her death will lead to the most profound changes in SeaWorld's killer whale shows since they began in the 1960s.