Stalk the Monkey
The world's best tracker of new primate species shares secrets for finding fuzzy little guys in the woods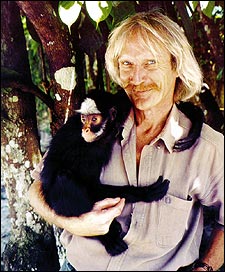 Frans Lindenkamp
Heading out the door? Read this article on the new Outside+ app available now on iOS devices for members! Download the app.
IT MAY SEEM LIKE THE ONLY animals left in the jungle that haven't been pricked, prodded, and named are fungus-munching snails and obscure forms of head lice. Not so. Over the past six years, Dutch primatologist Marc C.M. van Roosmalen, 55, a senior scientist at the Manaus-based Brazilian Institute for Amazon Research, has sussed out dozens of new plant and animal species in the jungles of Brazil and Venezuela. He's identified 15 monkey types and published scientific articles on six, including the Rio Manicoré marmoset, a tennis-ball-size primate with talonlike fingernails, and Callicebus bernhardi, a species of Titi monkey that sports garish orange sideburns. Van Roosmalen finds his critters the old-fashioned way—he wanders into the jungle to chat with the natives and look up into the leaves. "It has little to do with experience," he says. "Any place I go, I just find new species." This month, van Roosmalen hopes to publish an account of a new type of pygmy manatee and will plunge back into the Brazilian rainforest, where, he insists, "there is always something new to see, if you look."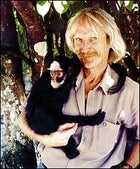 Hanging around: Van Roosmalen with a new spider monkey species from Mato Grosso, Brazil

Van Roosmalen's monkey-watching tips


1. Go into the woods alone. Assistants make too much noise.

2. Should you lose a contact lens, don't crawl around looking for it. Jaguars loll about on tree limbs, and you'll look like prey.

3. Go hungry, and don't carry food: Fasting sharpens the senses.

4. Every 50 meters or so, stop walking. Listen. In the forest, you will almost always hear an animal before you see it.

5. Watch out for falling Brazil nuts. They weigh five pounds each.
6. If you hear a sound like gunfire, that means tree roots are snapping nearby. Run.
7. Always remember where you stepped into the jungle.