Why This Taxidermist Will Never Stuff Your Dead Pet
The curious and backpacking-friendly life of Brent Nearpass, whose art is antlers and mounts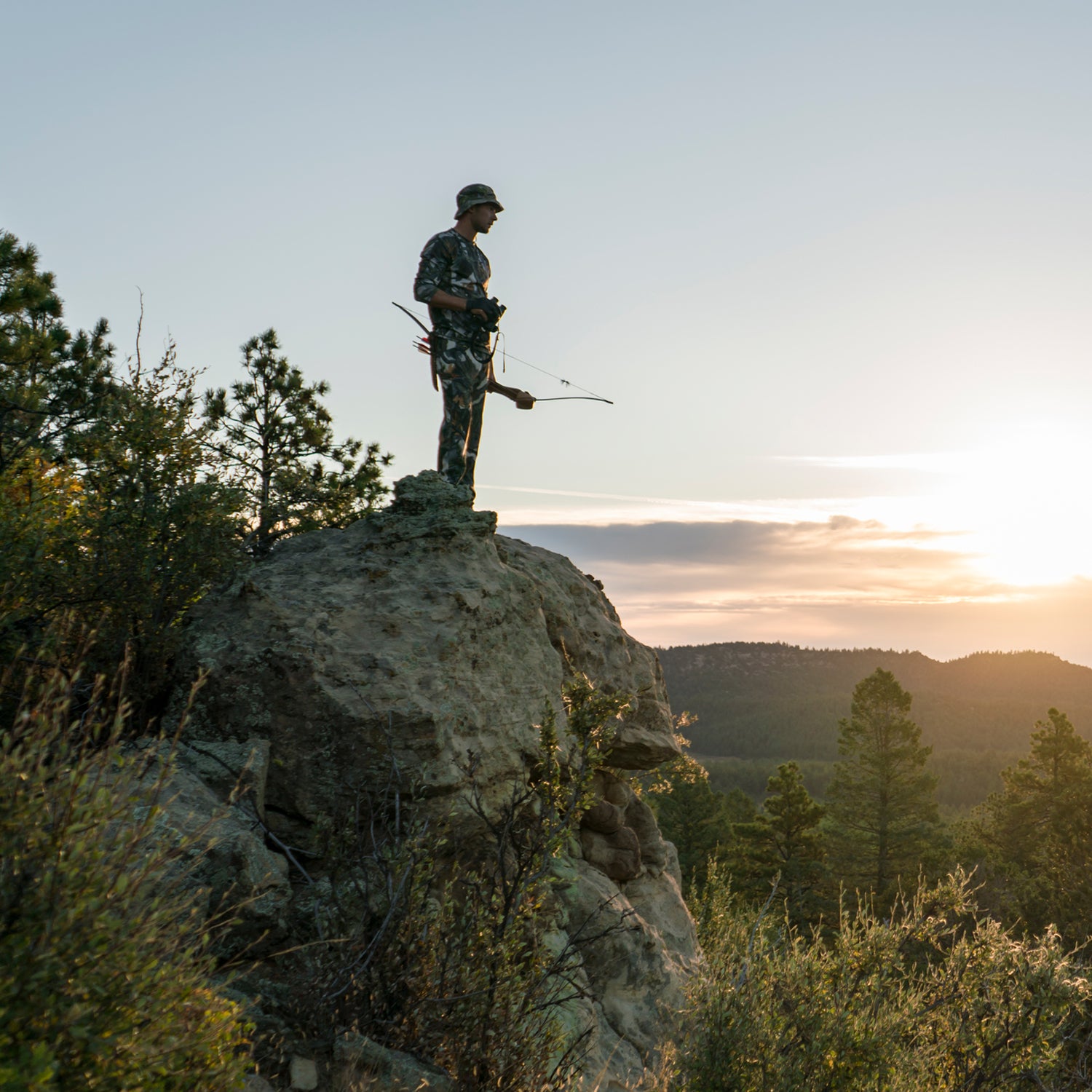 Heading out the door? Read this article on the new Outside+ app available now on iOS devices for members! Download the app.
At six years old, Brent Nearpass would wake up at the crack of dawn to fill a five-gallon bucket with dandelions—for the bears. It was his first job. His parents knew the owners of the local zoo in Red Lodge, Montana, where he collected feed each morning for the bears in captivity. By the time Nearpass turned 11, the zoo had hired him to do "a little bit of everything," he says.
The trend continued as he became an adult. When Nearpass was in high school, he worked for the Forest Service near Red Lodge and later began surveying land. Then, after graduating high school, he discovered another unconventional and gratifying profession: taxidermy. "Growing up, I always thought taxidermy would be fun to do," Nearpass says. "But I always thought only magic guys could do that." Nearpass has owned Red Lodge Taxidermy since 1990, where he preserves, stuffs, and mounts animals for hunters in Montana and beyond.
"It's not a coincidence," he says about how both his life and livelihood have flowed from the land that surrounds him. "I was always interested in animals, wildlife, and the outdoors. And taxidermy just seems to tie it all together for me."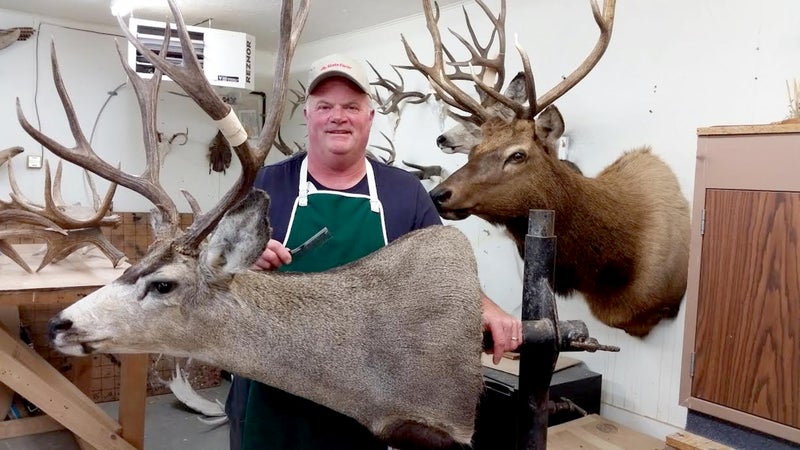 ---
Age: 55
Hometown: Red Lodge, Montana
Number of Animals Stuffed/Mounted in His Lifetime: At least a thousand
Strangest Animals Stuffed: A pet fox and a tahr, a long-haired ram-like animal from New Zealand
Hours Spent Stuffing Weekly: About 30
Hours Spent Outside Weekly: At least 30
How He Started: "When I was out of high school, I bought a do-it-yourself-taxidermy book (Home Book of Taxidermy and Tanning). I started with antlers, just putting them on plaques—little stuff that I still do today. But my first real mount was a friend's antelope head. We looked at the book and talked each other through it. I think it still probably hangs on his wall, and it probably looks pretty bad. It's definitely an art form that you improve on. It takes a lot of practice to get good at it, and you never quit improving."
Most Common Animals: Ninety percent of Nearpass' projects are whitetail and mule deer, and nearly all of his clients are hunters. But he has also worked on wolves, mountain lions, elk, mountain goats, sheep, moose, bears (black and grizzly), and, once, an elephant. "I used to do birds and fish, but not anymore. Now I only do mammals."
No Pets Allowed: Nearpass says he doesn't work on pets (anymore) because it's hard to "capture the total, familiar expression" that owners are used to seeing in their pets. "You don't want to do a pet. A person really knows what that animal looks like. If you go out in the hills and shoot a deer, you don't really know his expressions and exactly what he looks like. But I had an older guy call me one time, and he wanted me to mount his pet fox. He talked me into it. I should have known better. When it was done, I called him and explained, 'It's not going to look the same.' Then he walked in the door and said, 'That's not my fox.' It just made me mad. He walked out of my shop totally hating me. I will never touch a pet again."
The Process: Aside from pets, Nearpass will work on most any animal, as long as it didn't die from illness or an unknown cause. When a customer brings in an animal, he takes measurements and asks, do they want the animal to be looking to the right or left? Jumping? Sneaking? Nearpass discards everything but the hide and the skull plate, to which the antlers are attached. He preserves the hide in his salt shed for a couple weeks before sending it to a tannery in Great Falls, Montana, where it will spend several months. "If you find a good tannery, you keep using them because they can make or break you," Nearpass says. He orders a form (essentially a custom-sculpted foam mannequin), glass eyes, artificial teeth, and a rubber tongue. When the hide returns clean from the tannery, Nearpass fits and glues the hide to the form before sewing it back together. He sets the eyes in clay and airbrushes the animal's nose. It's a long process, but Nearpass says he guarantees his customers that he'll finish in less than one year—a promise many taxidermists can't make.
Transferable Skills: Several decades of taxidermy have made Nearpass talented with a needle and thread. When he sews a hide onto a form, he tries to keep the stitching as tight and discreet as possible—a skill that has come in handy in the woods. "A few years ago, I was on a backpacking trip with some friends, and one guy fell and got hurt. My other friend was a nurse and was struggling to tie the knot while suturing the wound. We got him stitched up, but it helped to have me on hand."
Connection to the Wilderness: The flexible schedule that taxidermy allows and Nearpass' second job as a land surveyor have allowed him to spend more time outdoors whenever he chooses. "It's been a good family deal for my wife and I and our two kids," he says. "We're constantly outside. When I have a weekend off, we hunt together, fish together, and backpack together. In the summertime, I'm backpacking and fishing the mountain lakes around Red Lodge. I take a backpacking trip in the Beartooth Mountains every fall. Hiking with family and friends, cross-country skiing and snowshoeing, I'm just constantly doing something outside."
The Shop: "About a hundred feet from my house, there's an old garage that I've converted to my shop. There are about eight heads on the wall that are mounted, about six forms in the corner ready to be mounted, a pile of antlers that are ready to go on [a plaque or Styrofoam form], and several boxes with tanned skins. Other than that, there are just basic tools—a hammer, screwdriver, pliers—typical of what anybody has in their garage. I have an air compressor and an airbrush for finish work."
Bringing Work Home: It happens to taxidermists, too. "Two weeks ago, I was doing this elk for my friend. We had shaved down a form so that the skin would fit, and the whole time I was thinking, 'I hope this hide is going to go on this thing right.' Typically, I'd get up at six in the morning and go out to my shop around 7:30 or 8 a.m. to start my project. But I woke up at 1:00 a.m. worried about this elk. So I got up, got dressed, and went out there and put the hide on the form just so I could sleep. It took me about an hour. I just put the hide on the form and pinned it in place, and then I could see it was going to work. I've been doing it long enough that I don't sweat it anymore—I just go do it."
Nearpass is busiest in the winter months because fall hunting season produces most of his projects. He works as a private land surveyor during the warmer months, which he likes because it gets him "hiking around the local hills." Nearpass does most of his taxidermy when the days are shorter and colder. He says he spends about 30 hours a week in his shop and, depending on the time of year, at least 30 hours (often more) each week outside surveying, hiking, or hunting.
Hardest Projects: "Anything life-size takes a bunch of extra time. To do just a shoulder mount—like your typical deer or elk hanging on the wall—you're not having to worry about where the armpit comes together or the back of the leg or the hoof. When you're having to totally put that animal back together, that's a challenge. I did a life-size black bear not too long ago, and I had no measurements. Someone shot the bear in Canada and brought me the skin. The skin is the determining factor, and it has to perfectly fit the form, so that was challenging."
Favorite Projects: "I've got some of my own that I've done, stuff that I've actually hunted myself—a bighorn sheep, a moose, a life-size black bear. I don't get to do a lot of my own stuff, but those are special. Not only did I get to go hunt the animal, but I also got to eat the meat and preserve it as a trophy."
Giving Back: "I do quite a bit of taxidermy for Operation Second Chance, which is a wounded veteran organization. This year, we had six guys come here to Red Lodge, and I got to hunt with two of them. They shot deer, elk, and antelope while I was with them. They're young guys, and working with them always makes me think of [my son]. Sometimes it's really tough because some of the guys have no legs or no arms. But it's rewarding to take them hunting, and then getting to do their taxidermy is really fun."
Lead Photo: Terry Schmidbauer