A Surge In Wild Orca Capture for Killer Whale Shows
In the past two months 7 wild orcas have been captured in the Sea of Okhotsk for the purposes of stocking aquariums and water parks. These are the first wild orca caught in more than a decade, making it clear that Russian fishermen are earnest about reviving the wild capture trade.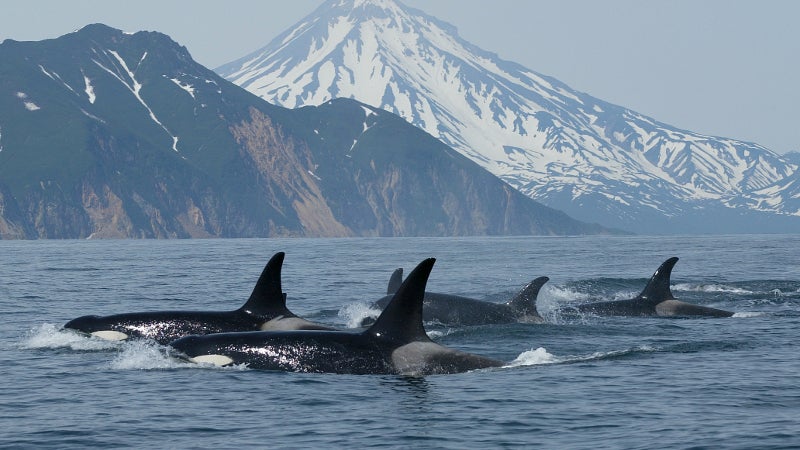 Heading out the door? Read this article on the new Outside+ app available now on iOS devices for members! Download the app.
No matter what one thinks about the wisdom and morality of marine park killer whale shows, most people find the idea of marine parks stocking their pools with killer whales taken from the wild objectionable. The reason is pretty simple: wild captures are traumatic, break up tightly knit killer whale families, and deplete wild populations. 

A blogger posted a story about his visit to the "Centre of Marine Mammal Adaptation, near Vladivostok, Russia, where Narnia is kept. He captured a photo of three small pools and 20 new young beluga whales in them.

Narnia 2, at Vladivostok.

In one 1970s capture in the Pacific Northwest, documented in both Killer In The Pool and the documentary Blackfish, boats, explosives, and nets were used to ensnare dozens of orcas so that young calves (smaller and easier to transport) could be taken and shipped to marine parks. In Blackfish, one grizzled veteran of the hunt—who likens the experience to taking a child from its family and during the capture was ordered to cut open, weigh down, and sink a number of orcas that had drowned in the nets—calls it the worst thing he has ever done.
The public backlash against taking wild killer whales drove SeaWorld's capture teams out of United States waters and on to Iceland. More important, it prompted SeaWorld to develop the know-how and technology needed to breed killer whales in captivity. The first successful "Baby Shamu" birth was celebrated in 1985. Since then, SeaWorld and other marine parks have preferred to rely on captive breeding, which now includes artificial insemination techniques, to keep their killer-whale inventories flush. Today, only 12 of the44 killer whales at marine parks around the world were taken from the wild (and two, a killer whale called Kshamenk in Argentina, and a killer whale called Morgan, who was found off the Netherlands in 2010 and is now with SeaWorld's killer whales at Loro Parque in the Canary Islands, started as rescues). In most of the world, the era of wild captures has long been over.
But killer whale entertainment is a profitable business, and captive breeding is not prolific enough to supply new or planned marine parks that may be hoping to draw big crowds with killer whale shows. Hoping to score big and meet potential new demand (a killer whale can sell for a $1 million or more), Russian hunters are reported to have recently caught seven wild killer whales in the Sea Of Okhotsk. After being netted and dragged ashore in two separate operations in August and October, the killer whales were trucked hundreds of miles to a sea pen near Vladivostok, where they joined a young female, dubbed Narnia, who was snared last year.
The reports come via orca researcher Erich Hoyt, author of Orca: The Whale Called Killer,who in 1999 helped found the Far East Russia Orca Project (FEROP) to study Russian killer whale populations. According to Hoyt, Russian hunters, working for the Utrish Dolphinarium, have been trying to capture wild Russian orcas since at least 2002. In 2003 they managed to corral a group more than 30 orcas off southeast Kamchatka, killing one young female in the nets and transporting a second female across Russia to the Utrish Marine Station on the Black Sea, where she died 13 days later. 
Since then, Hoyt says, additional attempts were made (five orcas in total are estimated to have been killed during Russian capture attempts), but Russia, thanks in part to appeals by FEROP, stopped issuing permits for orcas off Eastern Kamchatka. Permits for 6-10 orcas a year continued to be issued for the Sea Of Okhotsk, but it is more logistically challenging, which seemed to put a brake on capture efforts.  
Last year, however, a Russian team, which had already been engaged in beluga captures in the Sea Of Okhotsk, managed to capture Narnia, a young female. That same team pulled off two more capture operations this year, in August and October, netting the additional seven orcas who have joined Narnia near Vladivostok. According to at least one account, the newly captured orcas arrived at the sea pen after the long transport in very poor condition, and initially refused to eat. It was only after Narnia started to bring them fish that they started to feed normally.
Hoyt, who is also a Research fellow with Whale And Dolphin Conservation, says that these new wild captures are being conducted by a conglomerate of companies called White Sphere, which captures marine mammals, and builds and operates aquariums in Russia. One aquarium, the Sochinskiy Delfinariy has been identified as the owner of Narnia. Hoyt believes that two of the recently caught orcas, a 4-year-old female and an 8-year-old male, are being offered for sale abroad, perhaps to a Chinese facility, and that at least two of the remaining group of five (one is a mature female; the sex and ages of the others are not known) will be shipped to Moscow soon to be placed in an Oceanarium that is being built at the All-Russia Exhibition Centre. Hoyt worries that the mature female might be the mother of the two young orcas being offered for sale abroad, which means that the family group would be broken up.
No one seems to know where the remaining three orcas will end up. But Russia has 17 marine parks, and China already has some 50, with two more nearing completion. "It seems like China is becoming, or has become, a primary source of the demand for belugas, dolphins, and orcas alike," says Courtney Vail, Campaigns and Programs Manager for Whale And Dolphin Conservation, which helps sponsor Hoyt's and FEROP's work. "Chinese facilities also source from the Taiji dolphin hunts. Twenty-four dolphins were exported from Japan to China in 2012, and CITES trade reports suggest over 60 wild-caught belugas were exported from Russia to China between 2008 and 2010 alone."
Hoyt and FEROP are lobbying the Russian government to end orca-capture permits in the Sea Of Okhotsk for 2014. But as the Russian Far East threatens to become the next wild orca gold rush, tapping into a remote orca population that until now has mostly been left alone, Hoyt sees only one way the wild orca hunts will truly stop. "A lot depends on how many people per year pay to get into SeaWorld in the U.S., as well as paying to get into the growing number of such facilities in China, Japan and Russia," he says. "By last count, more than 120 facilities in these countries exhibit whales and/or dolphins. If there is no demand from the owners of these facilities and from the paying public, the selling price will go down and eventually there may be little or no supply offered for sale. Then the orca trafficking can stop."